All Posts Tagged With: "Prescriptives"
It's Breast Cancer Awareness month aka BCA and the Estée Lauder Companies has many of your favorite beauty products designed especially to raise funds for the Estée Lauder Companies' Breast Cancer Research Fund. Last month during my visit to New York City during Fashion Week Spring 2010 I was given an incredible opportunity to participate in an Estée Lauder special Breast Cancer Awareness event. Listening to Evelyn Lauder's speech and the rest of the Estée Lauder team I can't tell you enough how passionate they are about the Breast Cancer cause!!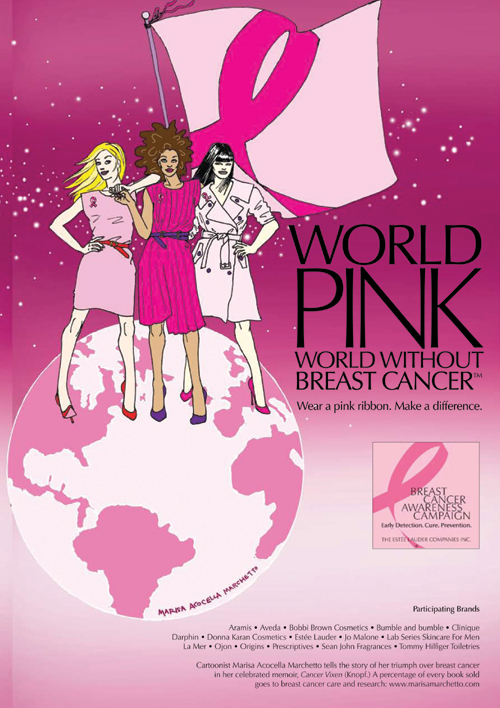 Here are highlights of some of the people involved in the Estée Lauder Breast Cancer Awareness Campaign and And Fundraising, and the beauty products you can purchase where portions of their proceeds go towards the Breast Cancer Research Foundation.
Actress Elizabeth Hurley and Evelyn Lauder: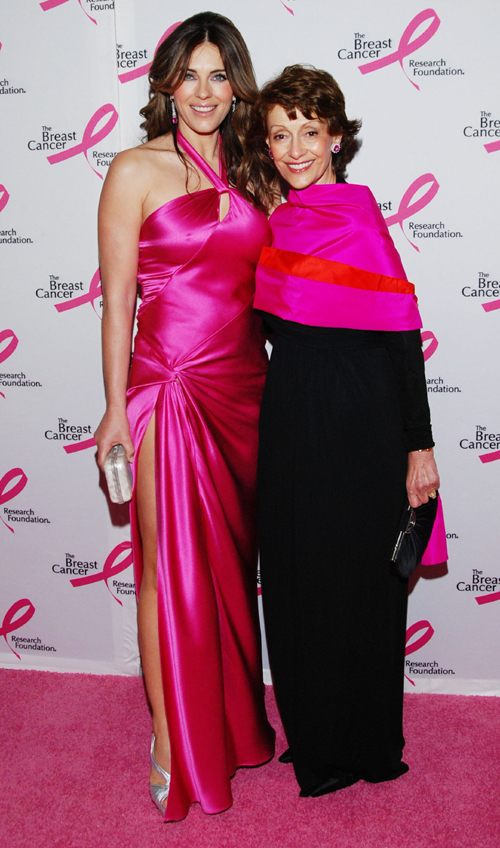 From Left: Steven Plofker, Elizabeth Hurley, Elton John, Evelyn Lauder, and Bobbi Brown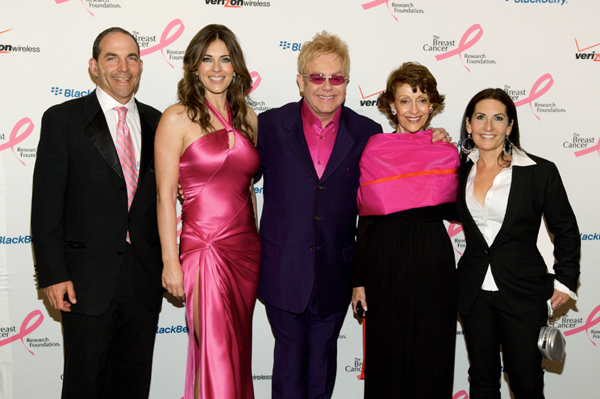 Not great news for all the Prescriptives beauty junkies out there. Estée Lauder announced last week that it would close the global wholesale distribution of its Prescriptives brand by January 31, 2010. The brand plans to continue to sell online for United States shipping at www.prescriptives.com  to help service consumers for replenishment of key products, while inventory lasts. Prescriptives products are currently sold in the United States, Canada, the United Kingdom, Ireland and Australia.
"We believe that the difficult decision relating to Prescriptives will allow us to redirect our resources to key strategic imperatives where we see the highest growth potential," said Fabrizio Freda, President and Chief Executive Officer, The Estée Lauder Companies. "Ultimately this action allows us to focus on those areas which we expect to benefit the Company, our shareholders and business partners. We intend to work closely with our retail partners and continue to communicate with our consumers to ensure a seamless transition."
Prescriptives Fragrance Calyx: Sources tell us that the Prescriptives fragrance Calyx, which is a favorite among consumers, will continue to be distributed through Aramis and Designer Fragrances and sold at the fragrance bar in select fine department stores and online beginning February 1st.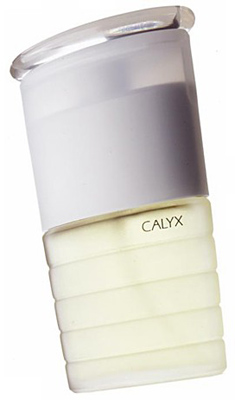 Megan Fox is gracing the cover of Cosmopolitan Magazine October 2009. Wait, it's not October yet! Nonetheless, I don't mind the sneak peek to Megan's cover. I approve Megan's hairstyle. You can never go wrong with straight smooth hair parted in the middle. I do it all the time, lol:)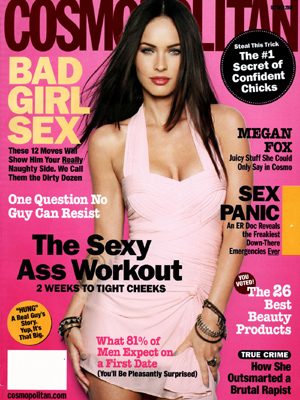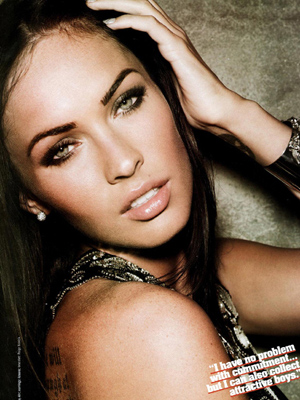 Wonder how to get Megan Fox's look on the cover of Cosmopolitan Magazine October 2009? Here are some tips! 
I detect grey nail polish. To get Megan Fox's grey nails try MAC Hello Kitty Nail Polish in On The Prowl.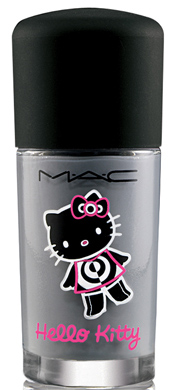 To get Megan Fox's sexy long eye lashes try ÔSCILLATION POWERBOOSTER by Lancôme: A two-in-one vibrating lash primer and conditioner that boosts the appearance of lash growth. HYPNÔSE DRAMA Instant Full Body Volume Mascara by Lancôme: The ultimate instant-volume mascara for lash drama. I use both the lash primer and mascara by Lancôme and they work amazing in getting my lashes super long, full, and Hollywood worthy.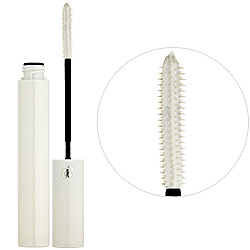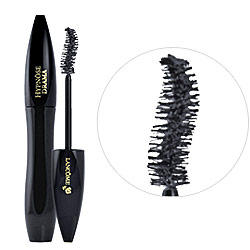 To add more drama and difintion to eyes use a black eye liner to upper lash line, and the corner of eyes try: Prescriptives NEW Longwear Kohl Liner in black hohl. Or, Givenchy Magic Kajal Eye Pencil in magic black.
Prescriptives NEW Comfort Cream has been re-formulated and is more soothing and calming than ever before. Comfort Cream is suitable for all sensitive skin types – including those with Rosacea – and immediately soothes and calms skin while providing intensive moisture. Skin moisturizers and naturally soothing plant and algae extracts help immediately relieve irritated skin that tends to be red and dehydrated. Over time, skin is less irritated and repaired so it always looks and feels its best.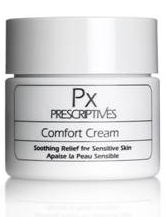 Prescriptives NEW Comfort Night Repair Cream for Sensitive Skin: Prescriptives NEW Comfort Night works with skin's night repair rhythms to help correct the appearance of skin damage and reduce the look of lines and wrinkles. Comfort Night hydrates skin with a luxurious, non-greasy treatment that infuses moisture into the skin while calming and soothing to decrease sensitivity and irritation. Skin wakes up nourished, hydrated, healthy… ready to face the day's aggressors!
The night before the big Orphan premiere, Vera Farmiga visited the ARCONA facial studio in Santa Monica and received their signature Facial Contouring & Enzyme Peel – her skin glowed.
Vera Farmiga's makeup look was created by celebrity makeup artist Tina Turnbow Inspired by Vera's gorgeous ivory Versace gown and her beautiful glowing skin, Tina created a soft look using gold and peach tones, with a shot of orange on her lips.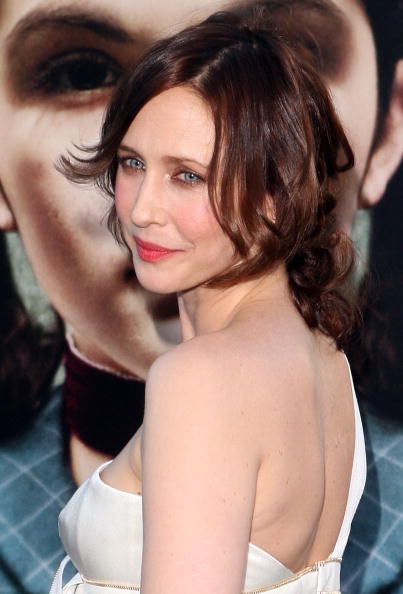 Skin: Tina prepped Vera's skin by first cleansing it with ARCONA's Triad Pads. She then spritzed ARCONA's Mineral Magic and applied ARCONA's Peptide Hydrating Complex to hydrate her skin thoroughly. "I loved using ARCONA's Mineral Magic on Vera's skin. It gave it a nice luminescent quality!" said Tina.
Foundation: Because Vera's skin had a natural glow, Tina kept the coverage to a minimum by using ARCONA's Sunsations Mineral Makeup in Ivory Seychelles.
Cheeks: Tina used Tarte Cheek Stain in Tipsy to add light peach tones to her skin.
The Fall 2009 Color Collection is "Well-Suited" at Prescriptives: Tailored menswear-inspired looks are showing up in many Fall fashion collections. Prescriptives supports this dramatic statement with Well-Suited, a Fall Color Collection that translates this edgy, yet feminine style into a range of sophisticated shades from tweedy browns to silky purples.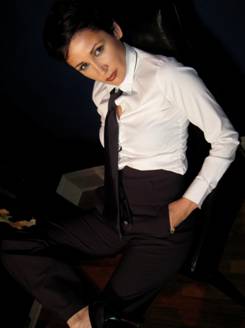 Prescriptives Director of Color Artistry Jillian Veran explains how to achieve the sophisticated and tailored look of Well-Suited: "We all love a good lip gloss, but there is something incredibly feminine about the bold statement of a lipstick…in this collection the look of a creamy nude lipstick is accentuated by a strong eye liner…create a sharp straight line or a smudgy, sexy look, but either way you will want to line the inside rim for extra drama."
Marta is in LOVE with Prescriptives Mineral Color Making Eyes Set in Warm which include beautiful eye shadows shades in: Copper Crystal, Earth Crystal and Sand Crystal. All is very practical, versatile (day to night), super shimmery, and long-lasting eye shadows. You can't go wrong with this kit. If you are new to eye shadows, Prescriptives Mineral Color Making Eyes Set is a good place to start. It will take out the guess work and will give you classic and glamorous eyes, everyday! This one is in Marta's makeup bag:)
Prescriptives is expanding its mineral portfolio and launching a new easy to apply, liquid mineral makeup with Prescriptives NEW All Skins Mineral Makeup 16 Hour Wear / SPF 10.
This is exciting news because I already love Prescriptive's latest mineral makeup, particularly: Prescriptives Mineral Color – Making Eyes Set (Limited Edition) in Warm. I've been using the Earth Crystal and Sand Crystal mineral eyeshadows everyday now. These are practical, chic, day or night, everyday shades! LOVE. 
I also been using Prescriptives Mineral Bronzer (Limited Edition) in warm: A beautiful bronzer, not messy, not too sparkly. Just elegant.

Summer color is exhilarating at Prescriptives. Introducing Prescriptives Summer 2009 Color Collection. Available beginning May 2009 at Prescriptives counters nationwide, exclusively at Holt Renfrew in Canada and www.prescriptives.com
This summer, invigorate your senses with the exhilarating new shades from Prescriptives Summer 2009 Color Collection inspired by the classic Calyx fragrance. Exhilarating is a fresh collection of vibrant and energizing tones in vivid palettes of tropical fruits, icy citrus and playful florals. Sweep lids in tropical shades of shimmering yellow, sparkling teal and bright green. Enliven lips with a pop of color then layer them with a flavorful guava gloss in mango, pink grapefruit and guava shades. Finish it off with a sheer spritz of fruity top notes and smooth woods. Feel exhilarating with Prescriptives.
Prescriptives Summer 2009 Color Collection includes:
Calyx Sheer Exhilaration Limited Edition: This limited edition all-over fragrance is a light, refreshing form of the original Calyx. It is a mix of exotic fruits, lush flowers and smooth woods. Fragrance notes include: passion fruit, mango, guava, lily, jasmine sandalwood and vetiver. SRP: $38.50/$50.00 Canada.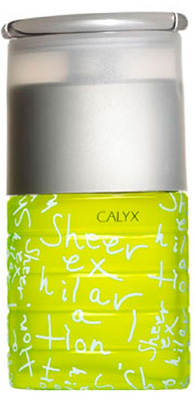 Watch Marta's video blog for today talking about the latest from Prescriptive: Prescriptives Motor-Eyes Instant Action Mascara.
Marta's video blog for today was provided by www.misslush.com  style & beauty video sharing website. Upload your video today, just register it's FREE, and upload! Also, join & chat in Miss Lush's Forums!