All Posts Tagged With: "Prescriptives"
Talking Makeup is exited to introduce to you Prescriptives latest brilliant product addition: Prescriptives Motor-Eyes Instant Action Mascara.
Prescriptives Motor-Eyes Instant Action Mascara got my eye lashes long, separated, and even curled in just one stroke! Easy to use, just twist to open and the vibration will begin, once done close and vibration will stop.
More about Prescriptives Motor-Eyes Instant Action Mascara: Just one turn of the patent-pending vibrating brush and you instantly turn up volume, color impact, lift and curl while turning down clumping, smudging, fading and application time.
Prescriptives is adding color to its mineral portfolio with the introduction of NEW Mineral Color for Face, Eyes and Lips.
The purity and natural benefits of minerals are now offered in a vibrant color collection inspired by nature's own minerals and gems. Its star ingredient is the R.E.C. (Radiance Emitting Crystals) complex — a unique combination of Amethyst, Rose Quartz and Calcite — so it absorbs light and delivers radiance and luminosity so skin appears to be "glowing from within." Bright gems and minerals infused with vitamins create a look that is healthy, luminous and breathtaking.
Availability
Beginning April 2009 at Prescriptives counters nationwide, exclusively at Holt Renfrew in Canada and www.prescriptives.com
This spring, bloom into a bouquet of floral inspired shades with Prescriptives Spring 2009 Color Collection. In Bloom is a fresh collection of vivid and whimsical tones in a playful palette of sunflowers, marigolds, petunias and lilies. Eyes are soft in delicate neutrals with hints of bold orchid or lavender. Cheeks blush with a fresh pop of color in petal or peach tones. Lips are touched in sheer, glossy shades of zinnia, posy, tulip and tuberose. Keep your spring look In Bloom with Prescriptives.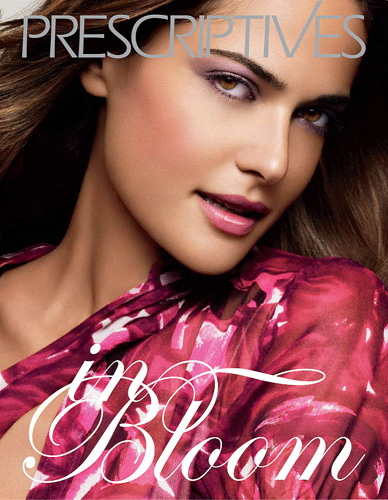 In Bloom Eyes Color Duo – $24.00 U.S. / $30.00 Canada

Shades: Sunflower, Marigold, Petunia, and Lily.
Watch Marta's video blog talking about her favorite Prescriptives products: Prescriptives False Eyelashes Plush Mascara, Prescriptives Lash Bulider, and Prescriptives All You Need+For Eyes eye cream.
Marta's video blog was provided by www.misslush.com style & beauty video sharing website. Upload your video today, it's FREE!
Prescriptives All You Need+ For Eyes is a beautiful eye cream new from Prescriptives. The cream feels like liquid silk on your skin, very rich in texture yet not greasy or heavy, and smells clean. I'm hooked:) 
More about Prescriptives All You Need+ For Eyes: Fight the first signs of aging, dark circles and eye puffiness with Prescriptives All You Need+ For Eyes, a luxurious new eye gel-cream that delivers all the benefits skin needs to stay looking healthy, hydrated and radiant for a full 24 hours. A combination of vitamins, plant extracts and time-released ingredients work together to help the eye area look younger, fresher and more rested.
This holiday season give the gift of beauty with one of Prescriptives Holiday 2009 Gift Sets.
From makeup to skincare to fragrance, there is something to keep everyone on your list pampered through the New Year!
Px Petites – Lip Gloss
Packaged in a glamorous purple case, this mix of mini Moonbeam Reflective Lip Glosses and Colorscope Lip Glosses are the perfect gift!
• 10 mini glosses (Six Moonbeam Reflective Lip Glosses in Supernova, Jupiter, Eclipse, Hi-Velocity, Meteor and Deep Space, Four Colorscope Lip Glosses in Icy, Sporty, Giggly and Sassy.)
• Metallic purple cosmetic bag
New LipShine from Prescriptives is a high-performing lipcolor that gives you the super-shine of a gloss combined with the comfort and coverage of a lipstick.
LipShine features a unique lightweight-gel formula that is ultra-creamy, soft, and emollient, with a buildable sheer to medium coverage in many sleek shades, such as: Bellini Fizz, Boysenberry, Iced Coffee, Mocha Chill, Passionfruit, Pink Smoothie, Pinkberry, Raspberry Ice, Strawberry Twist, Sunkissed, and Vanilla Latte.
Available at all Prescriptives counters nationwide, www.prescriptives.com and Holt Renfrew in Canada. SRP: $17.50 US/$26.00 Canada.
Ladies, you've met your match…your exact-match foundation that is. Prescriptives has been the foundation authority since 1979 and has helped All Skins, All Women find their perfect match of makeup. Discover the perfectly seamless coverage you crave with one of Prescriptives technology and beauty infused formulas.
Gems are a girl's best friend…Vitamins, minerals, gems and sun protection pack Prescriptives NEW All Skins Mineral Makeup SPF 15 full of everything you need for a healthy finish.
Give your look some extra glitz with the luxurious gem formula that contains amethyst, mica and calcite for a soft, sparkling glow. No oil, talc, fragrance or pore-clogging ingredients make this makeup good for you, good for your skin!
Find your perfect match shade and learn how to apply All Skins Mineral Makeup SPF 15 with a video from Prescriptives Director of Artistry Jillian Veran HERE!
Couture anyone? Custom Blend Foundation is the ultimate luxury made especially for each individual's skin tone and skincare needs. Get your exact match foundation without any guessing games.
New from Prescriptives: Super Line Preventor Xtreme Lifting Concentrate.
This new magic wand called: Prescriptives Super Line Preventor Xtreme Lifting Concentrate and its exclusive Xtreme-Lift Complex, visibly lifts and firms, boosts collagen and smooths out the deepest worry lines. Skin looks more lifted by 58% in 8 weeks! SLP-X Lifting concentrate also features a unique silicone tip applicator to provide gentle and controlled dispensing directly to your skin. It is comes in a convenient portable package perfect for on-the-go touch-ups whenever and wherever you need it!
Prescriptives introduces its first ever mineral makeup- All Skins Mineral Makeup SPF 15!
What's in it for you? Vitamins, minerals, gems, sun protection…all helping your skin look naturally radiant and unbelievably healthy.
What's not in it for you? Oil, talc, fragrance, pore-clogging ingredients – all the things that may make you hesitate about wearing makeup.
Why gems? Prescriptives All Skins Mineral Makeup is the only mineral makeup that features R.E.C. (Radiance Emitting Crystals – a unique complex of Amethyst, Rose Quartz and Calcite). R.E.C. helps absorb light and gives skin extra radiance and luminosity. The semi-precious gems and minerals help give the makeup a luxuriously silky feel, while the energies of Calcite help give skin a soft, luminous finish as if it were "glowing from within."
And you're sure to find your exact match of this new weightless, longwear powder foundation from Prescriptives extensive collection of 18 shades…from the lightest to the darkest!
For easy application, use with Prescriptives NEW Round Buff Brush. This short-handled brush easily grabs hold of powder foundation and effortlessly glides across your face.
Additional benefits: suitable for all skin types, oil-controlling, sweat and humidity resistant, water resistant, non-acnegenic, dermatologist tested, and ophthalmologist tested.
Technology: Minerals, including Calcite and Mica, and semi-precious gems, including Amethyst and Rose Quartz, provide luminosity and a lightweight feel. Squalane and Lecithin provide skin conditioning benefits.
Silica helps keep skin shine-free. Contains antioxidant 2CME, a molecule that combines Vitamin C and E which boosts their effect. Titanium Dioxide and Zinc Oxide provide broad spectrum UVA/UVB SPF 15 protection.
How To use Prescriptives All Skins Mineral Makeup SPF 15:
1. Tap a small amount of All Skins Mineral Makeup SPF 15 into the lid. Swirl the Round Buff Brush in the lid and tap away excess.
2. Apply in a circular motion:
3. Start application at the outside of the cheekbone, moving toward the nose and then back.
4. Continue from cheekbone downward to jawline and back.
5. Follow along the side of the face, forehead and down the nose.
6. Repeat for more coverage.
Where can I buy Prescriptives All Skins Mineral Makeup SPF 15: at all Prescriptives counters nationwide, www.prescriptives.com and Holt Renfrew in Canada.
When it is available: Beginning July 2008.
SRP: All Skins Mineral Makeup SPF 15 $32.50 U.S. / $42.00 Canada. Round Buff Brush $30.00 U.S. / $38.00 Canada.