All Posts Tagged With: "Mineral Makeup"
Introducing jane iredale's March 2016 launches: BeautyPrep Face Cleanser, Toner, and Face Moisturizer. This trio of high-performance skin care is the first specifically designed to optimize the wear and longevity of mineral makeup.
Drugstore Gems. L'Oreal Paris Magic Smooth Soufflé and L'Oreal Paris True Match Naturale Gentle Mineral Makeup SPF 19. I was recently on a desperate search for the right foundation for my face. Sometimes it happens to the best of us when nothing works for some reason. I was looking for a gentle foundation that is easy and not too messy to apply. Not too oily and shiny and not too dry either. I found Magic Smooth Soufflé and True Match Naturale Gentle Mineral Makeup. I also found the perfect shade for me Sun Beige which suites my light olive skin so it doesn't make me look too pale.

L to R: L'Oreal Paris Magic Smooth Soufflé &  True Match Naturale Gentle Mineral Makeup SPF 19
Are you looking for a fresh, glamorous look to brush off those winter days? Elizabeth Arden's NEW Spring/Summer 2010 Makeup Collection might be for you. Here are the highlight of their latest additions:
Pure Finish Mineral Bronzing Powder: This new formula conditions skin with fresh-ground, micro-light minerals that give you a beautiful natural glow, perfect for any summer day. The compact also comes with a collapsible kabuki brush, a must-have for every makeup bag.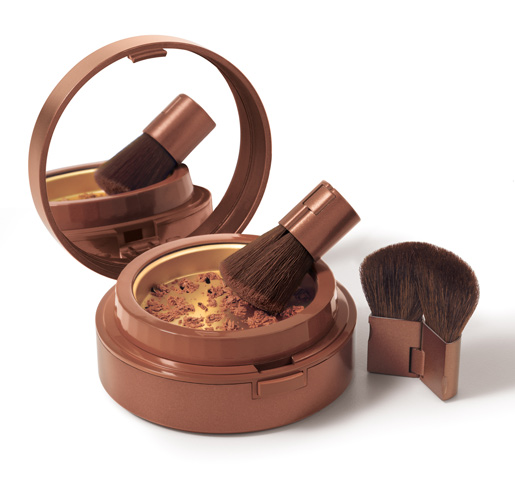 Wondering what all the buzz is about? Ôscillation Powerfoundation ($48), Lancôme's latest vibrating makeup, is truly a does-it-all foundation. Good-for-your skin ingredients, SPF 21 that's among the highest on the market, a 14-hour wear and a finish that looks like your skin, but better—all housed in a package that's portable and mess-free. As for that ingenious applicator that delivers 7,000 micro-oscillations per minute, the benefits as just as great. The subtle action helps spread the powder evenly across your skin and buffs it down to a matte finish.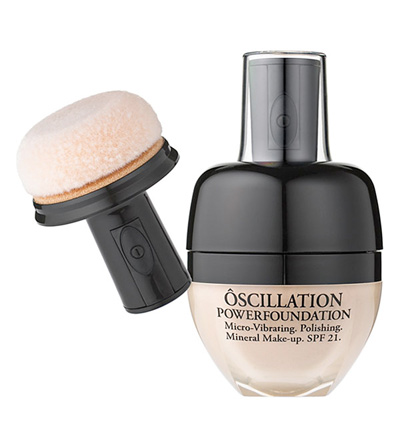 Marta says: " My new favorite foundation and it's mineral too. I love the coverage, my skin looks immediately flawless and I don't feel I wear foundation at all. I carry Lancôme Ôscillation Powerfoundation in my purse or makeup bag on the go at all times. Perfect also if you are the busy type who is looking for a great foundation that is very easy to use and quick to apply (no swirling your powder brush, taping, no mess)"
You can even buy an Ôscillation Powerfoundation Replacement Wand for $5.
Introducing MAC Spring 2010 Collections: MAC Mineralize Foundation SPF 15 : The world is made of precious minerals, the foundation for all living things….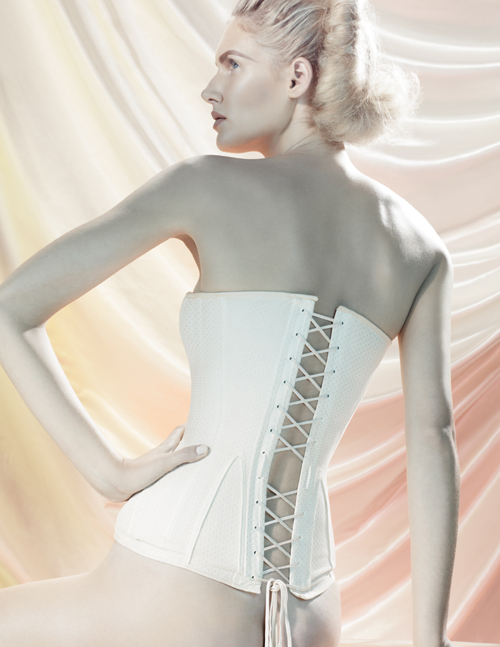 Mineralize Foundation SPF 15 is the synthesis of earthly essential elements in the form of a rich, luxurious solid cream compact with a liquid mineral infusion. This uniquely textured foundation delivers ultimate hydration while revitalizing the look of dull and dry areas. Medium buildable, smooth, even coverage and a feather-cloud comfortable silky feel with a natural finish. Add the essential 130 Short Duo Fibre Brush and SPF 15 for skin perfection with protection. Available Feb 4th, 2010 in the permanent collection.
On January 22, 2010, The Fashion Group International (FGI) will present the 13th Annual Rising Star Awards in New York City. The Rising Star Awards program was created to recognize emerging talents in the fashion and beauty industries by FGI, a global, non-profit organization with over 5,000 members in the fashion, beauty and home industries.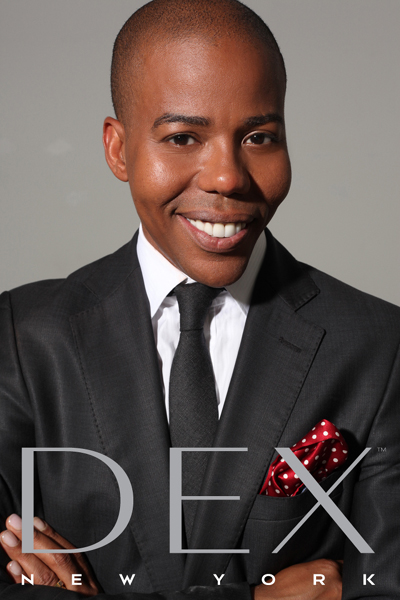 Dexter Phillip
This year, Dexter Phillip of DEX New York, was nominated as a Rising Star candidate for the Beauty Entrepreneur category. Find out why Dex is under consideration to follow brands as Bond No.9 New York, Paula Dorf Cosmetics and last year's winner AromaWear, to become the winner of one of the most prestigious awards in the beauty industry and how his brand concept and products differ from what is already out there in the cluttered beauty market!
Dex Phillip Rising Star Awards Interview
Q. How did you get to where you are today?
Dex: For the past 10 years of my life, the process of creating a beautifully crafted picture and stunning imagery was an everyday inspiration for me. As a stylist for the Ford agency, runway- and fashion-shoot producer and CEO of my own image consulting company called La Mode in New York, I was able to experience the height of fashion and beauty in action on an everyday basis and had the honor of working with the best professional makeup artists, photographers, equipment and tools in the industry. I wanted to bring these inspiring and exciting elements of a runway show, a red carpet moment or a fashion shoot, into one location and have it come alive for any woman who came into the studio. DEX New York Beauty Atrium and Studios, my all-in-one makeup, hair and photography production studio that is open to professionals AND every woman, is my vision and dream enacted.
Vera Farmiga was sporting red lips at the Up in the Air LA Premier on Monday, November 30th, 2009, Westwood, Los Angeles, CA. Vera was wearing a dress by Dolce & Gabbana and her makeup look was created by Tina Turnbow, a Natural Makeup Artist.
"Vera's look was simple glamour: Her dress was ephemeral – a white, almost grecian Dolce & Gabbana, and I wanted her makeup look to shine forth her beautiful features, while keeping that simple, effortless air."-Tina Turnbow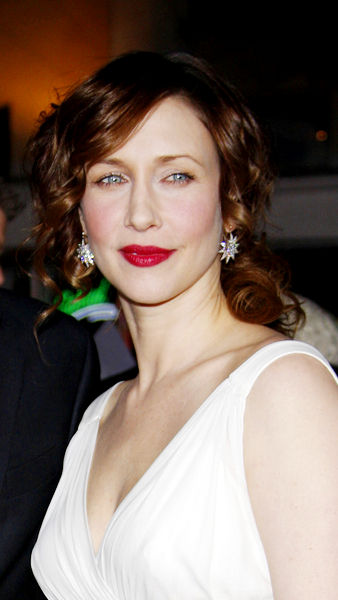 Face Products: "Vera has a beautiful, fair complexion, so I kept it simple – with a lightweight foundation and finished with a light, rosy blush.
Foundation: Almay Pure Blends Mineral Makeup in Fair – "l love that this foundation is 97.4% natural"
Blush: Revolution Organics Freedom Glow Beauty Balm in Blushed – "It's a beautiful cream stick that creates very natural-looking rosy cheeks." Mineral Fusion Blush in
Trace "a soft, baby pink to highlight cheek bones"
Powder: Tarte Provocateur SPF 8 Pressed Mineral Powder & Compact in Fair
Laura Posada, attorney, former model and actress, mother of two and co-author of the newly released family fitness guidebook, "Fit Home Team" (Simon & Schuster) came by the DEX New York Beauty Atrium and Studio for an upcoming feature story on her in Athlete's Quarterly magazine shoot which covers how she does it all as wife, mother, philanthropist and author. The busy mom and star of star of E! "True Hollywood Story: Baseball Wives," wrapped up the shoot in three hours—and quickly rushed down to Philadelphia to cheer on her slugger hubby for the World Series.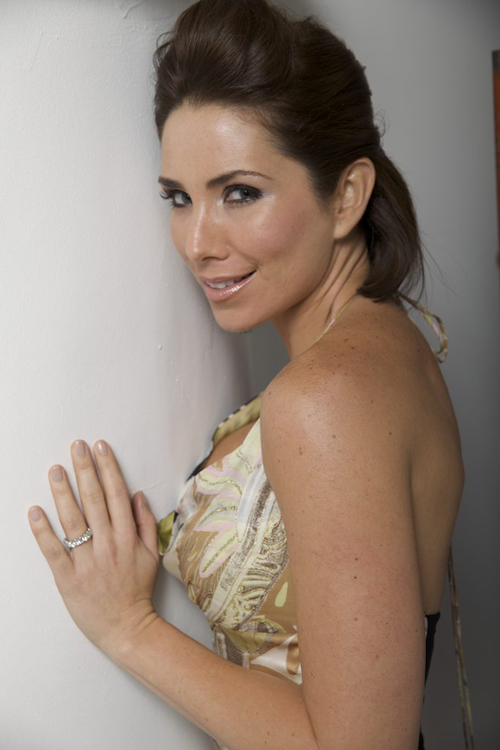 Laura became a big fan of the friendly professional team at DEX and the 6,000 sq foot Beauty Atrium and Studio, "the DEX space is so airy and beautiful – perfect for a daylong shoot!"
We've seen vibrating a mascara, vibrating lash primer, and now a vibrating mineral makeup. How exciting! Introducing Lancôme's Ôscillation Powerfoundation! I'm so curious to try it out. If any of you tried the new Ôscillation Powerfoundation by Lancôme please do not hesitate to leave a comment, let us know your feedback. Thank you:)
Lancôme's Ôscillation Powerfoundation the official description on www.lancome-usa.com :
The 1st micro-vibrating mineral foundation. See a pixel-precise complexion with 14 hour wear. Never messy. Never so simple. Simply push the button and let the velvety cushion applicator glide effortlessly across skin for perfect coverage. 7000 micro-vibrations per minute break down the featherweight mineral powder for seamless blendability. Feel newborn skin: Every day, micro-massages work with gentle minerals to revitalize skin, making it smoother, softer and visibly healthier even after makeup removal.
Alex McCord, Kelly Killoren Bensimon, Jill Zarin and Ramona Singer got powdered, color-perfected and runway-ready with the DEX New York makeup team and their mineral (anti-aging!) makeup collection in preparation for their big moment down the catwalk at the Brooklyn Fashion Week(end) in New York City!
All four Housewives loved the DEX New York Spring 2010 look created specifically for their show – a smokey, black-silver shimmery eye topped off with a pearly sheen, off-set by pale Guava-colored light pink lips.

From left: Kelly Killoren Bensimon and Alex McCord
Kelly who loves natural beauty products and makeup was ecstatic about the photogenic and super-vibrant mineral makeup colors and requested that DEX's makeup team create her top secret look for Halloween that she was coordinating with her daughter.
Ramona, who was so struck by how youthful she looked after the DEX makeover requested the photographer take a photo of her, so that she can use it as her Facebook profile image!
And Jill demanded that DEX create a special Beauty Portfolio for her so she can use the healthy-for-skin and anti-aging makeup everyday and plans on stopping by the DEX New York Studio (www.dexnewyork.com ) for her beauty day with the makeup and hair artistry team at 224 West 30th Street – at the heart of Chelsea in NYC!