All Posts Tagged With: "DEX New York"
On January 22, 2010, The Fashion Group International (FGI) will present the 13th Annual Rising Star Awards in New York City. The Rising Star Awards program was created to recognize emerging talents in the fashion and beauty industries by FGI, a global, non-profit organization with over 5,000 members in the fashion, beauty and home industries.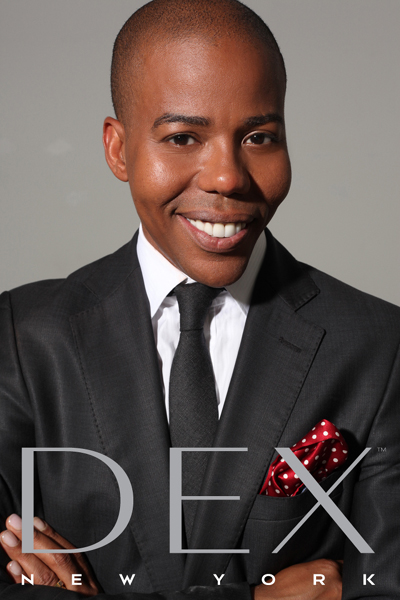 Dexter Phillip
This year, Dexter Phillip of DEX New York, was nominated as a Rising Star candidate for the Beauty Entrepreneur category. Find out why Dex is under consideration to follow brands as Bond No.9 New York, Paula Dorf Cosmetics and last year's winner AromaWear, to become the winner of one of the most prestigious awards in the beauty industry and how his brand concept and products differ from what is already out there in the cluttered beauty market!
Dex Phillip Rising Star Awards Interview
Q. How did you get to where you are today?
Dex: For the past 10 years of my life, the process of creating a beautifully crafted picture and stunning imagery was an everyday inspiration for me. As a stylist for the Ford agency, runway- and fashion-shoot producer and CEO of my own image consulting company called La Mode in New York, I was able to experience the height of fashion and beauty in action on an everyday basis and had the honor of working with the best professional makeup artists, photographers, equipment and tools in the industry. I wanted to bring these inspiring and exciting elements of a runway show, a red carpet moment or a fashion shoot, into one location and have it come alive for any woman who came into the studio. DEX New York Beauty Atrium and Studios, my all-in-one makeup, hair and photography production studio that is open to professionals AND every woman, is my vision and dream enacted.
Talking Makeup's Readers in NYC please listen up! DEX New York is offering you now through Christmas beauty makeover and portrait for your online working sites and even dating profiles. With a possible 1.6 billion users looking at your online profile don't you want to look your best? $49 (value $550) makeup application, hair styling portrait. Call now to book an appointment: 212 643 3188. Click image below to enlarge for more details.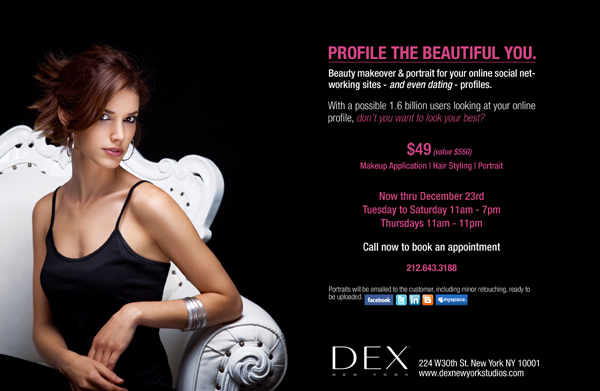 Laura Posada, attorney, former model and actress, mother of two and co-author of the newly released family fitness guidebook, "Fit Home Team" (Simon & Schuster) came by the DEX New York Beauty Atrium and Studio for an upcoming feature story on her in Athlete's Quarterly magazine shoot which covers how she does it all as wife, mother, philanthropist and author. The busy mom and star of star of E! "True Hollywood Story: Baseball Wives," wrapped up the shoot in three hours—and quickly rushed down to Philadelphia to cheer on her slugger hubby for the World Series.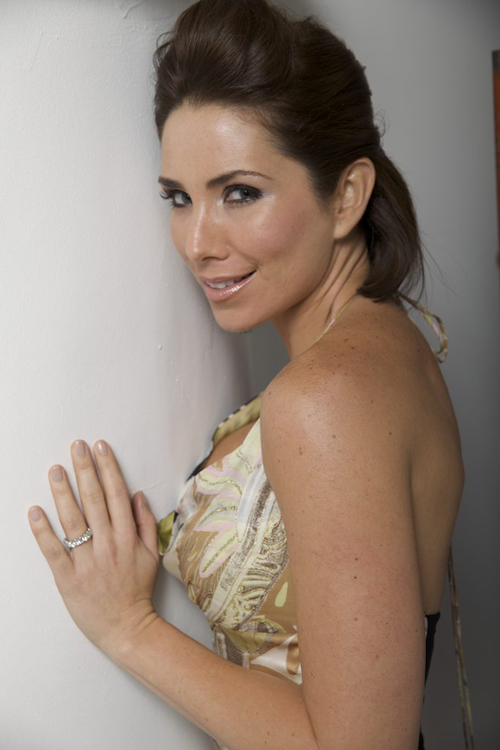 Laura became a big fan of the friendly professional team at DEX and the 6,000 sq foot Beauty Atrium and Studio, "the DEX space is so airy and beautiful – perfect for a daylong shoot!"