All Posts Tagged With: "Powerfoundation"
Wondering what all the buzz is about? Ôscillation Powerfoundation ($48), Lancôme's latest vibrating makeup, is truly a does-it-all foundation. Good-for-your skin ingredients, SPF 21 that's among the highest on the market, a 14-hour wear and a finish that looks like your skin, but better—all housed in a package that's portable and mess-free. As for that ingenious applicator that delivers 7,000 micro-oscillations per minute, the benefits as just as great. The subtle action helps spread the powder evenly across your skin and buffs it down to a matte finish.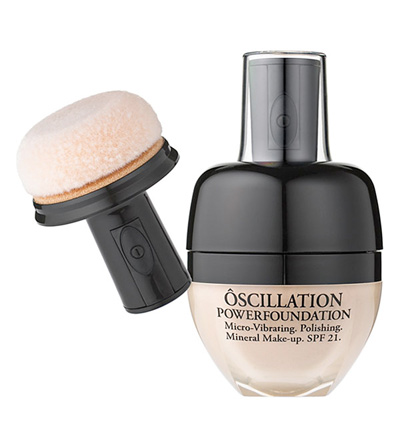 Marta says: " My new favorite foundation and it's mineral too. I love the coverage, my skin looks immediately flawless and I don't feel I wear foundation at all. I carry Lancôme Ôscillation Powerfoundation in my purse or makeup bag on the go at all times. Perfect also if you are the busy type who is looking for a great foundation that is very easy to use and quick to apply (no swirling your powder brush, taping, no mess)"
You can even buy an Ôscillation Powerfoundation Replacement Wand for $5.