All Posts Tagged With: "Mineral Foundation"
CHANEL Celebrity Makeup Artist Kate Lee worked with Bryce Dallas Howard at the Los Angeles premiere of The Twilight Saga: Eclipse on Thursday, June 24th, 2010. Kate shares with us tips on how to get Bryce's modern classic Hollywood makeup look.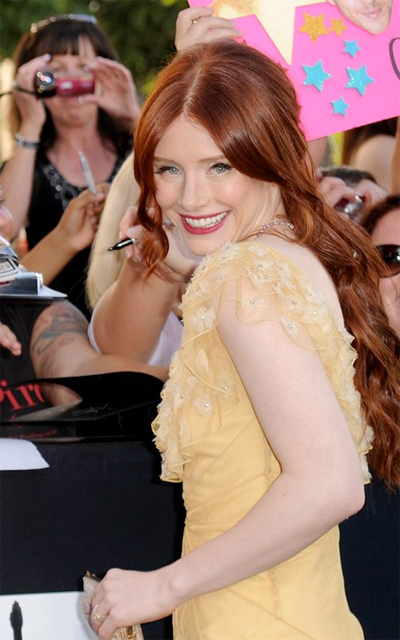 "Bryce's skin is milky perfection and her hair a deep auburn, so I wanted to avoid doing the expected, and decided to go for a bold lip."
Best compact foundation these days is MAC Mineralize Foundation SPF 15. It's so easy to blend, long wearing, and comfortable on the skin. I alternate between two shades NC30 and NC35. A must-have in every woman's makeup bag.
Wondering what all the buzz is about? Ôscillation Powerfoundation ($48), Lancôme's latest vibrating makeup, is truly a does-it-all foundation. Good-for-your skin ingredients, SPF 21 that's among the highest on the market, a 14-hour wear and a finish that looks like your skin, but better—all housed in a package that's portable and mess-free. As for that ingenious applicator that delivers 7,000 micro-oscillations per minute, the benefits as just as great. The subtle action helps spread the powder evenly across your skin and buffs it down to a matte finish.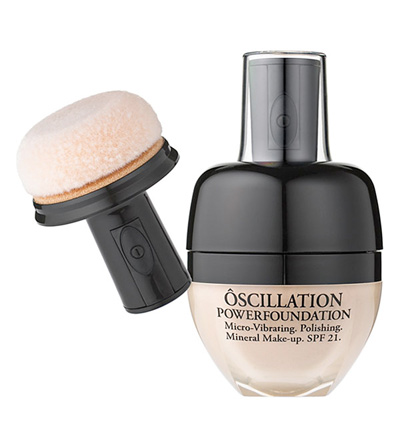 Marta says: " My new favorite foundation and it's mineral too. I love the coverage, my skin looks immediately flawless and I don't feel I wear foundation at all. I carry Lancôme Ôscillation Powerfoundation in my purse or makeup bag on the go at all times. Perfect also if you are the busy type who is looking for a great foundation that is very easy to use and quick to apply (no swirling your powder brush, taping, no mess)"
You can even buy an Ôscillation Powerfoundation Replacement Wand for $5.
Watch my video blog for today talking about my favorite picks for the *Avon Fall Color 2009.
Products mentioned in the same order presented in Marta's Vlog:
Avon smooth minerals foundation in Transparent Glow ($11)
Avon smooth minerals foundation in Light Beige ($11)
ANEW Wrinkle Zone Line Smoothing Duo in medium (by AVON)
The show: Abi Ferrin
The Trend: Green or purple pop of color under the eye
The Color Story: Creating a clear color contrast to balance the collection, the makeup look features a champagne lid, green or purple pop of color under the eye, soft, subtle lash, creamy, nude lip and healthy, glowing skin
The makeup look for the Abi Ferrin fashion show was created by Sephora PRO Beauty Team, lead by Jose Rivera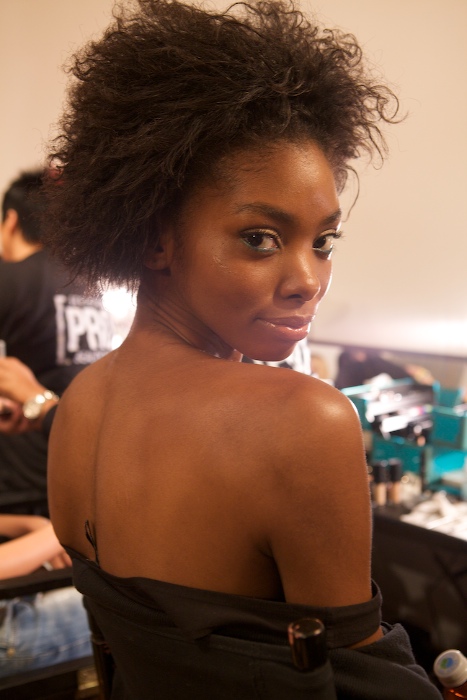 Photography courtesy of Nick Baratta
How to Get the Look:
• Complexion – Sephora Collection Mineral Double Compact Foundation SPF 10 provides buildable coverage and leaves skin with a fresh, luminous finish.
• Eyes – For a light, earthy hue, try the Sephora Collection Colorful Eyeshadow in Creme Caramel 11. Finish off the eyes by adding a fun pop of color to the lower lash line with the Sephora Flashy Eyeliner in Flashy Mauve or Flashy Green.
• Lips – Master the nude lip and achieve the perfect balance between pigment and shine with Sephora Collection Nectar Shine Hydrating Care Lipgloss SPF 8.
The NEW Clinique Superbalanced Powder Makeup SPF 15 Mineral Rich Formula was love from first try! If you are looking for a light foundation yet with great coverage this mineral foundation by Clinique is for you. I like to use it during the day when I don't want to wear too much makeup, and especially on weekends. All you need to do is twist the foundation dial clockwise, dip in your best powder brush or brush provided and apply. You don't need to tap because the dial lets you dispense exactly the amount you need. No mess! You will see an immediate smooth coverage but never feel you are wearing any makeup. It has sun protection. And, no tapping and buffing required! Win win situation to me:) SRP: $32.50
Available September 2009 at Clinique counters nationwide and at www.clinique.com