All Posts Tagged With: "Makeup Reviews"
Watch my video blog for today talking about my favorite picks for the *Avon Fall Color 2009.
Products mentioned in the same order presented in Marta's Vlog:
Avon smooth minerals foundation in Transparent Glow ($11)
Avon smooth minerals foundation in Light Beige ($11)
ANEW Wrinkle Zone Line Smoothing Duo in medium (by AVON)
Watch Marta's video blog for today talking about her favorite products from the latest MAC makeup collections: MAC Style Black and MAC Dazzleglass Creme.
Products mentioned in Marta's Vlog:
MAC Greaspaint Stick in black purple
MAC Dazzleglass Creme in Soft Dazzle
MAC Dazzleglass in Luscious Spark
MAC Style Black
MAC Style Black: MAC Young Punk Eye Shadow
I've been seeing great skincare brands at CVS lately and one of them is Lumene. I haven't tried the whole range yet, but I did try the Lumene Sensitive Touch Eye Makeup Remover. It was very gentle on my eyes, wasn't oily at all, and it's fragrance-free (I'm a fragrance-free fanatic at times:). And lastly, it did what it was designed to do, it removed my eye makeup.
Lumene Sensitive Touch Eye Makeup Remover the description on www.lumene.com :
This gentle eye makeup remover gently and effectively removes water-soluble eye makeup. Its pH level is gentle on the eyes and makes it suitable for contact lens wearers too. In co-operation with Finnish Allergy- and Asthma Federation.
The following is  is a liquid eye liner review by Meryl, Talking Makeup's lovely intern!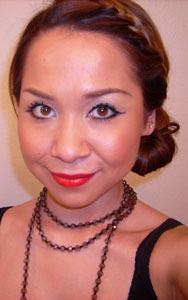 Meryl
I believe Liquid eyeliner is always in if you apply it correctly! So I decided to write about two of my favorite liquid eyeliners.
First one is Maybelline New York Waterproof liquid eyeliner. This eyeliner costs you about $ 6 to $8 dollars. But don't let the price fool you. Its very affordable and good in quality. This eyeliner is amazing! The liquid eyeliner is thick liquid and firm felt tip applicator allows easy control. This is very important since a lot of people think liquid eyeliners are hard to apply.
Also the Maybelline New York Waterproof liquid eyeliner is extremely waterproof. Sometimes I wear this eyeliner when I go swimming and it does not come off unless I rub my eyes hard. But, the good part is that at night when you are trying to take off your makeup, it comes off easily. Some waterproof eyeliners are really hard to get it off and you have to spend money on eye makeup remove, but not this eyeliner. I highly recommend this eyeliner for a beginner that does not want to spend big bucks for eyeliner!
My second favorite is a little pricier then my first selection. It it's called MAC Liquid Eyeliner. This runs you about $ 16.50.
Beauty Anonymous looks forward to Dolce & Gabbana The Makeup line.
Meilily brings you a new Product Pick: Harajuku Lovers Fragrance in Love with exclusive Product Photos!
A Little More Beautiful is Giving Away BOTH amazing books by Nina Garcia, The Little Black Book of Style and The One Hundred: A Guide to the Pieces Every Stylish Woman Must Own! You can enter until March 30th! Also, check out the tips for getting Great Skin this Spring starting with discovering you're own personal skin type!
Girl-Woman-Beauty-Brains-Blog is hosting a St. Patrick's Day "Green" Giveaway. Enter now to win three fabulous "Green" Jurlique products.
The Informed Makeup Maven is top to toe coconut with Bumble and Bumble, Philosophy, The Bodyshop, Reniu and contemplates mass market prestige beauty. Post your fave drugstore fave foundation to win a Rimmel Recover foundation and Suki UV blot papers, Makeup Maven summer staples.