All Posts Tagged With: "CVS"
The latest launch from Beauty 360—the NEW Beauty 360 No-Light Gel Polish. Now, achieving a salon-quality, long-lasting manicure at home is easier (and more affordable) than ever!
As the year comes to a close, TM would like to  share with you 12 of the best-selling beauty products at CVS this year. From lipsticks to primers to cleansing cloths, these products showcase what Americans loved to shop for at CVS in 2016. Which one was your favorite?
Check out the list below (sorted in no particular order):
· e.l.f. Poreless Face Primer
· CoverGirl Perfect Point Plus Eyeliner in Black Onyx
· CVS Health Oil Absorbing Sheets
In 2011 I met Salma Hayek during lunch at the Mandarin Oriental hotel New York City for the launch of her cosmetics line NUANCE for CVS Pharmacy…and I just came across this photo of me first row in the charcoal botton shirt…with Salma Hayek.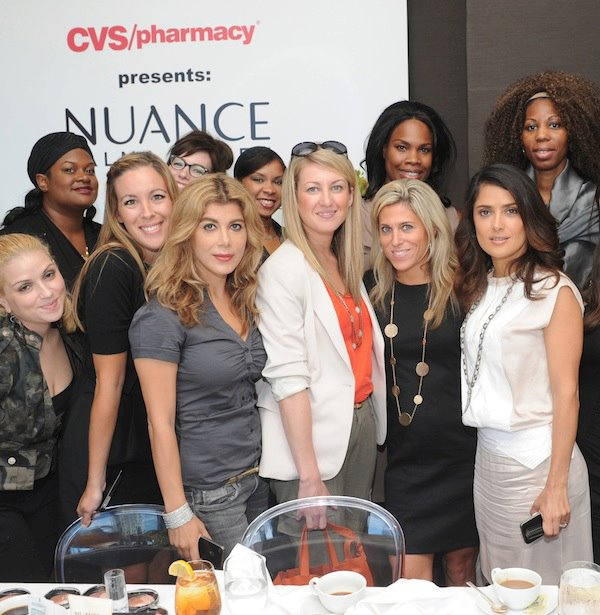 Marta Walsh Meets Salma Hayek
Last week I had an amazing opportunity to meet Salma Hayek during lunch in New York City..Read Full Story In TM.
NEW from Lumene and available at CVS/pharmacy the Lumene Sensitive Touch 5 Min SOS Cream. I'm into clean, perfume-free, and non-greasy body creams and this products by Lumene is just  perfect.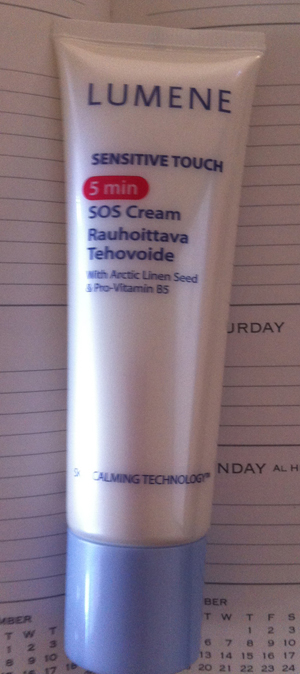 Lumene Sensitive Touch 5 Min SOS Cream NEW
Lumene Sensitive Touch 5 Min SOS Cream is formulated to help dry, cracked, irritated skin. It can be applied to face, body, heels, elbow and hands. It's alcohol-free, colorant-free, and paraben-free, and silicon-free. Other ingredients: 100% organic Linen Seed, pro-vitamin B5 and a new calming technology terapeptide.
Last week I had an amazing opportunity to meet Salma Hayek during lunch in New York City at the Mandarin Oriental Hotel and chat all about her new superstar cosmetics line for CVS Pharmacy: Nuance Salma Hayek.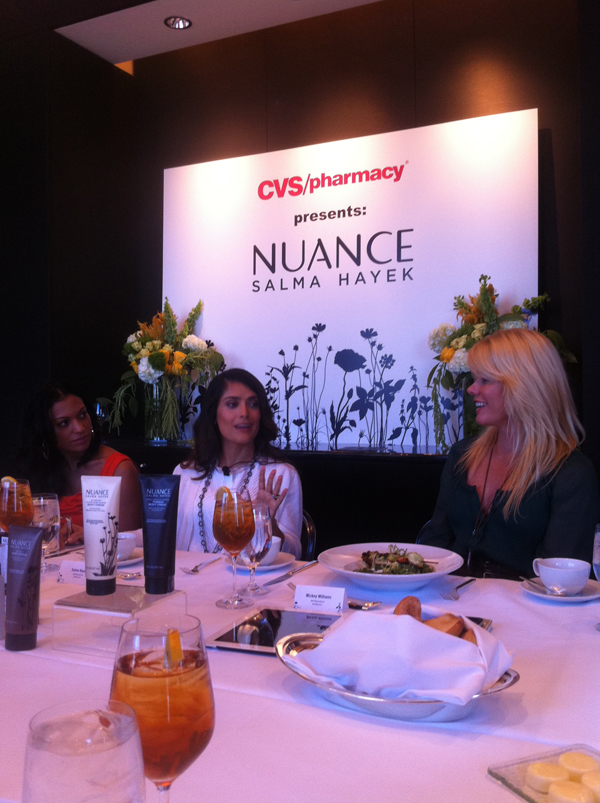 Although Salma Hayek admitted to being tired & jet-lagged she looked absolutely beautiful at lunch. At age 45 Salma is truly one of the best looking natural beauties I've seen.
It's not easy to come up with one good product not alone a whole cohesive cosmetics line. I'm glad to see that Hayek is using her uber celebrity power to create products that actually work and mean a lot to her as oppose to just put her name on anything like some other celebs do (and I'm not naming any names).
I snapped this pic on my recent trip to San Diego for BlogHer 2011. At the CVS booth I got to sample the NEW NUANCE by Salma Hayek for CVS Mascara & I loved it. I've been a Salma Hayek fan for years now. One of the things I relate most about Salma Hayek is the accent, which I also have, and her contagious passion for everything she does.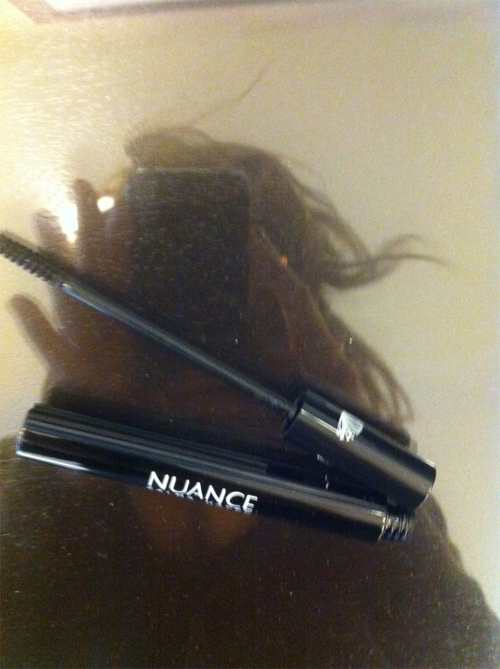 Marta Walsh & NUANCE by Salma Hayek for CVS Ultra Defining Mascara.
Also when I used to have dark brown hair in my New York City years people used to say I kinda look like her. Ha! Now with the blonde hair I get Jennifer Aniston. Funny. Anyways, let's go back to the subject in hand-this mascara adds volume, length, and the pigment is nice and bold. "Precision fibers hug lashes for extra length."-via www.cvs.com. I can't wait to try more from Salma Hayek's new cosmetic line with CVS, NUANCE. I will keep you posted.
See more pics from my San Diego BlogHer 2011 trip!
For under $100 at CVS the iCraig 2.1 Channel Tower Speaker is just amazing. I can charge my iphone with it and listen to my favorite Pandora channel at the same time. Well now you know what I do on my free time LOL. It's small enough to fit in any room, looks sleek not clutter. I know it's not so much fashion & makeup but I love it so much I wanted to share. I only write about products I really really love:)

iCraig 2.1 Channel Tower Speaker with A Built-In 1 Sub-Woofer (20W RMS) and 4 High powered speaker (4 x 5W RMS) System, Total Output Power : 40W RMS
***The iCraig 2.1 Channel Tower Speaker was given to me to try by CVS***
This month Salma Hayek debuted her 100-piece Nuance cosmetics line for CVS, according to  Women's Wear Daily. 100-stockkeeping-unit Nuance Salma Hayek line will bow in August 2011 exclusively in 7,000 CVS Pharmacy stores and online. I actually had the chance to visit the CVS headquarters in WOONSOCKET, Rhode Island just last week and got a sneak peek to Slama's new makeup, skincare, and hair care collection which are priced between $7.99 and $19.99. The collection was inspired by Hayek's grandmother, who was a Vichy Lab-trained cosmetologist and incorporated Native American and Mayan ingredients into her beauty treatments.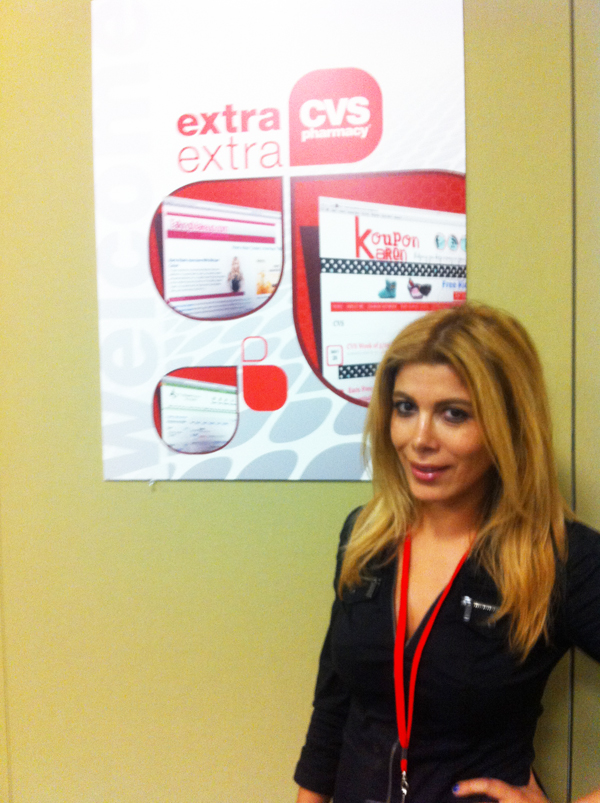 Marta Walsh standing infront of a poster about www.talkingmakeup.com which was hanging on the wall at the CVS headquarters in WOONSOCKET, Rhode Island
All about face wipes. I'm call myself the Baby Pampers sensitive and perfume-free wipes (thick care) snob. I use it to remove my makeup and to freshen up when I travel. It's works really well. So to add LUMENE Sensitive touch Gentle Cleansing Wipes takes a lot to impress me. I add this one as definitely worth trying. It's not perfumed heavily, it's gentle as it claims, and does remove even waterproof mascara. It's good! Available at CVS.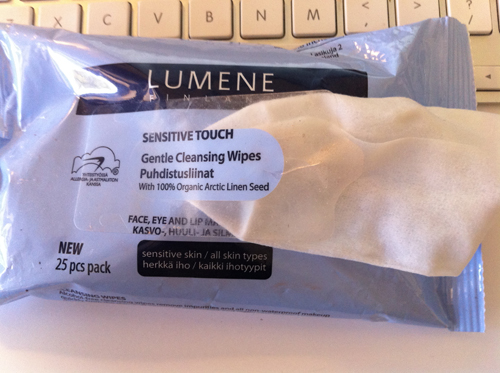 LUMENE Gentle Cleansing Wipes with 100% Organic Arctic Linen Seed and alcohol-free.
Also in the LUMENE sensitive touch line I tried and good: TOUCH DAILY MOISTURE CREAM and COMFORTING NIGHT CREAM
These five, new time-savers available at CVS/pharmacy either offer multiple benefits in one easy step or promise to deliver results quicker than ever. Here are our TOP 5 UNDER $10 suggestions on ways you can reclaim some extra moments outdoors and help cut down time spent on your beauty routine:
1) Sally Hansen Complete Salon Manicure, $7.00. The exclusive formula in this salon-quality nail polish performs the five steps of a professional manicure in just two coats.