All Posts Tagged With: "Sally Hansen"
Give your nails a much needed boost with the new Sally Hansen Moisture Rehab Overnight Nail Serum and for your lips, Rimmel London will give you that much needed long wearing dose of color for the New Year with their new Only 1 Matte Lipstick.
WAKE UP TO HEALTHIER, HYDRATED NAILS:
SALLY HANSEN LAUNCHES MOISTURE REHAB™ OVERNIGHT NAIL SERUM
SOMETHING BIG: SALLY HANSEN LAUNCHES TWO NEW MEGA MANICURE ESSENTIALS! Treat yourself to two new manicure must-haves.
Nail experts know that the proper foundation is essential for flawless color laydown. Sally Hansen introduces two treatment products designed to prep and prime for the perfect manicure.
As the exclusive nail sponsor of Stella McCartney Collections in 2014, Sally Hansen strutted down the runway at the spectacular Stella McCartney Winter 2014 Collection fashion show at the Palais Garnier during Paris Fashion Week. To complement the bold textures and sophisticated color palette of the designer's Winter 2014 Collection, the Sally Hansen nail looks worn on the runway featured clean, modern, understated shades of nude to flatter the models' skin tones.
THE NAIL LOOK
Sally Hansen Global Color Ambassador, Madeline Poole, custom blended colors of barely blush, nudes and sheers from the Complete Salon Manicure palette.
"We did a natural slightly sheer nail using various combinations of four shades," said Madeline Poole. "Colors were layered differently for each model to best complement their skin tone. As different nudes look better on different hands, we wanted to customize each girl's look rather than using the same nude on everyone.
Thanks to the all-in-one product Complete Salon Manicure, we were able to skip base coat application and with the larger, rounded brush, swiftly paint the nails so we could also address nail health and cuticle treatment. As most of the models have had a multitude of nail changes over this past month of fashion shows, we wanted to bring emphasis to conditioning and nourishing the cuticles with Sally Hansen's Cuticle Rehab. A little bit of backstage TLC goes a long way."
THE SHADES
Complete Salon Manicure in Arm Candy
Complete Salon Manicure in Shell We Dance
Complete Salon Manicure in Almost Almond
Complete Salon Manicure in Pink Pong
You know what, my latest nail polish favorite is Sally Hansen, their Complete Manicure line is AMAZE and I'm in love with their Polar Bear white shade. Now Sally Hansen has At-home Gel Manicure Systems too!
"Great clean manicure by Sally Hansen complete salon manicure in Polar Bare x"-Marta Walsh
Christina Aguilera wore Sally Hansen Salon Effects Real Nail Polish Strips in "Lust-rous" on last night's episode of The Voice.
Christina's manicurist, Farah Songhorian, explains that the "Lust-rous" pattern "compliments the dress and adds some sparkle and glam to the nail".
Sally Hansen and DKMS, the world's largest bone marrow donor center, have partnered for the Color that Cares campaign and offered complimentary Sally Hansen manicures in LA yesterday, June 10th, 2010, to raise awareness for DKMS. Actresses, AnnaLynne McCord and Michelle Trachtenberg stopped by and received a Sally Hansen manicure in support of DKMS. AnnaLynne's shade of choice was Sally Hansen Complete Salon Manicure in Grass Slipper and Michelle chose Complete Salon Manicure in Fairy Teal.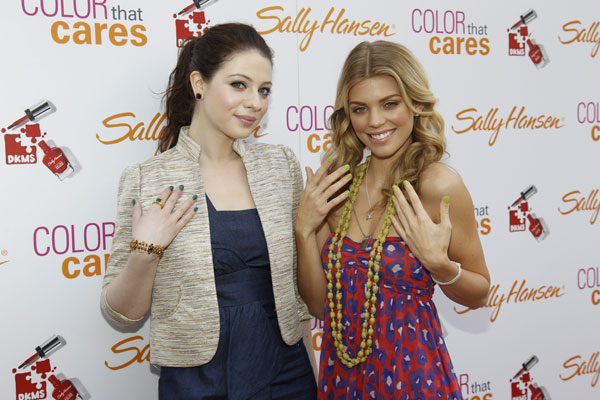 These five, new time-savers available at CVS/pharmacy either offer multiple benefits in one easy step or promise to deliver results quicker than ever. Here are our TOP 5 UNDER $10 suggestions on ways you can reclaim some extra moments outdoors and help cut down time spent on your beauty routine:
1) Sally Hansen Complete Salon Manicure, $7.00. The exclusive formula in this salon-quality nail polish performs the five steps of a professional manicure in just two coats.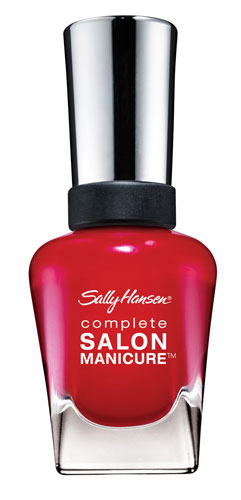 Summer makeup tips from What Not to Wear's resident makeup artist, Carmindy.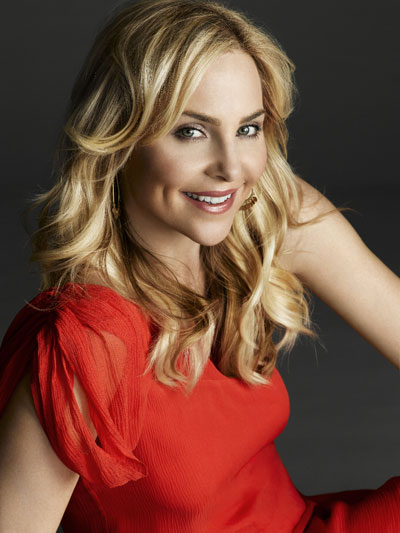 As the weather heats up, it's time to lighten up your makeup routine with luminous, natural formulas that let your skin shine. "Who needs heavy makeup when you have a pretty, natural flush?" says Carmindy, the expert behind Sally Hansen Natural Beauty Inspired by Carmindy. "Summer is the time to emphasize fresh, healthy skin—not hide behind makeup. With the right products, you can highlight your summer glow and let your true beauty shine through."
Sally Hansen has you covered with the Holiday Diamond Strength No-Chip Nail Color collection. These limited edition shades feature six colors that range from deep raspberry red to a tinsel-inspired sparkling glow. These limited edition shades are perfect for a deep, ruby nail or a festive and shimmery tinsel-inspired look. Each polish costs $4.75 and can be found in Drugstores nationwide.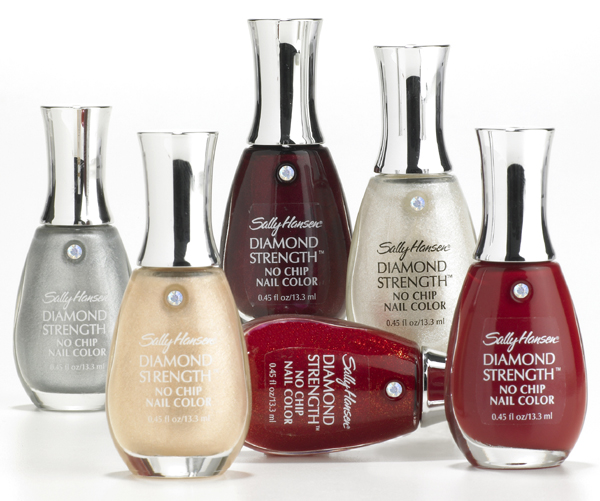 Sally Hansen Diamond Strength No Chip Nail Color, the nail enamel that helps stop nails from breaking . . . with a precedent-setting formula that contains real diamond particles to give nails diamond strength, diamond shine and diamond wear.