All Posts Tagged With: "Christina Aguilera"
Christina Aguilera wore Sally Hansen Salon Effects Real Nail Polish Strips in "Lust-rous" on last night's episode of The Voice.
Christina's manicurist, Farah Songhorian, explains that the "Lust-rous" pattern "compliments the dress and adds some sparkle and glam to the nail".
International recording artist and world-renowned superstar, Christina Aguilera has two seductive fragrances, Christina Aguilera and Christina Aguilera By Night, perfect for the moments when a woman wants to feel confident and glamorous, day or night. These show-stopping scents, with their captivating notes and bold, burlesque style capture the true spirit of Christina's first feature film!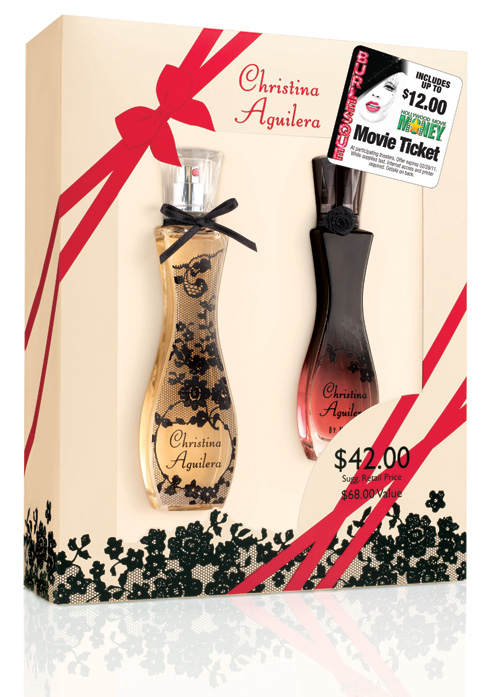 "Burlesque is about feeling sexy and empowering women which is a perfect fit for my fragrances as that is what inspired me to create them. Christina Aguilera and Christina Aguilera By Night capture the glamorous and sensual feel of the film," says Christina Aguilera.
Christina Aguilera took to the stage at the MTV Movie Awards 2010 tonight in her signature full-on-glam fashion. Celebrity makeup artist Kristofer Buckle, who did Christina's makeup for her red carpet appearance earlier tonight, upped the beauty ante by loading on the shimmer and shine. Kristopher gave us the scoop on the products that he reached for for Christina's much-anticipated performance.
Christina Aguilera fans, rejoice! The mega-talented singer is back and looking better than ever. Celebrity makeup artist Kristofer Buckle did the makeup honors for Christina's highly-anticipated appearance at tonight's MTV Movie Awards 2010 in Los Angeles. Kristofer shared the scoop on Christina's red carpet look with Talking Makeup. Dress by SS10 Atelier Versace.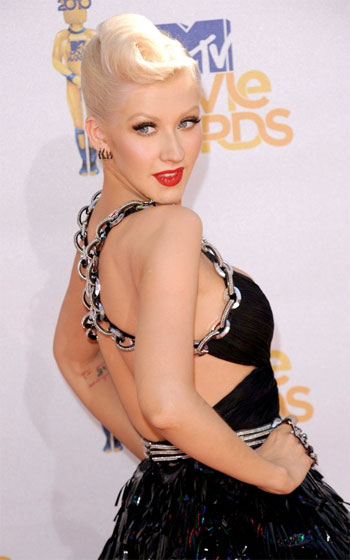 GET THE LOOK: Christina Aguilera wears NARS makeup at the 67th Golden Globe Awards. The Look & Inspiration: "I wanted to create a soft natural look on Christina to compliment her gown and new haircut," said Kristofer Buckle for NARS Cosmetics. "Her dress choice was a beautiful pastel peach with silver. I didn't want the look to fight with her gown. The final look is chic and seamless, with a earthy colored smokey eye and glowing skin."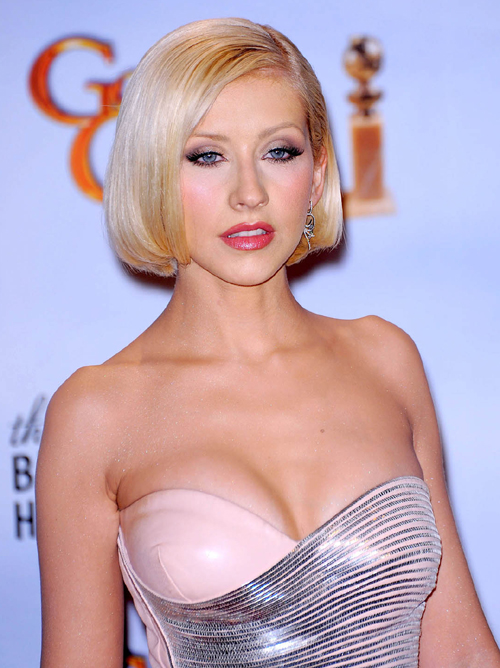 Below is Kristofer's step-by-step makeup tutorial on how to to recreate Christina's makeup look:
Complexion
· Use the Balancing Moisture Lotion and apply the Makeup Primer as a base
· Apply Firming Foundation and set with Pressed Powder
Celebrity Makeup Artist Kristofer Buckle will be using NARS to create the makeup looks for presenter Christina Aguilera and nominee Julianna Margulies at the 67th Golden Globe Awards this Sunday, January 17th, 2010.
Christina Aguilera is featured on the cover of Marie Claire Magazine February 2010. Do you love?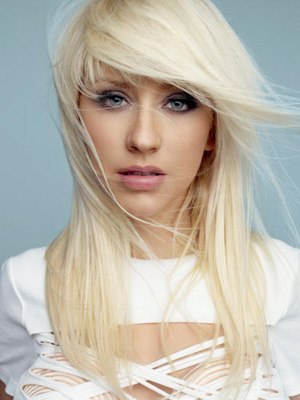 Image on right: Top, $675, Bra, $830, Jean Paul Gaultier. Photo Credit: Peggy Sirota
Watch & Sneak Peek: On behalf of Lifetime Networks, Talking Makeup has a NEW clip from this Thursday's upcoming episode of Project Runway: Season 6, starring none other than Christina Aguilera as the guest judge!

Project Runway Christina Aguilera NEW Clip is featured in www.misslush.com
On behalf of Lifetime Networks, Talking Makeup is pleased to announce the NEW celebrity guest judge on Thursday night's new episode of Project Runway: Season 6! Singing legend Christina Aguilera will help decide who is in, and who is out.
Here's Christina Aguilera at the launch of her new perfume Inspire at Macy's last Friday, December 6th.
Notice Christina Aguilera's new hair style? What do you think of Christina's very short bangs?
About Christina Aguilera's new Perfume Inspire: Inspire is Christina Aguilera's second fragrance under arrangements with Procter & Gamble, and her first to be marketed in the United States.
The new effort is meant to provide "a modern take on the Pop Art era," the influence that Warhol had on the period combined with the image of Tokyo, particularly "the energy and excitement and how the whole city feels and comes alive at night," she said.