All Posts Tagged With: "Golden Globe Awards"
On Sunday night, Hollywood's A-listers showcased several of spring beauty trends on red carpet at the 67th annual Golden Globe Awards.
Beauty Trend: Berry-stained Lips
GET THE LOOK: Winners Drew Barrymore and Chloe Sevigny, as well as actress Maggie Gyllenhaal donned a refreshing combo of berry-stained lips and rosy cheeks, perfect for spring.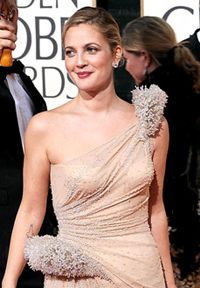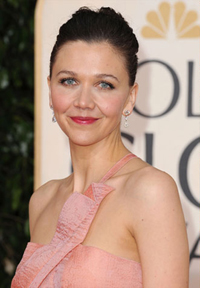 To try out this look, try (see images below, from left) the Dolce&Gabbana Classic Cream Lipstick in Sublime or Dolce&Gabbana The Shine Lipstick in Ruby. On cheeks, dust on the Dolce&Gabbana Luminous Cheek Color in Rose for a subtle, radiant glow.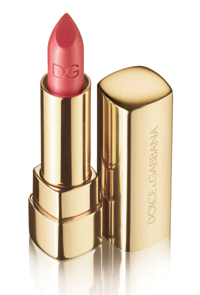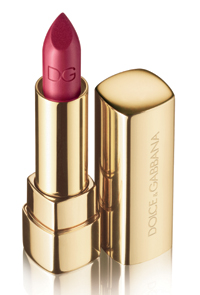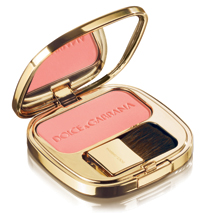 GET THE LOOK: Celebrity hair stylist Laini Reeves used Living Proof No Frizz to perfect hairstyles for Leona Lewis and Emily Blunt last night at the 67th Golden Globe Awards.
Leona Lewis and Emily Blunt didn't let the rain spoil their perfectly tamed tresses on the red carpet thanks to Laini Reeves and her secret weapon, LIVING PROOF NO FRIZZ. Both Hollywood starlets stayed frizz free and perfectly glamorous in the pouring rain thanks to the new anti-frizz molecule created by MIT scientists doesn't leave hair looking wet or greasy.
For best actress nominee, Emily Blunt – Laini Reeves cut her hair to shoulder length just for the Golden Globes and then created a curl that was blunt and chic, but still a little fun.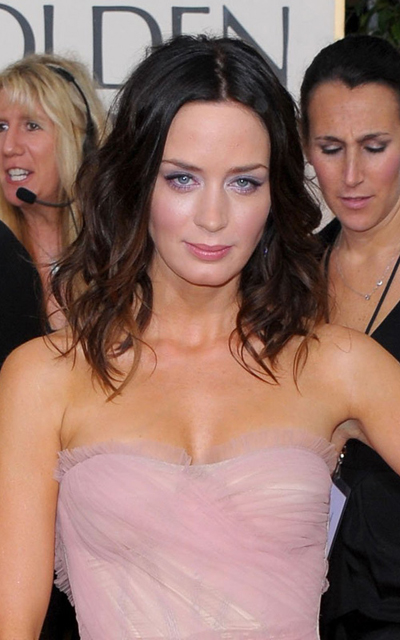 How To Get Emily Blunt's Hairdo:
First, Laini applied the NO FRIZZ, WAVE SHAPING CREAM FOR MEDIUM TO THICK HAIR ($24) to Emily's wet hair to prevent the hair from frizzing. She then added a bit of the new LIVING PROOF FULL ($24) to add a bit of body to the wave. She started creating the pin curls by taking half inch pieces of hair and wrapping each piece around her fingers and then pinning them to the top of the head.
GET THE LOOK: Love Fergie's brows at the 67th Golden Globe Awards? Well, the secret to Fergie's perfect brows is Beverly Hills' most sought-after brow expert, Anastasia Soare, who is a must for any A-Lister walking the red carpet. BTW-Fergie's lilac chiffon gown was by Elie Saab.
This year, Anastasia perfected the brows of Golden Globe winner Julianna Margulies, as well as nominees Penelope Cruz, Jane Adams, presenter Jennifer Garner. Other regular clients of Anastasia's who were also at the Golden Globes include Nine star Fergie and Mad Men's Elisabeth Moss.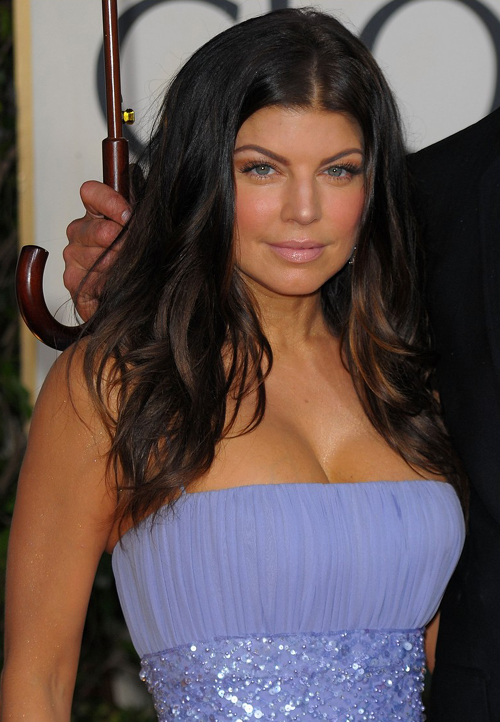 Anastasia's tips on how to get your brows red carpet ready:
How many days/weeks before a big event should you have eyebrows done? Why this period of time? 
"We never want to schedule brow shaping's for actresses the day before or the actual day of an event because there is too much running around between fittings, hair and makeup and your skin can become very sensitive to wax after a facial or with the application of makeup right after a shaping. I prefer 3-6 days before as this gives the skin enough time to be even with the skin tone of the face. When we remove hair with wax the dead skin is "exfoliated" off and can be slightly lighter in pigment for a day or two. In addition, in the event that there is any redness at all we want to be cautious and avoid this by shaping ahead."
GET THE LOOK: Christina Aguilera wears NARS makeup at the 67th Golden Globe Awards. The Look & Inspiration: "I wanted to create a soft natural look on Christina to compliment her gown and new haircut," said Kristofer Buckle for NARS Cosmetics. "Her dress choice was a beautiful pastel peach with silver. I didn't want the look to fight with her gown. The final look is chic and seamless, with a earthy colored smokey eye and glowing skin."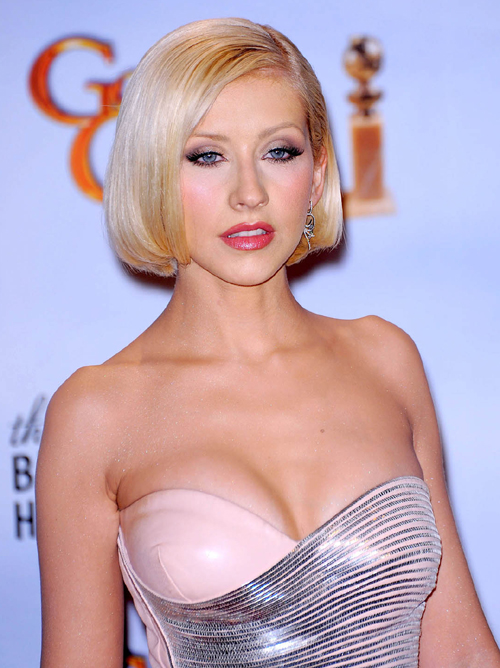 Below is Kristofer's step-by-step makeup tutorial on how to to recreate Christina's makeup look:
Complexion
· Use the Balancing Moisture Lotion and apply the Makeup Primer as a base
· Apply Firming Foundation and set with Pressed Powder
GET THE LOOK:  Gabourey Sidibe, Golden Globe nominee for her lead role in the movie Precious, partnered with Bobbi Brown to create her Golden Globe glow.
"I wanted Gabourey to look pretty powerful, but still like herself, so I gave her glowing skin and modern, sexy eyes. She doesn't need a lot of makeup, so we added some sparkle shadow, lashes and color to her lips and cheeks, and she was perfect. I love this look because she has a natural glow and looks like the prettiest version of herself."-Bobbi Brown.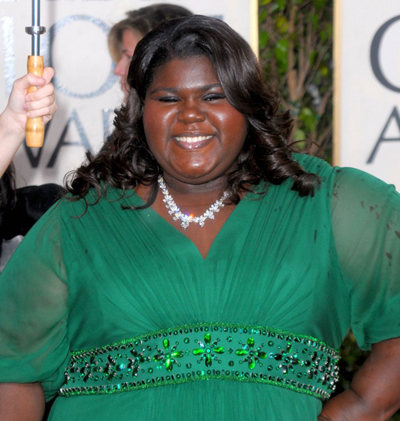 Makeup tutorial on how to get Gabourey Sidibe's makeup look at the 67th Golden Globe Awards using Bobbi Brown products:
Step 1: Prep skin with Soothing Face Tonic and Hydrating Face Cream
Step 2: Apply Chestnut Concealer under eye. Use Concealer Brush to get an even application.
Step 3: Apply Oil-Free Compact Foundation in Chestnut with a sponge and/or Foundation Brush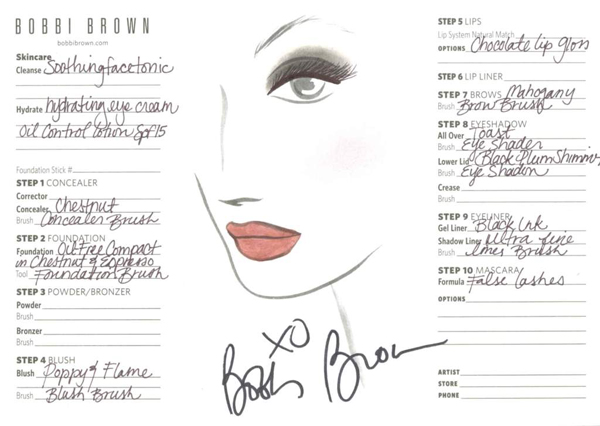 GET THE LOOK: Frederic Fekkai Celebrity Stylist Renato Campora created a sexy undone chignon for Kate Winslet for the 67th Golden Globe Awards. The Look & Inspiration: Renato's inspiration was a glamorous woman leaving her hotel room in a rush. He created a sexy, low chignon with an undone feel and lots of texture.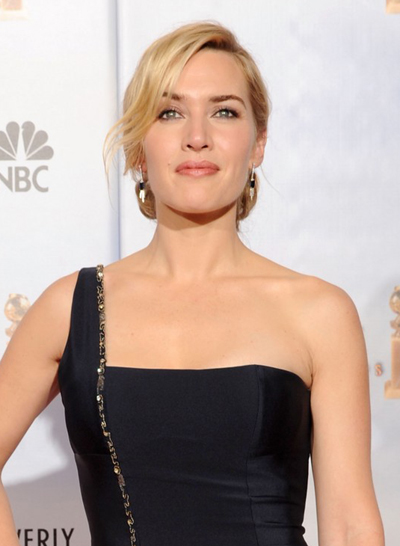 Here's Renato's hair tutorial on how to get Kate Winslet hairdo:
On wet hair Renato applied FEKKAI COIFF STRONG HOLD VOLUME MOUSSE mixed with FEKKAI ADVANCED BRILLIANT GLOSSING CREAM. These two products together provide the right balance to create a texture that leaves the hair hydrated. With the hair still wet, he created a side part and placed pins curls throughout the entire head and dried the hair with a diffuser. Once the hair was 80 percent dry, he removed the pin curls. Renato used his fingers to produce texture and finished drying the hair with the diffuser. He then applied FEKKAI Salon Technician Color Care Anti-Fade Top Coat throughout the hair for shine. Next, he softened the ends by using a curling iron. He then applied the FEKKAI Au Naturel Dry Shampoo all over the head to give the final look some modernity and volume.
GET THE LOOK: January Jones was wearing CHANEL Beauté at the 67th Annual Golden Globe Awards. January's makeup look was created by Makeup Artist Rachel Goodwin.
Beauty Inspiration & The Look: "January's Golden Globes makeup was all about taking a fresh approach to the classic red lip."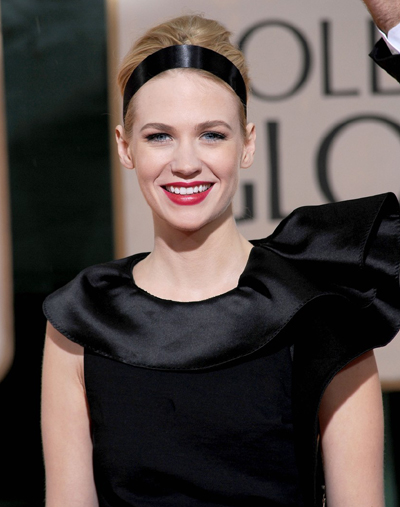 Beauty Tip: "I used Le Blanc de CHANEL under her base to create luminous 'glowing from the inside' porcelain skin, then treated her lips with CHANEL Hydramax + Active Lip Treatment before applying CHANEL Rouge Coco Lip Colour in Paris – a gorgeous garnet red from a new lipstick line launching in March. I painted the finest black line on her upper lid with CHANEL Automatic Liquid Eyeliner in Noir and shaded under her eyes with CHANEL Intense Eye Pencil in Graphite in the outer corners. I finished her look by layering lots of different false eyelashes then added Exceptionnel de CHANEL Noir Obscur Mascara over the top for an intense black lash line."
GET THE LOOK: Rose Byrne's gorgeous hairstyle at the 67th Golden Globe Awards.
Kicking off the award season, star style ruled the red carpet at tonight's Golden Globes. Harry Josh, John Frieda International Creative Consultant, shares his styling secrets with easy-to-use tips and tricks to achieve Rose Byrne's stunning look.
"I went for an old school Hollywood style with a modern twist," said Harry. "The shape and silouette is classic, but I roughed it up a little and loosened the waves to make the look less up tight."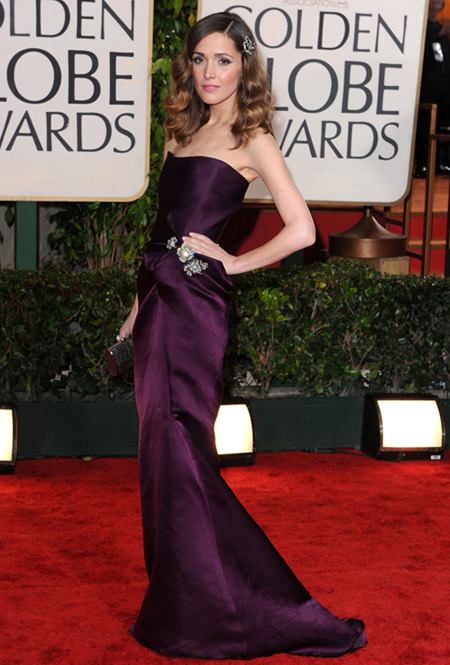 Harry began by applying John Frieda's Luxurious Volume Bountiful Body Mousse to Rose's wet hair to add texture.


GET THE LOOK:  Nicole Kidman was wearing CHANEL Beauté at the 67th Annual Golden Globe Awards.  Nicole's makeup look was created by Makeup Artist Angela Levin.
Beauty Inspiration & The Look: "Nicole is a true Hollywood movie star – and I knew I wanted to go with an old Hollywood look. Somewhere along the way, I decided to kick it up a bit and make her eyes more sexy and sultry."
Beauty Tip: "To prepare Nicole's skin, I used CHANEL Sublimage Cream all over her face and neck, and CHANEL Sublimage Eye Cream under the eyes. Her eyes were a combination of CHANEL Soft Touch Eyeshadows – in Jungle, Bois Bleu, and Le Bronze. I gave her a slightly dramatic look with two coats of CHANEL nimitable Mascara in Noir. On Nicole's cheeks I used the perfect coraly ink blush, CHANEL Powder Blush in In Love. On her lips she wore CHANEL Rouge Allure Laque in Santal."
GET THE LOOK: Jennifer Garner was wearing CHANEL Beauté at the 67th Annual Golden Globe Awards. Jennifer's makeup look was created by Makeup Artist Kate Lee.
Beauty Inspiration & The Look: "Jen's dress was a perfect nude colour, and the beads were pink and silvery. The overall look was champagne and beige. With her pale skin and dark hair, it was my job to bring colour and radiance to the silhouette because everything else was quite monochromatic. I saw it as an excuse to break out the perfect lip shade."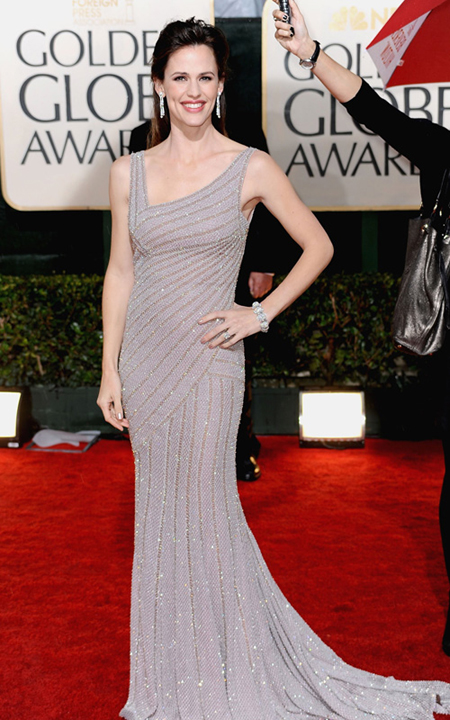 Beauty Tip: "I prepped the skin with CHANEL Hydramax + Active Serum and then CHANEL Sublimage Fluid Moisturizer, which leaves a velvety texture on the skin. On Jen's eyes I used CHANEL Quadra Eye Shadow in Kaska Beige. I liner her lids with CHANEL Long Lasting Eyeliner in Espresso, smudged it out, and used the dark burgundy shade from the quad along the lash line. I then used my favourite colour in the world, the beigey-taupey-lilac shade in the quad, in the socket line. I feathered it along the lash line as well, to blend the chocolate brown liner. I curled the lashes, an applied one coat of CHANEL Inimitable Waterproof Mascara in Noir. On her cheeks I used Neutrogena a combination of Neutrogena Mineral Sheer Cheek Colours in Apricot, Sable, and Rare Rose. Finally, on the lips I used CHANEL Rouge Coco in Rouge Orage. I chose this shade because it has amazing staying power and incredible hydrating properties. It's an intense rosey colour with a bronze shimmer – perfect or Jen's full lips."