All Posts Tagged With: "Brow Shaping"
GET THE LOOK: Love Fergie's brows at the 67th Golden Globe Awards? Well, the secret to Fergie's perfect brows is Beverly Hills' most sought-after brow expert, Anastasia Soare, who is a must for any A-Lister walking the red carpet. BTW-Fergie's lilac chiffon gown was by Elie Saab.
This year, Anastasia perfected the brows of Golden Globe winner Julianna Margulies, as well as nominees Penelope Cruz, Jane Adams, presenter Jennifer Garner. Other regular clients of Anastasia's who were also at the Golden Globes include Nine star Fergie and Mad Men's Elisabeth Moss.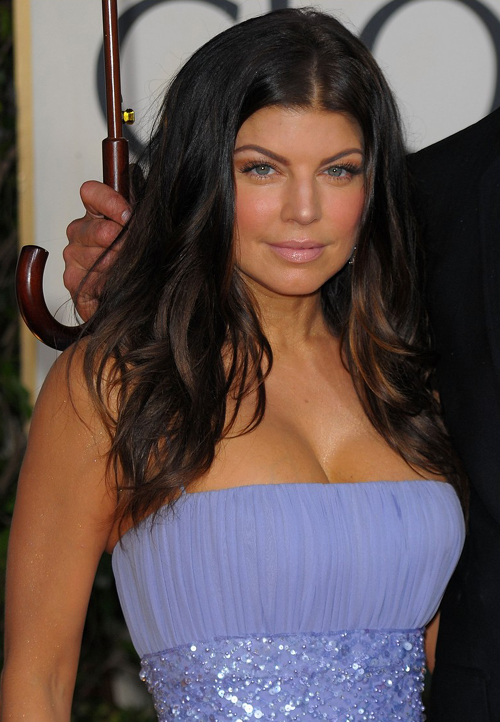 Anastasia's tips on how to get your brows red carpet ready:
How many days/weeks before a big event should you have eyebrows done? Why this period of time? 
"We never want to schedule brow shaping's for actresses the day before or the actual day of an event because there is too much running around between fittings, hair and makeup and your skin can become very sensitive to wax after a facial or with the application of makeup right after a shaping. I prefer 3-6 days before as this gives the skin enough time to be even with the skin tone of the face. When we remove hair with wax the dead skin is "exfoliated" off and can be slightly lighter in pigment for a day or two. In addition, in the event that there is any redness at all we want to be cautious and avoid this by shaping ahead."
Star Beauty Product:  Christi Harris Brow Planning System ($59) Beauty expert Christi Harris introduces a complete approach to shaping and maintaining the perfect brows. Featuring all the tools you need to naturally fill and contour, the at-home kit makes you your own brow artist—no experience necessary.
Marta highly recommends the Christi Harris Brow Planning System! I love how all the tools you need to shape your eyebrows are in one kit. It keeps your makeup area well organized and it is also perfect for travel! The kit includes every brow shade for dark brunette to blond and you can adjust it. I don't leave my house with out it!
Visit www.christiharrisbrows.com for additional product details.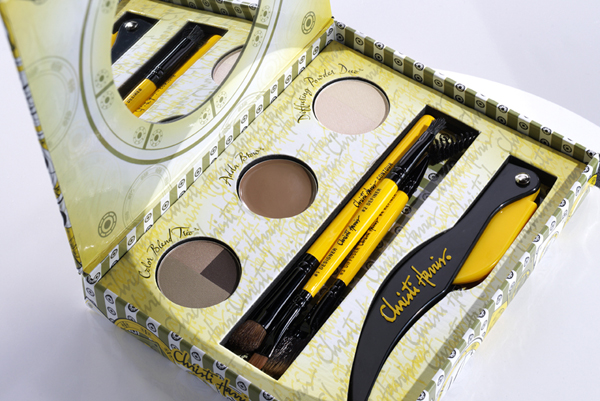 WATCH: Eye Brow Tutorials by Christi Harris!
Beginner Steps to Blissful Brows. Guidelines for a tiny and well-groomed brow. To get started, the beginner steps are a great way to improve your current brow look. This video will educate you how to easily design, define, diffuse your way to beautiful brows.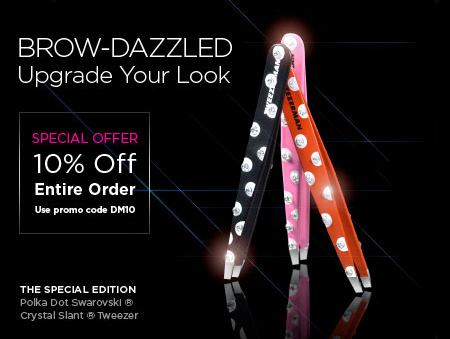 Top makeup artists recommend the award-winning Tweezerman Slant® Tweezer for expert brow shaping. The perfectly aligned, hand-filed slanted tips grab every hair, every time with exact precision. This holiday season, tweezing aficionados and novices alike will adore these festive Tweezerman stocking stuffers at a range of prices:
The Petite Tweeze® Set ($25) contains smaller versions of the Slant® and Point® Tweezers, which are ideal for grooming on the go.
The Special Edition Polka Dot Swarovski® Crystal Slant® Tweezers ($40) are adorned with delicate Swarovski crystals to add a hint of glamour to the everyday. Available in Midnight Sky, Signature Red or Neon Pink.
The new Winter Print Mini Slant® Holiday Tweezers ($15) are the perfect holiday beauty treats, are petite enough to fit in the palm of your hand and come decorated with either a snowflake or star motif in shades of red, blue or green.
Special Offer! Get 10% off your entire order at tweezerman.com. Get free shipping when you spend $40, and a free gift when you spend $75.
*Please note this blog is an affiliate of DailyMakeover.com.
If you want to get your eyebrows in shape you must check out Anastasia Beverly Hills products. The entire line is designed to perfect your eyebrows at home. I have tried many of Anastasia Beverly Hills products and I just can't leave my house without using them.
Here is one product I love: Anastasia Beverly Hills Brow Filler which is spring-loaded powder-tipped sponge duo (blonde on one end and brunette on the other). This unique powder formula is long wearing and designed to be slightly damp so that it can adhere to the skin, versus the brow hair. This allows color to be in place… even when there is little or no brow hair!
I use the blonde side and it lightens my eyebrows perfectly to match my very highlighted blonde hair. SRP: $20.