All Posts Tagged With: "Jennifer Garner"
Hair Tutorial: Frederic Fekkai Celebrity Stylist, Adir Abergel tousled Jennifer Garner's tresses for her Valentine's Day Premiere. The look: Enhancing out Jennifer's natural curls by creating full waves and wonderful movement.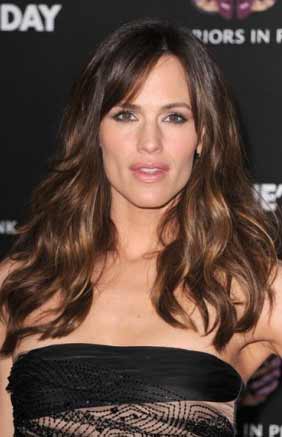 How to get Jennifer Garner's hairstyle at the Valentine's Day Premiere:
First, prep the hair by applying Fekkai Full Blown Volume Lifting Hairspray ($23) at the roots. Next blow dry the whole head with your hands to create texture and bring out the natural wave. Follow by taking a round brush and blow dry the bangs forward and to one side.
GET THE LOOK: Love Fergie's brows at the 67th Golden Globe Awards? Well, the secret to Fergie's perfect brows is Beverly Hills' most sought-after brow expert, Anastasia Soare, who is a must for any A-Lister walking the red carpet. BTW-Fergie's lilac chiffon gown was by Elie Saab.
This year, Anastasia perfected the brows of Golden Globe winner Julianna Margulies, as well as nominees Penelope Cruz, Jane Adams, presenter Jennifer Garner. Other regular clients of Anastasia's who were also at the Golden Globes include Nine star Fergie and Mad Men's Elisabeth Moss.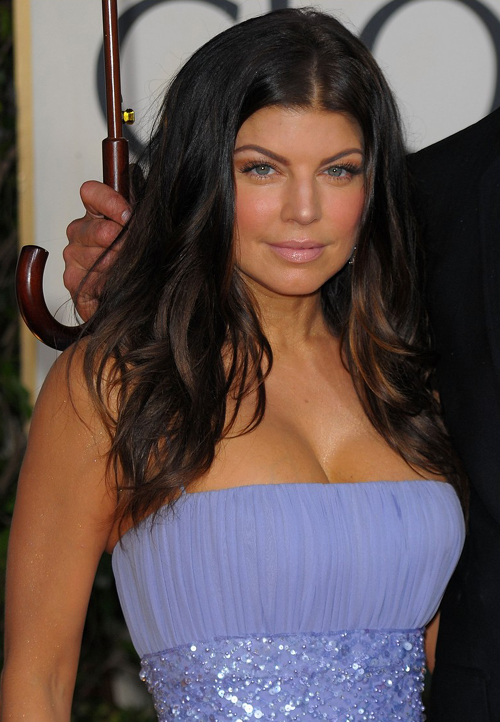 Anastasia's tips on how to get your brows red carpet ready:
How many days/weeks before a big event should you have eyebrows done? Why this period of time? 
"We never want to schedule brow shaping's for actresses the day before or the actual day of an event because there is too much running around between fittings, hair and makeup and your skin can become very sensitive to wax after a facial or with the application of makeup right after a shaping. I prefer 3-6 days before as this gives the skin enough time to be even with the skin tone of the face. When we remove hair with wax the dead skin is "exfoliated" off and can be slightly lighter in pigment for a day or two. In addition, in the event that there is any redness at all we want to be cautious and avoid this by shaping ahead."
GET THE LOOK: Frederic Fekkai Celebrity Stylist Adir Abergel Created a sophisticated style for presenter, Jennifer Garner. The Look: Adir sought to capture her essence and amazing spirit, he wanted to play up her beautiful dress by elongating Jennifer's features. He did that by building height on the top of the head and creating cascading curls to fall down her back.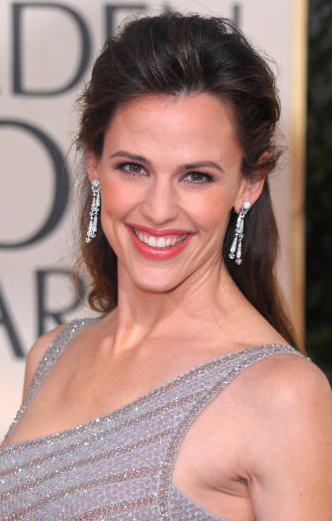 Here's Adir's hair tutorial on how to get Jennifer Garner's hairdo:
He first started by applying the FEKKAI COIFF BOUFFANT LIFTING & TEXTURIZING SPRAY GEL all over the roots to create body and movement. He created extra volume using the FEKKAI COIFF STRONG HOLD VOLUME MOUSSE from the roots to the ends for memory and hold. He took a round brush and blow-dried the hair and while it was hot, placed it into stand up pin curls and let cool while she got her makeup done.
GET THE LOOK: Jennifer Garner was wearing CHANEL Beauté at the 67th Annual Golden Globe Awards. Jennifer's makeup look was created by Makeup Artist Kate Lee.
Beauty Inspiration & The Look: "Jen's dress was a perfect nude colour, and the beads were pink and silvery. The overall look was champagne and beige. With her pale skin and dark hair, it was my job to bring colour and radiance to the silhouette because everything else was quite monochromatic. I saw it as an excuse to break out the perfect lip shade."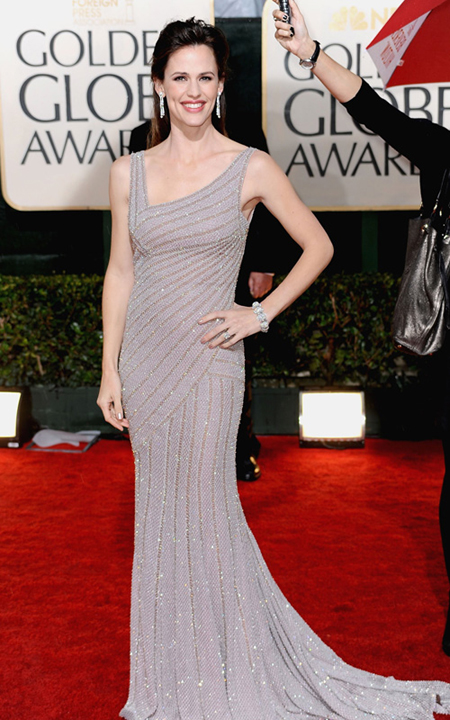 Beauty Tip: "I prepped the skin with CHANEL Hydramax + Active Serum and then CHANEL Sublimage Fluid Moisturizer, which leaves a velvety texture on the skin. On Jen's eyes I used CHANEL Quadra Eye Shadow in Kaska Beige. I liner her lids with CHANEL Long Lasting Eyeliner in Espresso, smudged it out, and used the dark burgundy shade from the quad along the lash line. I then used my favourite colour in the world, the beigey-taupey-lilac shade in the quad, in the socket line. I feathered it along the lash line as well, to blend the chocolate brown liner. I curled the lashes, an applied one coat of CHANEL Inimitable Waterproof Mascara in Noir. On her cheeks I used Neutrogena a combination of Neutrogena Mineral Sheer Cheek Colours in Apricot, Sable, and Rare Rose. Finally, on the lips I used CHANEL Rouge Coco in Rouge Orage. I chose this shade because it has amazing staying power and incredible hydrating properties. It's an intense rosey colour with a bronze shimmer – perfect or Jen's full lips."
SNEAK PEEK: Hollywood starlets know that it's all about glamorous hair when it comes to the red carpet. At the 2010 Golden Globe Awards, the industry's most beautiful actresses will walk the red carpet in hair styles created exclusively by Fekkai stylists. Adir Abergel will tend to the tresses of nominee, Sandra Bullock and presenter, Jennifer Garner, and Renato Campora will style presenter, Kate Winslet's, locks.
Jennifer Garner is looking stunningly pretty at the Premiere of Ghosts of Girlfriends Past: Get the Look!
Skin: Neutrogena Mineral Sheers Liquid Makeup in Nude & Neutrogena Healthy Skin Blends Natural Radiance Bronzer in Sunkissed.

Eyes: Neutrogena Nourishing Eye Quad in Garden Party.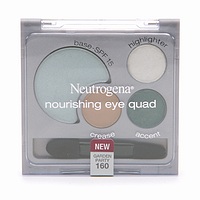 Neutrogena, a worldwide leader in highly effective, dermatologist-recommended skincare and cosmetics, has signed actress Emma Roberts as Neutrogena's newest brand ambassador.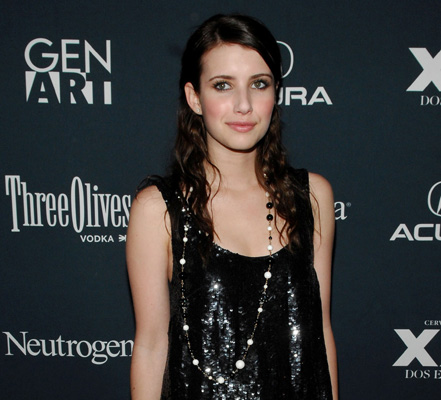 Emma Roberts. If the last name sounds familiar to you, it's because Emma Roberts is Julia Robert's niece. 
"I'm so excited to enter this new chapter in my life. To be a part of a brand that I have always loved and believed in is a once in a lifetime opportunity," says Emma Roberts. "It's important to me to be associated with Neutrogena because they instill confidence and beauty in young women."
Emma will be joining a roster of other beauty icons including Diane Lane, Jennifer Garner, Vanessa Hudgens, Hayden Panettiere, Gabrielle Union, Susie Castillo, Malin Ackerman and Natascha McElhone.
The hot new hairstyle that celebrities are sporting is the modernized, layered bob as seen on Anne Hathaway, Gwyneth Paltrow and Jennifer Garner. Formerly forbidden since the 70s, this cut is making a strong comeback this season celebs are growing out their layered bobs to hit just above the collarbone. This cut creates beautiful lines by emphasizing your neck and shoulders.
This is how to get Anne Hathaway's modernized bob by Frederic Fekkai's Adir Abergel:
To get this modern day bob look, you need a good volumizer like Frederic Fekkai's Fekkai Coiff Bouffant to use all over the roots and dry hair upside down to create fullness.  Adir then wrapped hair around a 1″ curling iron, making sure to leave the ends out to create a relaxed curl. To soften this look you can add a slight wave by using Frederic Fekkai's Coiff Oceanique Tousled Wave Spray to modernize texture and take it away from soccer mom territories.
"Clients should ask for a choppier bob so it's not so blunt, but rather has texture on the ends with longer layers that frame the face for body," says Adir. "The long bob can become soccer mom-esque if it is too blunt, so make sure your stylist removes some bulk from hair by chops into the ends."
THE PRODUCTS ALL BY FEKKAI: Coiff Oceanique Tousled Wave Spray, Coiff Bouffant.
Recreate her glowing evening makeup with these expert tips. Actress Jennifer Garner always manages to look healthy, well-rested and stunning on the red carpet, despite being a mom, wife and celebrity full-time. Makeup artist Matin, who applied the look, tells you how to recreate her glowing skin, sparkling eyes and warm pink lips in three easy steps. How-to tips!