All Posts Tagged With: "Hair Styles"
On Tuesday, May 25th, 2010, Redken created the hair styles for the launch of Sex and the City 2's costume designer Patricia Field's House of Field Eyewear, Swimwear and Beach Towels in NYC.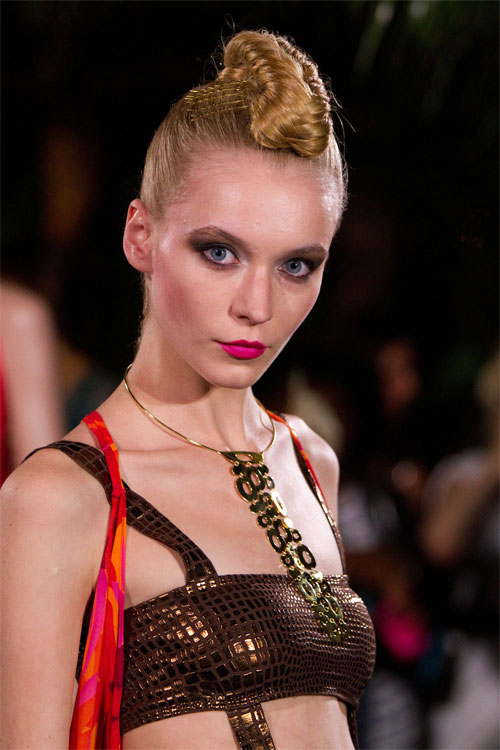 To complement the ultra stylish and super glam looks designed by the queen of costume designing herself along with David Dalrymple, Rodney Cutler for Cutler/Redken pushed the envelope in hair styling as he created the perfect youthful fishtail-ed updo to play on Patricia's eye for sophisticated fashion: "The high fishtail braid is a fun evening looking and very wearable. We've seen so many buns up top and this is just taking it one step further," explained Cutler.
Redken's Runway Report from Milan: At today's Versace and Alberta Ferretti shows in Milan, Redken Creative Consultant Guido created the hair styles to compliment the designers' Fall/Winter collection.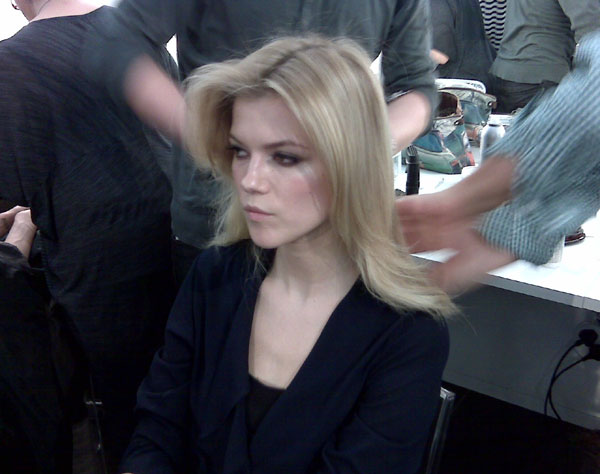 Versace Fall 2010 Milan: hair with Redken
Versace
Guido created a sexy, natural blow – an easy style for the modern looking Versace woman. "The style is ultra sexy but natural, like you can run your hands through it. Kind of a relaxed, style that doesn't look too done, that gives an extra sense of lax sexiness to the Versace woman." – Guido, Redken Creative Consultant
Products all by Redken:
thickening lotion 06 body builder
forceful 23 super strength finishing spray
SNEAK PEEK: Hollywood starlets know that it's all about glamorous hair when it comes to the red carpet. At the 2010 Golden Globe Awards, the industry's most beautiful actresses will walk the red carpet in hair styles created exclusively by Fekkai stylists. Adir Abergel will tend to the tresses of nominee, Sandra Bullock and presenter, Jennifer Garner, and Renato Campora will style presenter, Kate Winslet's, locks.
HerCut the first-ever haircare for your haircut, not your hair type? What?! Read more.
Remember the last time you got an amazing haircut? Your stylist nailed the look, capturing your personality in the cut. Every hair fell into place just so, and you left the salon walking on air. Fast-forward to your first shampoo—how did your style stand up without the stylist?
It doesn't take an expert to maintain straight-from-the-salon style—it takes products that support your cut. HerCut introduces the first hair care line designed to keep first-day haircut performance alive by catering to the needs of specific haircuts rather than specific hair types.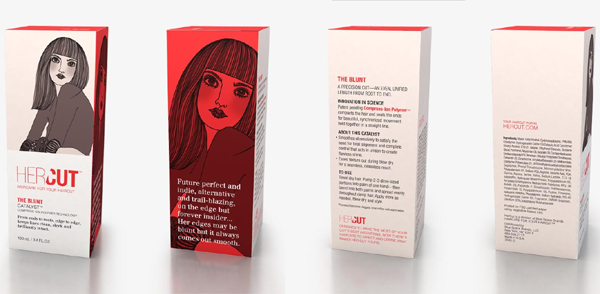 "Every time you get a haircut, you're making a huge investment—both emotionally and financially," explains Bob Salem, HerCut creator CEO and founder of Blue Space Brands. "HerCut empowers you to protect that investment, not only by preserving the impact of your cut but also by enabling you to fully embrace the personality of the style."
"It's an industry secret that there are really five essential hair styles that all stylists master during their training," adds HerCut Brand Ambassador and Emmy Award-winner Kyan Douglas. "No matter what your hair type, your stylist uses the same techniques to create your signature style. Maintaining that look is about using products tailored to the cut, not the hair itself. For the first time, HerCut offers products that bring out the best in every cut, giving you flawless style long after you leave the salon."
Got 10 minutes to spare? That's all you need to easily and dramatically change your look
It's so easy for us to get into a routine of styling our hair the exact same way every day. But how boring is that? Shake things up with one of these new styles, there are plenty to choose from so you can find a new look no matter what hair cut you have.