On Tuesday, May 25th, 2010, Redken created the hair styles for the launch of Sex and the City 2's costume designer Patricia Field's House of Field Eyewear, Swimwear and Beach Towels in NYC.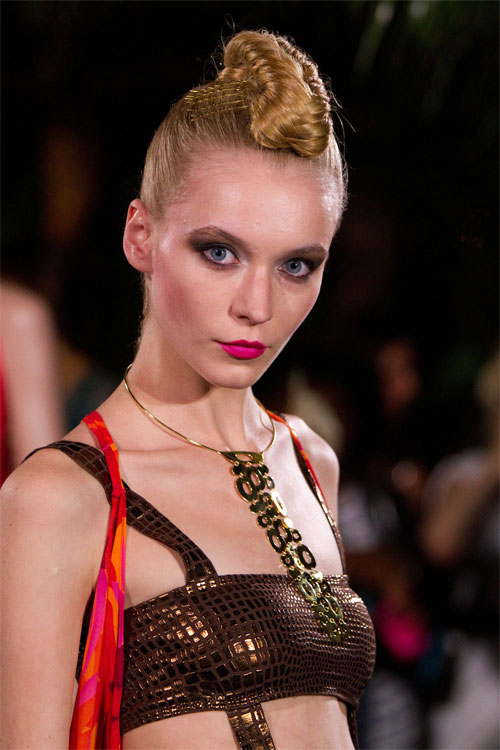 To complement the ultra stylish and super glam looks designed by the queen of costume designing herself along with David Dalrymple, Rodney Cutler for Cutler/Redken pushed the envelope in hair styling as he created the perfect youthful fishtail-ed updo to play on Patricia's eye for sophisticated fashion: "The high fishtail braid is a fun evening looking and very wearable. We've seen so many buns up top and this is just taking it one step further," explained Cutler.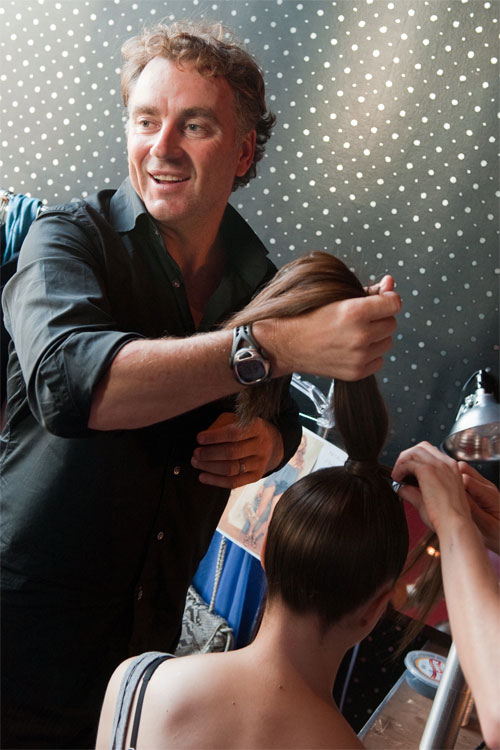 Rodney Cutler for Cutler/Redken
How to: To create the look, Rodney prepped hair by applying Redken align 12 protective straightening lotion and blow-dryed through with a medium brush. Next, he tightly gathered into a high ponytail on the very top of the head, about three inches from the hair line and secured with an elastic. He then took a small piece of hair and wrapped around the elastic and secured with a bobby pin. Next, a fish-tail braid* was weaved down to the end of the hair and pinned in upon itself right at the hairline. The look was finished with Redken vinyl glam 02 mega shine spray for shine and Redken forceful 23 super strength finishing spray for extra strong hold for a look that undeniably shouted "Hello Lover" on the runway!
*Need a step-by-step on creating the perfect fishtail?
1) Split the hair to be braided into two equal sections
2) Pull a small strand of hair from the left section and add it to the right section
3) Then, pull a small strand of hair from the right section and add it to the left
4) That will create a small X
5) Repeat until all the hair is used
6) Secure with a clear plastic band
For more information on Redken, visit redken.com or call 1-800-REDKEN8.