All Posts Tagged With: "Sex And The City 2"
To celebrate the arrival of summer, Milly is launching a Cabana Contest! Beginning Thursday June 17th, 2010, Milly Facebook fans can enter to win the ultimate beach package including $1,200 worth of Cabana merchandise: a signature Milly paisley-print bandeau bikini, cotton lace cover-up, luxe terry cloth tote and matching beach blanket with detachable pillow. A celeb favorite, Milly Cabana has been recently seen on Kristin Davis in "Sex and the City 2," as well as Beyoncé.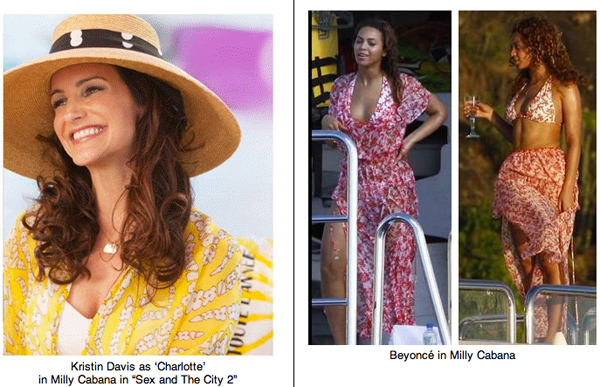 The contest ends on July 2nd, 2010, just in time for the holiday weekend, when the lucky winner will be announced and also receive $1 toward Millyny.com for every Milly Facebook friend in their network.
Father's Day Gift Idea perhaps: Donald J. Pliner's Vinco Loafers are featured in "Sex and the City 2". It seems that Mr. Big feels like a King when he is wearing Donald J. Pliner's brown, suede Vinco loafer. He has no issue putting his feet up like royalty on Carrie's brand new couch while still wearing his shoes. Pliner is known for defying the odds when it comes to the give and take relationship between practicality and style. Big's Vinco loafers are comfortable enough to act as a slipper in the privacy of his own home but chic enough to wear out and about on the streets of New York city.
On Tuesday, May 25th, 2010, Redken created the hair styles for the launch of Sex and the City 2's costume designer Patricia Field's House of Field Eyewear, Swimwear and Beach Towels in NYC.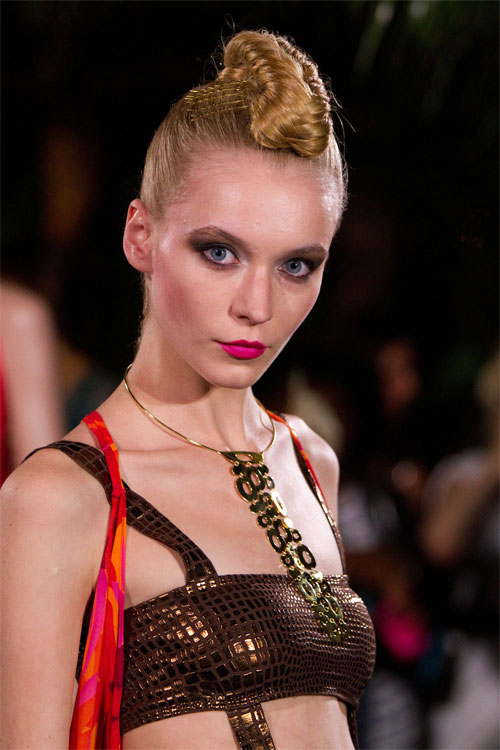 To complement the ultra stylish and super glam looks designed by the queen of costume designing herself along with David Dalrymple, Rodney Cutler for Cutler/Redken pushed the envelope in hair styling as he created the perfect youthful fishtail-ed updo to play on Patricia's eye for sophisticated fashion: "The high fishtail braid is a fun evening looking and very wearable. We've seen so many buns up top and this is just taking it one step further," explained Cutler.
Sex And The City 2 Hair: Stylist Frank Barbosa uses SULTRA styling tools to get Sarah Jessica Parker and friends' perfect waves. To give the girls their signature 70s-inspired waves, Frank used Sultra styling Irons, relying heavily on the SULTRA WICKED WAVE & STRAIGHT IRON ($185) as his go-to. He loved that it gave just the right amount of bump and wave to the girls' tresses!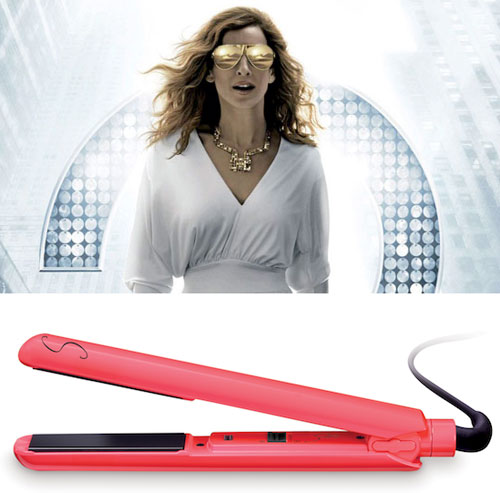 Available at sephora.com and Sephora stores and sultra.com
If you saw "Sex and the City 2" this weekend we hope your eagle eyes spotted the Lancôme products in the bathroom shared by Carrie and Big. Haven't seen the flick yet? Then keep an eye out for the assortment of Lancôme favorites, including Color Fever Lipstick, La Laque Fever Lipshine, Bi-Facil, Tonique Radiance, Rénergie Microlift and Hydra Fraîchelle. Not surprisingly, Carrie has great taste in beauty, too. There's also an appearance by a certain Lancôme spokesperson. We won't say which one!
For more informative on the Lancôme products please visit their website: www.lancome-usa.com
Get The Look: Talking Makeup has just found out that celebrity makeup artist Matin has been using the following skincare products on Cynthia Nixon for the Sex and the City 2 premieres around the world (Marta Walsh says: "No wonder Nixon looks so beautiful":)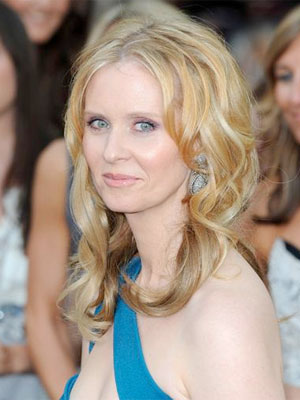 L to R: Cynthia Nixon and Sampar Eye Rule ($78 at www.Beauty360.com) with adenosine and peptides, which hydrates, refreshes and smooths the delicate skin around the eye area.
Orlane Crème Royale Eye Contour ($300 at www.NeimanMarcus.com) with 24-K gold and royal jelly. Matin uses this eye cream on Ms. Nixon's cheekbones to highlight them.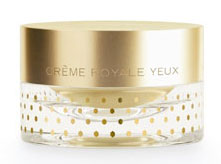 Sarah Jessica Parker showed up to the at the Sex And The City 2 UK premiere with this hat or hair accessory. According to fashion journalist Jim Shi who I follow on Twitter Parker's headpiece is by Irish born hat designer Philip Treacy. Based in London, Treacy has designed hats for Alexander McQueen's white Haute Couture collection at Givenchy in Paris and for Karl Lagerfeld at Chanel. In 2009 he even designed a hat for Lady Gaga for the 2009 Grammy's. I love the hat it's a work of art and would love to wear it one day (I'm serious:)!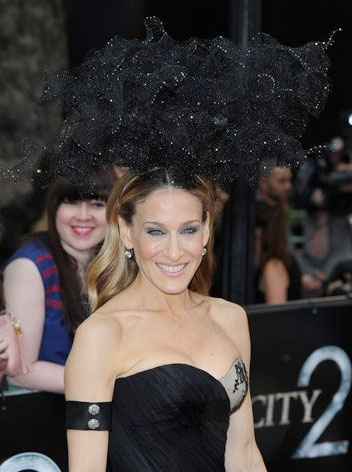 I had the most fabulous night last week for the Sex And The City 2 premiere party. The movie opened here in Scottsdale Arizona on Thursday May 27th, 2010. Sex And The City 2 was better and funnier than the first one. The movie was so funny and good, even if it stood my itself and you've never heard or watched anything Sexy And The City before it would be very watchable and entertaining. Needless to say, my 3 girlfriends who joined me that night and never laughed so much.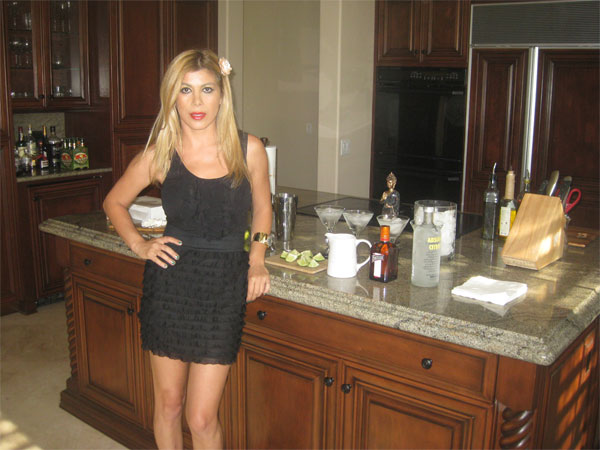 Marta Walsh (that's me) in my kitchen preparing (and half posing) all I need for my Cosmopolitan Martinis for my girlfriends.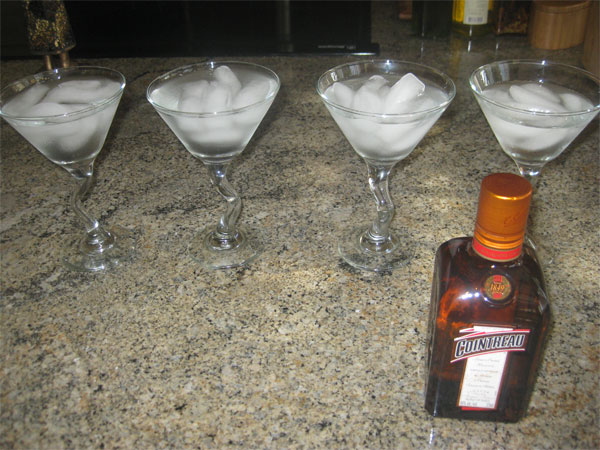 These Libbey martini glasses are just so elegant Love love love xo
Cynthia Nixon showed up to the Sex And The City 2 premiere in London with hair extensions. Do you love?

L to R: Cynthia Nixon With Hair Extensions and Cynthia Nixon with short hair (without hair extensions)
Sex And The City 2 Hair: Want to know the insider secret to Carrie Bradshaw's enviable waves, Miranda's sleek bob, Samantha's blonde bombshell shimmer and Charlotte's ultra‐shiny locks?
Straight from the set of Sex And The City 2, the on‐set hairstylist's secret weapon is Oribe Hair Care – used on set and loved by the cast for its superior performance, all‐day hold and signature scent.