All Posts Tagged With: "Redken"
Got curly hair? Check out the NEW Redken curvaceous hair care line. They suppose to get the best out of your curls and keep them in place too. Also good for just wavy hair. Designed to fight frizz, dryness, lack of definition, and to reduce frizz up to 97% for up to 3 days straight! (via Redken). Maybe this is the tome to finally embrace your curls.
How to get glossy ringlets or tousled waves
ROBERTO CAVALLI Milan Fashion Week Spring – Summer 2013. "This look is really about how the girls look best themselves, how great they look walking down the runway with their natural hair, and really I'm just enhancing that. I'm also tucking the hair behind the ears at the end to give a slightly disheveled feel. But the clothes are very glamorous and they say it all- to create the right overall look for this show, we had to downplay the hair a little bit. This is an easy style that's a little bit grungy, and just very cool."-Guido, Redken Creative Consultant
Redken Creative Consultant Guido created a simple, chic hairstyle at the Victoria Beckham Spring 2013 show early on Sunday morning that was more natural than in past seasons with textured lengths that dried naturally.
"The center part and shine on top creates a strong, even dramatic look on the Victoria Beckham girl today, but the overall style is still very youthful and American. The style is minimal, yet done – it's very wearable."-Guido, Redken Creative Consultant
Redken Creative Consultant Guido worked to create styles for two very distinct powerhouse collections at his last day of shows in Paris this week.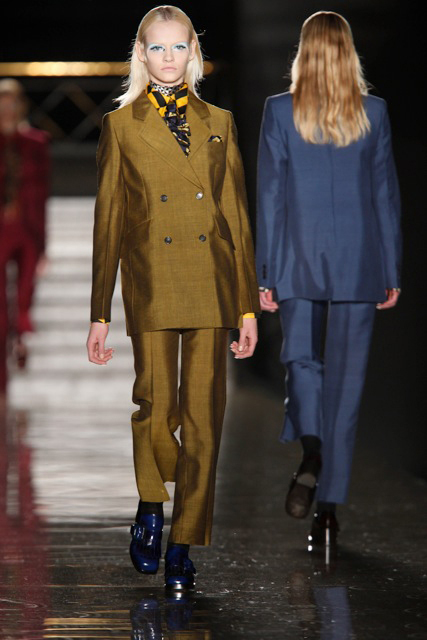 Miu Miu Fashion show Fall 2012
Backstage at Valentino Fall 2012 with Redken. "I've created a very classic Valentino look, very pretty. I'm doing a seventies kind of twist that has a very soft feel to it…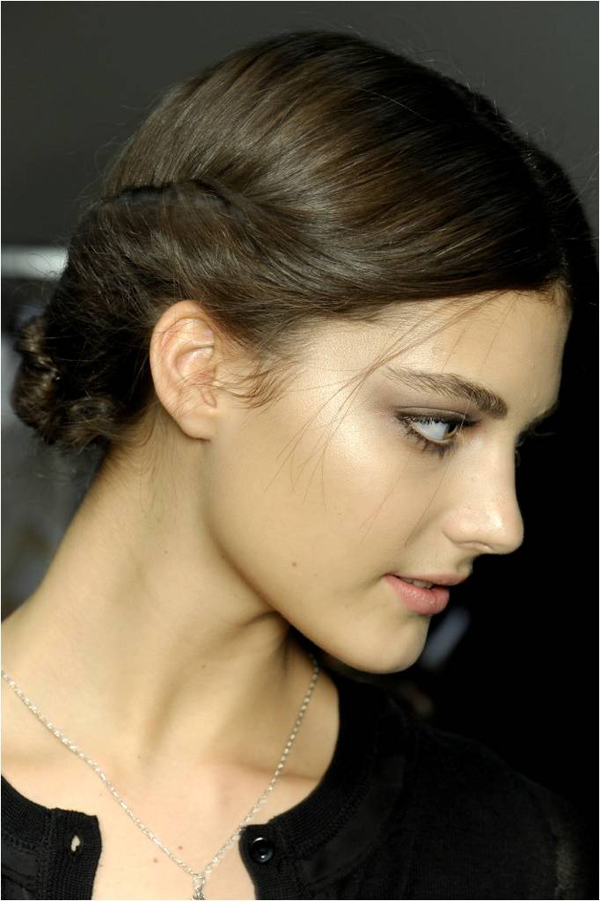 VALENTINO Fall 2012
Valentino's got such a signature girl now, every season I reinvent the hair whether it's a twist, a braid, or a knot. It's a challenge but what's very nice about it is that it's always very pretty, very soft, very feminine. It's a great look for women."–Guido, Redken Creative Consultant
Nina Ricci Fashion Show Fall 2012: "The texture is very natural with a deep side part. I then tucked hair behind one ear and then behind the opposite ear and let the hair hang forward…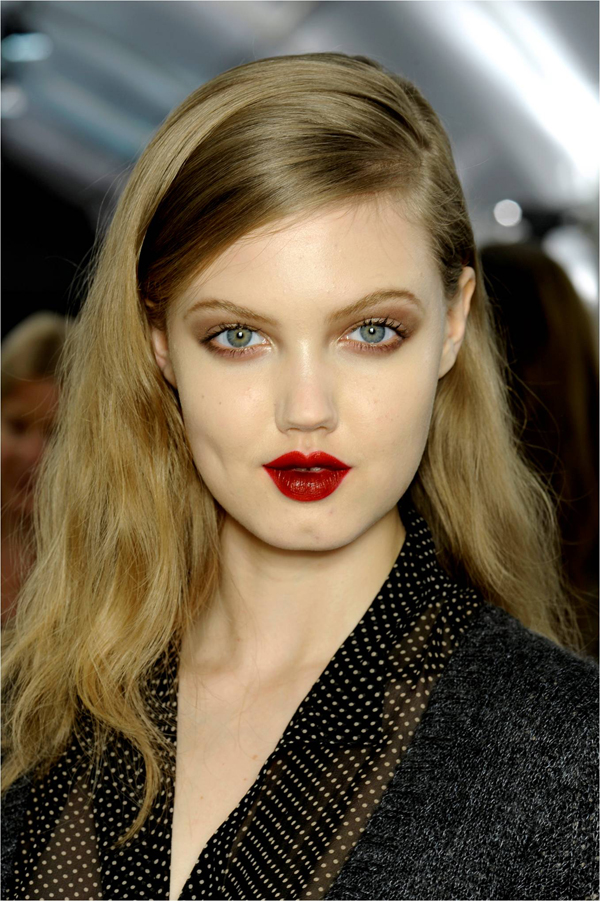 …Adding powder refresh 01 dry shampoo made a dry texture for a matte look- it's duller and natural, not shiny. The deep side part makes the look very cool- easy and pretty."–Guido, Redken Creative Consultant
How to get a deep side part hairstyle
"At Lanvin, the hair is very clean and natural with no product besides my favorite leave-in conditioner, Extreme Anti-Snap…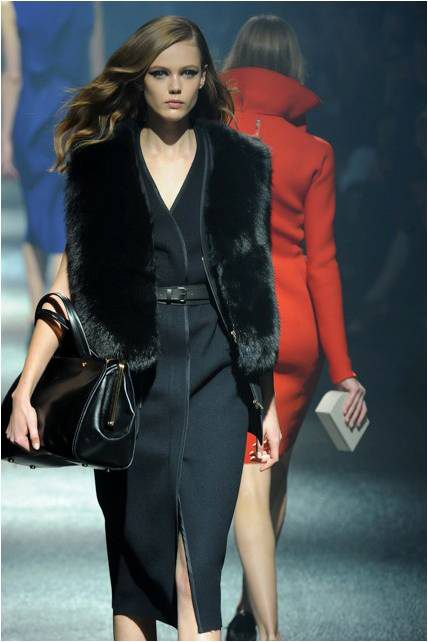 …You'll see that the clothes today are very embellished, very beautiful, very luxe. I didn't really feel like another point of view was needed. All of the parts are different – some girls have side parts and some have messy center parts. Then hair is just tucked behind their ears, it's just very easy hair."–Guido, Redken Creative Consultant
Redken Creative Consultant Guido created an androgynous, rock 'n' roll look at the Fall 2012 Jean Paul Gaultier show, Saturday March 3rd, in Paris.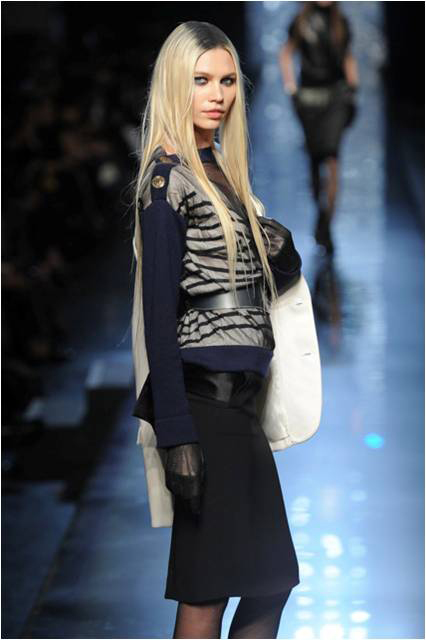 JEAN PAUL GAULTIER
The collection itself was dark and graffiti-inspired, clearly intended for the kind of girl you don't want to mess with.
Redken Creative Consultant Guido kept things simple yet sexy at the Fall 2012 Roberto Cavalli fashion show, Feburary 27th, 2012, his last show in Milan this season. He looked to create a matte, textured hairstyle that would complement the very dark makeup and exotic prints and leathers in the collection itself.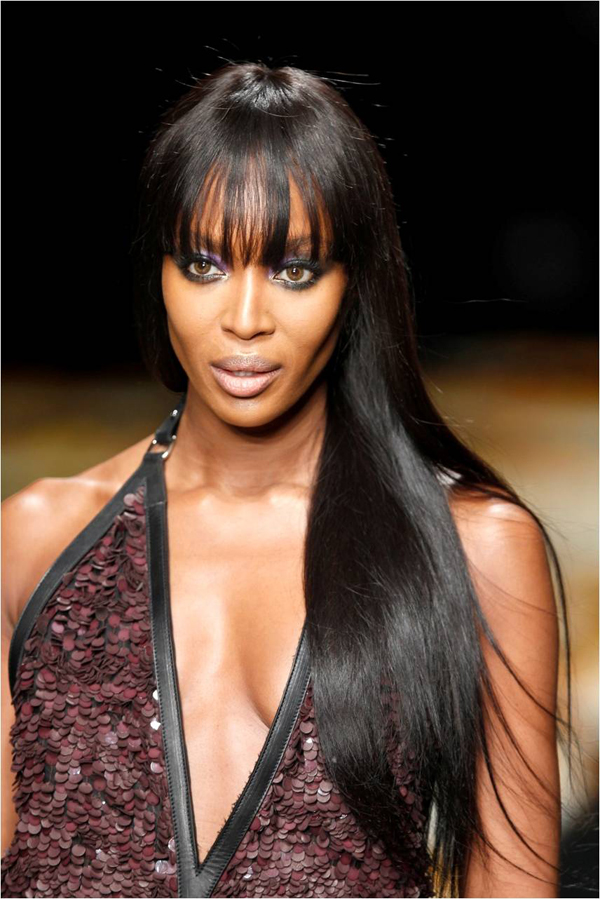 Naomi Campbell at the Roberto Cavalli Fashion Show Fall 2012
Redken Creative Consultant Guido cut each models' bangs into a very extreme, short fringe that hit mid-forehead for the Fall 2012 Versace show in Milan yesterday, Feb 24, 2012.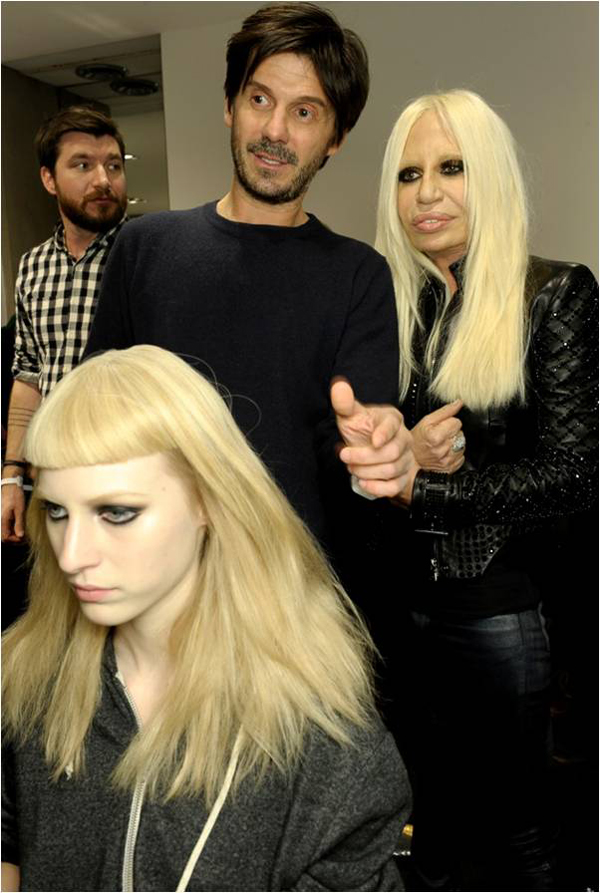 Guido and Donatella Versace backstage at Versace Fall 2012 Fashion Show in Milan
Versace Fall 2012
"The Versace girl is very rock 'n' roll, very cool and very Donatella. It's a very strong look that compliments the collection. It's a shaggy sort of texture which makes it a younger look, and a lot less blown out than we've seen in past seasons."–Guido, Redken Creative Consultant