All Posts Tagged With: "blow dry"
This August, Redken is pleased to introduce its newest launch: the Redken Diamond Oil Glow Dry collection. The NEW! Diamond Oil Glow Dry Collection is a blow-dry-loving-oil-infused system for all hair types. A blend of lightweight formulas scrub, gloss and detangle blow-dry-addicted hair, resulting in a super shiny blowout every time. Glow Dry also works perfectly with our Pillow Proof Blow Dry range, designed to make your blow dry last longer and look great! Don't just blow-dry, #Glowdry.
Sunday, February 14, 2016 . Derek Lam Fall Winter 2016. 558 Washington Street, NYC. HAIR: Orlando Pita for PHYTO Paris/BaBylissPRO USA.
INSPIRATION:    The hair complements the Fall/Winter 2016 Collection – chic undone. LOOK:  "Tucked but untucked."
GET THE LOOK:
·         Part the hair a bit off center or how the hair naturally falls
·         To prep the hair, add 2-3 pumps of PHYTO Professional Intense Volume Mousse with fingers to create texture. Blow dry with BaBylissPRO® Rapido throughout hair
BEAUTY TRENDS: Blow Dry Shops
Beauty Icon Allen Edwards knows a thing or two about industry trends. After all, Edwards has been a leading force in the world of hair and beauty for over three decades. He is the owner of two full service salon and spas in Brentwood and Woodland Hills, CA and is the creator of the Shear Force hair product collection.
"Blow dry only shops are opening up all over town and they are charging $35…A price we haven't seen since the 1970's", states Edwards. "They are pulling clients away from every major salon where professionally trained salon stylists charge $60 and up. The full service salons are loosing a huge amount of business and, in an already tough economy, it's a major blow".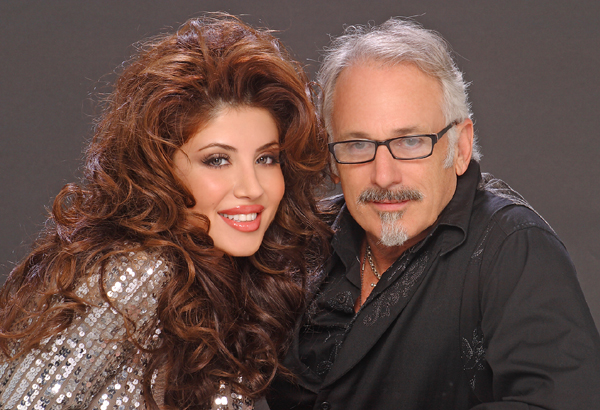 Allen Edwards with Deal or No Deal Lucky #13 Leyla Milani
L.A.'s first blow dry salon "Drybar" opened its doors on San Vicente Blvd., just a mile from Edward's Brentwood Salon. Drybar charges $35 for a shampoo and blow dry and customers are encouraged to schedule appointments on-line. The original blow dry salon is in Manhattan called "BLOW ~ The New York Blow Dry Bar". BLOW is a full service salon, specializing in blow drys and prices range from $40 to $60, depending on the length and texture of your hair and what is needed to create the look. This format feels more professional to Edwards — If the hair needs more work, the client should be charged.
Hair Tutorial: Frederic Fekkai Celebrity Stylist, Adir Abergel tousled Jennifer Garner's tresses for her Valentine's Day Premiere. The look: Enhancing out Jennifer's natural curls by creating full waves and wonderful movement.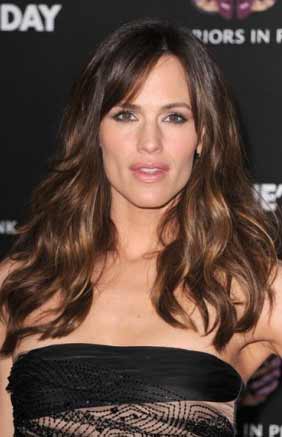 How to get Jennifer Garner's hairstyle at the Valentine's Day Premiere:
First, prep the hair by applying Fekkai Full Blown Volume Lifting Hairspray ($23) at the roots. Next blow dry the whole head with your hands to create texture and bring out the natural wave. Follow by taking a round brush and blow dry the bangs forward and to one side.
GET THE LOOK: Love Avatar star Zoe Saldana's hairdo at the 2010 Golden Globes? Talking Makeup got the scoop and the hair tutorial on how to recreated it at home!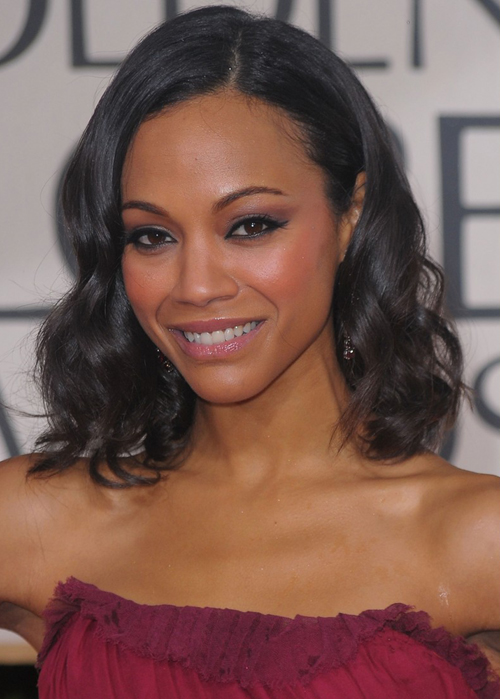 Even in the rain, Zoe Saldana shined! TRESemme celebrity stylist Mara Roszak created soft curls for the fierce star. See below steps on how to recreate the look:
1. Starting with damp hair, apply TRESemme 24 Hour Body Foaming Mousse, and part hair to one side (slightly off center). Blow dry with a small round brush.
2. Spray a soft hold hairspray all over head, like TRESemme 24 Hour Body Finishing Spray, and curl 1″ sections using a 1″ barrel curling iron. Let hair twist as your wrap, and pin to scalp.
3. Let the hair sit in pin curls for at least 10 min. Take out pins, and brush delicately, without a lot of tension to keep the shape.
The cast of Sherlock Holmes traveled from Berlin to Madrid then to Paris for three star-studded international premieres for the global blockbuster. Sebastian stylist Thomas Dunkin, who also styled leading lady Rachel McAdams' hair for the world premiere, created three different looks for the actress in these three different cities to complement her gorgeous gowns.
In Berlin, Thomas styled 40's-inspired finger-waves for Rachel that bespoke elegance and grace.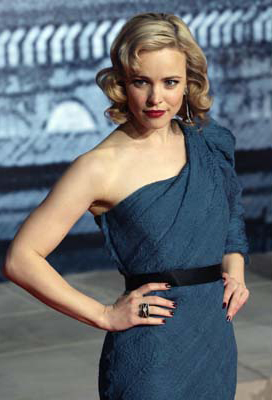 Thomas shares the step-by-step on how to get Rachel McAdams' hairdo at the Berlin Sherlock Holmes Premiere:
1) Begin by saturating damp hair from root to tip with Sebastian Professional Volupt Spray
2) Blow-dry hair with a medium-sized round brush and set whole head in medium-sized Velcro rollers
3) Leave the rollers in hair for about 5-10 minutes to cool down
4) Remove rollers beginning at the bottom, then use a ¼-inch curling iron to curl each section beginning at the root and eventually wrapping the entire section around the iron
5) Brush through hair with a Mason Pearson brush and use large section clips to define the waves where they naturally indent
6) Spray hair with Sebastian Professional Shaper Zero Gravity hair spray over the entire head and leave to set for another 10 minutes
7) Finish by removing the section clips and shaking head for an easy, sexy look
In Madrid, Thomas styled Rachel's unstructured updo with vixen-like volume.
Love Rachel McAdams hairdo at the 'Sherlock Holmes' London Premiere? Talking Makeup has the scoop on how to get Rachel's hairstyle thanks to Sebastian Stylist Design Team Member Thomas Dunkin!
For the world premiere event of the highly-anticipated Sherlock Holmes movie, Sebastian Stylist Design Team Member Thomas Dunkin styled actress Rachel McAdams' tresses to complement her Grecian-inspired gown for a red carpet look that radiated grace and glam. All eyes were on Sherlock's leading lady's asymmetrical, loosely textured side braid styled by Thomas Dunkin.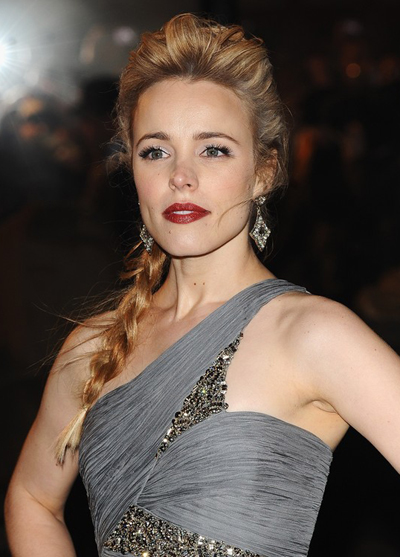 Thomas shares styling tips for recreating Rachel's red carpet look at home:
1. Start by applying a volumizing product like Sebastian Professional Texturizer to wet hair.
2. Blow dry in sections, and pin each section in medium and large sized Velcro rollers throughout whole head and allow to set for 5-10 minutes.
3. Allow to cool then take down rollers, and spray hair with a dry shampoo for added texture.
4. Emulsify a small dab of Sebastian Professional Microweb Fiber between palms and run through top of hair. Backcomb front section and manipulate for height and volume. Secure with pins.
Love Kate Hudson's hairdo at the Premiere of "NINE"? Talking Makeup has the scoop on how to get Kate's look thanks to Celebrity Hairdresser David Babaii.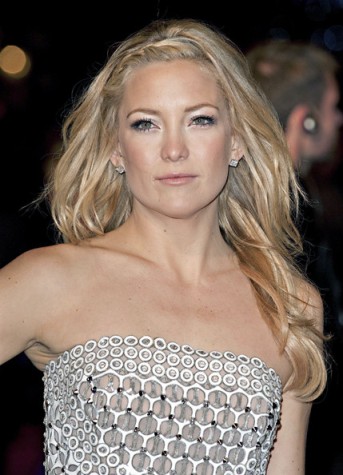 I prepared Kate's wet hair by massaging a dime size amount of my David Babaii for WildAid Hair Polish into her hair. For greater control, I parted her hair into 4 sections (both sides and crown leaving the nape area free). This helps achieve the perfect blow dry.
I dried each section straight, giving the ends a soft rounded finish with my David Babaii for WildAid Blow Dryer. For added lift and volume, I sprayed some David Babaii for WildAid Volcanic Ash Root Amplifier.
To finish, I french braided her shorter layers to sweep hair back and away from her face. For hold, I used my Mise en Plis Light Styling Spray. It's like oxygen for the hair! It doesn't weigh your style down or make it feel tacky. At the end of the night, Kate's look was completely fresh without any product build up
Visit the David Babaii for WildAid website for additional product details.
Frederic Fekkai Celebrity Stylist Adir Abergel created the look for Kate Beckinsale at the 30th Anniversary of MOCA.
The Look: an edgy take to the timeless up-do.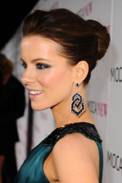 Abergel started by blow drying the hair with a FEKKAI LARGE ROUND BRUSH applying FEKKAI FULL BLOWN VOLUME LIFTING HAIRSPRAY at the roots to create some height for the updo. After blow drying, he let the hair cool around rollers in order to maximize volume. He then combed the top of the hair with a fine tooth comb to add height. After that, he polished the sides of the hair using FEKKAI COIFF NONCHALANT PIECING & FORMING WAX, pulling the hair into a tight ponytail just above the ear line. Finally, he twisted the ponytail and wrapped it around an elastic band forming a doughnut shape and pinned the pony into place. To secure the look, Abergel sprayed the hair with FEMME FEKKAI SENSUELLE HAIR SPRAY.
Frederic Fekkai SoHo's Andre Rodman transformed the tresses of Sharon Stone, taking her from day to night . David Letterman to the Elton John AIDS Foundation's "An Enduring Vision"
Sharon Stone at the Late Show with David Letterman.  Inspiration: Sixties chic to match her vintage inspired Dior Dress.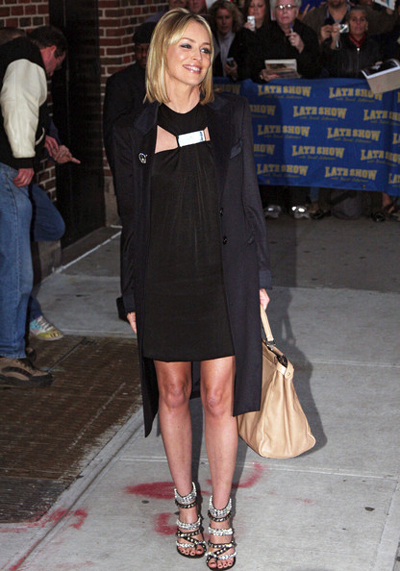 How to Get the Look: For David Letterman, Andre Rodman for Frederic Fekkai did a simple blowout using the Fekkai Extra Large Round Brush to get a stick straight bob. He parted the hair in the middle to frame her face, with a few wispy bangs falling to the front of her face. He created body and fullness at the crown using the Fekkai Full Blown Volume Spray. Finally, he finished the blow dry using Fekkai Top Coat Serum to finish the look.