All Posts Tagged With: "Celebrity Hairstyle"
The Awards Season culminated in the red carpet moment of the year, the 2010 Oscars. From Twilight-pale beauties (yay for embracing copy-paper white complexions and eschewing the ubiquitous orange spray tan) to Veronica Lake wavy hairstyles and lashes for days, five celebrity hairstyle and makeup looks in particular blew our hair back.

Credit: © John Shearer/Getty Images
Cameron Diaz brought her beauty A-game this time. No stranger to a red lip, this time Cameron paired hers with a bouncy waved hairstyle pulled over to one shoulder and minimal eye makeup, save for a flirty fringe of lashes. Softly pink cheeks warm up this fun and flirty Oscar look. Read full article in dailymakeover.com
The cast of Sherlock Holmes traveled from Berlin to Madrid then to Paris for three star-studded international premieres for the global blockbuster. Sebastian stylist Thomas Dunkin, who also styled leading lady Rachel McAdams' hair for the world premiere, created three different looks for the actress in these three different cities to complement her gorgeous gowns.
In Berlin, Thomas styled 40's-inspired finger-waves for Rachel that bespoke elegance and grace.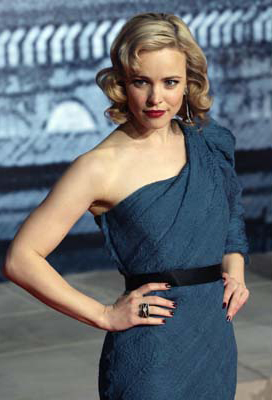 Thomas shares the step-by-step on how to get Rachel McAdams' hairdo at the Berlin Sherlock Holmes Premiere:
1) Begin by saturating damp hair from root to tip with Sebastian Professional Volupt Spray
2) Blow-dry hair with a medium-sized round brush and set whole head in medium-sized Velcro rollers
3) Leave the rollers in hair for about 5-10 minutes to cool down
4) Remove rollers beginning at the bottom, then use a ¼-inch curling iron to curl each section beginning at the root and eventually wrapping the entire section around the iron
5) Brush through hair with a Mason Pearson brush and use large section clips to define the waves where they naturally indent
6) Spray hair with Sebastian Professional Shaper Zero Gravity hair spray over the entire head and leave to set for another 10 minutes
7) Finish by removing the section clips and shaking head for an easy, sexy look
In Madrid, Thomas styled Rachel's unstructured updo with vixen-like volume.
Kate Gosselin revealed a new hairdo on the cover of People Magazine last week! To help achieve Kate Gosselin's new look, Ted Gibson – celebrity hairstylist to the stars such as Angelina Jolie and Anne Hathaway – turned to Great Lengths 100% Human Hair Extensions. Transforming Kate's shorter infamous do to long locks was no easy endeavor, taking many hours and hundreds of keratin bonded Great Lengths Extensions. However, once Kate revealed her new longer do, she loved it. Ted reveals, "using Great Lengths Extensions you are able to take hair from being ordinary to extraordinary!" Marta Walsh says: "Unbelievable!"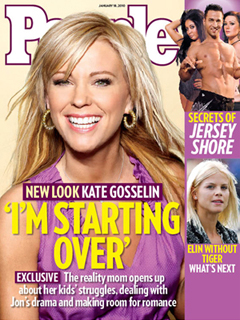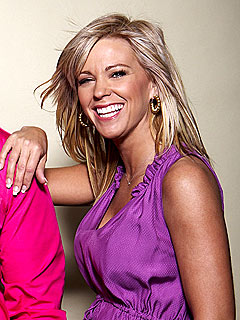 Credit: Melanie Dunea for People Magazine
Watch Kate Gosselin's 20-Hour Hair Makeover!
Great Lengths Extensions is the extension system of Hollywood. In addition to the superior quality of the human hair used by Great Lengths, the other reason it's favored among the famous is because of how safe and gentle it is on one's real hair. Unlike other hair extension systems, Great Lengths Extensions integrity of one's natural strands is never compromised, so the only risk one tales by having them is looking better than before.
Celebrity hair watch: Rihanna Got New Blonde Highlights.
Rihanna seems to not be afraid to try out trends straight off the runways. Rihanna's very short haircut now gets blonde highlights! It reminds me of the 80's punk look (George Michael "Wake Me Up Before You GO GO"?). I've seen the 80's inspired look and hairstyles making a comeback backstage at Betsey Johnson Spring 2010, during New York Fashion Week. With 80's classic music hits playing in the background, I must add. Loved it!!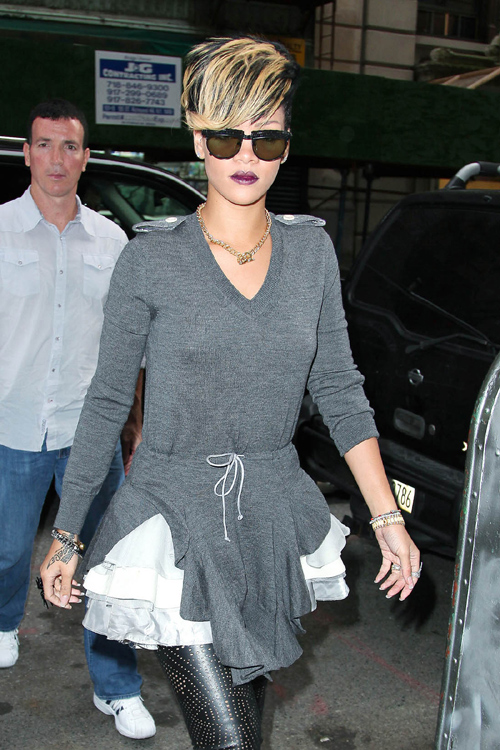 Rihanna is also sporting a fall makeup trend: dark purple lips.
To get Rihanna's dark purple inspired lips try MAC Mattene Lipstick in Night Violet. Shade description: Deep purple grape (Matte).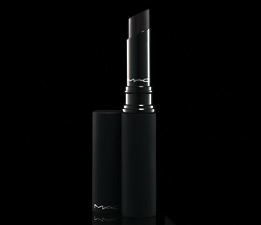 To get Rihanna's weightless volume and 'guts' to hair try: Aerate 08 bodifying cream-mousse by Redken. This new mousse was a huge hit backstage during New York Fashion Week Spring 2010 at shows like: Badgley Mischka and Betsey Johnson. I've been using this mousse myself for the past week, and it works amazing to tame my very wavy frizz-prone hair, air dried or blow dried. According to Redken's lead hairstylist backstage Peter Gray: many people afraid of a mousse as a styling product because all they think is the 80's and that big hair. But in his opinion, mousse was the best thing invented for hair. He also said that most people afraid of styling products which shouldn't be the case. Styling products are here to help you get the hairstyle you want. Also it is very important to apply styling products in the right way: use the right brush to apply or the right quantity.
 BTW: Do you love Rihanna's new blonde highlights?
Image via: www.hollywoodtuna.com
So, It's no secret that celebrities turn to extensions when the sudden crave for long hair kicks in, but it's the recent photos of super star Katie Holmes that has everyone talking.
Katie Holmes recently turned her infamous bob into cascading long waves, leaving everyone wondering how it could have been done and still look so natural?
One way to achieve the look is with Great Lengths Extensions – the semi-permanent extension system for some of Hollywood's elite. In addition to the superior quality of the human hair used by Great Lengths, the other reason it's favored among the famous is because of how safe and gentle it is on one's real hair.
Guess the actress in the photo below? Yes! Can you believe it, Ashley Tisdale from High School Musical with brown hair.
Ashley Tisdale gone darker with a brown hue. I'm only used to one High School Musical brunette: Vanessa Hudgens. I wonder how long Ashley will sport this look. I know when I dye my hair brown it dosn't last long, I harry back to my blonde highlights. Not sure why, maybe because brown hair makes me feel a bit more 'gloomy'. What do you think, do you love Ashley Tisdale's new brown hair look?
In the photo above: Joining Zac Efron and Vanessa Hudgens in Spain on Friday were costars Ashley Tisdale and Corbin Bleu. The gang posed pretty during a photocall for High School Musical 3: Senior Year at the ME Hotel in Madrid.
Ashley Simpson and Sarah Larson, George Clooney's ex girlfriend, made it to Total Beauty's list of best celebrity bangs. What do you think?


Ashley Simpson.
Cutting bangs is a daring move that requires a lot of maintenance — who wants to get a trim every two weeks? Apparently, these celebs do. From soft and side-swept to bold and blunt, see whose styles we'd emulate … if we had the guts.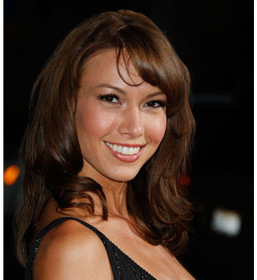 Sarah Larson.
I LOVE Jennifer Aniston's hair color and hairstyle, and I just wanted to share few pics of  Jennifer, courtesy of TotalBeauty.com. Hope you are inspired as much as I am…I know I want my hair to look like Jennifer Aniston's. I'm working on it, hehe.
Click the pic below to see Jennifer Aniston's Sexy Hairstyles!