All Posts Tagged With: "High School Musical"
Vanessa Hudgens was spotted recently with a new hairstyle: bangs! I find bangs a bit tricky on me, but they look great on Vanessa! Maybe because she is simply gorgeous? umm…that helps:)
On a different note, Vanessa Hudhens, High School Musical star,  just landed a role as a hooker in the upcoming Zack Snyder movie, "Sucker Punch."
Tell Marta Walsh what you think: Do you love Vanessa Hudgens' new hairdo? Would you be considering a Vanessa Hudgens inspired makeover in your next visit to the hair salon?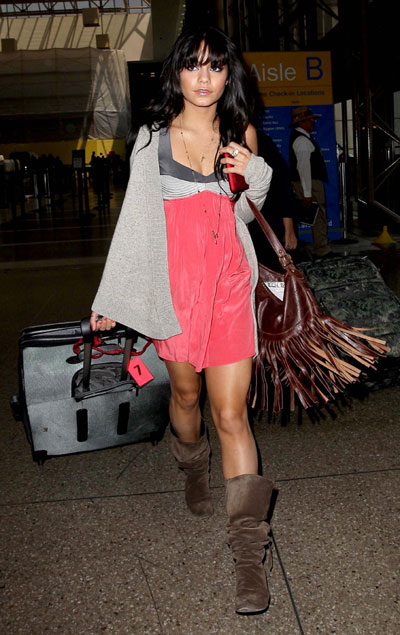 Celebrity image via: celebrity-gossip.net
81 Academy Awards red carpet looks: I've always believed that sometimes beauty takes time, but Vanessa Hudgens, the High School Musical star, makes me re-evaluate my rule. Vanessa Hudgens beautiful looks lights up the red carpet tonight at the Oscars 2009!
Tell us what you think! Does Vanessa Hudgens look hot or not?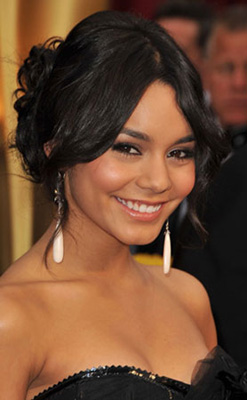 Guess the actress in the photo below? Yes! Can you believe it, Ashley Tisdale from High School Musical with brown hair.
Ashley Tisdale gone darker with a brown hue. I'm only used to one High School Musical brunette: Vanessa Hudgens. I wonder how long Ashley will sport this look. I know when I dye my hair brown it dosn't last long, I harry back to my blonde highlights. Not sure why, maybe because brown hair makes me feel a bit more 'gloomy'. What do you think, do you love Ashley Tisdale's new brown hair look?
In the photo above: Joining Zac Efron and Vanessa Hudgens in Spain on Friday were costars Ashley Tisdale and Corbin Bleu. The gang posed pretty during a photocall for High School Musical 3: Senior Year at the ME Hotel in Madrid.