All Posts Tagged With: "Dryers & Tools"
Celebrity Hair Stylist Paul Labrecque was kind enough to give us his best kept secrets for getting and maintaining straight hair! Paul tell us all about the tools, styling products, techniques, and even special treatments we need to say good bye to frizzy hair and hello to smooth, silky, and sexy straight hair.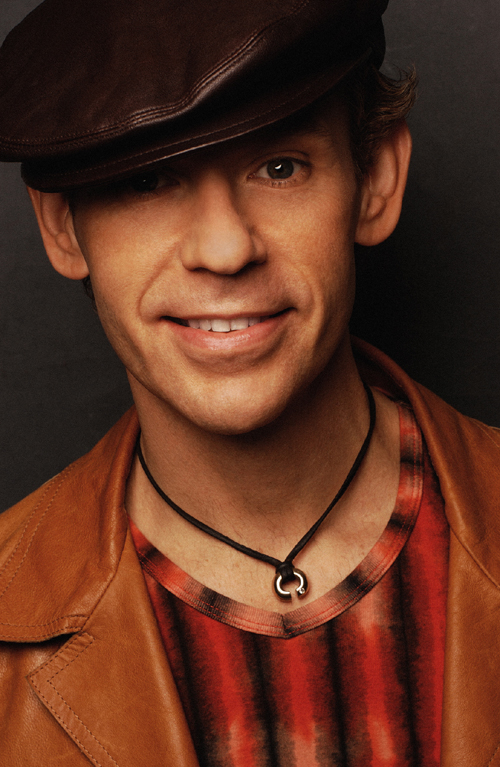 Paul Labrecque 
Straight Hair:
TOOLS
Round 100% boar bristle brushes – They help to spread the body's own natural oils thus leaving far less frizz. Paul Labrecque Haircare has a range of 4 brushes.


Paul Labrecque Large 3" Round (18 row) – 100% Boar Bristle
Talking Makeup is excited to annoucne the launch of "Nexxus Now," an online-resource for all things hair!
This month, Nexxus is excited to bring you Nexxus' exclusive "Fall Update 2009" featuring easy how-to video tutorials and fall trend forecasts from Nexxus Experts, Creative Director Kevin Mancuso and Color Director Sharon Dorram-Krause. Be sure to also check out the interactive "Color IQ Quiz," with helpful insider tips from Sharon, on how to keep and maintain beautifully vibrant color.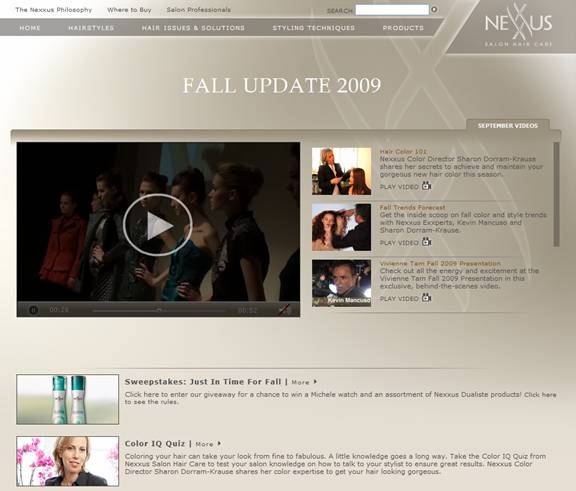 Be sure to check out Nexxus.com each month for new hair care updates, trends and limited-time consumer sweepstakes.
Last month during my visit to New York City for Fashion Week I stopped by at Frédéric Fekkai at The Mark Hotel to get my hair blow dried. It was a much needed blow out. The New York weather makes my hair so frizzy, and what I call" "poofy" i.e. too much volume (LOL I'm not even sure this word exist in the English dictionary). And running around town all day, whose got time to do their own hair?!!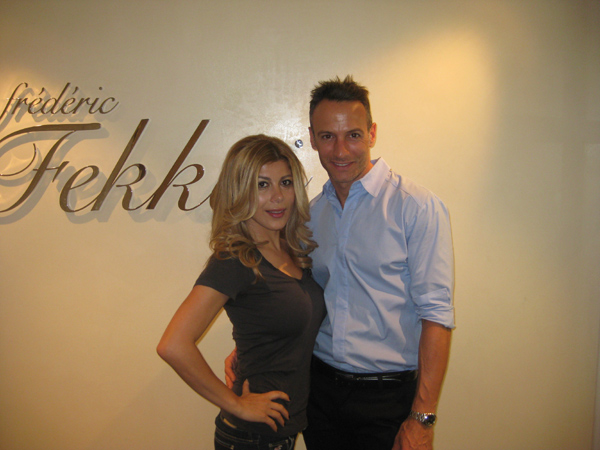 Fabulous Anthony at the NEW Fekkai Madison at The Mark Hotel just gave me Hollywood waves! Luv him:)
I crossed Central Park in a cab all the way to the East Side and arrived at the Frédéric Fekkai at The Mark Hotel. The building was so pretty and newly renovated which is kind of rare for NYC, everything is normally so ancient. My service was impeccable, and the best part was that I got to do my nails and my hair at the same time. I felt like I can totally can get used this life. Wouldn't you?:)

Marta's nails in Essie Sexy Divine gorge deep black-ish purple:Mani by Gabriela at Fekkai salon The Mark hotel NYC
Loved my hair stylist Anthony! He blew dry my hair and gave the perfect Hollywood curls without even using a curling iron. And Gabriela who did my nails with Essie Sexy Divine did a great job in making my manicure last for 4 days! I yet need to investigate which top coat she used on my nails. I assume it was Essie as well.
Talking Makeup is excited to share with you Frederic Fekkai's latest partnership with the Art of Elysium (theartofelysium.org).
As a special one-time philanthropic event, Frederic Fekkai himself the man behind the iconic namesake brand in conjunction with the Art of Elysium will provide his signature haircuts (valued at $1000) for an introductory price of $200 in an effort to make this possible for many. Frederic will donate 100 percent of the proceeds from the haircuts to the Art of Elysium.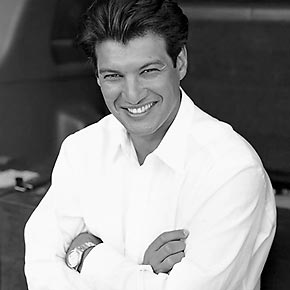 You can book an appointment at the Frederic Fekkai Melrose Place Salon from Oct 25th – Nov. 5th and are first time patrons will have the opportunity to meet Frederic and experience firsthand his world-renowned expertise, a truly once in a lifetime opportunity while supporting the Art of Elysium.
Where: The New Fekkai Melrose Place Flagship Salon, 8457 Melrose Place, West Hollywood
Dates: Oct 19th & 20th, and Oct. 25th – Nov. 5th
Time: Select days and time slots
To Book: Call the Melrose Place Salon number 323-655-7800 and mention Elysium
New York Fashion Week Spring 2010 Report: John Patrick Organic Show Odile Gilbert for Aveda. Also, Aveda Lead stylists: Dennis Clendennen, Dionysus, The Woodlands, Texas.
The John Patrick Organic show took place this morning at Keen's Steakhouse in New York City.
The hair look for John Patrick Organic is a modern, playful take on Bohemian-chic. Hair is smooth and shiny on top with soft, free-flowing curls below the cheekbone and volume at the front—pulled back into a barrette, adding a girly touch.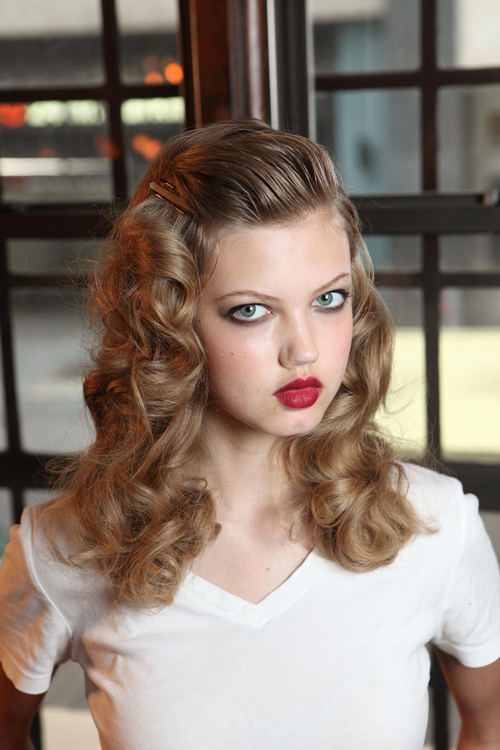 Get the Look Step-by-Step:
• Step 1: Prep hair with Aveda Phomollient Styling Foam to add body, volume, and shine.
• Step 2: Brush hair through and create a deep side part.
• Step 3: Divide hair into three sections: bottom, sides/top and middle, and secure in place with hair clips. Spray each section generously with Aveda Air Control Hair Spray for shine and hold.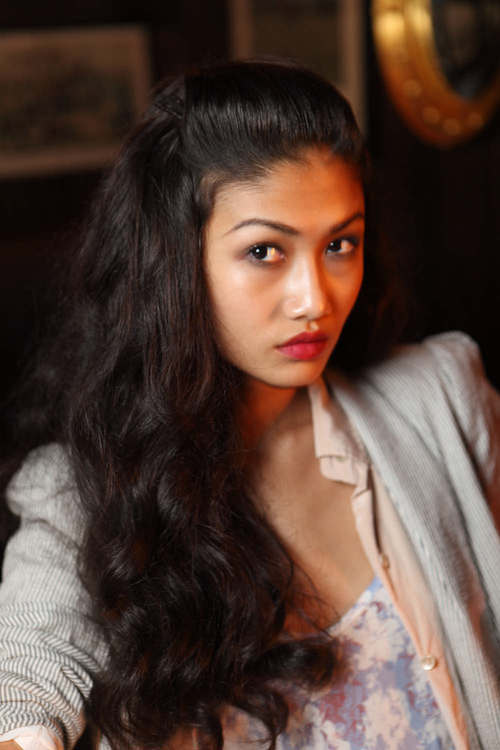 New York Fashion Week Spring 2010 Report: Michael Angel spring '10 – September 10th Hair by Sebastian Professional
Inspiration: Taking inspiration from strong influential women like Nancy Cunard, Josephine Baker and Schiaparelli, Michael Angel directed a Spring '10 beauty look that's meant to replace the depressing, dark days of yore with a revived, empowered and reenergized youthfulness. A fresh, healthy "just come back from holiday" look subtly complements the collection's energy-packed, color-rich and cool designs that Michael is famous for.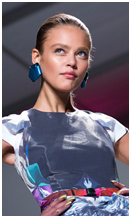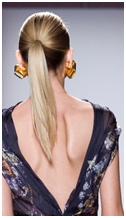 The Hair Look: To keep this ponytail from looking cold and severe, Sebastian Professional lead stylist Thomas Dunkin kept the crown soft and clean, allowing some of the hair's natural texture free reign for a played-in feeling.
Here's how to create your own perfect pony:
1) Apply Sebastian Professional Thickefy Foam to damp hair; blend evenly throughout
2) Blow hair out straight with a medium to large-sized round brush
3) Neatly brush hair back with a comb or flat brush and fasten with a hair tie just below eye level to avoid looking too "sporty"
4) Smooth the first half of the head with Shine Define for a shiny finish or apply Microweb Fiber to entice rogue wisps for a more lived-in look
5) Mist the length with Halo Mist and leave smooth and straight
Miranda Kerr's hairstyle (in images below) reminds me of Kirsten Dunst's hairstyle for the 2009 CFDA Fashion Awards. Kirsten's hair was styled there by Pantene's celebrity hairstylist, Hallie Bowman. I don't normally wear my hair up, it's a habit I find very difficult to break. But, I must say, I wouldn't mind to wear my hair like this (if I ever get invited to a red carpet event…a gal can dream:) I've first learned about The Mixed Textured Chignon by Hallie, and Marta calls it: 'The modern Chignon'. This is a great alternative to the classic Chignon. Not too many people look great with their hair pulled tight and away from face like in a classic Chignon. It can look a bit harsh. Thoughts?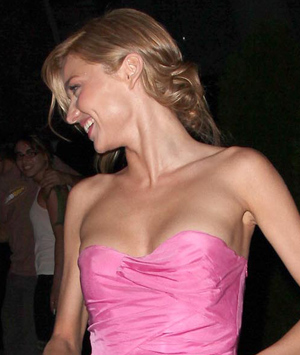 Miranda Kerr's images via www.hollywoodtuna.com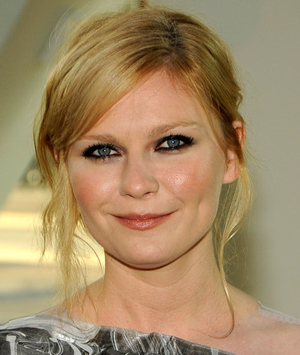 Kirsten Dunst's hairstyle for the 2009 CFDA Fashion Awards
What do you think about Kate Beckinsale's hairstyle at the Whiteout premiere? Would you sport it or done with it? (my rhymes DO need to get better lol)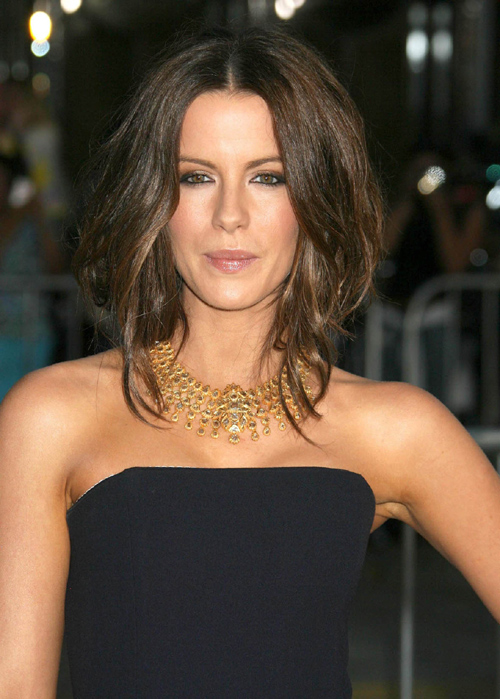 Image via www.hollywoodtuna.com
Do the Twist: Forget prim and proper—think loose and sexy. Ted Gibson, Celebrity Hair Stylist and MSN Style Studio style expert, shows us a twisted updo inspired by Taylor Swift Grammy Awards 2009 look. Perfect way to get your hair off your neck on a hot summer day.
Check out more tips from Style Studio's Glam Squad at MSN Style Studio Don't forget to dress like you mean it!
Image via fabsugar.com
Frédéric Fekkai, world renowned style-maker and entrepreneur will bring his signature service and yet another salon experience to New York City at the legendary Mark Hotel this fall! The uber-chic 2,100 square-foot luxuriously designed oasis is located on the second floor overlooking Madison Avenue.

A style icon, Frederic Fekkai has worked with most of New York's most notable! His new Mark location promises to offer a tranquil, sophisticated environment paired with New York City's top stylists. Loyal customers continue to come back to the Frederic Fekkai Salons because of his hand selected stylists and colorists that share Frederic's innate ability to find a woman's innate beauty and bring it out through their hairstyle.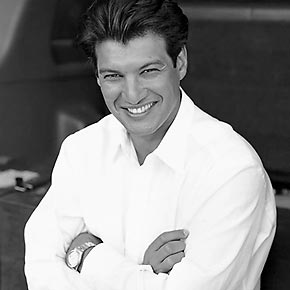 "The Mark Hotel is considered to be a classic landmark amongst the landscape of the Upper East Side," says Fekkai. "I am delighted that we will now be able to service the clients of The Mark in addition to many of our current clients that already reside in the area".
Frédéric Fekkai at The Mark opens to the public in September, 2009.