All Posts Tagged With: "Kirsten Dunst"
celebrity makeup artist Pati Dubroff worked with Kirsten Dunst for the premiere of "The Two Faces of January" on Wednesday, September 17th in New York, NY.
BEAUTY INSPIRATION:
"For Kirsten's premiere, I worked off of the very inspiring Chanel Couture dress she wore. It was made of a neoprene type of fabric which gave it structure and had the most beautiful bead work, which is where my palette was drawn from."
Celebrity makeup artist Pati Dubroff and celebrity hairstylist Marcus Francis worked with Kirsten Dunst for the premiere of On The Road at the 2012 Toronto Film Festival on Thursday, September 6th, 2012.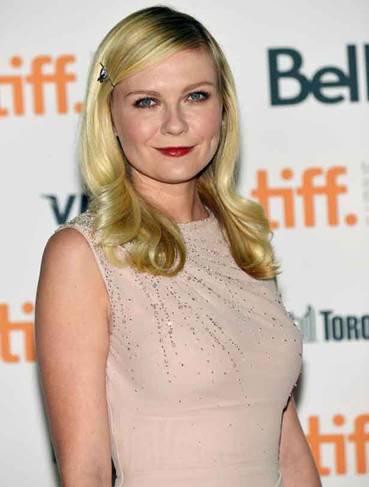 Makeup Artist Pati Dubroff. BEAUTY INSPIRATION: "For Kirsten's premiere of On the Road she wore a blush tone Dior dress. I wanted the makeup to have a slight nod to the roaring twenties."
Hairstylist Marcus Francis created Kirsten Dunst's hairstyle for Cannes 2012. "Kirsten's look for the premiere was all about cool young glamour, as sometimes many overdo it for the red carpet. The moment needed to be about the fuchsia dress!"
How to get Kirsten Dunst's hairstyle
Hairstylist Marcus Francis and makeup artist Adam Breuchaud worked with actress Kirsten Dunst for the On the Road Photo Call at the 65th Annual Cannes Film Festival on Wednesday, May 23rd. TM & Marta Walsh have the sneak peek.
Kirsten Dunst's Hair
Hairstylist Marcus Francis worked with Kirsten Dunst for the premiere of Bachelorette at the 2012 Sundance Film Festival on Monday, January 23rd. TM & Marta Walsh has the scoop on how Marcus created Kirsten's textured braided look.
Kirsten Dunst Hairstyle Inspiration
Kirsten Dunst not only blew us away in Melancholia, she also won us over with the gorgeous beauty looks makeup artist Sabrina Bedrani created for her two of the award-winning actress's special nights in Cannes 2011.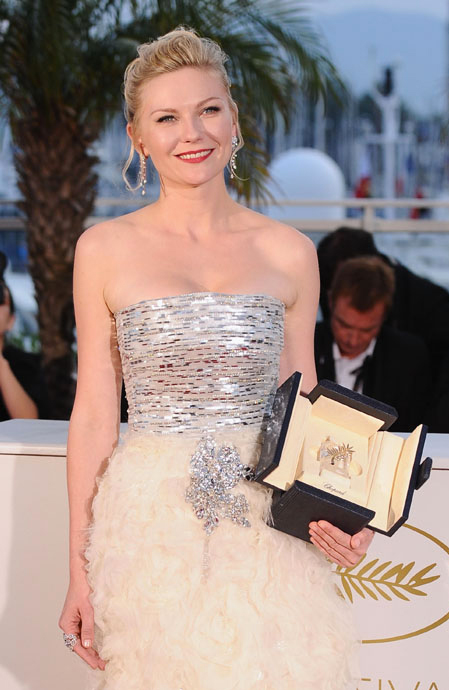 Kirsten Dunst at the Film Festival Awards Cannes 2011:
To complement the award-winning actress's CHANEL Haute Couture strapless dress, Sabrina created Kirsten's gorgeous, glowing face using CHANEL Vitalumiere Aqua Ultra-Light Skin Perfecting Makeup SPF 15 in Beige Rosé Tendre and highlighting her cheeks with CHANEL Powder Blush in Rose Écrin (available July 2011), Kirsten's eyes were adorned with Illusion D'Ombre de Chanel Long Wear Luminous Eyeshadow in Epatant (available July 2011) and her lashes were lengthened with CHANEL Inimitable Intense Mascara in Noir. Sabrina finished the look with CHANEL Rouge Allure Lipstick in Passion.
Marta Walsh has the scoop about the gorgeous makeup look that Pati Dubroff, Clarins Celebrity Beauty Artist created for Kirsten Dunst last night at the 2011 MET Gala.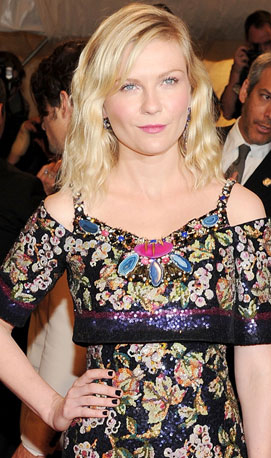 Pati was inspired by Kirsten's beautiful Chanel dress with sparkling sequins and mineral stones sewn into the bodice. She wanted these natural gems to be reflected in her makeup.
Kate Bosworth and Kirsten Dunst wore CHANEL makeup at MOCA's 2010 Annual Gala, "The Artist's Museum Happening" sponsored by CHANEL Fine Jewelry on Saturday, November 13th. Their makeup artists Amy Nadine and Kayleen McAdams share with Marta Walsh their tips on how to recreate their gorgeous red carpet looks.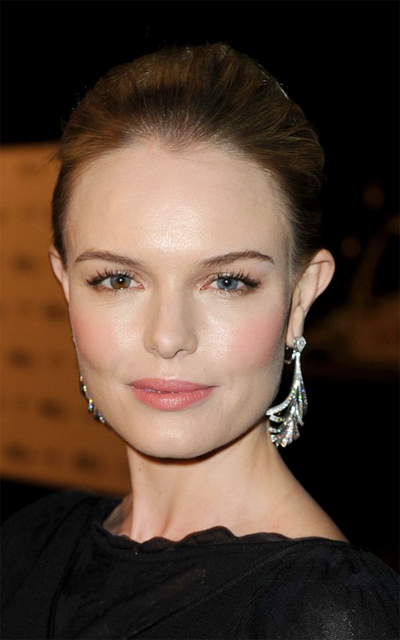 Makeup Artist Amy Nadine on Kate Bosworth:
Actress Kirsten Dunst, was shot by Mario Testino for the upcoming V MAGAZINE (issue #64). Inside Dunst discusses her unique friendships with both the Mulleavy sisters of Rodarte and Japanese pop artist Takashi Murakami as well as her upcoming long-awaited film All Good Things. V64 hit newsstands today, March 4, 2010.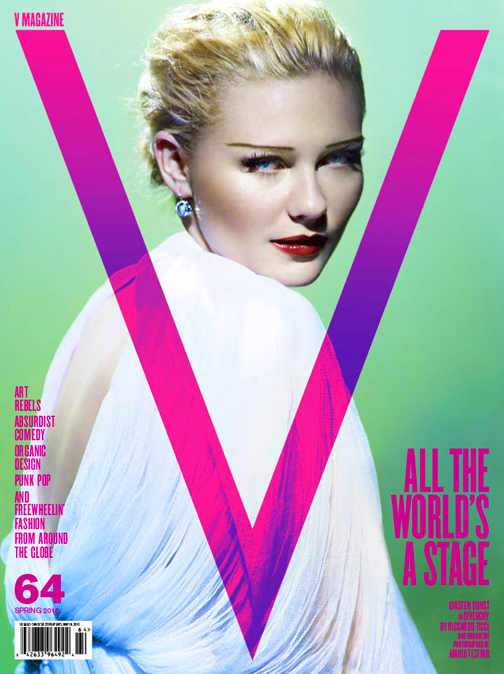 "THE ART OF BEING KIRSTEN DUNST"
Hollywood's bored and beautiful blonde has become an icon for a generation, but this year it's all about reinvention. Art muse, rising director, even serious dramatic actress—you can be anything when you're Kirsten Dunst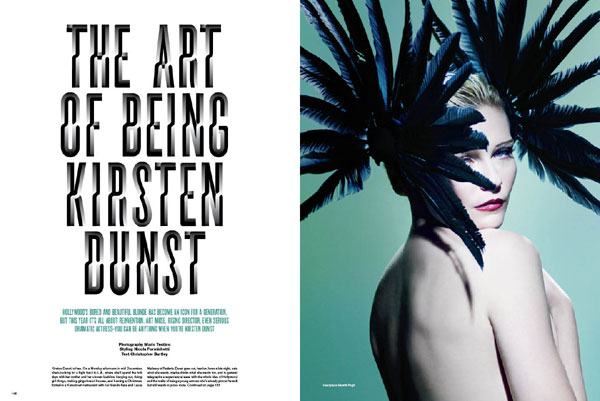 Miranda Kerr's hairstyle (in images below) reminds me of Kirsten Dunst's hairstyle for the 2009 CFDA Fashion Awards. Kirsten's hair was styled there by Pantene's celebrity hairstylist, Hallie Bowman. I don't normally wear my hair up, it's a habit I find very difficult to break. But, I must say, I wouldn't mind to wear my hair like this (if I ever get invited to a red carpet event…a gal can dream:) I've first learned about The Mixed Textured Chignon by Hallie, and Marta calls it: 'The modern Chignon'. This is a great alternative to the classic Chignon. Not too many people look great with their hair pulled tight and away from face like in a classic Chignon. It can look a bit harsh. Thoughts?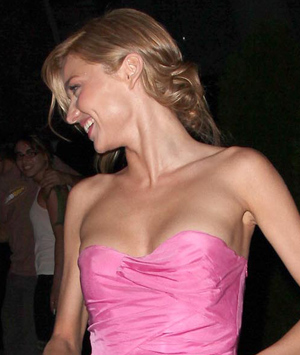 Miranda Kerr's images via www.hollywoodtuna.com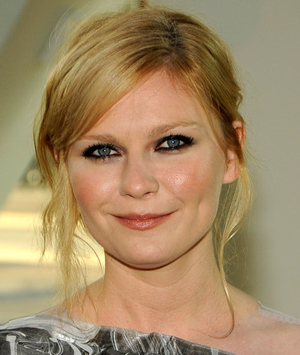 Kirsten Dunst's hairstyle for the 2009 CFDA Fashion Awards