All Posts Tagged With: "Cannes 2011"
Kirsten Dunst not only blew us away in Melancholia, she also won us over with the gorgeous beauty looks makeup artist Sabrina Bedrani created for her two of the award-winning actress's special nights in Cannes 2011.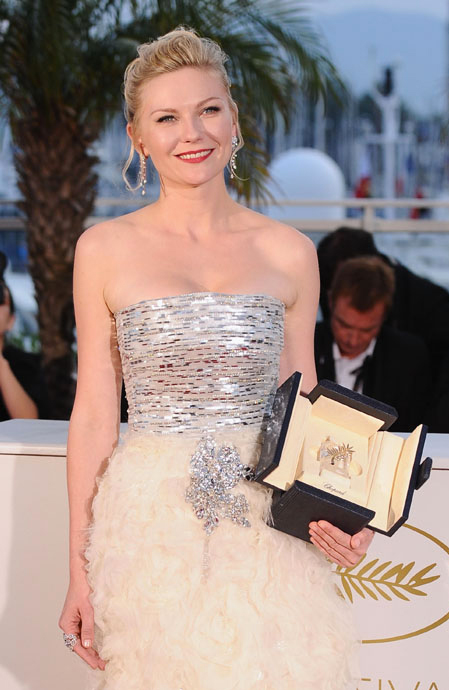 Kirsten Dunst at the Film Festival Awards Cannes 2011:
To complement the award-winning actress's CHANEL Haute Couture strapless dress, Sabrina created Kirsten's gorgeous, glowing face using CHANEL Vitalumiere Aqua Ultra-Light Skin Perfecting Makeup SPF 15 in Beige Rosé Tendre and highlighting her cheeks with CHANEL Powder Blush in Rose Écrin (available July 2011), Kirsten's eyes were adorned with Illusion D'Ombre de Chanel Long Wear Luminous Eyeshadow in Epatant (available July 2011) and her lashes were lengthened with CHANEL Inimitable Intense Mascara in Noir. Sabrina finished the look with CHANEL Rouge Allure Lipstick in Passion.
From premieres, to parties, the following celebrities wore NARS makeup on the red carpet this past week in Cannes at the 64th Annual Cannes Film Festival. Marta Walsh has the scoop including Rachel McAdams' multitude of looks courtesy of makeup artist (and sis!) Kayleen McAdams.
Rachel McAdams At the photo call for Midnight in Paris, May 11, 2011.
NARS Products Used: Silk Road Duo Eyeshadow; Mata Hari Blush
Official Make-up Artist to the Festival for the fourteenth successive year, L'Oréal Paris is setting the trends on the red carpet, making up its ambassadors each evening on the theme of gold. Twelve ambassadors have already brought the sparkle of the exclusive L'Or L'Or L'Or collection to the famous steps.
May 12, 2011-Aishwarya Rai
THE FESTIVAL'S MAKE-UP TREND: A "GOLDEN" TOUCH
Diane Kruger, Paz Vega, Jane Fonda, Ines de la Fressange, Aishwarya Rai, Aimee Mullins, Sonam Kapoor, Fan Bing Bing, Gong Li, Li Bing Bing, Zhang Zi Lin, Cheryl Cole have all walked the famous Cannes red-carpet wearing L'Or L'Or L'Or. A collection created specially by the new dream team of professional make-up artists at L'Oréal Paris: Karim Rahman, Rie Omoto and Billy B.
2011 Cannes Film Festival – Cannes, France, Tuesday, May 17th, 2011-Actress, supermodel, and face of L'Oreal Paris Doutzen Kroes attends the premiere of The Beaver in a gorgous Emilio Pucci dress.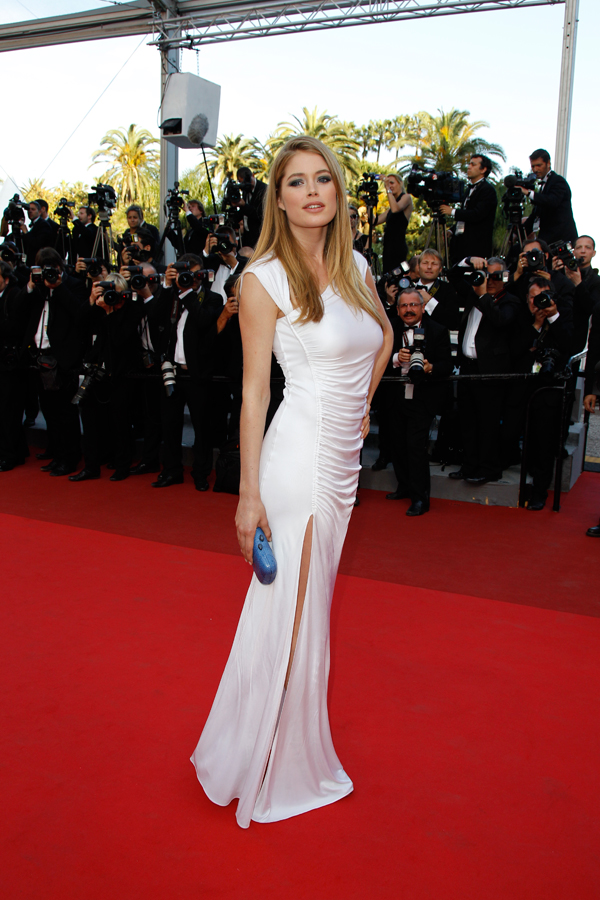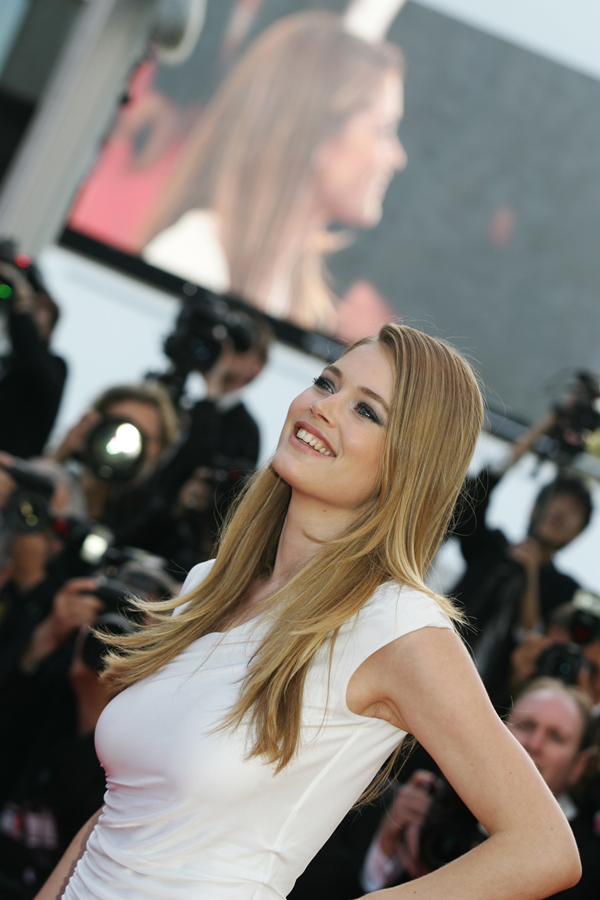 Marcus Francis worked with Mia Wasikowska at this year's Cannes International Film Festival. Marta Walsh has the scoop on how to her Mia's red carpet look..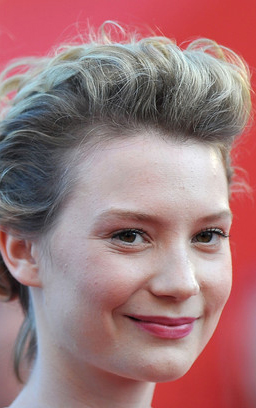 Mia Wasikowska at the Tree of Life Premiere, May 16, 2011.
Hairstyle Inspiration: "Mia chose a stunning rose-nude color gown that had a high lace neckline. I knew that putting her hair up in a loose, effortless chic way was the best to complement the feel of her dress. Mia is a young starlet who is making a strong impression on Hollywood, and by the response in Cannes, the world. Keeping her style very fresh, she radiates an ease on the carpet."
I absolutely love Gwen Stefani's hair, makeup, and outfit (jumpsuit by Stella McCartney I hear) at the "Tree of Life" Lovers Cannes 2011. It's a modern take off 70s glamour. I like how Gwen keeps it sleek and elegant yet rock chick/chic. Kinda what Marta Walsh likes. I had to share:)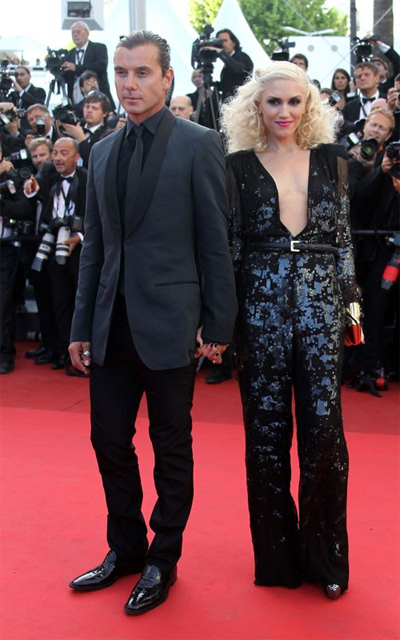 Gwen Stefani & Gavin Rossdale at the Tree of Life Lovers Cannes 2011
(Cannes, France – May 16th, 2011) – Jessica Chastain Hollywood's hottest young actress radiates on the Cannes Film Festival red-carpet wearing a beautiful Zac Posen gown and arm-in-arm with mega stars Brad Pitt and Sean Penn. Debuting the release of her latest film – "The Tree of Life", Chastain is wearing a custom made couture Zac Posen gown.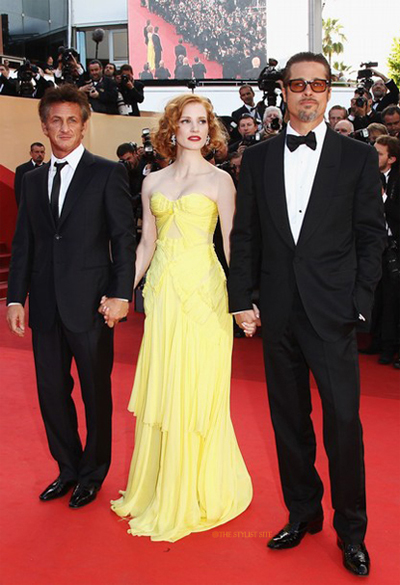 L to R: Sean Penn, Jessica Chastain and Brad Pitt in Cannes 2011
Marta Walsh has got the word that Brad Pitt wears a TOM FORD shawl lapel tuxedo, shirt, bowtie, cummerbund, pocket square, black and yellow gold onyx studs and cufflinks, sunglasses, and lace up shoes to the 'Tree of Life' premiere during the 64th Annual Cannes Film Festival at Palais des Festivals on May 16,2011 in Cannes, France.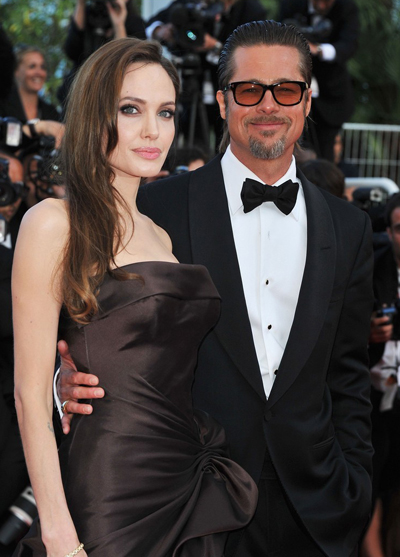 L to R: Angelina Jolie and Brad Pitt Cannes 2011
Marta Walsh has got the word that hair stylist Giannandrea worked with Elizabeth Olsen (the Olsen Twin's sister!) at the 2011 Cannes International Film Festival.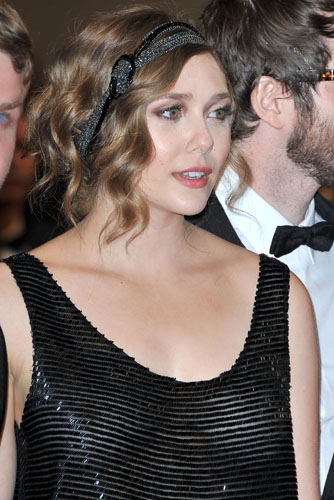 Martha Macy May Marlene Premiere, May 15, 2011.
Inspiration: "My inspiration for Elizabeth's red carpet premiere look was a take on La Belle Époque, an avant-garde soft finger waves ethereal up-do, adorned with a modern Chanel metal chain head band. Tres chic for Cannes!"
Hair stylist Marcus Francis worked with Bryce Dallas Howard at the 2011 Cannes International Film Festival.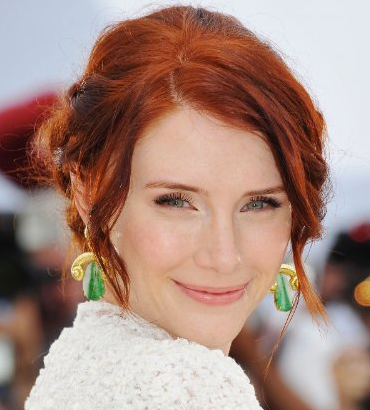 Bryce Dallas Howard's Hairstyle at the Restless Photo Call, May 13, 2011.
Inspiration:"Bryce can look very youthful and yet classic at different times. Because her blouse had such pretty lace detail, we opted for a modern and flirty twist to her look."