Marta Walsh has got the word that hair stylist Giannandrea worked with Elizabeth Olsen (the Olsen Twin's sister!) at the 2011 Cannes International Film Festival.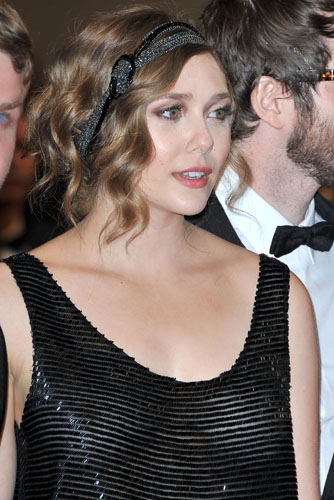 Martha Macy May Marlene Premiere, May 15, 2011.
Inspiration: "My inspiration for Elizabeth's red carpet premiere look was a take on La Belle Époque, an avant-garde soft finger waves ethereal up-do, adorned with a modern Chanel metal chain head band. Tres chic for Cannes!"
How to get Elizabeth Olsen's hairstyle:
"I applied Kerastase Volumactive to dry hair, and blew out the whole head to get a voluminous dry texture. I then brush the whole head , sectioned a side part and started waving the hair with 1/4 inch curling iron in small sections. After that I brushed the whole head again, and sprayed Klorane Dry Shampoo over the entire length. I put the Chanel head band on, and then took the whole length and twisted it back in into a soft bun. I pinned the low bun with volume in the back to resemble a bob, keeping a few soft waves out near the face. This framed the face to gave a very soft youthful look."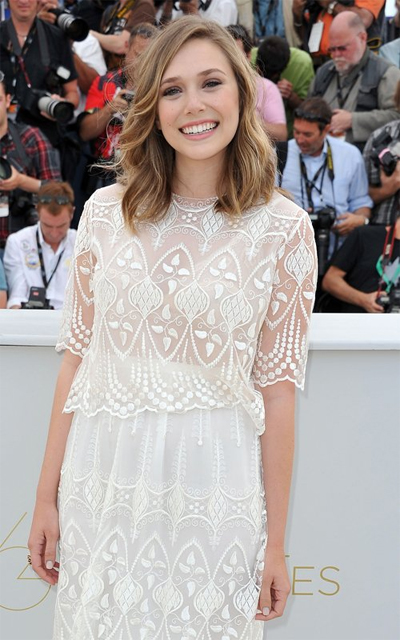 Martha Macy May Marlene Photocall, May 15, 2011.
Inspiration:
"I wanted to impress on the French press what an angelic, fresh face beauty Elizabeth is. No thrill or frills, just beautiful hair that reflect youthfulness."
How to get Elizabeth Olsen's hairstyle:
"Again I used Kerastase Volumactive to build a base volume on wet hair. I dried the whole head free, just air, no brushing until dry. I sectioned a side part and used a 1 inch curling iron in large twisted sections. I then used my hands a finger to break up the sections. Simple easy and clean texture."