All Posts Tagged With: "Bar Refaeli"
From premieres, to parties, the following celebrities wore NARS makeup on the red carpet this past week in Cannes at the 64th Annual Cannes Film Festival. Marta Walsh has the scoop including Rachel McAdams' multitude of looks courtesy of makeup artist (and sis!) Kayleen McAdams.
Rachel McAdams At the photo call for Midnight in Paris, May 11, 2011.
NARS Products Used: Silk Road Duo Eyeshadow; Mata Hari Blush
Sneak Peek: Photos from V MAGAZINE of celebrities Bar Refaeli (supermodel currently dating actor Leonardo DiCaprio), Devon Aoki (model/actress currently dating actor Joseph Gordon-Levitt), and Noemie Lenoir (model/actress) shot by famed American photographer Arny Freytag and Styled by Sally Lyndley for the upcoming V66. Arny has held the record for photographing the most Playmate centerfolds in Playboy Magazine. This spread celebrates the upcoming V Magazine "Sexy Body Issue."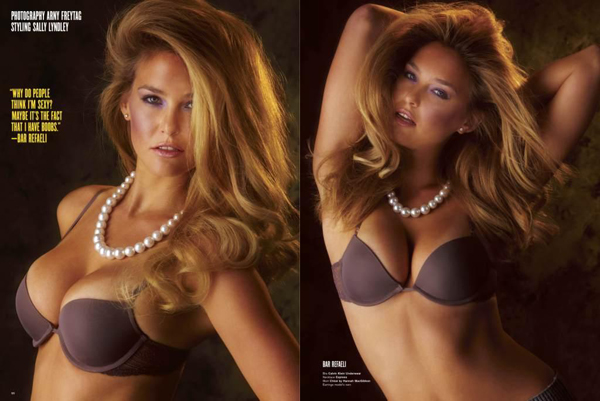 "Why do people think I'm sexy? Maybe it's the fact that I have boobs." – Bar Refaeli
Israeli supermodel Bar Refaeli teams up with the Jersey Shore boys: The Situation, DJ Pauly D, Vinny, and Ronnie, for an Interview Magazine photo shoot. Definitely 'the situation' here 🙂 Do you love?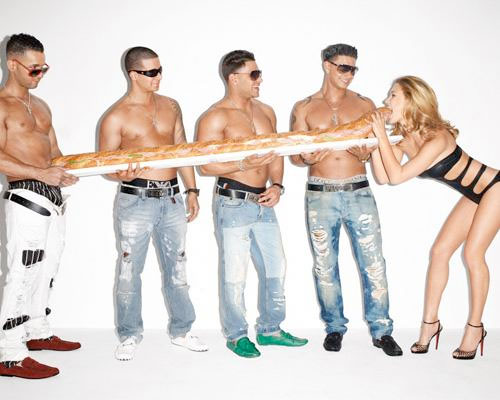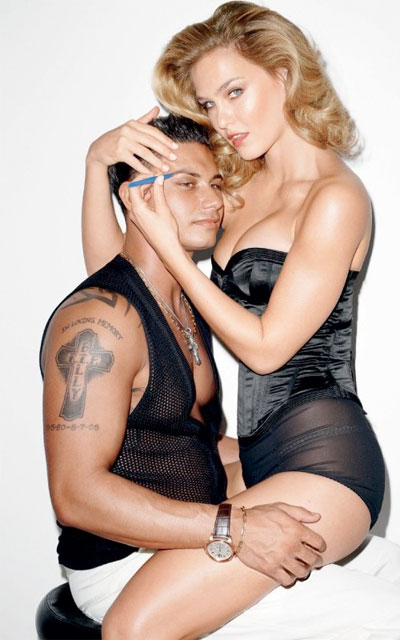 Photo Credit: Terry Richardson
Bar Refaeli already has all of the guys swooning over her cover of Sport's Illustrated, and all of the girls obsessing over her Little Black Bikini that she designed with Hurley.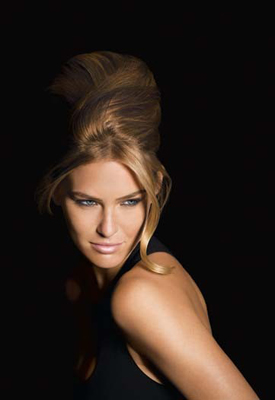 Image via WWD
Now she'll have everyone envying her hair, as she's continuing to work with Garnier on their Triple Nutrition line. She's already been the face of the brand in Europe since January. Bar will show off the new shampoo, conditioner, and treatment which will launch in July. Made with olive, shea, and avocado oils, the hair treatments were created to moisturize and give more body to provide perfect locks like Bar's. So soon you'll be seeing her on television ads, inciting swoons from both sexes.
Story via: modelina.com
Sean John Combs aka P. Diddy launched a new fragrance recently: I Am King. 
Here is the ad for Sean John I Am King New Fragrance by P. Diddy:

Leonardo DiCaprio's girlfriend, Bar Refaeli, poses with P. Diddy in the ad for "I Am King". It's the beauty on the left of P. Diddy. Do you recognize the model on the right? I don't:)
Sean John I Am King New Fragrance by P. Diddy is P. Diddy's second perfume, after Unforgivable for Men, P. Diddy.
The name builds on P. Diddy"s current Sean John men"s line, which has a classic, royal theme.
"I Am King is a statement about all men," Diddy tells WWD. "We are all descendants of royalty " and if we carry ourselves and respect ourselves in that manner and believe in ourselves, then we are all kings."
"You have to look at all of the images they have out about Blacks," he explains. "So when you see this image, you need to understand it"s bigger than the fragrance, it"s bigger than me.
"When a young Blacks male or a young Latino male sees this image, they see this elegant sophistication and they see I Am King next to it " it hits their senses and they believe; that"s what motivates me when I"m taking pictures."