All Posts Tagged With: "Doutzen Kroes"
This morning Doutzen Kroes ended the Victoria's Secret Summer Bombshell Tour in Dallas. The tour kicked off in Los Angeles in May and went to several different cities. Doutzen showed some Dallas love and donned a Mavericks hat for some support during the NBA finals.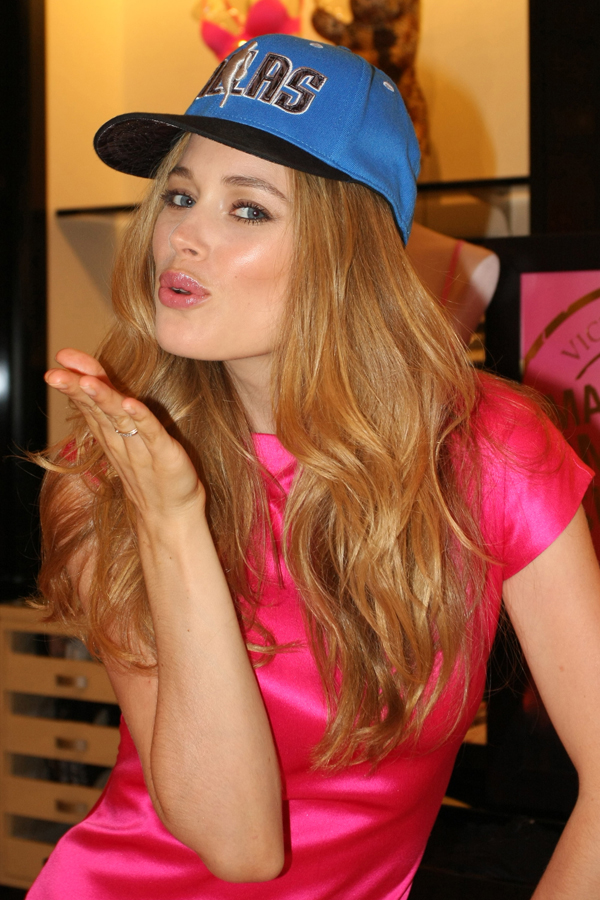 See more Doutzen Kroes pics…
2011 Cannes Film Festival – Cannes, France, Tuesday, May 17th, 2011-Actress, supermodel, and face of L'Oreal Paris Doutzen Kroes attends the premiere of The Beaver in a gorgous Emilio Pucci dress.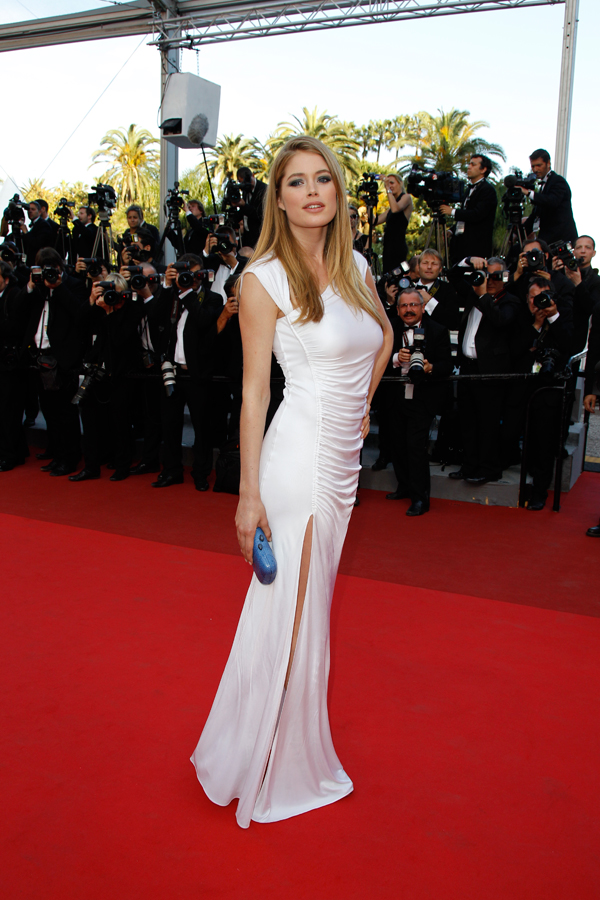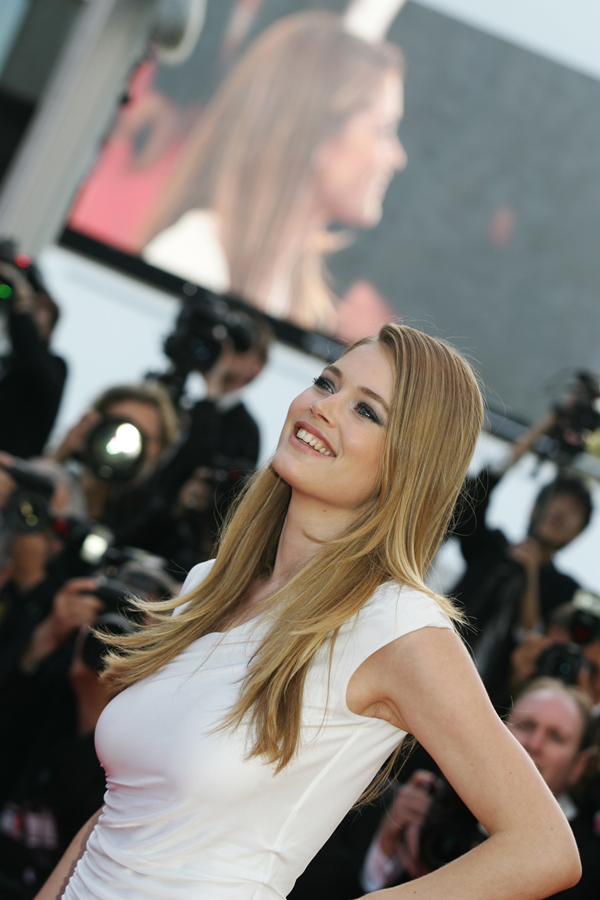 The 2010 Fashion's Night Out PSA (public service announcement) launched on Wednesday, August 25th, 2010. WATCH!
Fourteen of the industry's top models including Chanel Iman, Liya Kebebe, Doutzen Kroes, Karolina Kurkova, Sasha Pivovarova and Stella Tennant among others (full list below) appear in a new public service announcement supporting Fashion's Night Out. Vogue Contributing Editor Tabitha Simmons combined fall's hottest trends with items from the official Fashion's Night Out collection. Filmed and directed by famed fashion photographer Peter Lindbergh in neighborhoods throughout New York City, the PSA will run on TV, online and in New York City taxi cabs leading up to the one-night-only worldwide event on September 10, 2010.
Today, Monday, June 7, 2010, supermodel, Doutzen Kroes presented The Popular Vote Award sponsored by L'Oréal Paris. Doutzen's dress by: Geoffrey Beene Lifetime Achievement Award Winner, Michael Kors.
Models Coco Rocha, Hilary Rhoda, Doutzen Kroes and actress Riley Keough attended the the 2010 Costume Institute Gala to celebrate the launch of American Woman: Fashioning A National Identity at the Metropolitan Museum of Art, New York City, Monday, May 3, 2010.
Coco Rocha in a dress by Zac Posen.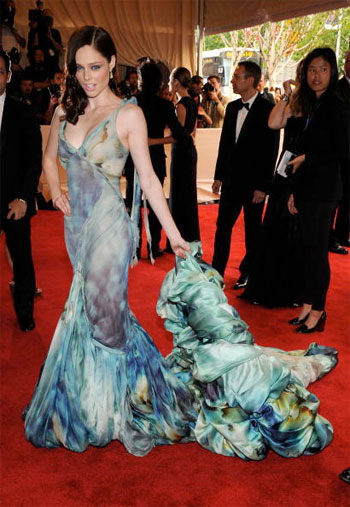 Stoli Vodka presented the official Victoria's Secret Fashion Show After Party at NYC's M2 UltraLounge in celebration of the sexiest show on earth back in the Big Apple. Designed with luxury in mind, M2 Ultralounge created an atmosphere that combined the sexy vibe of an intimate lounge with non-stop energy and entertainment of a mega-club. Guests were treated to signature Stoli Vodka Cocktails, Champagne by Perrier Jouët and Piper-Heidsieck, snacks by Pop Burger, Baked By Melissa's famous cupcakes and the sounds of DJ Rossone.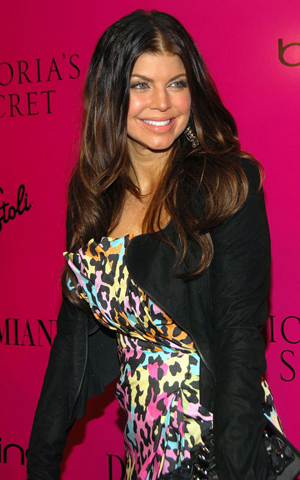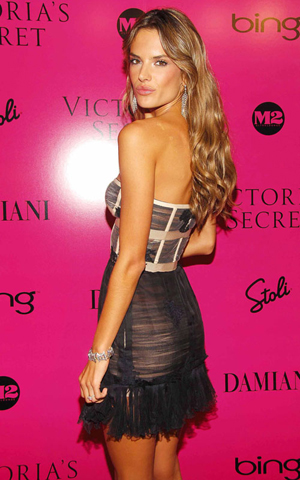 Stoli Vodka and Bing presented the Victoria's Secret Fashion Show After Party at M2 UltraLounge
From left: Fergie and Alessandra Ambrosio
Celebrities spotted at the Victoria's Secret Fashion Show After Party: Victoria's Secret Angel and host of the Victoria's Secret Fashion Show: Heidi Klum, Victoria's Secret Angels Marisa Miller, Doutzen Kroes, Miranda Kerr, Alessandra Ambrosio, Behati Prinsloo, Three Time Grammy Award-Winning Superstars The Black Eyed Peas, Victoria's Secret CEO Sharen Turney, Executive Producers Ed Razek and Monica Mitro, Vice President of Damiani and designer of the $3 million Harelquin Fantasy Bra Silvia Damiani.
Victoria's Secret angels share their favorite holiday gift picks at the new Victoria's Secret SOHO store.
Victoria's Secret celebrates the holidays with the sexiest gifts from the ultimate holiday shopping destination. Today, Wednesday, November 18th, 2009, Victoria's Secret Angels Alessandra Ambrosio, Doutzen Kroes, Marisa Miller and PINK's Behati Prinsloos hared their favorite gifts for the holidays and tips for selecting the perfect gift.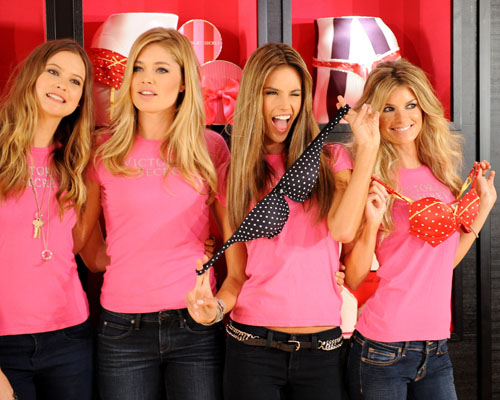 Here are some of Victoria's Secret's sexiest gifts for the holidays:
1. Marisa Miller's favorites:
Love Rocks Fragrance $12-$39 , the newest fragrance from Victoria's Secret Beauty was inspired by the edgy allure of rock 'n' roll.
The Harlequin Diamond Fantasy Bra, the $3 million dollar bra featuring over 2,300 brilliant cut white, champagne and cognac colored diamonds totaling nearly 150 carats.
Supermodels Alessandra Ambrosio and Doutzen Kroes announce the official Victoria's Secret Page on Facebook.
On the heels of New York City's Internet Week, the Angels want you to become fans of Victoria's Secret on Facebook! Victoria's Secret launches their official Facebook Page, where fans will get access to exclusive videos, photos, insider tips, special events, Supermodel profiles and more! The brand's new Facebook Page allows fans from around the world to experience and interact with Victoria's Secret.
Friend the Victoria's Secret Angels at www.facebook.com/victoriassecret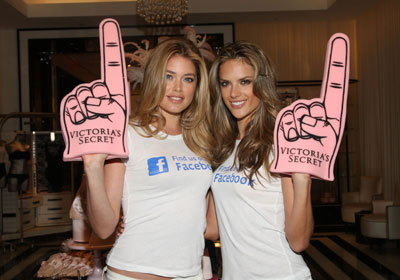 Victoria's Secret launches their official Facebook page with
Alessandra Ambrosio and Doutzen Kroes at the Victoria's Secret
Lexington Avenue Store.
In addition to showing their support for the Victoria's Secret Facebook Page, the Angels also talked about Victoria's Secret taking top honors at the 13th Annual Webby Awards! The Victoria's Secret Fashion Show Online Video Series won the People's Voice Webby Award in the Fashion Category. The Webby Awards honors excellence on the Internet and celebrated the winners with a star-studded dinner and gala ceremony on Monday, June 8th at Cipriani Wall Street. Alessandra and Doutzen accepted the award at the ceremony.
Thirty seconds of splendor and supermodels, shot on location at a Chateau outside Paris. Adriana Lima, Doutzen Kroes and Emanuela De Paula share a secret in this gorgeous television commercial for 2008 Holiday.
The very famous and very glamorous Victoria's Secret Fashion Show took place at the Fontainebleau Hotel in Miami Beach last Saturday, November 15, 2008.
The Victoria's Secret Fashion Show will broadcast Wednesday, Dec. 3rd (10:00-11:00 PM, ET/PT) on the CBS Television Network! This marks the sixth time the show will air on CBS and the first time the show will be in Miami Beach. You don't want to miss it. It is one of the best shows to look forward to every year.

Victoria's Secret Angel Marissa Miller.
Curious how to get the look of the Victoria's Secret Angels from this year's VS Fashion show in Miami?  Talking Makeup has got the scoop for you!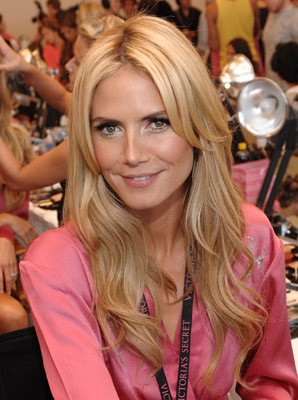 Victoria's Secret Angel Heidi Klum.
Meet the Victoria's Secret Angels: Heidi Klum, Karolina Kurkova, Adriana Lima, Alessandra Ambrosio, Selita Ebanks, the newest angels Marisa Miller, Miranda Kerr, and Doutzen Kroes and more…