All Posts Tagged With: "Russell Simmons"
Stoli Vodka presented the official Victoria's Secret Fashion Show After Party at NYC's M2 UltraLounge in celebration of the sexiest show on earth back in the Big Apple. Designed with luxury in mind, M2 Ultralounge created an atmosphere that combined the sexy vibe of an intimate lounge with non-stop energy and entertainment of a mega-club. Guests were treated to signature Stoli Vodka Cocktails, Champagne by Perrier Jouët and Piper-Heidsieck, snacks by Pop Burger, Baked By Melissa's famous cupcakes and the sounds of DJ Rossone.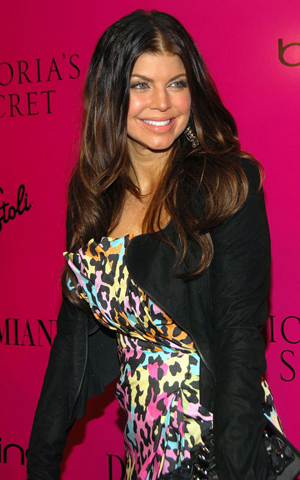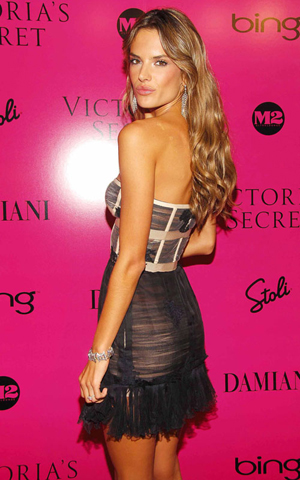 Stoli Vodka and Bing presented the Victoria's Secret Fashion Show After Party at M2 UltraLounge
From left: Fergie and Alessandra Ambrosio
Celebrities spotted at the Victoria's Secret Fashion Show After Party: Victoria's Secret Angel and host of the Victoria's Secret Fashion Show: Heidi Klum, Victoria's Secret Angels Marisa Miller, Doutzen Kroes, Miranda Kerr, Alessandra Ambrosio, Behati Prinsloo, Three Time Grammy Award-Winning Superstars The Black Eyed Peas, Victoria's Secret CEO Sharen Turney, Executive Producers Ed Razek and Monica Mitro, Vice President of Damiani and designer of the $3 million Harelquin Fantasy Bra Silvia Damiani.
To celebrate 15 years of iconic beauty for his celebrated brand, Francois Nars launched the NARS 15X15 Project. The centerpiece of the project is the 15X15 book, featuring 15 celebrity portraits, each inspired by a NARS product shade and based on an iconic reference chosen by François (who personally did the makeup and photographed every portrait).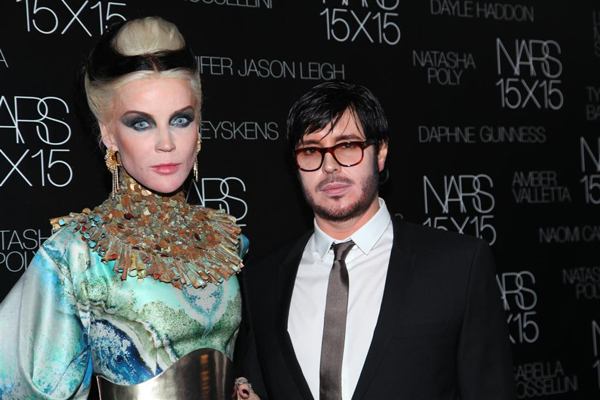 Marc Jacobs & Daphne Guinness
On November 12, 2009 at 8PM EST, the NARS 15X15 website (15X15Project.com) went live, making available for purchase the book and select individual portraits. 100% of the proceeds from the project will be distributed among the 15 charities chosen by the participating celebrities.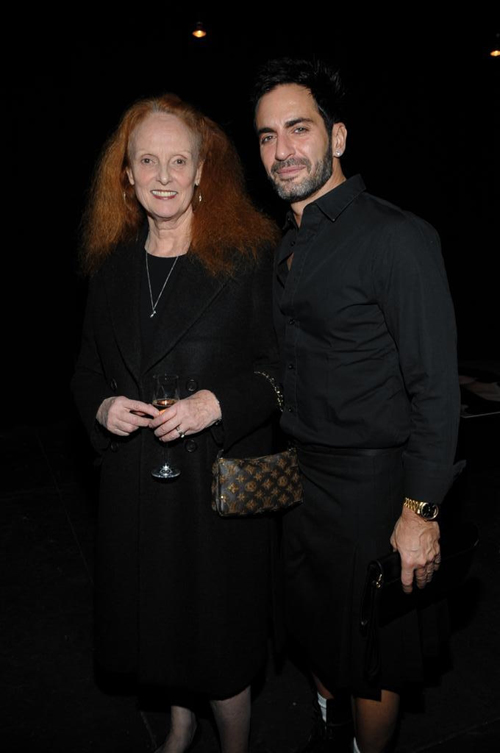 Grace Coddington and Marc Jacobs
Kanye West served as Amber Rose's arm candy at SwaggMedia's launch of Persona Magazine where celebs including Russell Simmons and Janice Dickinson celebrated the model's cover debut.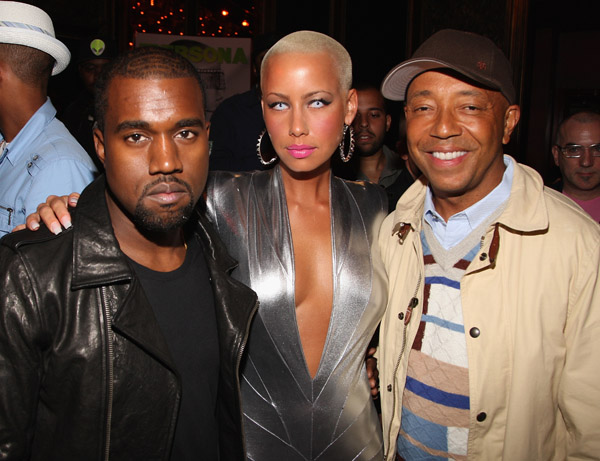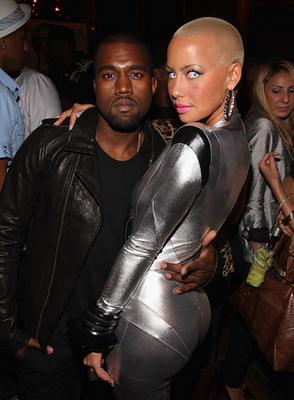 Looks like Blue & Cream attracts the hottest celebs to their store parties in NYC, and I can't wait to finally make it to one of them. It's gonna happen. I have a feeling:)
Talking Makeup is excited to share with you the recap from the VPL's Fall '09 debut by fabulous Laura Katzenberg:
It was a hot and humid Saturday on July 25th and as the sun began to set, Blue & Cream East Hampton's Friends+Family turned up for VPL's Fall '09 debut. Creator of VPL and well known stylist Victoria Bartlett was on hand with her best friend, socialite, Arden Wohl to show off her infamous layered looks and explain to fans including Sonja Von Bebber and model Anette Griffell her concept of bringing inner wear out.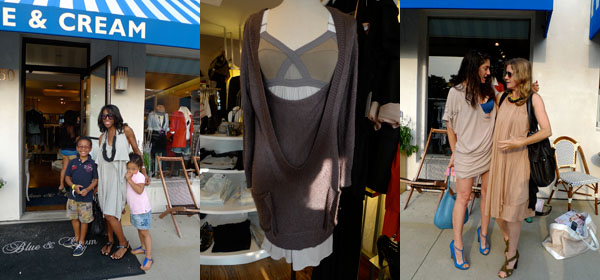 Russell Simmons and his on-again-off-again girlfriend, Victoria Secret Model, Julie Henderson were first on the scene. Julie got a head start checking out VPL's summer items on sale as well as what's new for Fall but it only lasted briefly until Russell came inside and grabbed her to head to Bridgehampton Polo.
The vitaminwater house was the place to get fit, get pampered, get connected and get hydrated at the 2009 sundance film festival. The mega-mansion hosted screenings, yoga sessions with russell simmons, workouts with 50 cent, celebrity dinners, an exclusive midnight performance by 50 cent and g-unit with surprise appearances by Jim Carrey, Robin Thicke, dj AM and Chris Rock and star-studded after parties throughout the weekend.

Rapper 50 Cent attends the 50 Cent dinner held at the vitaminwater house during the 2009 Sundance Film Festival on January 17, 2009 in Park City Utah.
With continuous fires burning, beats spinning, food passed, drinks flowing, celebs chilling and good conversation (unlike the cluster*&% out on main street), the vitaminwater house was the ultimate destination at sundance this year.
Here are the celebrity guests who enjoyed color light therapy treatments at Green Valley's revive spa at the vitaminwater house.
Russell Simmons — After Russell Simmons led a yoga class at the vitaminwater house with his New York yoga guru, he enjoyed a Green Valley Spa rubdown and said the therapist was "The Shit!" He loved the natural products so much that he came back and grabbed an armful of Green Valley's Dinosaur Sea Salts that are wild-crafted from pure, fossilized minerals in the red rock canyon country of St. George, Utah (known as one of the country's top locations for dinosaur fossils).
Kim Kardashian — Kim toured the Green Valley Spa room after watching the football game with 50 Cent on Sunday. She oohed and awed over the lavish orange touches in the "Essential" Green Valley Suite — bouquets of flowers, a tub surrounded by orange slices and orange hydrangeas and beeswax candles scented with orange essence and a tub filled with Orange Fairy Dust from the spa. She loved her goodie bag filled with Green Valley's Good Medicine skincare products that are created at the spa using desert plants and flowers.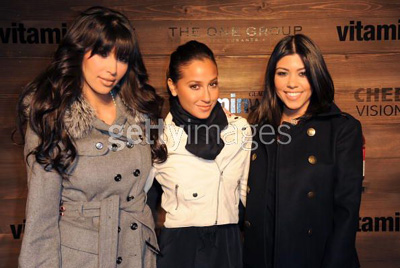 Kimberly Kardashian, Cheetah Girl Adrienne Ballion, and TV personality Kourtney Kardashian attend the 50 Cent dinner held at the vitaminwater house during the 2009 Sundance Film Festival on January 17, 2009 in Park City Utah.