All Posts Tagged With: "Kim Kardashian"
The day has arrived, Kim Kardashian finally got her Vogue Cover. Question is does Kanye West have something to do with it. Anyways, enjoy. Also, check out the Behind the Scenes of their Cover Shoot. The April 2014 issue hits newsstands nationwide on March 31st and is available on March 24th as a digital download for the iPad®, Kindle Fire, NOOK Color, and NOOK Tablet.
Kim Kardashian and Kanye West cover Vogue's April 2014 Issue
Kim Kardashian twittred these photos and she is looking very wet and wild.The genius marketing machine is keep going.
Kim Kardashian looked lovely attending P. Diddy's party on his yacht at the 2012 Cannes Film Festival. She wore Lorraine Schwartz 50-carat black and white rose-cut diamond teardrop earrings and a black diamond ruffle bangle. Do you love?
Kim Kardashian wore an emerald green, velvet Johanna Johnson gown with Swarovski crystal details to the 2012 White House Correspondents' Dinner. Do you love?
Kim Kardashian Wears Johanna Johnson to the 2012 White House Correspondents' Dinner
SEE Kim Kardashian's dress from the back…
Celebrity Makeup Artist Scott Barnes new beauty book, Face to Face, will hit stands Sept. 2012, and showcase amazing new looks, inspiration, tips, techniques and tricks amassed over a decades-long career as the world's top celebrity makeup artist. Learn how to use makeup to become your alter ego…makeup can transform you into anything you want to be! On cover you've guessed it right it's Kim Kardashian.
Love it or Hate it. And I think Kim Kardashian is getting better on the red carpet for award shows since last I remember her. Not the worst dressed compare to A-List celebs at the Golden Globes last night. I said it. Kim Kardashian wore Bruce Oldfield Couture at last night's official after-parties for the 2012 Golden Globes.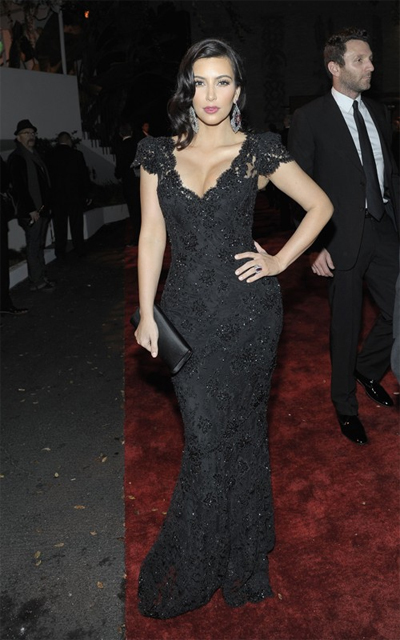 Kim Kardashian At The 2012 Golden Globes After Parties
First, Kardashian arrived at the 13th Annual Warner Bros. and InStyle Golden Globe Awards After-Party in a Bruce Oldfield black beaded lace gown. Kardashian then graced the red carpet of the Weinstein Company 2012 Golden Globe After-Party stunning in the Bruce Oldfield creation.
Kim Kardashian celebrated her birthday at Marquee Night Club in Las Vegas wearing Lorraine Schwartz 18K White Gold and Diamond Ball Earrings, Diamond Ball Ring, matching Diamond Swirl Cuffs and White Jade and Diamond bangles. Do you love?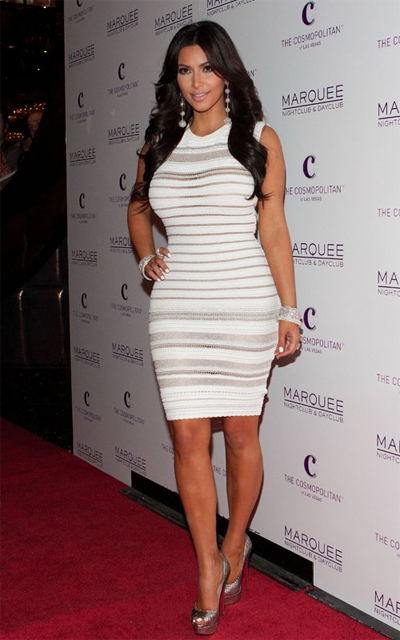 Kim Kardashian in Lorraine Schwartz Jewelry
Kim Kardashian looks very different before she got famous. You tell me?:)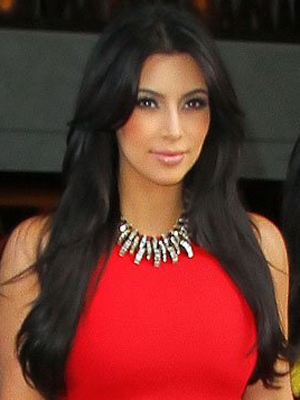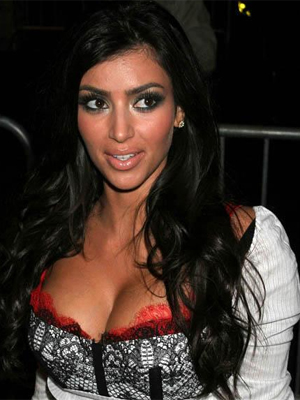 Kim Kardashian looks very different…L to R: Now and Then.
Kim Kardashian Wears Lancôme Down the Aisle. TM & Marta Walsh has the scoop about Kim Kardashian's bridal makeup look straight from her longtime makeup artist, Mario Dedivanovic, who used Lancôme on her big day. Kim is a loyal fan of Hypnôse mascara so the collaboration was a natural fit!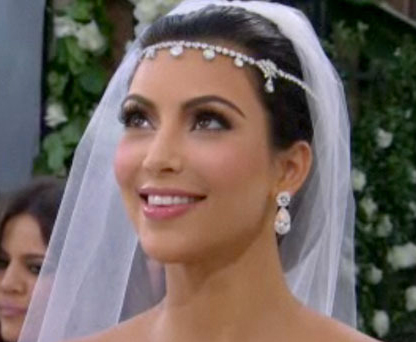 Kim Kardashian's Wedding Makeup Look:
Dedivanovic put the spotlight on one of Kim's best features—her eyes—with the Color Design 5 Pan Eyeshadow Palette in Golden Frenzy. Lancôme's new Hypnôse Doll Lashes Mascara in So Black! played up Kim's signature long lashes.
Looks like Kim Kardashian has found a new workout partner in Heidi Klum this week! While filming her spot as a guest judge on Project Runway a couple of days ago, Klum invited the reality star to hit the pavement for her AOL Summer Run in New York City this weekend. Kim's been exercising extra hard to get ready for her wedding, while Heidi, the insanely hot mom of 4, will be in her workout gear consistently for the next few months as part of her AOL Summer Run.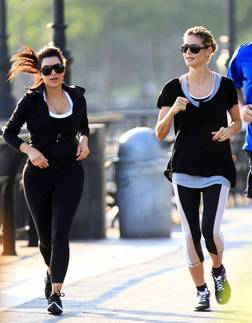 Klum wrote after her run with Kim: "Just going back to what I said yesterday, it's always good to work out with a buddy! My friend, Kim Kardashian, ran with me this morning. She was awesome! We took a walking break and she was the one who pushed us to start running again. We did 4 miles!"