All Posts Tagged With: "Scott Barnes"
Celebrity Makeup Artist Scott Barnes new beauty book, Face to Face, will hit stands Sept. 2012, and showcase amazing new looks, inspiration, tips, techniques and tricks amassed over a decades-long career as the world's top celebrity makeup artist. Learn how to use makeup to become your alter ego…makeup can transform you into anything you want to be! On cover you've guessed it right it's Kim Kardashian.
Scott Barnes Body Bling is perfect for spring and summer body prep. Available in two editions, Original and Platinum. This sunless tanning illuminator gives sexy, glowing, and bronzed skin without the risk of sun damage.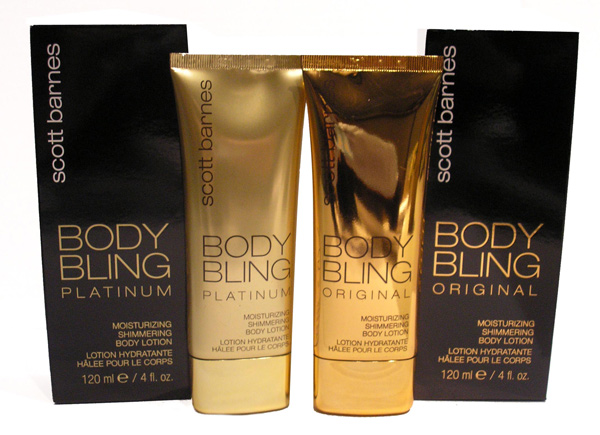 "Put it on the body like a moisturizer to even out skin tone and reduce the appearance of cellulite, spider veins, sun damage, etc. The light from the Body Bling attracts the eye, making legs, arms – everywhere! – appear slicker and slimmer. I always remind clients to apply it liberally to give ample coverage and effect," says Scott.
Motives by Loren Ridinger, a world leader in customized cosmetics, announced at Market America's World Conference in Miami that it has partnered with celebrated makeup artist Scott Barnes to create The Present, a limited edition collection of cosmetics designed by Barnes and sold exclusively on motivescosmetics.com.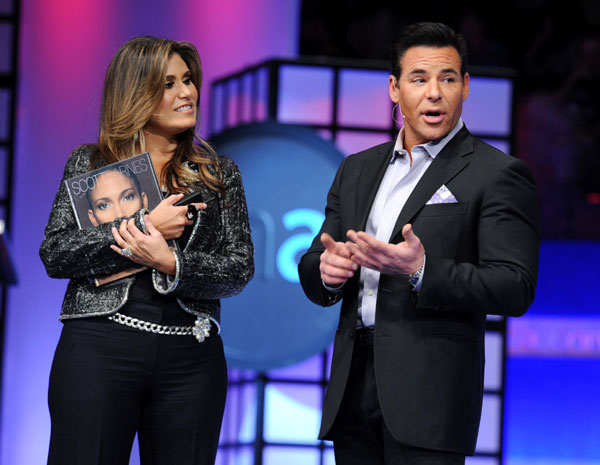 L to R: Loren Ridinger and Scott Barnes
Ridinger and Barnes unveiled the products to 25,000 attendees at Market America's annual World Conference event. The Present is an essential makeup kit that gives consumers all the products they need for any day or night look. The Present is designed to work well with all skin tones and contains four lip-glosses, four eye shadows, two blushes, translucent powder and four concealers.
Arlenis Sosa Latina magazine March 2010 Cover and Lancôme: The radiant Arlenis Sosa, one of Lancôme's favorite spokesmodels, was feted by Lancôme and Latina magazine on Monday night, Feburary 22nd, 2010. The party celebrated Arlenis's cover story in the March 2010 issue of Latina (image below).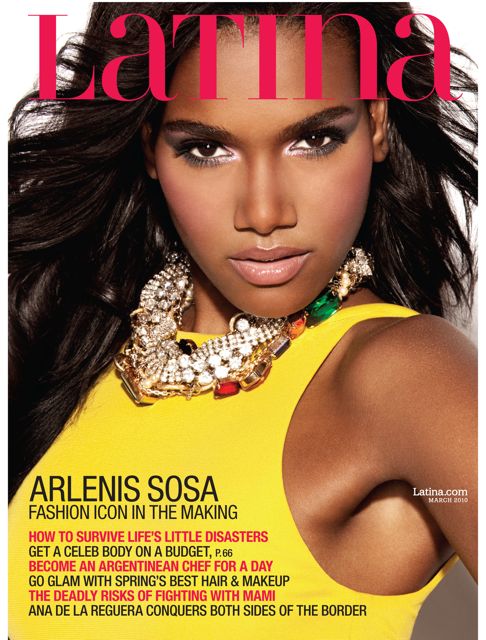 The fun party, which was held at The Lancôme Boutique on NYC's Upper West Side, attracted quite a crowd. Makeup artist Scott Barnes was there, as were pop star Kat DeLuna and MTV's Julissa Bermudez—fellow Dominicanas there to cheer on Arlenis. (We were especially loving Kat's dramatic black eyeliner and glossy lips, which was done by Scott himself.) The team behind the cover—photographer Marc Baptiste and makeup artist Rene Garnes—also dropped by. Arlenis was thrilled to see designer Luis Menieur there, too. After all, he did launch her modeling career after discovering her in Santo Domingo!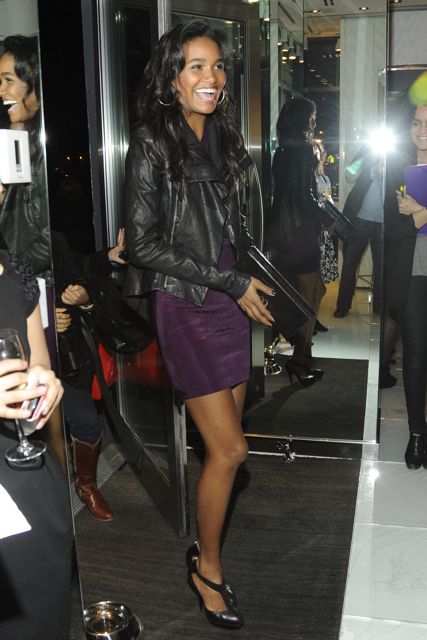 Arlenis looked radiantly chic in a Bordeaux-colored Alexander Wang mini-dress. The Lancôme Boutique's Ewa Szwed did Arlenis's makeup for the party here are the Lancôme products used:
Ever wish you could glow like J.Lo? Well, meet the man behind her famous face. Celebrity makeup artist and glow man extraordinaire Scott Barnes recently threw a party to celebrate the launch of his new book, About Face. There to celebrate were some of his famous friends, including Miss Lopez herself, Christian Siriano, Kat De Luna, Kelly Rowland and Wendy Williams.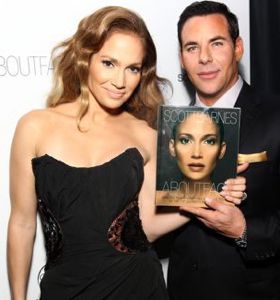 Photo: © Sara Jaye Weiss /StarTraks
Barnes is famous for his ability to give women an inner light and in the book he shares some his trademark transformational secrets. One of our favorite beauty tips from Barnes has to do with sculpting. Before he puts anything else on–concealer, foundation, blush–he first enhances a woman's facial bone structure with contouring and highlighting creams and powders. Most makeup artists will sculpt after they've put on your foundation and concealer, but Barnes swears that sculpting beforehand creates a gorgeous inner radiance that looks natural and ethereal. One look at Jennifer Lopez and we saw instantly what he meant! Read full article in dailymakeover.com
I absolutely adore Jennifer Lopez and her little black dress last night at the Scott Barnes About Face Book Launch Party at the Hotel Gansevoort in New York City. Mr Scott Barnes has been doing makeup for JLO for many years now and he is known for creating Jennifer's very famous monochromatic makeup looks. Quite revolutionary in my opinion! Scott managed to take all of us beautiful people from the harsh early 90's makeup into a whole new soft and pretty era of makeup.
Jennifer Lopez at the Scott Barnes About Face Book Launch Party. Do you love?

Jennifer Lopez and Scott Barnes at the About Face Book Launch Party
I'm SO excited to discover that celebrity makeup artist Scott Barnes (think Jennifer Lopez aka JLO)  just created a YouTube Channel called: ScottBarnesTV. I'm a subscriber:)
Watch Scott Barnes Mascara tricks and make the best out your mascara application! I know I'm taking notes.
Also, make sure to follow Scott Barnes on Twitter for more pro makeup tips!
So who is Scott Barnes?  We always love to see new faces coming into the Fashion and Makeup world.  Scott Barnes began his career as a Fashion Photography Assistant.  Intrigued with the Fashion world Scott Barnes find his way to become a makeup artist implementing his main motto of Chic and Simple.  Scott Barnes soon transformed to an A Lister with a unique and an artistic approach to traditional makeup. His makeup also has an Eastern influence due to Scott Barnes in depth studies of that culture.   Today Scott Barnes is a makeup artist to many international music, film, and TV celebrities. 
Looking for the perfect Cream Foundation?  Try Scott Barnes Cream Foundation which is a compact foundation that will give you a creamy coverage but with a seamless look and feel. Scott Barnes Creamy Foundation is formulated with calming skin care ingredients to relax your skin.  Scott Barnes is well known as the master of glowing skin so you can't go wrong with this fabulous Creamy Foundation.   Comes in 10 beautiful invisible coverage shades, such as:  Alabaster for pale pink undertone, Beyond Beige for light beige undertone, Camel for medium beige undertone, Cafe for medium pink undertone, Sand for medium pink undertone, Toffee for medium pink undertone, Amber for medium beige undertone, Caramel for medium beige undertone, Chestnut for dark beige undertone, Topaz for reddish brick brown.  Cost:  $40.