Scott Barnes Body Bling is perfect for spring and summer body prep. Available in two editions, Original and Platinum. This sunless tanning illuminator gives sexy, glowing, and bronzed skin without the risk of sun damage.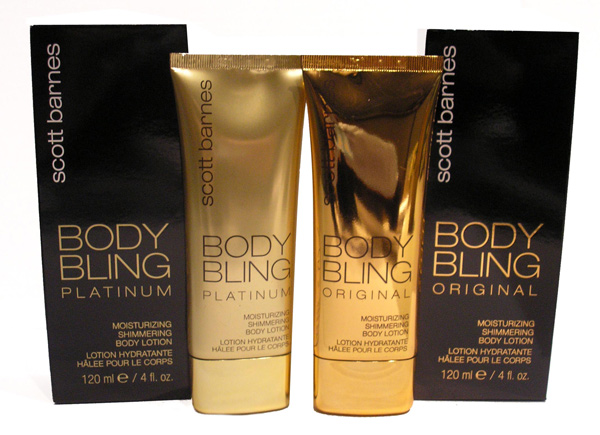 "Put it on the body like a moisturizer to even out skin tone and reduce the appearance of cellulite, spider veins, sun damage, etc. The light from the Body Bling attracts the eye, making legs, arms – everywhere! – appear slicker and slimmer. I always remind clients to apply it liberally to give ample coverage and effect," says Scott.
To achieve instant glowing skin, apply Body Bling to exposed parts of the body in either a champagne glow or natural, warmer tone – and you are good-to-go! Skin is left supple, shiny and blinged out.
Scott Barnes is credited with creating gorgeous looks for his numerous celebrity clients, however the iconic looks he created for Jennifer Lopez started a cosmetics revolution and gave birth to a new look coined "the glow" – monochromatic, with bronzed skin and pale lips. The Glow exuded both a natural and yet highly polished radiance – one that could be felt from the inside and shining out. This signature look became known as "lit from within" and launched the world famous shimmering bronzer, Body Bling.
Body Bling retails for $38 and is currently available at www.scottbarnes.com.