All Posts Tagged With: "Jennifer Lopez"
Top 5 Celebrities Who Look Great Over Age 45. Expert Plastic Surgeon Weighs In on Their Instagram Photos.
There are celebrities who seem to get better with age and maintain their looks while others seem to be at war with aging. From lip injections and fillers that make faces look oddly distorted; to full face lifts that lead to slanted eyes and an expression-less appearance, we can't help to notice when celebrities get it so wrong. In a sea of over-the-top plastic surgery, there are many celebrities who may have had a procedure or four, but managed to preserve the integrity of their faces. Dr. Kirk Brandow, founder and director of the Brandow Clinic for Cosmetic Surgery in Philadelphia; who has appeared on national programs such as Good Morning America and 20/20, shared his list of the top 5 celebrities who look great over age 45 and explains why.
The best part, these images are from the Instagram accounts of these gorgeous ladies so the photos are current and in many cases, unretouched. Let's begin.
Jennifer Lopez aka JLO was best dressed last night in Hollywood for Oscars 2012. In fact, all of Jennifer's red carpet choices are a hit! Her spectacular gown by fashion designer  Zuhair Murad. The gown strikes the perfect balance of sleek, sexy yet elegant. So Marta ha!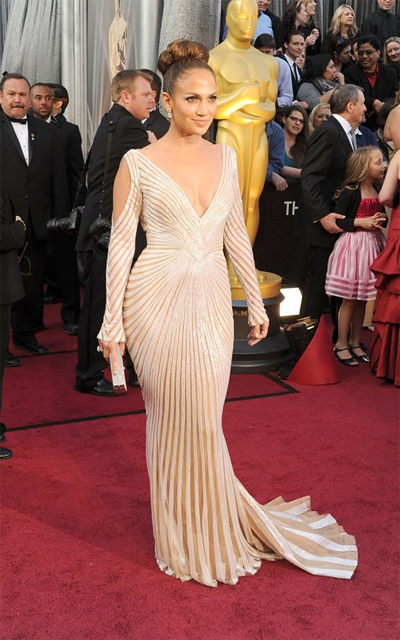 Jennifer Lopez Oscars 2012 dress by Zuhair Murad
Jennifer Lopez Makeup How To Oscars 2012
Celebrity Makeup Artist: Mary Phillips
Jennifer Lopez will be the latest celebrity to launch a fragrance with interactive multichannel retailer, HSN. The superstar will launch her new fragrance, Love & Light with numerous live appearances on HSN this Saturday, July 2nd, 2011.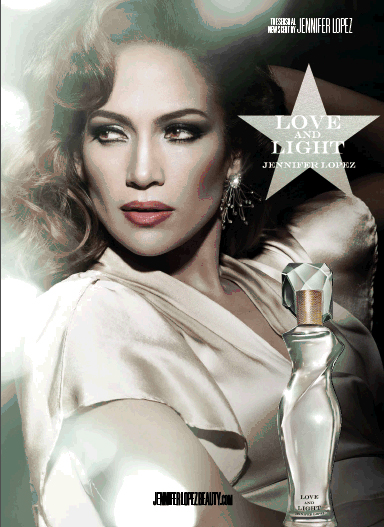 Throughout the day, Ms. Lopez will share with viewers personal stories about her inspiration behind building a global beauty brand, the development of her latest fragrance, her momentous career, and her life.
(Beverly Hills, CA – June 4th, 2011) – Megastar Jennifer Lopez is iconic in Georges Hobeika during last night's UCLA Longevity Center's 20th Anniversary ICON Awards. J. Lo took the stage in a nude Georges Hobeika cocktail dress with sequin waistline and geometric cutouts from the designer's Spring/Summer 2011 Signature Collection as she presented Jane Fonda with this year's 2011 ICON Awards.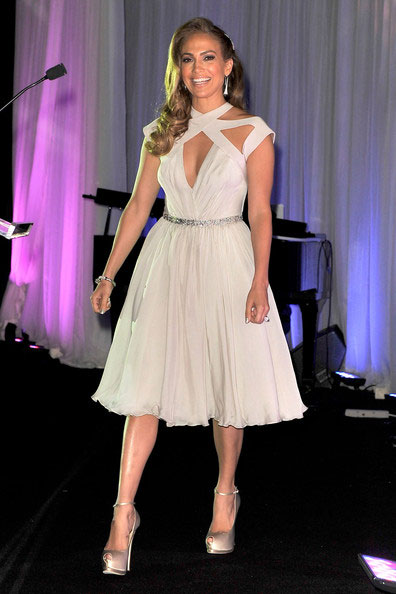 J. LO IS ICONIC IN GEORGES HOBEIKA AT THE ICON AWARDS
(Hollywood, CA – May 23rd, 2011) – Jennifer Lopez is brilliant in blue Zac Posen while honoring Simon Fuller with a Star on The Hollywood Walk of Fame. J. Lo turned heads posing with Simon Fuller and husband, Marc Anthony, clad in a curve-hugging Zac Posen kale virgin wool multi collar long sleeve cocktail dress from the designer's 2011 Fall/Winter Collection.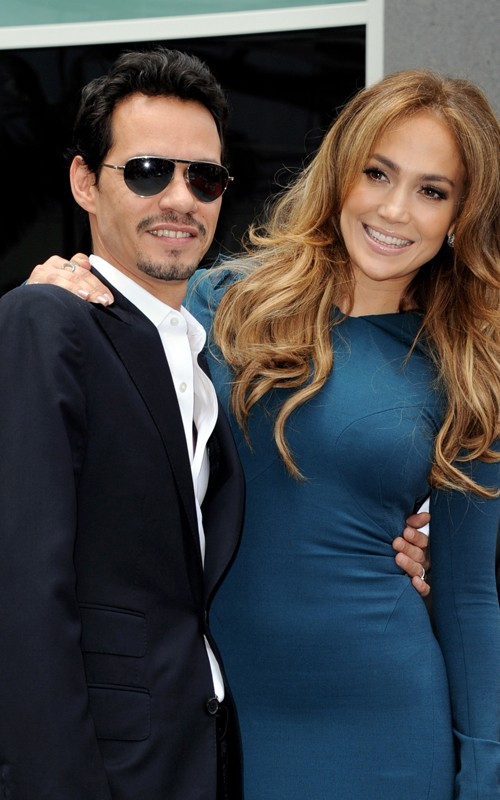 J. LO In Blue Zac Posen with husband Marc Anthony
Jennifer Lopez also stuns in Stephen Webster at Simon Fuller's Hollywood Walk of Fame Induction Ceremony. J. Lo accessoried her cool blue look with a Stephen Webster Jewels Verne Jaws Ring in 18ct white gold with white and silver diamond pave and In Deep Baby Jelly Fish Ring in 18ct white gold with white and silver diamond pave and white gold curb chains.
Jennifer Lopez, aka J Lo, L'Oréal Paris Spokesperson steals the red carpet with a hot pink Gucci number in L'Oréal Paris makeup.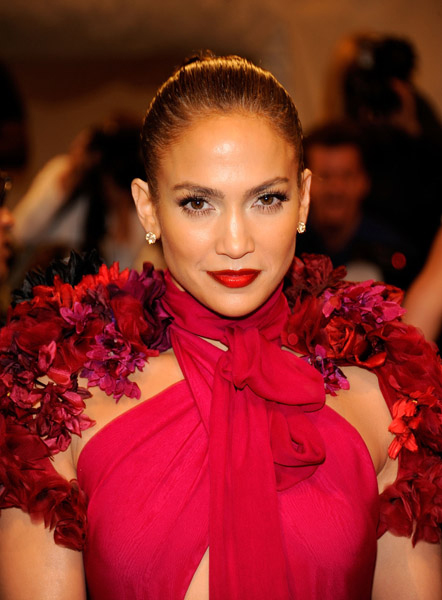 J Lo at the 2011 Met Gala
How to get Jennifer Lopez' makeup look:
EYES
The One Sweep in Playful for Brown Eyes, $9.95
Fascinating. Jennifer Lopez aka J Lo before the big fame and after…via TMZ.com: "Here's the former Fly Girl on FOX's "In Living Color" back in 1990 (left) — and twenty years later, at the London premiere of her latest big screen bomb "The Back-up Plan" (right)." On a good note, it shows that anybody can look glamorous with the right makeup, hair and styling Marta Walsh says. I do however, suspect a nose job…perhaps?
I'm voting for Jennifer Lopez as Best Dressed at the 2011 Grammys last night. Jennifer is absolutely beautiful and ahead of everyone with her style. I loved her Pucci short mini dress it's so Marta:)
Jennifer Lopez is also Global Brand Ambassador for Venus, no wonder, have you seen her fabulous legs? Marta Walsh has the scoop from Venus on how to get Jennifer Lopez's goddess legs!
Start your prep in the shower with Venus ProSkin MoistureRich razor. It's dermatologist tested as suitable for women with dry skin, and helps protect the skin from the side effects of shaving. Feeling confident in your own skin brings out your inner and outer goddess—necessary to flaunt your gorgeous gams in a short mini!
Gillette Venus is excited to announce their first-ever Global Brand Ambassador, Jennifer Lopez. This afternoon, Jennifer and her amazing legs announced her partnership with the brand, revealed her new rendition of the iconic song "Venus," and launched the Venus Goddess Fund for Education, a new global cause supporting female empowerment through education.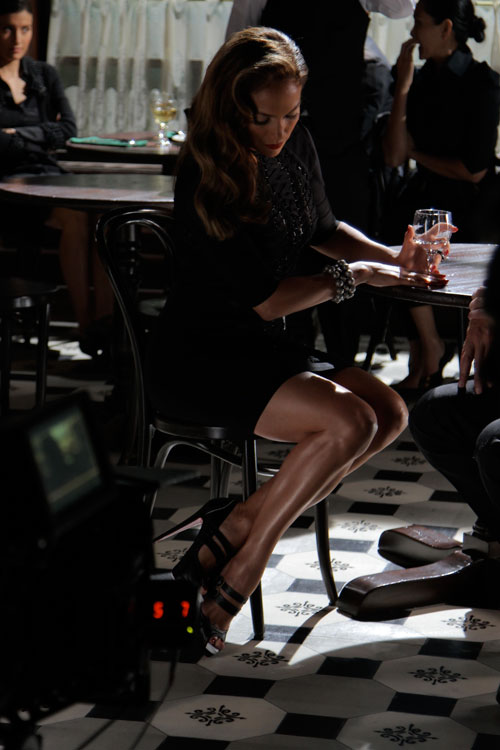 Jennifer believes that there's a Goddess in every woman – whether she's a mother, sister, friend, career woman, community advocate, or does it all. We want to hear your story. For every woman who visits the Gillette Venus website and shares their story, money will go to the Venus Goddess Fund for Education.
Rumor is Jennifer Lopez has signed on to be a global brand ambassador for L'Oreal Paris.
PARIS, Dec. 6, 2010– For many years, L'Oreal Paris spokespeople have inspired women and men around the world with their talent, their personalities and their generosity. Jennifer Lopez has all of these qualities. Golden Globe nominated actress, multi-platinum selling recording artist, film and television producer, entrepreneur and a philanthropist, Jennifer Lopez is indisputably one of the most accomplished women of her time. The L'Oreal Paris family is very proud to welcome her as the brand's new global Ambassador.