All Posts Tagged With: "Jennifer Lopez"
Los Angeles, CA, October 23rd, 2010. Jennifer Lopez looked stunning at the 32nd Anniversary Carousel of Hope Gala in a gown by Georges Chakra Couture. Jennifer shined in a white asymmetrical guipure and sequins gown held by a tulle train from the Georges Chakra Couture Spring 2010 collection. Jennifer completed her look with a clutch by Daniel Swarovski. Do you love?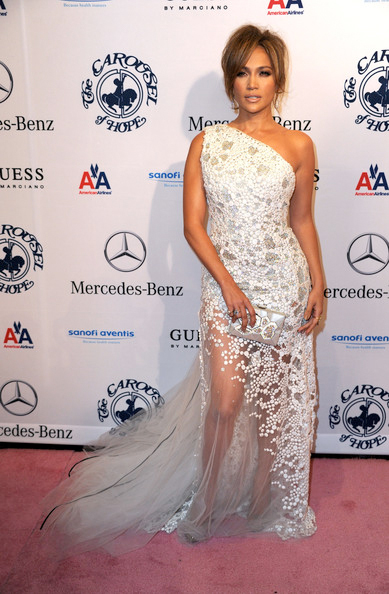 Renowned celebrity hairstylist Oribe channeled old Hollywood glamour for the Jennifer Lopez campaign for her latest fragrance, Love & Glamour. Oribe created Rita Hayworth‐inspired pin curls and over‐the‐top volume for an iconic, movie star style. Oribe reveals that "This was about creating a look that embodies the type of woman that men find sexy and women admire," about Jennifer's classically beautiful look.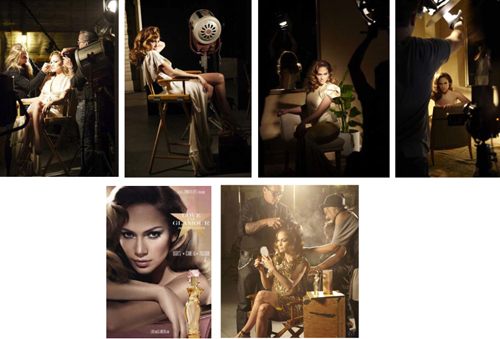 How To Get Jennifer Lopez's Hairstyle: To create the look, complete a full set with a 1 or 1.5‐inch curling iron. Use Soft Lacquer Heat Styling Spray to add extra shine. Pin the hair and let it set for about an hour, then brush out the curls and spray with Superfine Hairspray for hold and to maintain shine.
My god! How beautiful Jennifer Lopez looks at the Apollo Theater's Spring Benefit Concert & Awards Ceremony in New York City today! The hair and makeup and the Gianfranco Ferré dress all to perfection. If I had all the money in the world to afford designer clothes (one day) I probably would dress like gorgeous Lopez. We seem to have the same taste (I mean it!:) She seems to go for wow factor dresses. I haven't once seen her pick a bad outfit. Have you?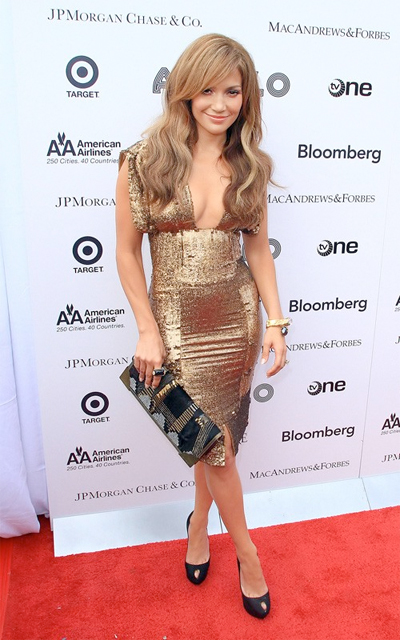 Jennifer Lopez has a new perfume called Love & Glamour. Jennifer looks absolutely stunning in the Love & Glamour ad. Love & Glamour smells good to me already:)
Jennifer Lopez did it again wearing the most beautiful gown to the amfAR Cinema Against Aids Benefit Gala 2010 in France. I'm drooling:)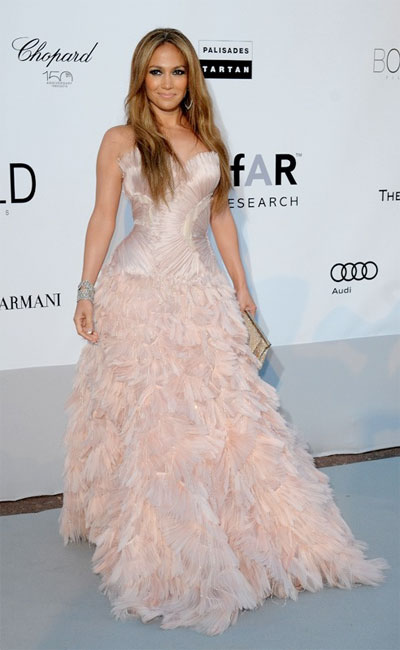 Jennifer Lopez proves once again that she is my style icon. Jennifer is all about drama and wow factor and her Roberto Cavalli animal print dress with the deep plunge almost to her navel do all that. Jennifer's hair, makeup, and dress are all so Marta Walsh. It is a dress I would pick and wear with confidence. Where are you Mr Cavalli?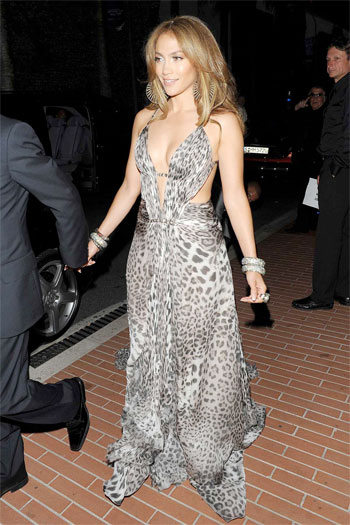 Jennifer Lopez looks stunning at the Annual World Music Awards 2010. Do you love?
Red Carpet Hair: Jennifer Lopez proves to me here that even with a 'bird's nest sitting on her hair' like hairdo she still looks gorgeous. Mind you, I love the look and would love to try this very  "Breakfast at Tifanny's Audrey Hepburn-esqe" inspired hairstyle myself. I suspect, Jennifer's hairdo is a more exaggerated version of it and no short bangs.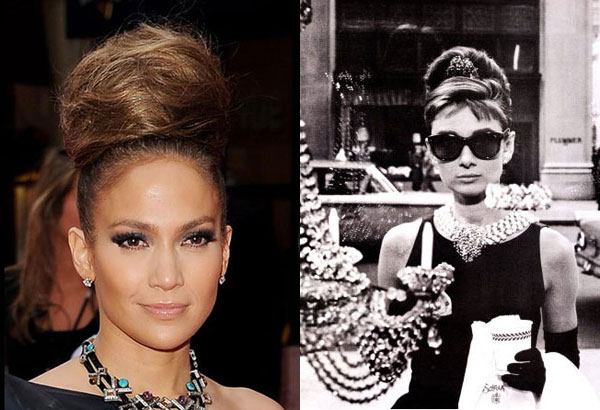 Jennifer Lopez's hairdo at the UK premiere of The Back-Up Plan. Do you love?
I also notice that JLO is literally dresses for the occasion and in her press junket trips she is well dressed for the country. In her Paris premiere she was looking very Bridget Bardot and very French.
Jennifer Lopez looked absolutely beautiful on her way to "The Late Show With David Letterman" in New York City Monday, April 19th, 2010. Do you love?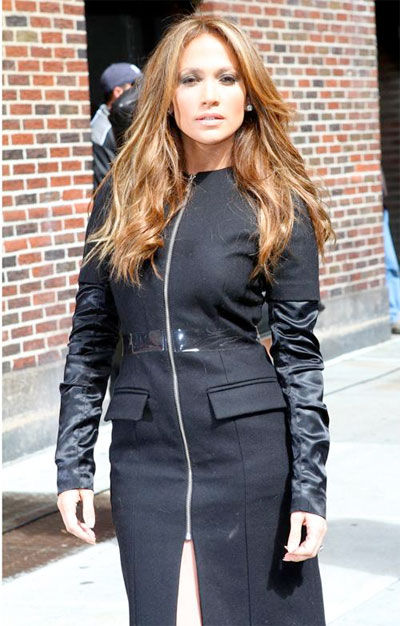 Scott Barnes Body Bling is perfect for spring and summer body prep. Available in two editions, Original and Platinum. This sunless tanning illuminator gives sexy, glowing, and bronzed skin without the risk of sun damage.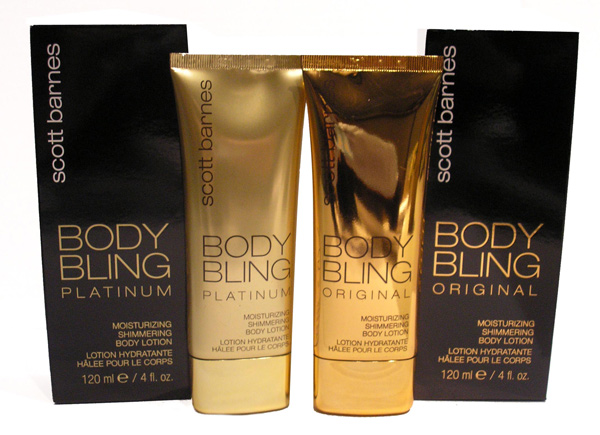 "Put it on the body like a moisturizer to even out skin tone and reduce the appearance of cellulite, spider veins, sun damage, etc. The light from the Body Bling attracts the eye, making legs, arms – everywhere! – appear slicker and slimmer. I always remind clients to apply it liberally to give ample coverage and effect," says Scott.
Blue Glow by JLo, Jennifer Lopez's latest fragrance is scheduled to launch later this week (week of March 29th, 2010). Sumptuous floral unites with mouth-watering fruit and warm, sensual wood for Blue Glow by JLo. Taking a cue from Glow by JLo, this fruity floral scent channels the mysterious ocean in a smooth, curvaceous bottle washed in a deep blue hue. Jennifer added a personal touch to the fragrance with a sexy anklet, which adorns the alluring bottle.