All Posts Tagged With: "JLO"
Blue Glow by JLo, Jennifer Lopez's latest fragrance is scheduled to launch later this week (week of March 29th, 2010). Sumptuous floral unites with mouth-watering fruit and warm, sensual wood for Blue Glow by JLo. Taking a cue from Glow by JLo, this fruity floral scent channels the mysterious ocean in a smooth, curvaceous bottle washed in a deep blue hue. Jennifer added a personal touch to the fragrance with a sexy anklet, which adorns the alluring bottle.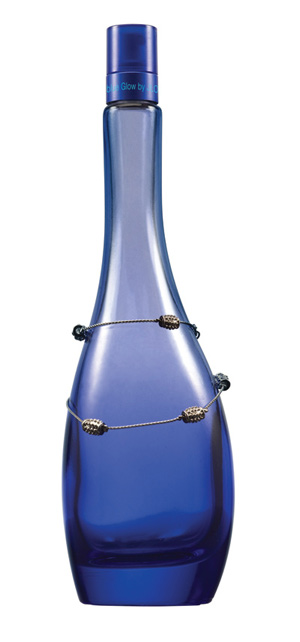 Jennifer Lopez aka JLO is officially my style icon. I love every one of Jennifer's red carpet looks. Her Armani Prive gown for Oscars 2010 made her simply the best dressed in Hollywood. But did you know that Jennifer changed her gown for the Vanity Fair Oscar Party to this super glamorous black Gucci gown? Jennifer stole the show and I want her dress! 🙂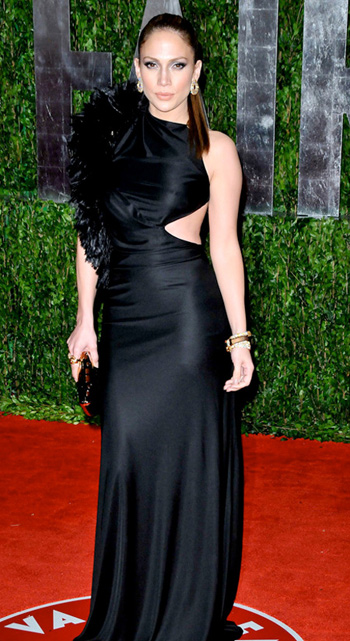 Jennifer Lopez aka JLO gets Talking Makeup's Best Dressed award at Oscars 2010. Jennifer has many copy cats and we're not naming any names, but no one does it better! JLO's gown is by Armani Privé. Do you love?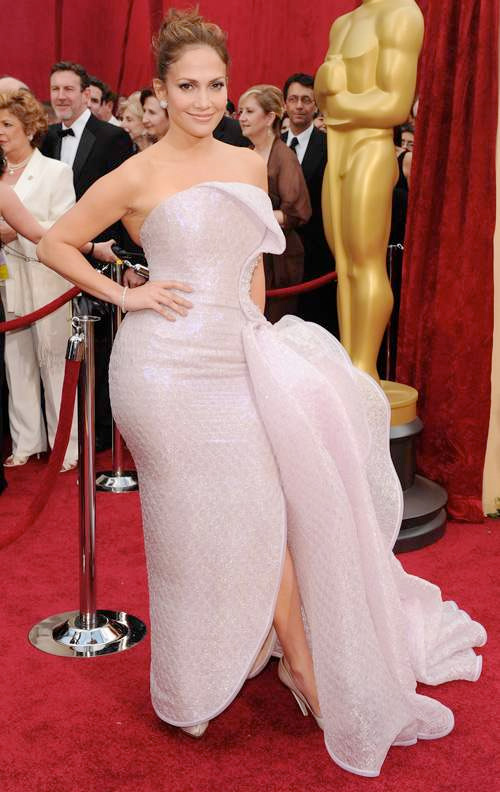 I absolutely adore Jennifer Lopez and her little black dress last night at the Scott Barnes About Face Book Launch Party at the Hotel Gansevoort in New York City. Mr Scott Barnes has been doing makeup for JLO for many years now and he is known for creating Jennifer's very famous monochromatic makeup looks. Quite revolutionary in my opinion! Scott managed to take all of us beautiful people from the harsh early 90's makeup into a whole new soft and pretty era of makeup.
Jennifer Lopez at the Scott Barnes About Face Book Launch Party. Do you love?

Jennifer Lopez and Scott Barnes at the About Face Book Launch Party
Jennifer Lopez showed up in a shimmering body suit to the Dick Clark's New Year's Rockin' Eve in Times Square for News Year's Eve on Thursday night December 31, 2009. I love her new single "Louboutins,"and I love Jennifer Lopez, but I'm not sure the catsuit was very flattering on JLO's voluptuous figure. Where is Lady Gaga when we need her? But, it got me writing about it so 'Jenny from the block' must be doing something right.
What do you think guys, are you all about Jennifer Lopez' New Year's Outfit? Do you love?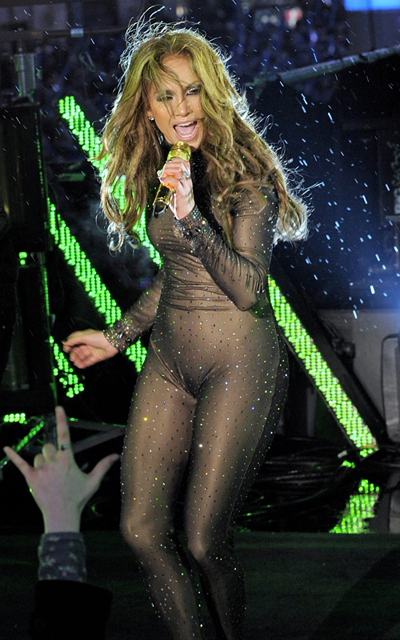 Here are my celebrity picks from the 2009 AMA (American Music Awards)!
Carrie Underwood: I love Carrie's entire look here: the dress, hair and makeup, but, the look is a bit soft and not so edgy rock and roll.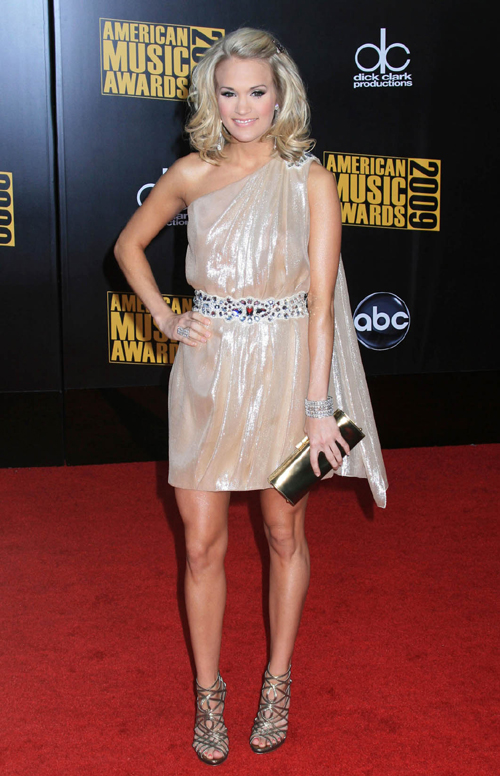 Fergie: Fergie's dark brown hair color is growing on me. I like the sparkly dress. Fergie's look here is a bit more rock and roll.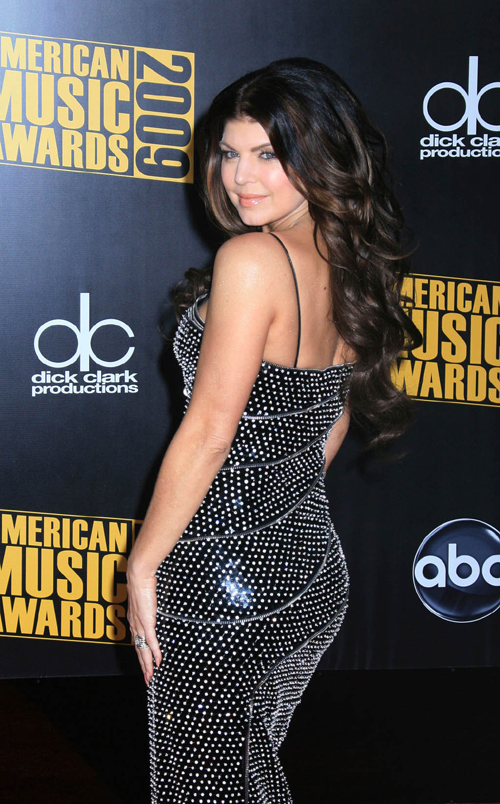 Shakira: My list is evolving in the order of edgy rock and roll. LOL. Number 3 is beautiful Shakira ("I get that a lot" that I look like Shakira. wow. Thanks guys:). Shaira's dress reminds me of a gladiator costume.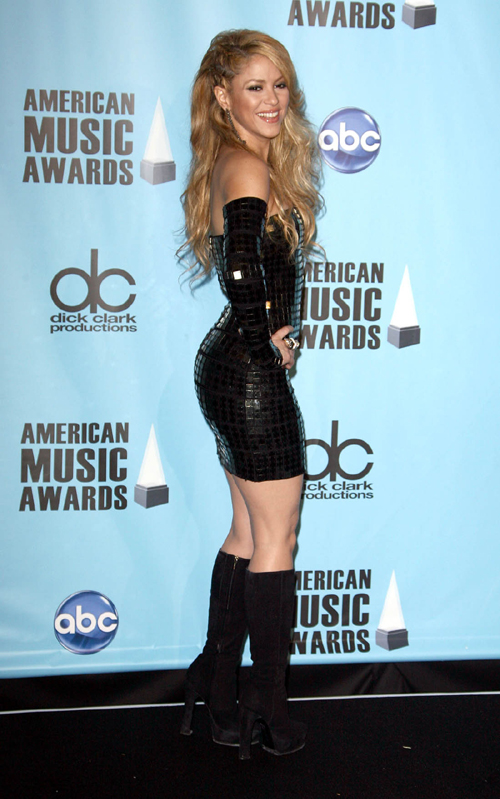 See more celebs at the 2009 AMA:
Jennifer Lopez lit up the red carpet at the 'This Is It' premiere.
Here is how you can get Jennifer Lopez aka JLO's look for less with MILANI COSMETICS:
"She will usually emphasize one feature at a time, never allowing her makeup to overpower her exquisite features," says Celebrity Makeup Artist Bebe Booth, who has worked with everyone from Britney Spears to Shannon Elizabeth. Bebe reveals how you can recreate Jennifer's look for less with MILANI COSMETICS for around $50! www.milanicosmetics.com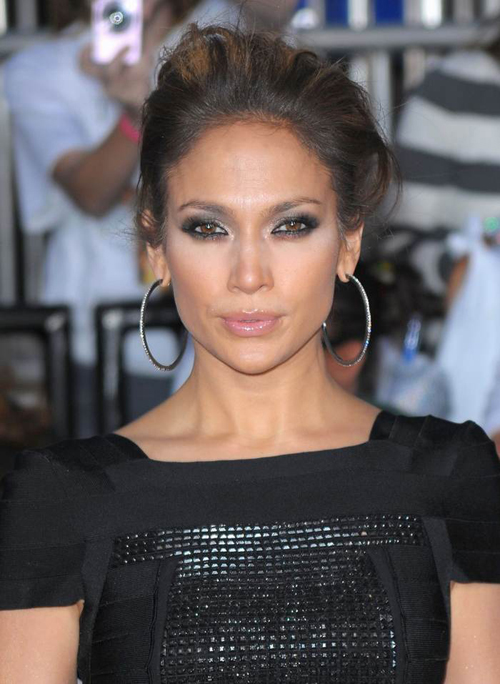 EYES: It is all about the eyes for this look. To achieve these beautiful bold smokey eyes for an evening out on the town, you will need several shadows to create the look. I recommend two palettes from Milani's Runway Eyes Fashion Shadows; Backstage Basics ($8.99) for your shimmery silver & black shades and the Ready To Wear ($8.99) palette for the golden highlight around the inner corners of your eyes. Each of these palettes has six shades to choose from, so you have many options for creating a soft or heavy smokey eye. For this look, keep the darker shades toward the outer crease and the shimmer highlights toward the inner crease of the eye.