Jennifer Lopez lit up the red carpet at the 'This Is It' premiere.
Here is how you can get Jennifer Lopez aka JLO's look for less with MILANI COSMETICS:
"She will usually emphasize one feature at a time, never allowing her makeup to overpower her exquisite features," says Celebrity Makeup Artist Bebe Booth, who has worked with everyone from Britney Spears to Shannon Elizabeth. Bebe reveals how you can recreate Jennifer's look for less with MILANI COSMETICS for around $50! www.milanicosmetics.com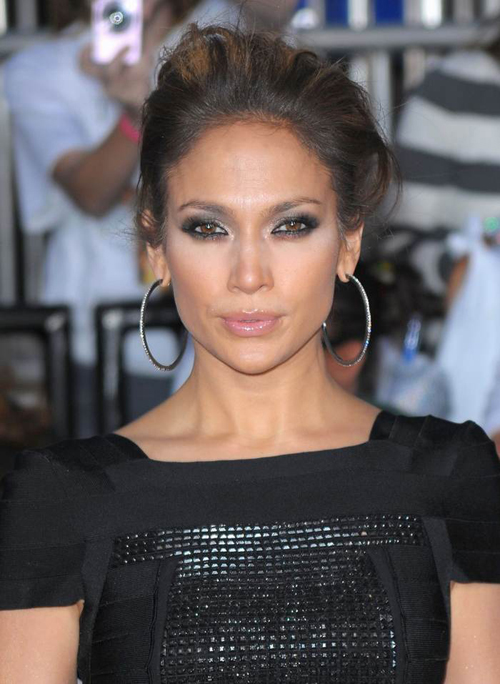 EYES: It is all about the eyes for this look. To achieve these beautiful bold smokey eyes for an evening out on the town, you will need several shadows to create the look. I recommend two palettes from Milani's Runway Eyes Fashion Shadows; Backstage Basics ($8.99) for your shimmery silver & black shades and the Ready To Wear ($8.99) palette for the golden highlight around the inner corners of your eyes. Each of these palettes has six shades to choose from, so you have many options for creating a soft or heavy smokey eye. For this look, keep the darker shades toward the outer crease and the shimmer highlights toward the inner crease of the eye.
To really make your eyes pop, you will need Milani's Eyeliner Pencil in True Black ($3.99). Line the eye top to bottom from the inner corner to the outer corner of the eye; don't be afraid to smudge the liner for a softer affect. Though it might feel strange to apply the pencil liner along the inside of the waterline, it will definitely give your smoky eye that dramatic affect Jen is known for. Don't forget about the lashes – you want them to stand out as well – so apply several coats of Milani's Power Lash in Black ($6.49). I recommend applying the first few coats of mascara for thickness, let the lashes dry and then go back to add length with a finishing coat.
FACE/CHEEKS: Keep your skin looking natural with a simple sweep of Milani's Even-Tone Powder ($7.49). You don't want your foundation to look thick or heavy. Bronze the cheeks with Milani's Radiant Powder Bronzer ($5.99) by sweeping the bronzer from the apple of your cheek up toward the ear in long single strokes. If you don't know where your apple begins, make a cheesy smile in the mirror and start applying your blush where the circle of the cheek begins. To find your contouring line, suck your lips in like a fish and follow the line that appears along the cheekbone. Remember, don't overdo the blush; it's only meant to highlight the cheekbone for a fresh look.
LIPS: To complement her bold eyes, Jennifer has chosen a nude glossy lip. I suggest Milani's Crystal Gloss in Whisper ($4.49) for light glossy lips. This gloss offers mega shine while leaving your lips kiss-ably soft!
JENNIFER SIDENOTEL Jennifer keeps her brows clean and natural. For this look I recommend using the Brow Fix Kit in Light ($6.49) to shade in uneven brows, or to add depth to really light brows using the brow brush. This kit comes with 2 tone-on-tone shades; brow bone highlighter; 3 essential tools and a 3x magnifying mirror that you will need to create the perfect brow. This is one of my absolute favorite brow kits, easy to use and compact.