All Posts Tagged With: "How To Makeup"
New York Fashion Week Fall Winter 2010. Show: Rachel Roy Fall 2010. Makeup by Bobbi Brown Cosmetics.
"Eyes are intense, covered in rich velvet…Scarlet and black create a modern smolder…" –Wendy Rowe for Bobbi Brown Cosmetics.
The Look & Inspiration: A 1930s Egyptian influence weaves together fashion and beauty at the Fall 2010 Rachel Roy Fashion Show. Peacock prints are lifted from feminine silhouettes and translated into bold, beautiful makeup. Iridescent "peacock feather" eyes gleam in denim and burgundy metallic shades from brow to lower lash line with a hint of aqua on inner corners, ultimately lined with a black kohl pencil. An even, dewy finish of the skin, softly defined pink cheek, and sheer beige lip allow the eyes to be the star of this show.
These are the Bobbi Brown Cosmetics makeup used to get the Rachel Roy Fall 2010 runway look:
Vera Farmiga was sporting red lips at the Up in the Air LA Premier on Monday, November 30th, 2009, Westwood, Los Angeles, CA. Vera was wearing a dress by Dolce & Gabbana and her makeup look was created by Tina Turnbow, a Natural Makeup Artist.
"Vera's look was simple glamour: Her dress was ephemeral – a white, almost grecian Dolce & Gabbana, and I wanted her makeup look to shine forth her beautiful features, while keeping that simple, effortless air."-Tina Turnbow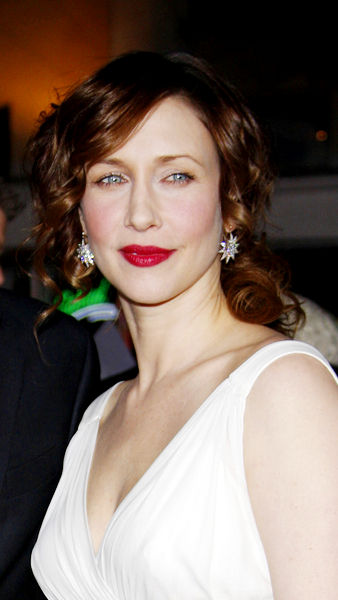 Face Products: "Vera has a beautiful, fair complexion, so I kept it simple – with a lightweight foundation and finished with a light, rosy blush.
Foundation: Almay Pure Blends Mineral Makeup in Fair – "l love that this foundation is 97.4% natural"
Blush: Revolution Organics Freedom Glow Beauty Balm in Blushed – "It's a beautiful cream stick that creates very natural-looking rosy cheeks." Mineral Fusion Blush in
Trace "a soft, baby pink to highlight cheek bones"
Powder: Tarte Provocateur SPF 8 Pressed Mineral Powder & Compact in Fair
Celebrity makeup artist Vanessa Scali transformed the already beautiful "Twilight" star Ashley Greene into a gorgeous vision at last night's "New Moon" premiere in Los Angeles. "The look was classic 60's," reports Vanessa. "Well-defined eyes with lots of lashes, a strong brow and clean skin with subtle pink/coral cheeks and lips."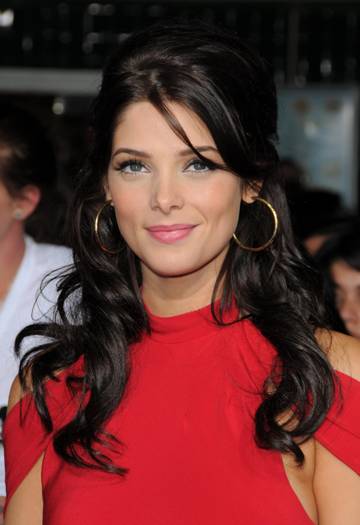 How to get Ashley Greene's makeup look at the "New Moon" Premiere:
To start, Vanessa evened out Ashley's "nearly flawless skin" with Lancôme's Effacernes concealer in Light Bisque underneath the eyes. "It gives clean, fresh, flawless coverage," she said. Bobbi Brown's Foundation Stick followed. Lancôme's Blush Subtil in Shimmer Pink Pool topped the apples of the cheeks.
Indian actress Freida Pinto has been on the Mumbai modeling circuit for many years; however, most know her best for her debut film role as Latika in Slumdog Millionaire. Since the highly regarded film was released in 2008, Freida has won an Academy Award, a Screen Actors Guild Award, and a Palm Springs International Film Festival Award. In addition to these honors, she is also frequently listed in the media as one of the world's best-dressed and most beautiful people. While Freida often goes with a neutral palette, we absolutely love her makeup in the Indian Vogue photoshoot!
Below is a step-by-step guide to recreating this effortlessly glamorous makeup look with THEVI cosmetics.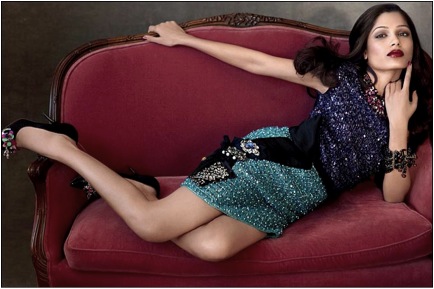 Face: The first step to recreating Freida's look above is to apply your THEVI Liquid Mineral Foundation with SPF 15 as needed to smooth out any flaws, leaving a clean, fresh face. Next, add color to the face with THEVI Mineral Finishing Powder Duo in Mocha Mates. For this particular look, it is best to apply this product in a "3" starting at the middle of the forehead, curving out down to just below the cheekbone, and curving out once more down to the chin. Highlight by adding a touch of the lighter shade right on the cheekbones.
Love Heidi Klum's makeup look for her Exotic Jewels makeup collection for VS Makeup 2009? We have the face chart that shows you how to get Heidi's look at home. The makeup chart was created by celebrity makeup artist Linda Hay.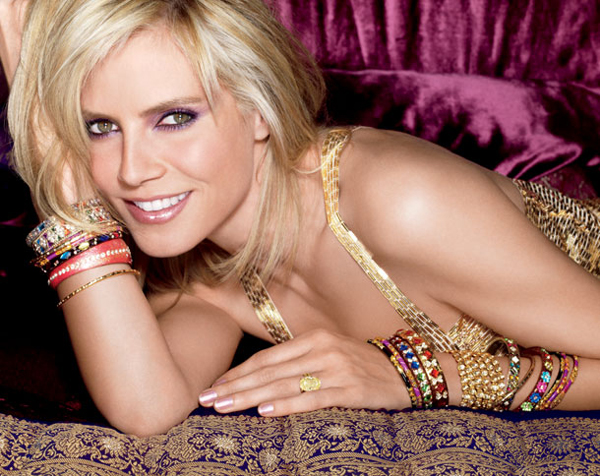 Click image above to enlarge
Jennifer Lopez lit up the red carpet at the 'This Is It' premiere.
Here is how you can get Jennifer Lopez aka JLO's look for less with MILANI COSMETICS:
"She will usually emphasize one feature at a time, never allowing her makeup to overpower her exquisite features," says Celebrity Makeup Artist Bebe Booth, who has worked with everyone from Britney Spears to Shannon Elizabeth. Bebe reveals how you can recreate Jennifer's look for less with MILANI COSMETICS for around $50! www.milanicosmetics.com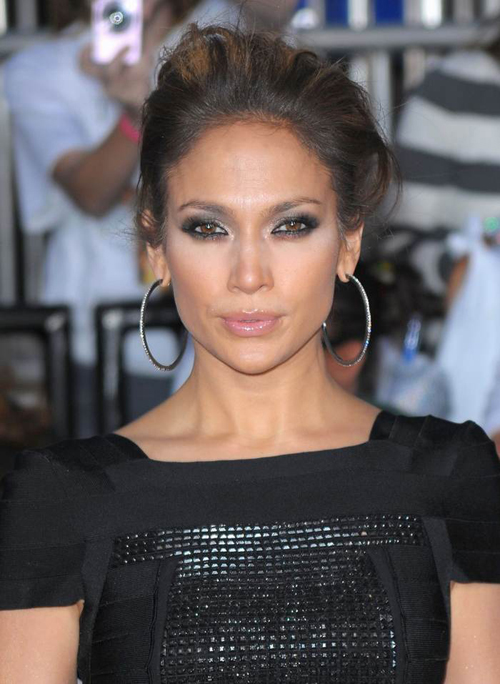 EYES: It is all about the eyes for this look. To achieve these beautiful bold smokey eyes for an evening out on the town, you will need several shadows to create the look. I recommend two palettes from Milani's Runway Eyes Fashion Shadows; Backstage Basics ($8.99) for your shimmery silver & black shades and the Ready To Wear ($8.99) palette for the golden highlight around the inner corners of your eyes. Each of these palettes has six shades to choose from, so you have many options for creating a soft or heavy smokey eye. For this look, keep the darker shades toward the outer crease and the shimmer highlights toward the inner crease of the eye.
Here is how to get LC's aka Lauren Conrad VMA 2009 makeup look: mark Spokeswoman, Lauren Conrad made her mark last night on the red carpet of the 2009 MTV Video Music Awards (VMA's). Celebrity makeup artist Amy Nadine explains how to get Lauren's gorgeous red carpet look.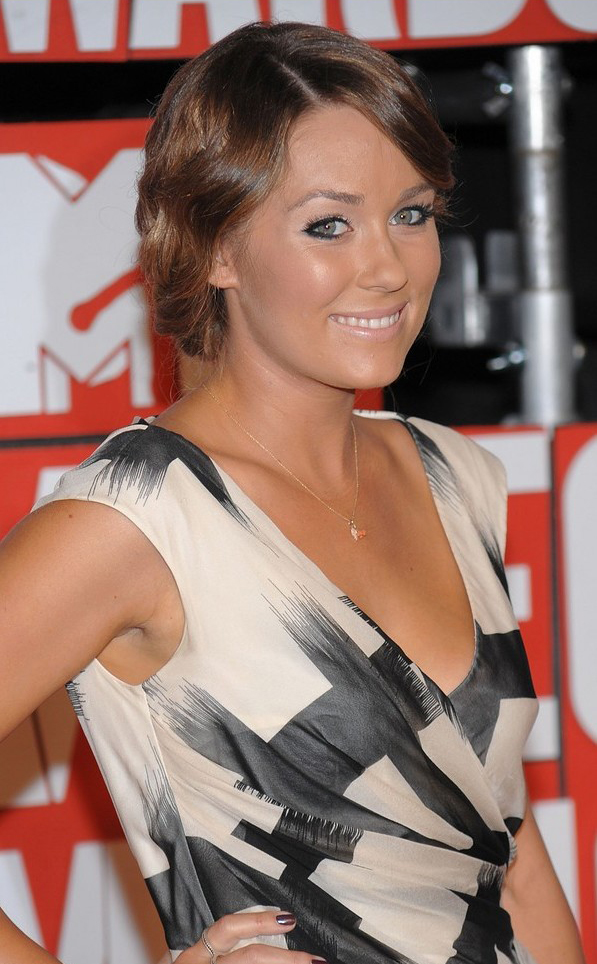 Eyes: "Lauren wore a beautiful black and cream Diane von Furstenberg dress, so we decided the inspiration for her look would be "smoldering sophistication". Lauren wanted a statement eye so we started by lining her eyes with mark Get in Line Hook Up Waterproof Eyeliner in Painted Black with a sweep of mark I-mark Custom Pick Eyeshadow in Corset on top and smudged outward with an eyeliner brush."
I'm SO excited to discover that celebrity makeup artist Scott Barnes (think Jennifer Lopez aka JLO)  just created a YouTube Channel called: ScottBarnesTV. I'm a subscriber:)
Watch Scott Barnes Mascara tricks and make the best out your mascara application! I know I'm taking notes.
Also, make sure to follow Scott Barnes on Twitter for more pro makeup tips!
Amy Nadine did the makeup for Lauren Conrad for the 2009 Hollywood Style Awards using mark cosmetics. 
Inspiration: "In honor of stylist Britt Bardo, Lauren mixed rocker-chic with a girly-glam! Her floral bubble dress was paired with studded punk-inspired pumps and her braided half-up hair-do contrasted perfectly with her hot pink lips."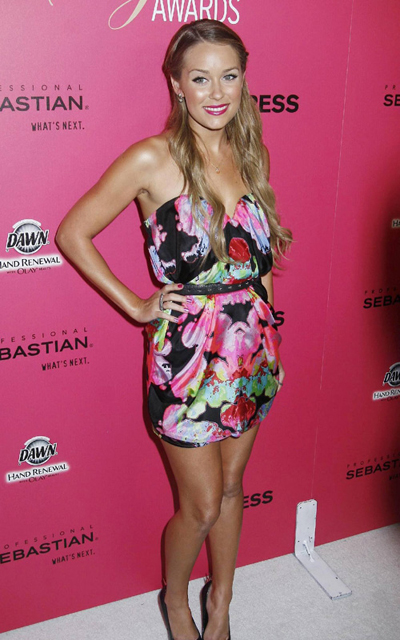 Here is how to get Lauren Conrad's makeup look according to celebrity makeup artist Amy Nadine's blog: www.amynadine.blogspot.com
"To create the look, I first filled in her entire lip with Kissink Lip Tintmarker in Berry Bitten, a lip stain favorite of ours that lasts all night yet isn't dry or flaky. Then I added a coat of Lip Exotics Lip Lacquer Hook Up in Pop for a luscious wet look with a huge color impact. For her cheeks, I applied Just Pinched Instant Blush Tint in Cheeky, a perfect true pink cream blush, on the apples of her cheeks then dusted above her cheekbones in Twinklebelle (Rose), a shimmery pearlized powder that I also used on her collar bone and shoulders. Finally, to keep all of the emphasis on her winged-out cat eyes (Get In Line Liquid Liner Hook Up in Painted Black), I left her lower lash line undefined, except for a coat of Make It Big Mascara in Raven."
Here is how to get Alessandra Ambrosio's makeup look at Christian Siriano Spring 2010 by VS Lead Makeup Artist Polly Osmond: To achieve Alessandra's sparkling eyes, glowing skin and supple lips use VS Makeup Eye Shadow Quad in Satisfied and Eye Contact, followed by VS Makeup Eyeliner in Dark Chocolate and finish eyes with VS Makeup High-Definition Mascara in Blackest Black. For Alessandra's alluring glitter effect use VS Makeup Soft Focus Liquid Foundation with VS Makeup Bronzer/Highlighter Trio in Glowing on the cheeks for the flawless close-up. For her lush nude lip use VS Makeup Lipgloss in Embrace.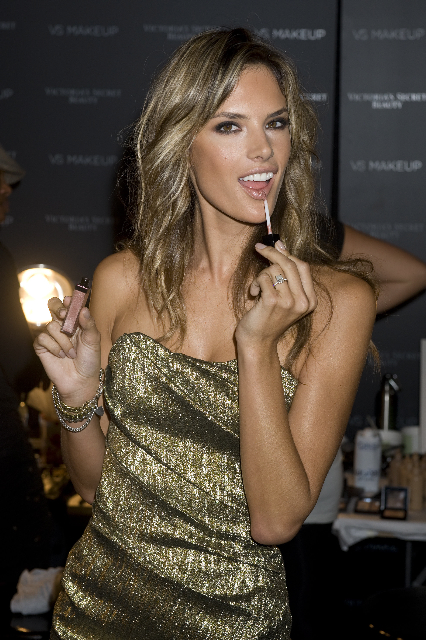 And here is how to get the Christian Siriano Spring 2010 runway look, use VS Makeup Soft Focus Liquid Foundation and VS Makeup Bronzer/Highlighter Trio on your cheeks. For eye-popping eyes use VS Makeup Silky Eye Shadow in Pose, VS Makeup Lustre Eye Shadowi in Champaign and VS Makeup Sparkle Eye Shadow in Provocateur. Line the eyes VS Makeup Liner in Bright and finish with VS Makeup High-Definition Mascara in Blackest Black. Finish the look with applying concealer to the lips and then a thin layer of VS Makeup Lipgloss in True.
Image above: VS Lead Makeup Artist Polly Osmond's Victoria's Secret Makeup Face Chart.