All Posts Tagged With: "Liquid Mineral Foundation"
Indian actress Freida Pinto has been on the Mumbai modeling circuit for many years; however, most know her best for her debut film role as Latika in Slumdog Millionaire. Since the highly regarded film was released in 2008, Freida has won an Academy Award, a Screen Actors Guild Award, and a Palm Springs International Film Festival Award. In addition to these honors, she is also frequently listed in the media as one of the world's best-dressed and most beautiful people. While Freida often goes with a neutral palette, we absolutely love her makeup in the Indian Vogue photoshoot!
Below is a step-by-step guide to recreating this effortlessly glamorous makeup look with THEVI cosmetics.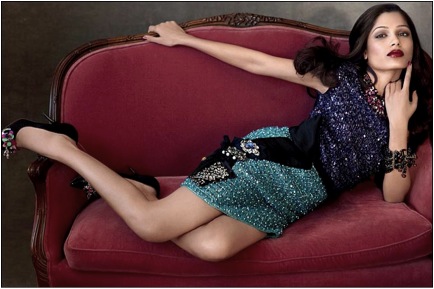 Face: The first step to recreating Freida's look above is to apply your THEVI Liquid Mineral Foundation with SPF 15 as needed to smooth out any flaws, leaving a clean, fresh face. Next, add color to the face with THEVI Mineral Finishing Powder Duo in Mocha Mates. For this particular look, it is best to apply this product in a "3" starting at the middle of the forehead, curving out down to just below the cheekbone, and curving out once more down to the chin. Highlight by adding a touch of the lighter shade right on the cheekbones.
Thevi Cosmetics was founded by wife, mother and entrepreneur, Thevaki Thambirajah.

Thevi Cosmetics founder Thevaki Thambirajah.
With roots that reach deep into the Indian sub-continent, Thevi was born of Sri Lankan parents in New York State. As a young woman, beginning her career and enjoying a busy social life, Thevi could never find cosmetics in shades that suited her coloring. She felt a keen need for a prestige makeup brand with colors that were rich and vibrant without being harsh, and Thevi Cosmetics was born.
Thevi represents the New Ethnic Market: light-to-dark skinned woman of Asian, South Asian, Hispanic, Middle Eastern, and Mediterranean descent. And we think it's brilliant! Because finding the right shade of foundation is a key to a flawless face. There is still a room for expanding the makeup color scheme, and thanks for visionaries like Thevaki Thambirajah for making it happen.
Talking Makeup tried few of Thevi products and we are impressed. The quality of ingredients is definitely there.
We particularly liked the following Thevi products:
Mineral Pressed Powder SPF 8, $30.
Liquid Powder Mineral Foundation SPF 15, $32.
Lush Mascara, $18.
Automatic Longlasting Lipliner (my favorite is in Heather, and I added it to my makeup bag), $16.50.