All Posts Tagged With: "THEVI"
Indian actress Freida Pinto has been on the Mumbai modeling circuit for many years; however, most know her best for her debut film role as Latika in Slumdog Millionaire. Since the highly regarded film was released in 2008, Freida has won an Academy Award, a Screen Actors Guild Award, and a Palm Springs International Film Festival Award. In addition to these honors, she is also frequently listed in the media as one of the world's best-dressed and most beautiful people. While Freida often goes with a neutral palette, we absolutely love her makeup in the Indian Vogue photoshoot!
Below is a step-by-step guide to recreating this effortlessly glamorous makeup look with THEVI cosmetics.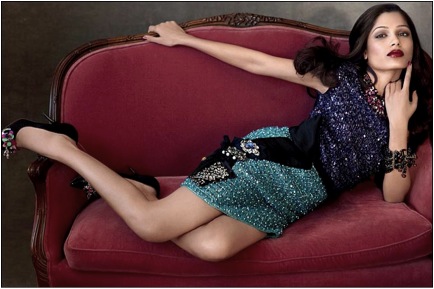 Face: The first step to recreating Freida's look above is to apply your THEVI Liquid Mineral Foundation with SPF 15 as needed to smooth out any flaws, leaving a clean, fresh face. Next, add color to the face with THEVI Mineral Finishing Powder Duo in Mocha Mates. For this particular look, it is best to apply this product in a "3" starting at the middle of the forehead, curving out down to just below the cheekbone, and curving out once more down to the chin. Highlight by adding a touch of the lighter shade right on the cheekbones.