Indian actress Freida Pinto has been on the Mumbai modeling circuit for many years; however, most know her best for her debut film role as Latika in Slumdog Millionaire. Since the highly regarded film was released in 2008, Freida has won an Academy Award, a Screen Actors Guild Award, and a Palm Springs International Film Festival Award. In addition to these honors, she is also frequently listed in the media as one of the world's best-dressed and most beautiful people. While Freida often goes with a neutral palette, we absolutely love her makeup in the Indian Vogue photoshoot!
Below is a step-by-step guide to recreating this effortlessly glamorous makeup look with THEVI cosmetics.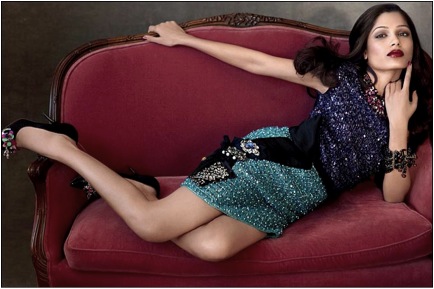 Face: The first step to recreating Freida's look above is to apply your THEVI Liquid Mineral Foundation with SPF 15 as needed to smooth out any flaws, leaving a clean, fresh face. Next, add color to the face with THEVI Mineral Finishing Powder Duo in Mocha Mates. For this particular look, it is best to apply this product in a "3" starting at the middle of the forehead, curving out down to just below the cheekbone, and curving out once more down to the chin. Highlight by adding a touch of the lighter shade right on the cheekbones.
Eyes: Begin by applying a base eye shadow, such as THEVI's Matte Shadow in Cameo, all over the eyelids from the lashes up to the brow. Second, line the eyes along the upper eyelashes, as well as the area just above the lower eyelashes, from the outer corner to the inner corner with THEVI Automatic Long Lasting Eye Liner in Onyx. Third, apply THEVI Matte Shadow in Dark Brown to the eyelid from the base of the eyelashes up to the crease of the eye, blending the existing eyeliner up into the shadow. Fourth, blend the medium shade of THEVI's Triple Split Eye Shadow in Bistro over the dark brown shadow, as well as just above the crease to lift the eye. Finish the eyes off with two coats of THEVI Lush Mascara, wiggling from the base of the lashes out to the ends for ultimate length.
Lips: It is essential to finish off the look with a glossy, intense pout. Start by applying a small amount of THEVI Liquid Mineral Foundation with SPF 15 around the outer edges of the lip. Next, play connect the dots with your THEVI Automatic Long-lasting Lip Liner in Port by dotting the two upper points of your top lip, the middle of your bottom lid, the corners of your mouth, then connecting everything in between. Last, apply one coat of THEVI High Impact Lipstick in Drama, then blot and repeat for ultimate wearing power.
Finishing touches: After you've recreated this elegant Freida Pinto look, be sure to set it using THEVI's Mineral Pressed Powder all over the face!
You can sign up for Thevi Obsession newsletters on their blog www.thevicosmetics.blogspot.com