All Posts Tagged With: "Freida Pinto"
Indian actress Freida Pinto has been on the Mumbai modeling circuit for many years; however, most know her best for her debut film role as Latika in Slumdog Millionaire. Since the highly regarded film was released in 2008, Freida has won an Academy Award, a Screen Actors Guild Award, and a Palm Springs International Film Festival Award. In addition to these honors, she is also frequently listed in the media as one of the world's best-dressed and most beautiful people. While Freida often goes with a neutral palette, we absolutely love her makeup in the Indian Vogue photoshoot!
Below is a step-by-step guide to recreating this effortlessly glamorous makeup look with THEVI cosmetics.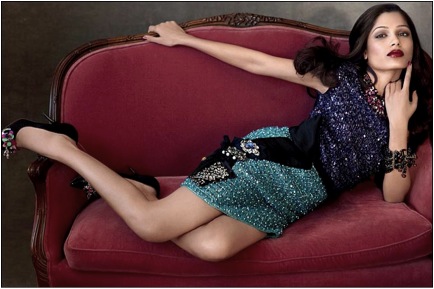 Face: The first step to recreating Freida's look above is to apply your THEVI Liquid Mineral Foundation with SPF 15 as needed to smooth out any flaws, leaving a clean, fresh face. Next, add color to the face with THEVI Mineral Finishing Powder Duo in Mocha Mates. For this particular look, it is best to apply this product in a "3" starting at the middle of the forehead, curving out down to just below the cheekbone, and curving out once more down to the chin. Highlight by adding a touch of the lighter shade right on the cheekbones.
L'Oréal Paris is proud to announce Freida Pinto and Evangeline Lilly as the newest world spokespeople for the brand.
The announcement comes on the eve of the Opening Ceremony of the 62nd Cannes Festival and reiterates L'Oréal Paris' commitment to the great stars of film.
Freida Pinto is best known for her performance as "Latika" in the Oscar winning film, SLUMDOG MILLIONAIRE.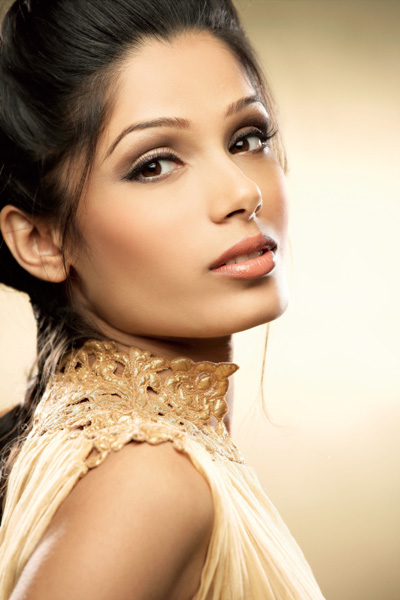 Photo credit: Freida Pinto's picture by photographer Manmeet Bhatti.
Evangeline Lilly is best known as "Kate" on the hit show LOST. Her performance on the show has earned her a nomination for the 2007 Golden Globe Awards as Best Actress in a Drama Series.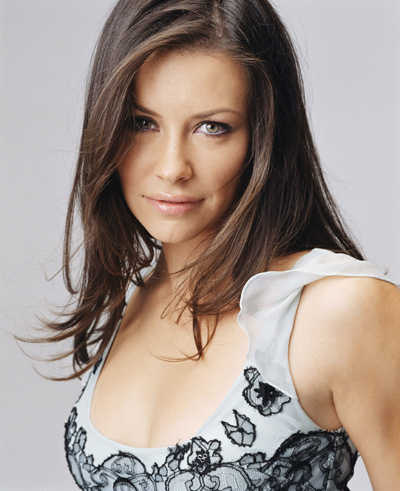 Photo credit: Evangeline Lilly's picture by photographer Kwaku Alston/Corbis Outline.
Read more: FREIDA PINTO, EVANGELINE LILLY, ELIZABETH BANKS. New Spokespeople for L'Oréal Paris.
Slumdog Millionaire star Freida Pinto is on the cover of the new issue of Vogue India March 2009, and is looking absolutely beautiful!
Freida Pinto is the definition for natural beauty. Something is very mysterious about her, and we like:) 
Image via: Perez Hilton. 
This year, at the 81st Annual Academy Awards Sarah Jessica Parker, sought dramatic eyes paired with a pale pink lip.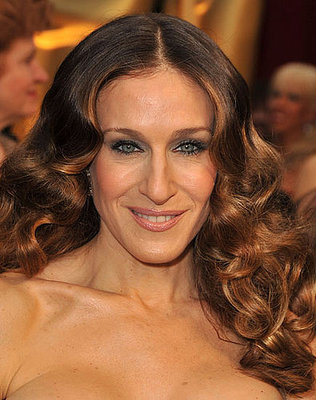 Christina Zilber, founder of Jouer Cosmetics teaches us easy ways to get the celebrity look: "The dramatic eye paired with a pale lip creates a fresh and romantic feel, perfect for formal occasions." Other celebrities sporting this makeup look include Robin Wright Penn and Freida Pinto.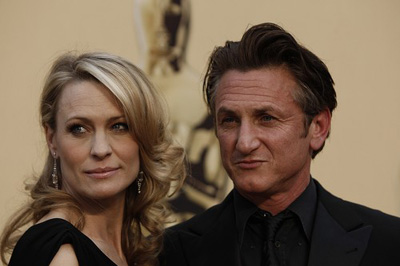 Robin Wright Penn (left) with her Oscar Winning Husband, Sean Penn (right).
How to get Sarah Jessica Parker's Oscars 2009 red carpet makeup look: The most important aspect to the celebrity look is flawless skin. Christina recommends beginning by lightly evening your complexion using the Jouer luminizing moisture tint followed by the Jouer age-repairing brightner where necessary, around the eyes, the nose and the corners of the mouth, follow by a light dusting of the Jouer mineral face powder. Christina then recommends applying a light peach or pink blush to the apple of the cheek for a fresh, youthful glow.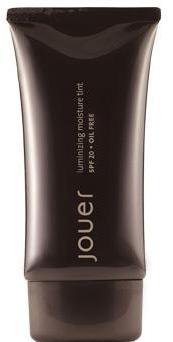 Jouer Luminizing Moisture Tint, $38.
Makeup artist, Jeffrey Paul created a fresh, sunkissed look with Jouer cosmetics for Slumdog Millionaire's Freida Pinto at the Golden Globes.
Freida's radiant natural beauty and flawless skin tone was the inspiration behind Jeffrey Paul's, red carpet look. Jeffrey Paul, the makeup artist behind Hollywood's hottest celebrities used his distinctive technique to enhance Freida's natural beauty and encourage her true character to emerge.
Jeffrey wanted Freida's natural beauty to be the focal point of her overall look. Jeffrey decided to go with a subtle palette of shimmering pinks, champagne and gold accentuating her flawless skin and her natural glow. He wanted her look to be soft, fresh and easy.
How to create Freida's radiant red carpet makeup look: