All Posts Tagged With: "ELIZABETH BANKS"
Elizabeth Banks spotted wearing Lorraine Schwartz black and white diamond earrings and a signature Diamond Monkey ring with black and white diamonds at the Late Night Show with David Letterman, May 10th, 2012, New York, NY. Do you love?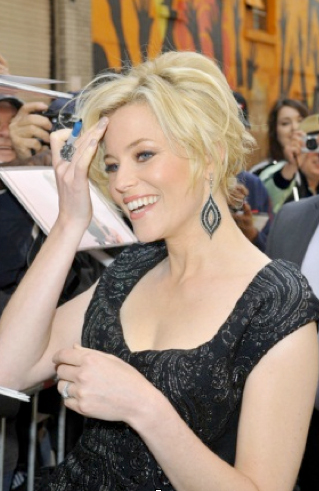 Starring actress Elizabeth Banks wore Versace to the world première of her movie "the Next Three Days" (directed by Paul Haggis) held at the Ziegfeld Theatre on November 9th, 2010 in New York City.
Elizabeth Banks wore a stunning black top with deep plunging neckline and silk fringe that go over a three quarter length black skirt from the Versace Spring 2011 collection combined with Versace double platform black sandals and a black leather clutch with gold finishing.
Adir Abergel for Frederic Fekkai tamed the tresses of Elizabeth Banks. The Hairstyle & Inspiration: American Rock & Roll. A rough, peicey ponytail with undone texture and a bit of height.
How To Get The Look: Hair Tutorial
Abergel started out by using Fekkai Coiff Ironless Straightening Balm ($25) for frizz free texture. He then dried her hair with his hands. Once hair was completely dry, he drew a part down the middle.
NARS Cosmetics dominated the red carpet at tonight's Metropolitan Museum Costume Institute Gala with makeup artists creating a variety of looks ranging from the subtly neutral to full-on drama. One thing's for sure: the new NARS PRO-PRIME Face Prep and Eyeshadow Base were essential in combating rainy makeup meltdowns and ensuring long-lasting perfection. See below for a recap of the stars who were shining in NARS and the makeup artists who lit them.

Demi Moore at the 2010 MET Ball
Jo Strettell using NARS Cosmetics
· Products: PRO-PRIME Skin Smoothing Face Prep & Smudge Proof Eyeshadow Base, Cadacques Multiple Tint, Angelique Pure Sheer SPF Lip Treatmen
Blake Lively at the 2010 MET Ball
NARS Makeup Artist Elaine Offers
· Products: PRO-PRIME Skin Smoothing Face Prep & Smudge Proof Eyeshadow Base, Goddess Soft Touch Shadow Pencil, Beverly Hills Multiple Tint, Love Devotion Lipstick
Zoe Saldana at the 2010 MET Ball
NARS Makeup Artist Vera Steimberg
· Products: PRO-PRIME Smudge Proof Eyeshadow Base, Turks & Caicos Multiple Tint & Cadacques Multiple Tint (blended!), D. Gorgeous Eyeshadow, Aigle Noir Soft Touch Shadow Pencil, Orgasm Illuminator, Lara Pure Sheer SPF Lip Treatment
L'Oréal Paris is proud to announce Freida Pinto and Evangeline Lilly as the newest world spokespeople for the brand.
The announcement comes on the eve of the Opening Ceremony of the 62nd Cannes Festival and reiterates L'Oréal Paris' commitment to the great stars of film.
Freida Pinto is best known for her performance as "Latika" in the Oscar winning film, SLUMDOG MILLIONAIRE.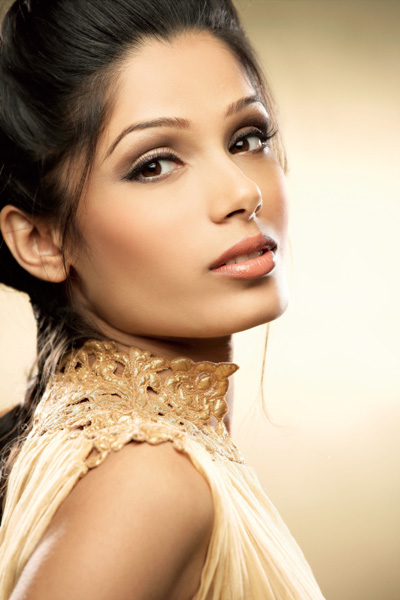 Photo credit: Freida Pinto's picture by photographer Manmeet Bhatti.
Evangeline Lilly is best known as "Kate" on the hit show LOST. Her performance on the show has earned her a nomination for the 2007 Golden Globe Awards as Best Actress in a Drama Series.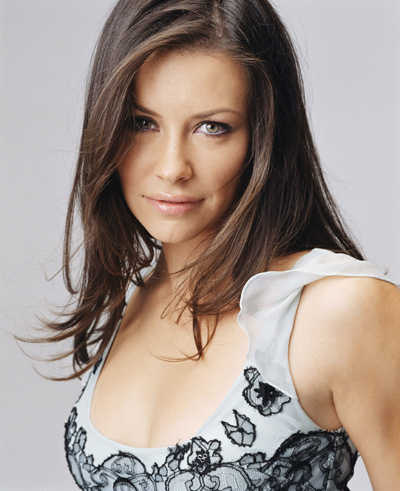 Photo credit: Evangeline Lilly's picture by photographer Kwaku Alston/Corbis Outline.
Read more: FREIDA PINTO, EVANGELINE LILLY, ELIZABETH BANKS. New Spokespeople for L'Oréal Paris.