All Posts Tagged With: "Demi Moore"
I am a Balmain kinda gal. This is why I love the Demi Moore's Harper's Bazaar February 2012 cover. Demi is wearing a Balmain dress…So Marta:)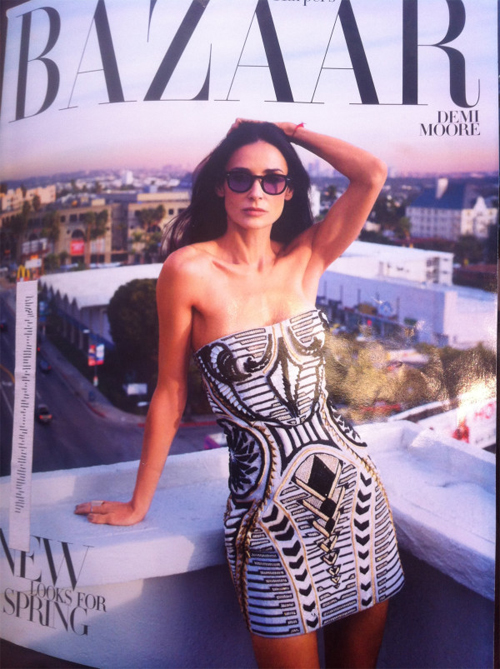 …and looks like I'm also a Dior kinda gal. I want this handbag…
This year at New York's annual Costume Institute Gala at the Metropolitan Museum of Art, some of the most beautiful hairstyles seen on the red carpet were created exclusively by Frederic Fekkai celebrity stylists using ALL Fekkai products. This year's MET Ball, themed "Alexander McQueen: Savage Beauty," was hosted by Anna Wintour, Stella McCartney and Colin Firth, with Francois-Henri Pinault and Salma Hayek as honorary co-chairs. The annual event, dubbed "The Fashion Oscars," attracts the most stylish and influential in the entertainment and fashion industries.
Frederic Fekkai Celebrity Stylist Adir Abergel created super chic tresses for Kristen Stewart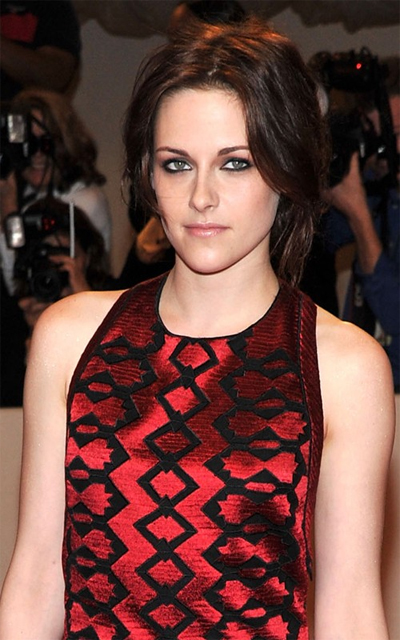 INSPIRATION: A hint of glamour with beautiful fullness and texture
LOOK: A tousled low chignon full of volume and texture
Eyes on the catwalk? Sure, but don't discount the seats—some of the best action this year took place off the runway. The front rows at the biggest shows in New York, Paris, Milan, and London are always prime real estate, and the editors, stylists, celebs, and one hair-whipping tween (that'd be Willow Smith) that occupy them made them once again into mini fashion shows all their own. Read full article in style.com.

Demi Moore at Donna Karan Fall 2010
Photo: Greg Kessler / FirstView.com via style.com
NARS Cosmetics dominated the red carpet at tonight's Metropolitan Museum Costume Institute Gala with makeup artists creating a variety of looks ranging from the subtly neutral to full-on drama. One thing's for sure: the new NARS PRO-PRIME Face Prep and Eyeshadow Base were essential in combating rainy makeup meltdowns and ensuring long-lasting perfection. See below for a recap of the stars who were shining in NARS and the makeup artists who lit them.

Demi Moore at the 2010 MET Ball
Jo Strettell using NARS Cosmetics
· Products: PRO-PRIME Skin Smoothing Face Prep & Smudge Proof Eyeshadow Base, Cadacques Multiple Tint, Angelique Pure Sheer SPF Lip Treatmen
Blake Lively at the 2010 MET Ball
NARS Makeup Artist Elaine Offers
· Products: PRO-PRIME Skin Smoothing Face Prep & Smudge Proof Eyeshadow Base, Goddess Soft Touch Shadow Pencil, Beverly Hills Multiple Tint, Love Devotion Lipstick
Zoe Saldana at the 2010 MET Ball
NARS Makeup Artist Vera Steimberg
· Products: PRO-PRIME Smudge Proof Eyeshadow Base, Turks & Caicos Multiple Tint & Cadacques Multiple Tint (blended!), D. Gorgeous Eyeshadow, Aigle Noir Soft Touch Shadow Pencil, Orgasm Illuminator, Lara Pure Sheer SPF Lip Treatment
NARS Cosmetics will be all over the red carpet at tonight's Metropolitan Museum Costume Institute Gala! Below is a list of celebrities who will be wearing NARS along with the makeup artists who are creating their looks.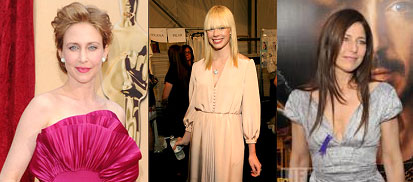 Demi Moore– Jo Strettell using NARS Cosmetics
Blake Lively– Elaine Offers using NARS Cosmetics
Zoe Saldana– Vera Steimberg using NARS Cosmetics
Demi Moore stuns in Marchesa at the Los Angeles premiere of the Joneses on Thursday, April 8th, 2010. Demi wears a pink suede open back paisley appliquéd dress. Do you love?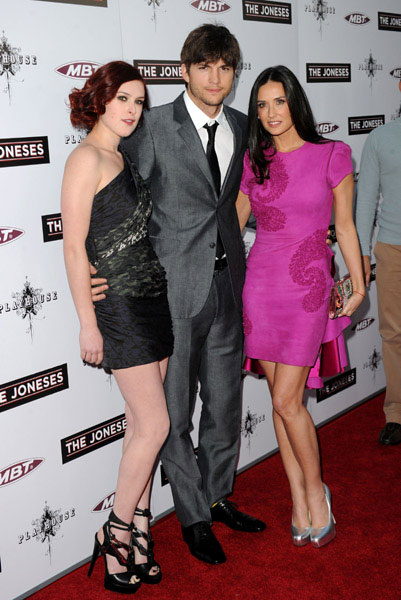 Spring/Summer 2010 Haircolor Trends by Redken Creative Consultant for Color and Hollywood colorist, Tracey Cunningham.
Fashion Week runways came alive with vibrant, bold color as seen at DKNY and Marc Jacobs' Spring/Summer 2010 shows. As the bold colors and bright accessories make way to the streets, where urban fashionistas update their little black dresses with flashes of color, they need haircolor to match, and that's where Redken comes in.
Spring/Summer 2010 Trend #1: Brunettes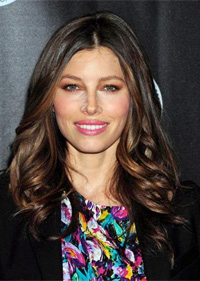 "Brunette clients want to brighten their locks for a vibrant shade, with babyfine to medium butterscotch highlights like Jessica Biel. With summer sun-kissed skintones on the way, this haircolor gives a luminous glow for a knockout look." – Tracey Cunningham
Hollywood's leading ladies such as Zoe Saldana and Demi Moore stepped onto the red carpet at Oscars 2010 looking gorgeous and glowing from head to toe, showing no signs that they have been effected by the winter weather that has left the rest of us and our skin in need of rescue.
In an easy 4 steps, anti-aging skin care specialist Dr. Adrienne Denese gives you the answer to how celebs shed the dry, dull skin of winter and how you too can achieve the same red carpet radiance!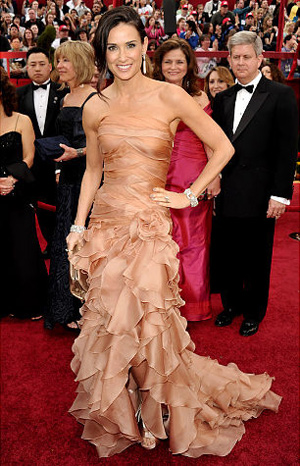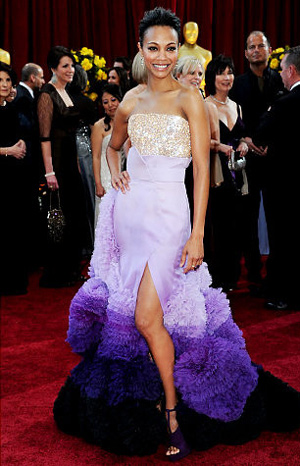 How-to achieve radiant skin by Anti-aging Expert Dr. Adrienne Denese:
STEP 1: EXFOLIATE
It is important to get rid of dead skin cells; they are what make your skin look dead and old.  They have a rough texture so they block out skin's natural radiance and that natural glow. If you self tan, you need a freshly exfoliated canvas. Otherwise the self tan will come out to be blotchy. This applies for face and body alike. Product Suggestion: Dr. Denese Damage Reversal Pads, $45 (60 pads)
Demi Moore was a complete vision at the Academy Awards 2010, from her dusty rose Versace gown to her easy updo to her softly dramatic makeup. Celebrity makeup artist Jo Strettell did the beauty honors for the always-stunning Demi.
How to get Demi Moore's Oscars 2010 makeup look:
For Demi's complexion, Jo mixed two Giorgio Armani foundations—Luminous Silk Foundation and Lasting Silk UV SPF 34 Compact Foundation—and swept YSL Touche Éclat under the eyes and around the nose. Lancôme's Blush Subtil in Rose Fresque, just on the apples of the cheeks, brightened her complexion.
On the set of Demi Moore's photo shoot for the Harper's Bazaar April cover, Demi tested out the NEW Helena Rubinstein Lash Queen Mascara with stylist Rachel Zoe.
Demi Moore, the face of the new Helena Rubinstein All You've Ever WANTED fragrance, is giving consumers an opportunity to try the new mascara. With each purchase of All You've Ever WANTED at select Macy's, you will receive one tube of the Lash Queen Mascara. Lash Queen Mascara is currently not available anywhere worldwide and this will be the only opportunity U.S. consumers will have to test this exclusive product.
You can view Demi Moore and Rachel Zoe testing the new mascara and talking about her new fragrance here: