All Posts Tagged With: "Erin Fetherston"
This season Erin works her magic in a collection imagined for the polished pixie. Inspired by her penchant for fairytales, Erin Fetherston's Autumn/Winter 2015 Collection is both spritely and sophisticated, offeringsultry gowns, elegant dresses and tailored separates in a decadent array of buttery silks, lustrous jacquards, and ethereal organza.
A woodland inspired palette of mossy green, poinsettia red, blackberry and saffron add warmth to a collection grounded in ivory and ebony.  Fanciful prints and embroideries evoke the designer's reverie for the natural world, striking harmony with her decidedly modern silhouettes, cut with expert precision of line and form. To compliment the imaginative, fairytale-like spirit of the collection, TRESemmé Stylist Jeanie Syfu creates a polished ponytail with a twist that is modern and feminine, yet whimsical and out of the ordinary.
ERIN FETHERSTON – Spring 2013 New York Fashion Week. Hair by Odile Gilbert for Kérastase Paris. Overall look: Brigitte Bardot vacationing in San Tropez – holiday-inspired/vacation-esque hair
ERIN FETHERSTON Hairstyle Spring 2013 New York Fashion Week
Touting celebrity fans including Zooey Deschanel, Rachel Bilson and Jessica Biel, Erin Fetherston is enjoying rave reviews for her latest ERIN by Erin Fetherston collections. Starting March 12, 2012, Beauty.com is thrilled to announce that Erin Fetherston is the newest collaborator in the beauty retailer's designer bag series.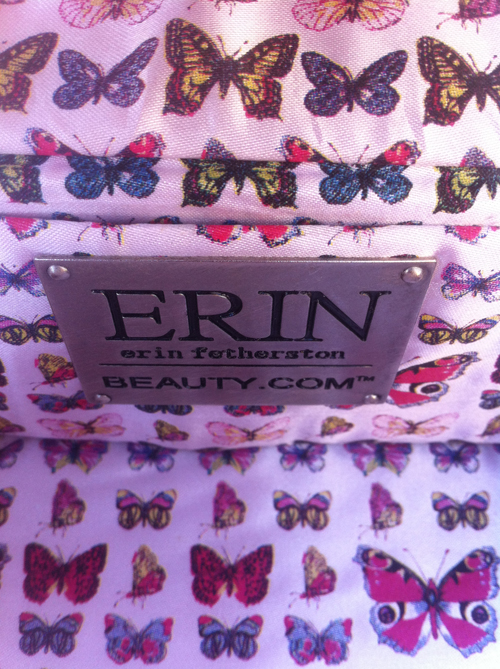 ERIN Erin Fetherston Beauty.com
TM & Marta Walsh brings you a sneak peek to Erin Fetherston Fall Winter 2012:)
Click Images To Enlarge.
NARS Cosmetics dominated the red carpet at tonight's Metropolitan Museum Costume Institute Gala with makeup artists creating a variety of looks ranging from the subtly neutral to full-on drama. One thing's for sure: the new NARS PRO-PRIME Face Prep and Eyeshadow Base were essential in combating rainy makeup meltdowns and ensuring long-lasting perfection. See below for a recap of the stars who were shining in NARS and the makeup artists who lit them.

Demi Moore at the 2010 MET Ball
Jo Strettell using NARS Cosmetics
· Products: PRO-PRIME Skin Smoothing Face Prep & Smudge Proof Eyeshadow Base, Cadacques Multiple Tint, Angelique Pure Sheer SPF Lip Treatmen
Blake Lively at the 2010 MET Ball
NARS Makeup Artist Elaine Offers
· Products: PRO-PRIME Skin Smoothing Face Prep & Smudge Proof Eyeshadow Base, Goddess Soft Touch Shadow Pencil, Beverly Hills Multiple Tint, Love Devotion Lipstick
Zoe Saldana at the 2010 MET Ball
NARS Makeup Artist Vera Steimberg
· Products: PRO-PRIME Smudge Proof Eyeshadow Base, Turks & Caicos Multiple Tint & Cadacques Multiple Tint (blended!), D. Gorgeous Eyeshadow, Aigle Noir Soft Touch Shadow Pencil, Orgasm Illuminator, Lara Pure Sheer SPF Lip Treatment
New York Fashion Week. Erin Fetherston Autumn/Winter 2010 Collection hair looks created by Odile Gilbert for Moroccanoil. The Look and Inspiration: Erin Fetherston's Autumn/Winter 2010 collection takes inspiration from iconic Chelsea Girl, Nico (Velvet Underground).

L to R: Fashion designer Erin Fetherston and model backstage at the Erin Fetherston Autumn/Winter 2010 Fashion Show during New York Fashion Week back in February 2010
The Hair Design: "I love this inspiration," said Odile. "It's very 70's New York rock and roll, yet chic and modern. The hair looks beautiful. It's straight in a natural way, full of body, and shimmering with silky shine. All these Nico (Velvet Underground & Nico) inspired looks have long dramatic bangs that just barely touch the eyebrows and are longer at the sides. In fact, this modern edgy style is identical to the look that Erin Fetherston wears herself.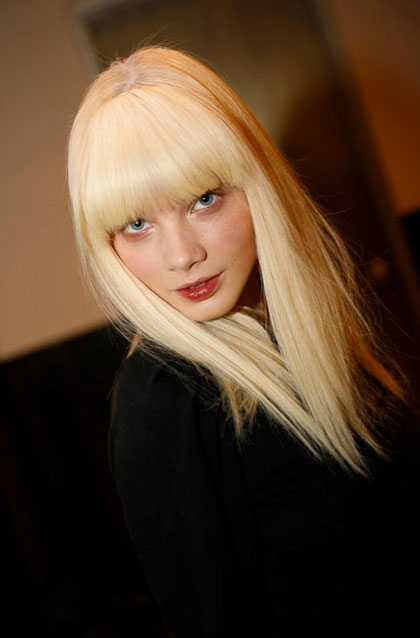 WATCH: Marta Walsh interviews Makeup by MAC Cosmetics Lead Makeup Artist Lucia Pica backstage at Erin Fetherston Fall 2010 during New York Fashion Week.
The Inspiration: The designer wanted to have 70s gorgeous glowing skin but not too retro to keep it very natural, cool, young, and fresh. She looks like a girl who's been running through the fields. Keeping the techniques and products very simple as if the look happened naturally in the fields, as if the makeup artist was not there. All the models have fringes/bangs which was inspired by Nico from The Velvet Underground.
It was a mod, mod world backstage at Fall 2010 Fashion Week. From Erin Fetherston to Cynthia Steffe, the look for hair was all about thick, blunt-cut bangs that harkened back to the mod squad models of the late 1960's and early 1970's. Here, some of our favorite versions of the look. Consider yourself warned: The bang is back and it's bigger (and blunter) than ever.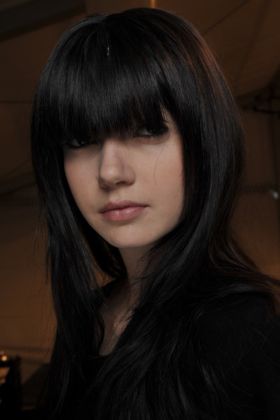 Cool girl chic at Cynthia Steffe.
Photo: © Luca Cannionieri
At Cynthia Steffe, Bumble and bumble lead stylist Rolando Beauchamp gave models a clip-on faux bang to help embody the late 1960's cool British/French girl inspiration. "We're doing a really thick fringe, but the texture on the hair is dirty, like two-day old hair," he said. The slept in texture added to the cool girl feel, giving models a messy-sexy hairstyle that was retro without being too literal.
Read full article in dailymakeover.com
Related Articles:
Fashion Week: Funky, Chunky Haircolor
Vampire Inspired Fashion Week
Fashion Week: The Bold And The Beautiful
To celebrate 15 years of iconic beauty for his celebrated brand, Francois Nars launched the NARS 15X15 Project. The centerpiece of the project is the 15X15 book, featuring 15 celebrity portraits, each inspired by a NARS product shade and based on an iconic reference chosen by François (who personally did the makeup and photographed every portrait).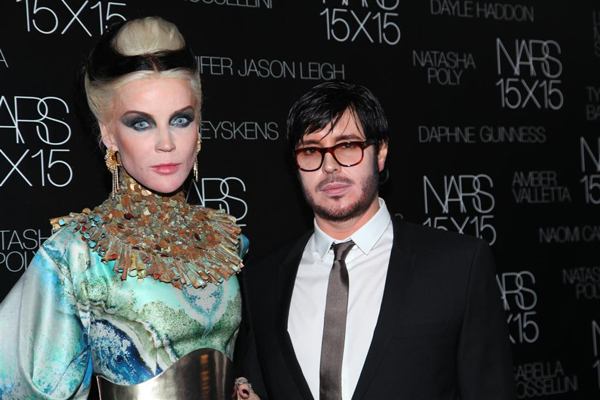 Marc Jacobs & Daphne Guinness
On November 12, 2009 at 8PM EST, the NARS 15X15 website (15X15Project.com) went live, making available for purchase the book and select individual portraits. 100% of the proceeds from the project will be distributed among the 15 charities chosen by the participating celebrities.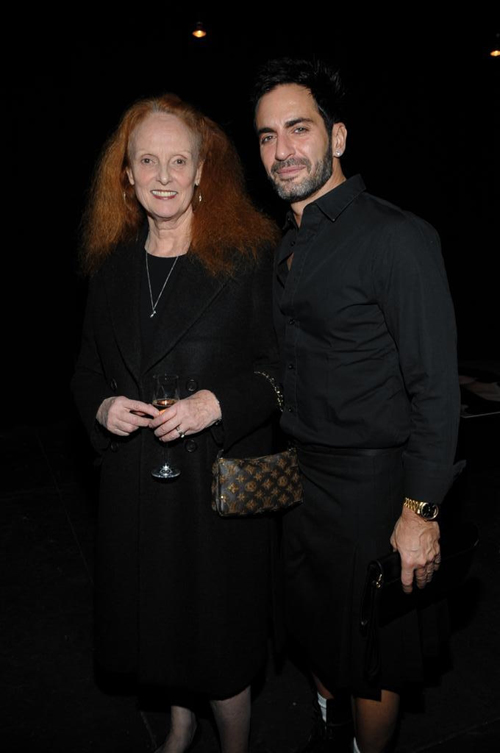 Grace Coddington and Marc Jacobs