All Posts Tagged With: "VS Makeup"
Love Heidi Klum's makeup look for her Exotic Jewels makeup collection for VS Makeup 2009? We have the face chart that shows you how to get Heidi's look at home. The makeup chart was created by celebrity makeup artist Linda Hay.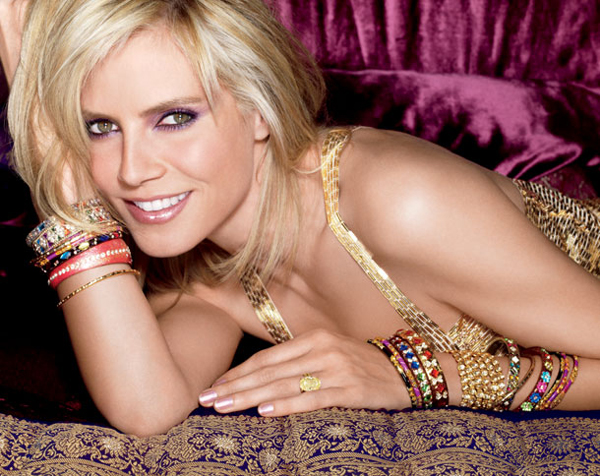 Click image above to enlarge
Meet Victoria's Secret Supermodel Alessandra Ambrosio and celebrate the launch of Velvet: THE fragrance
WHEN & WHERE:
Wednesday, October 14
2 – 4 PM
722 Lexington Avenue (at 58th street)
New York City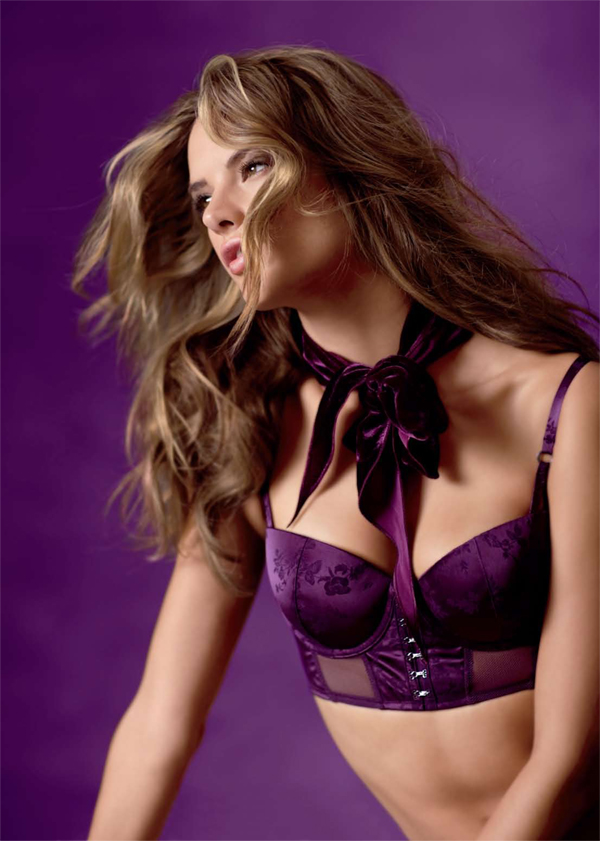 Surprise celebrity guest!
Personalized autograph from Alessandra Ambrosio*
Makeover with the VS MAKEUP Supermodel Artist team*
Preview the new Heidi Klum for VS Makeup Holiday collection.
*First come, first served. Must purchase one product from the Parfums Intimes Velvet collection to receive autograph and/or makeover.
Last year or so, I was given an incredible chance to ask Heidi Klum some questions on her red carpet beauty secrets and Victoria's Secret Beauty and makeup. I thought to share!
Marta Walsh: How do you decide on a hair style for the red carpet?
Heidi Klum: The dress inspires everything. I'll put on the dress the day of the event and we'll collaborate on what kind of hair and makeup will look best.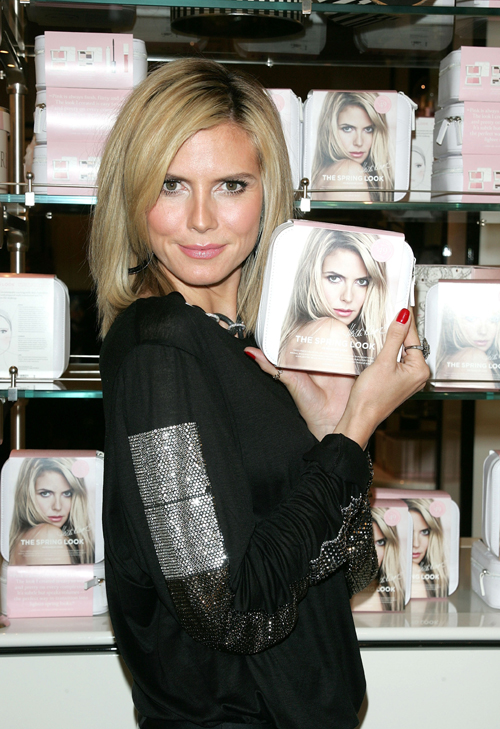 MW: In what way is red carpet makeup different than any other day or event?
HK: Red carpet beauty prep is a little different because you usually have more time to get ready and it HK: becomes a fun, girly event. We joke around and sip a little champagne. It's really fun and festive. And, red carpet makeup can be a little bolder and more adventurous when you're wearing a dramatic evening gown.
MW: Is there any beauty do's or don't's before the big red carpet day?
HK: I try to live a healthy balanced life always, so I don't do anything different before the big day. I think you get into trouble if you're experimenting with crazy or drastic beauty treatments the day before!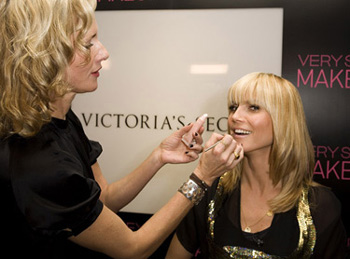 But, I do like to have sun-kissed skin for the red carpet, so I apply Bare Bronze Gleaming Self Tan Tint mixed with Bare Bronze Daily Glow Moisturizer the day before. Top with a little Sexy Little Things Shimmer Powder and you're glowing for the red carpet!
Heidi's Red Carpet secrets are…
Here is how to get Alessandra Ambrosio's makeup look at Christian Siriano Spring 2010 by VS Lead Makeup Artist Polly Osmond: To achieve Alessandra's sparkling eyes, glowing skin and supple lips use VS Makeup Eye Shadow Quad in Satisfied and Eye Contact, followed by VS Makeup Eyeliner in Dark Chocolate and finish eyes with VS Makeup High-Definition Mascara in Blackest Black. For Alessandra's alluring glitter effect use VS Makeup Soft Focus Liquid Foundation with VS Makeup Bronzer/Highlighter Trio in Glowing on the cheeks for the flawless close-up. For her lush nude lip use VS Makeup Lipgloss in Embrace.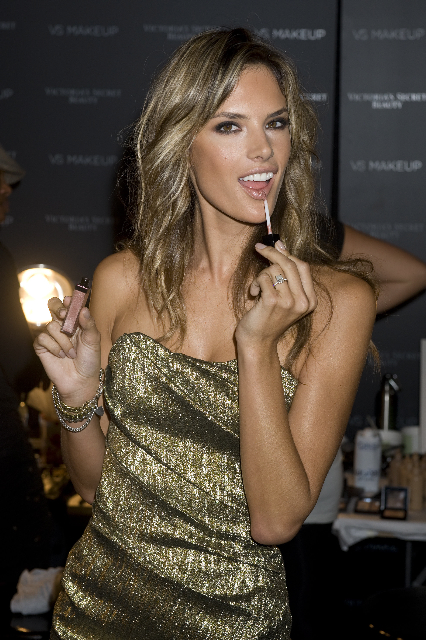 And here is how to get the Christian Siriano Spring 2010 runway look, use VS Makeup Soft Focus Liquid Foundation and VS Makeup Bronzer/Highlighter Trio on your cheeks. For eye-popping eyes use VS Makeup Silky Eye Shadow in Pose, VS Makeup Lustre Eye Shadowi in Champaign and VS Makeup Sparkle Eye Shadow in Provocateur. Line the eyes VS Makeup Liner in Bright and finish with VS Makeup High-Definition Mascara in Blackest Black. Finish the look with applying concealer to the lips and then a thin layer of VS Makeup Lipgloss in True.
Image above: VS Lead Makeup Artist Polly Osmond's Victoria's Secret Makeup Face Chart.
Victoria's Secret Beauty's Alessandra Ambrosio (the face of Christian Siriano's collection for VS Makeup), along with celebrities Tori Spelling, Kelly Rowland, Kristen Johnson and Mena Suvari were spotted at Christian Siriano's mediterranean travel inspired Spring 2010 Runway Show on September 12th at the Bryant Park tents for Mercedes Benz Fashion Week. His collection featured animalistic themed reds and oranges and deep oceanic blues with models thriving in Victoria's Secret Beauty's new on-trend makeup collection, VS Makeup. Alessandra Ambrosio joined Victoria's Secret Beauty's team of makeup artists backstage, bringing runway beauty to reality with VS Makeup and puckered up for the cameras with VS Makeup Lipgloss.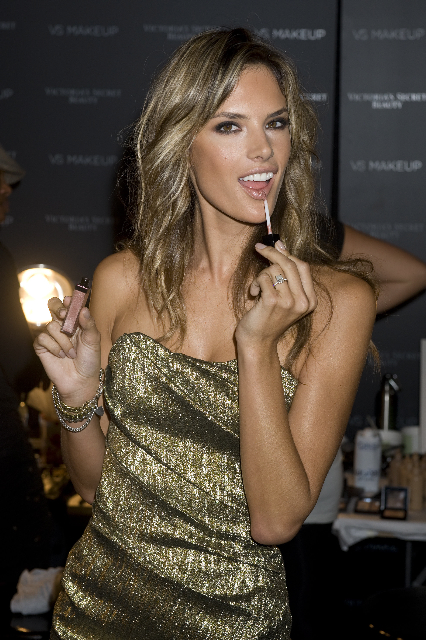 PHOTO CREDIT: www.splashnews.com
NOW Available on VictoriasSecret.com…Limited-Edition Christian Siriano for VS Makeup Fall 2009!
"This Fall the inspiration is Egypt: the warmth of the desert, the blue of the Nile. It's about the juxtaposition of soft fabrics and strong shapes."– Christian Siriano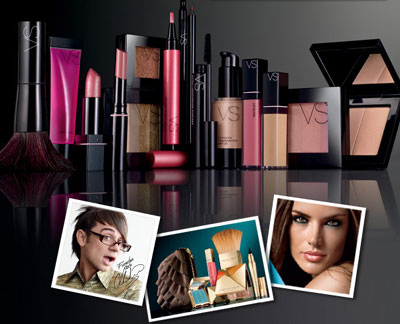 Project Runway winner and fashion phenom Christian Siriano makes his beauty debut with this exclusive collection for new VS Makeup. The collection interprets the themes of his Fall 2009 fashion collection with soft, luxurious textures and strong, rich colors. Siriano's touches are evident throughout this wearable, on-trend color collection, from the shade palette and names to the luxurious gold packaging—even a signature ruffle cosmetics bag. A little bit of runway to liven up the everyday this Fall.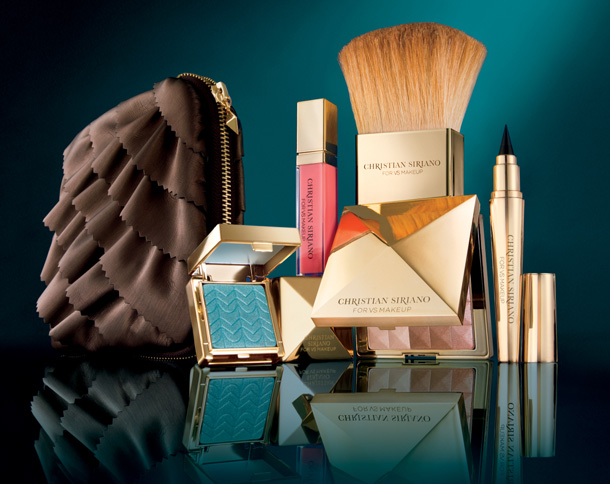 SILKY EYE SHADOW: Unveil eye-catching color. Pigment-rich formula with satiny texture drapes lids in pure color. In five couture shades: Sahara (nude), Sandstorm (copper), Oasis (greenish blue), Royalty (deep chocolate) and Gilded Fierce, Siriano's take on our number-one shade (black with gold sparkle). $14
Bronzing Beauty Tips by Marisa Miller from Victoria's Secret Swim 2009 Virgin Gorda shoot!
In this video Marissa Miller is also introducing Victoria's Secret Beauty Of Brazil.
Victoria's Secret Beauty Of Brazil: Lose yourself in the beauty of Brazil, the golden sand beaches, the sexy bronzed skin, and the abandon of Carnivale. Inspired by the cultural richness and natural beauty of this exotic destination, Victoria's Secret presents this limited-edition series of products for three of their collections: Bare Bronze body care, VS Makeup and Very Sexy Now fragrance.