All Posts Tagged With: "Heidi Klum"
Jordache unveils its biggest advertising campaign to date, featuring the sexy supermodel, designer, entrepreneur and famed TV personality Heidi Klum. Shot by photographer, director and longtime Klum collaborator, Rankin in New York City…
Heidi Klum made an appearance at a Rite-Aid in Beverly Hills, CA to launch the new Clear Scalp & Hair Beauty Therapy on Wednesday May 9th. There's a new beauty brand in town: CLEAR SCALP & HAIR BEAUTY THERAPY, a revolutionary new line of nourishing shampoos and conditioners that turns the conventional hair care discussion on its head – focusing on the scalp, rather than the ends. Who knew the secret to strong, beautiful hair starts at the scalp?
 Heidi Klum's Style
Dress: Roland Mouret
Shoes: Christian Louboutin
Project Runway host, designer and supermodel Heidi Klum celebrated her new fragrance Shine, developed in collaboration with Coty Beauty, with a personal appearance on Wednesday, November 30th at Walgreens Times Square. Heidi met with hundreds of consumers who were given the chance to take a professional photo and receive a signed autograph from her.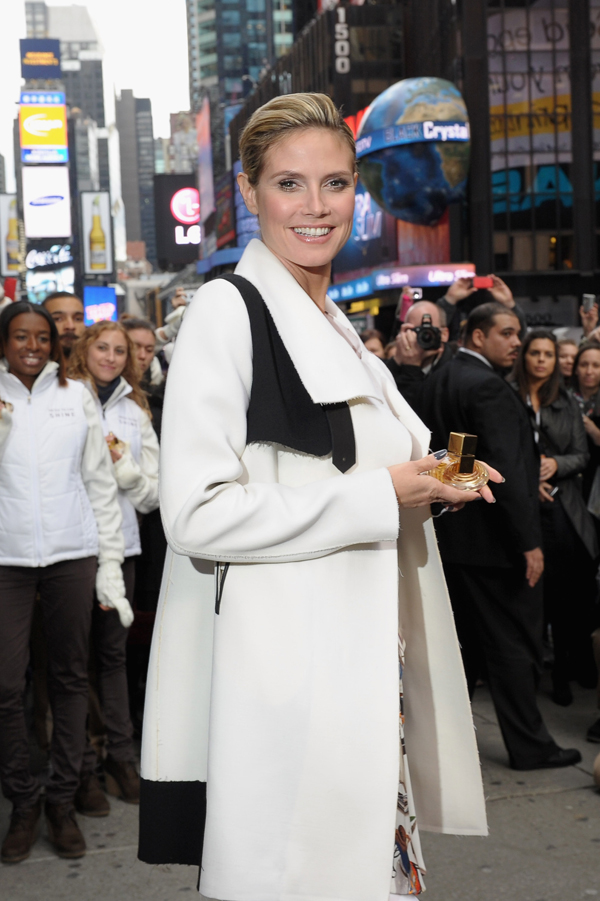 Heidi Klum debuts her fragrance, Shine, at Walgreens Times Square in NYC
Heidi Klum unveiled her new fragrance Shine, developed in collaboration with Coty Beauty, in Los Angeles at the pool at the Mondrian, September 28th, 2011. As a top model, style icon, designer, business woman, wife and mother, Heidi embraces all that life has to offer. Now, Heidi Klum's multi-faceted radiance is captured in her new signature fragrance: Shine, a sparkling floral scent which includes notes of juicy mandarin and pear, spicy pink peppercorn, mimosa absolute, lily-of-the-valley and warm vanilla.

Project Runway host, designer and super model Heidi Klum  Launches her new fragrance Shine TODAY in LA. DRESS: Thomas Wylde. JEWELRY: Wildlife by Heidi Klum. SHOES: Giuseppe Zanotti.
Heidi Klum rocked the red carpet in Christian Siriano at the 63rd Primetime Emmy Awards in Los Angeles on Sunday, September 18th. Klum, who is nominated for an Emmy for her hit show Project Runway, chose to wear Siriano tonight to further celebrate the success of the show.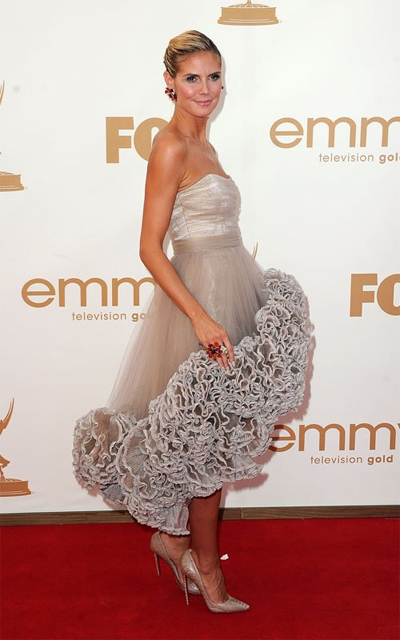 Heidi Klum WearsChristian Siriano at the 2011 Emmy Awards in Los Angeles, Sunday, September 18, 2011. Jewelry – Lorraine Schwartz. Shoes – Christian Louboutin.
"Christian is an amazing talent," said Klum. "He always knows how to bring out the femininity in a woman and created this beautiful dress for me. I'm very proud to support Christian who won our 4th season. I know he will be designing for a long time!"
TM & Marta Walsh has the sneak peek to the behind the scenes photos from the advertising campaign shoot for Heidi Klum's new fragrance Shine. The campaign was shot in Cancun, Mexico by photographer Nabil Elderkin and the fragrance is starting in September 2011.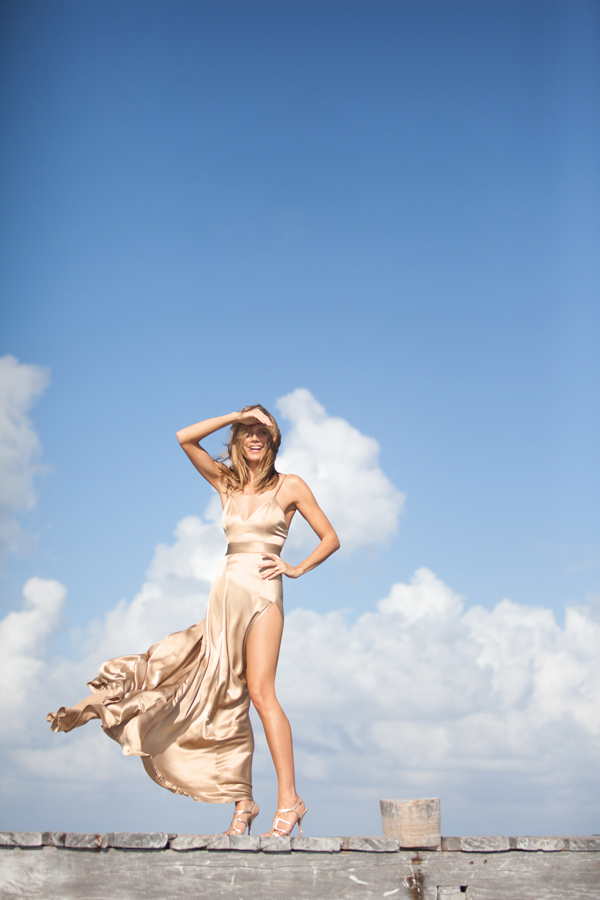 Looks like Kim Kardashian has found a new workout partner in Heidi Klum this week! While filming her spot as a guest judge on Project Runway a couple of days ago, Klum invited the reality star to hit the pavement for her AOL Summer Run in New York City this weekend. Kim's been exercising extra hard to get ready for her wedding, while Heidi, the insanely hot mom of 4, will be in her workout gear consistently for the next few months as part of her AOL Summer Run.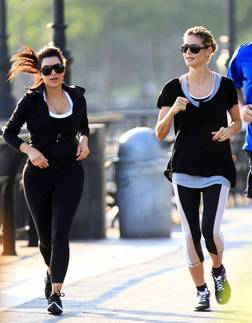 Klum wrote after her run with Kim: "Just going back to what I said yesterday, it's always good to work out with a buddy! My friend, Kim Kardashian, ran with me this morning. She was awesome! We took a walking break and she was the one who pushed us to start running again. We did 4 miles!"
Heidi Klum attended the 19th Annual Academy Awards Viewing Party to benefit Elton John's AIDS Foundation last night. Her makeup artist created a simple yet sophisticated look that complemented the detail of Klum's dress, using ASTOR cosmetics.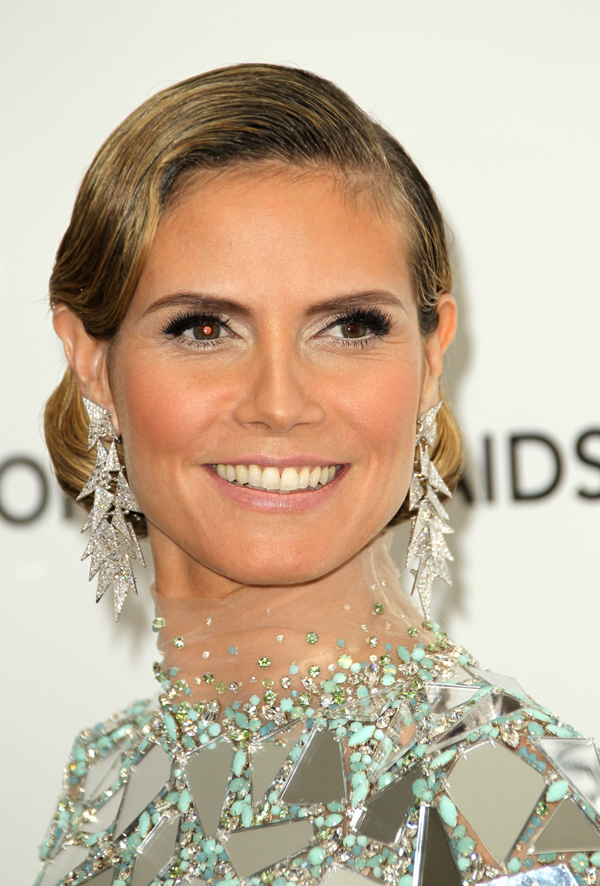 Heidi Klum attended the 19th Annual Academy Awards Viewing Party to Benefit the Elton John AIDS Foundation at the Pacific Design Center in West Hollywood, California. Sunday, February 27, 2011.
THE LOOK: Heidi Klum looked flawless at this year's Academy Awards Viewing Party to Benefit Elton John's AIDS Foundation. Klum kept it simple and sharp with natural hues on her face and nails. When asked her inspiration for this look, Klum's makeup artist Linda Hay said, "I went for a sculpted face, simple, sharp and a little bit masculine. I chose to start off with a bare face, then added a heavier brow, strong liner and nude lip to accentuate the qualities of the dress."
New York, NY – January, 26, 2011– Multi-hyphenate superstar Heidi Klum and AOL Inc. (NYSE: AOL) today announced a digital content partnership to create exclusive original programming focusing on fashion, beauty, parenting, arts and crafts, relationships and Lifestyle. Klum and Full Picture Entertainment, the producers behind six-time Emmy nominated Project Runway, will create engaging video content, inspiring articles, addictive blogs, instructional photo galleries that will live on AOL.com.
"During my 15 years in the business, I've received so many questions on a variety of topics from my favorite toothbrush to juggling family and a busy work schedule.."
NEW YORK, January 21, 2011- Coty Inc., a leading global beauty company, announced today the signing of international celebrity and multifaceted supermodel Heidi Klum to develop and market her new signature fragrance, Heidi Klum Shine.
Beginning her career as a model and cover girl, Heidi Klum has gone on to create an extensive portfolio including designing an active wear collection called Heidi Klum for New Balance sold exclusively on Amazon, Executive Producing and Hosting three television shows: Project Runway and Seriously Funny Kids on Lifetime and Germany's Next Top Model by Heidi Klum and being the Artistic Advisor and face of leading European cosmetic company, ASTOR, among other projects. Heidi has established herself as a beauty and style icon while maintaining an effervescent spirit and lust for life.