All Posts Tagged With: "Lauren Conrad"
(Pacific Palisades, CA – July 20th, 2011) – Reality-star Lauren Conrad kept her look simple yet chic at the Lucky Magazine and ThisNext bash hosted by Jessica Alba. Conrad posed in a white Nicole Miller frock accessorized with red lips as she conversed with host Jessica Alba and fellow guests Mary Alice Haney, Brandon Holley and Matt Edelman.
Celebrity Colorist Rita Hazan on Lauren Conrad's s new brown hair color: "I like it! It looks natural and sophisticated. It still has depth and is multi-dimensional so its soft and not harsh on her skin tone".

Lauren Conrad sporting her new hair color at the Young Hollywood Studio in Los Angeles, California on Friday January 7, 2011
Rita's tips for blondes thinking about going brunette:
mark spokeswoman Lauren Conrad has been keeping busy since the m.powerment by mark. PSA and Have a Heart Bracelet launch in February 2010! Lauren has signed a pair of fabulous Australia Luxe Collective boots that will be auctioned by the STOMP campaign from May to May 16, 2010; funds raised by the auction will go directly to the m.powerment by mark. campaign.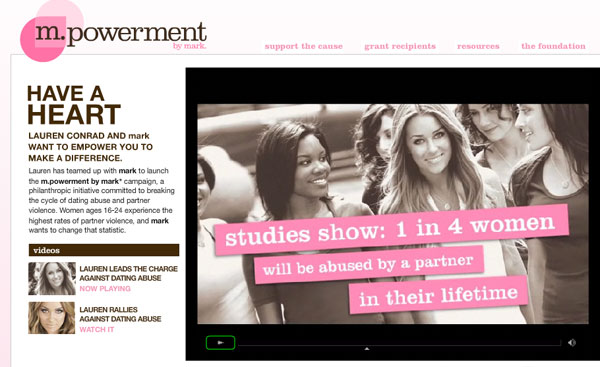 Here's a sneak peek to Lauren Conrad's photo shoot for the Milk Mustache "got milk? campaign. We LOVE:) Also loves, you can help choose Lauren Conrad's Milk Mustache Ad! For more details visit: bodybymilk.com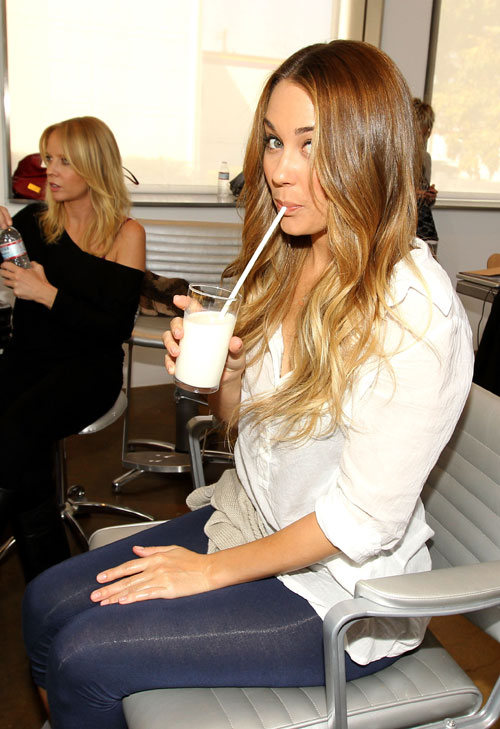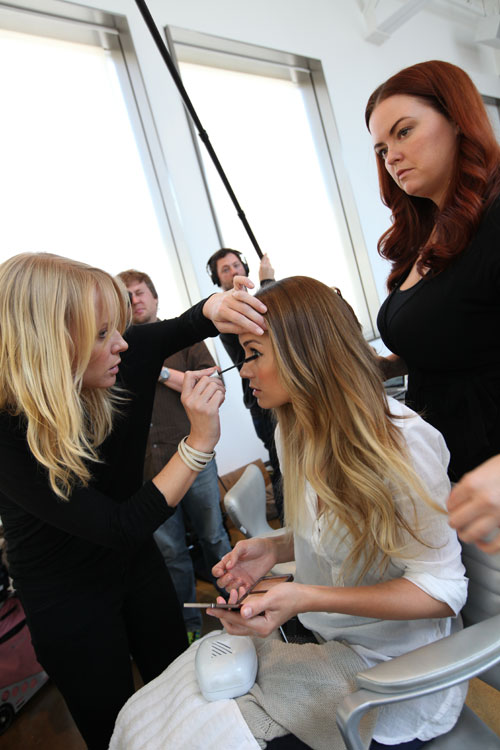 Lauren Conrad makes Milk Mustache history by asking teens to choose the look of her ad!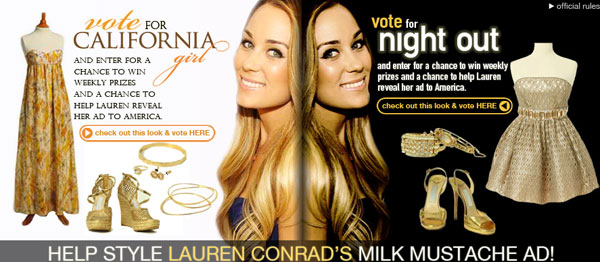 Choose Lauren Conrad's Milk Mustache Ad: Lauren considers milk one of her beauty secrets and knows that drinking it regularly helps her look and feel her best – whether at a red-carpet event or hanging out with friends. To learn some of her other beauty tips, teens can visit bodybymilk.com, where they'll also have the chance to vote on the style of Conrad's milk mustache ad – cool and casual "California Girl" or fun and flirty "Night Out." You can also vote by logging on to the Body By Milk Facebook page.
ELLE magazine has a brand new Beauty gallery of Spring 2010 Hair and Makeup Trends. Check out the gallery for images of celebs vs. runway models sporting the trends, and vote on who wore them best. To read full article and to VOTE visit elle.com
Here's a sneak peek: Lauren Conrad wearing bright pink lipstick alongside the runway version.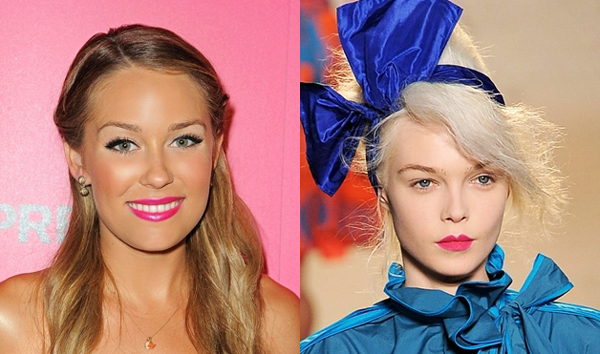 mark Spokeswoman, Lauren Conrad looked both beautiful and sophisticated in a retro, 1940's look at the Avon Hope Honors Gala. Lauren attended the star-studded benefit on behalf of m.powerment by mark, the philanthropic initiative dedicated to breaking the cycle of dating abuse and partner violence. Celebrity Makeup Artist Amy Nadine gave her secrets for creating the glammed up look, reminiscent of Lana Turner and Rita Hayworth.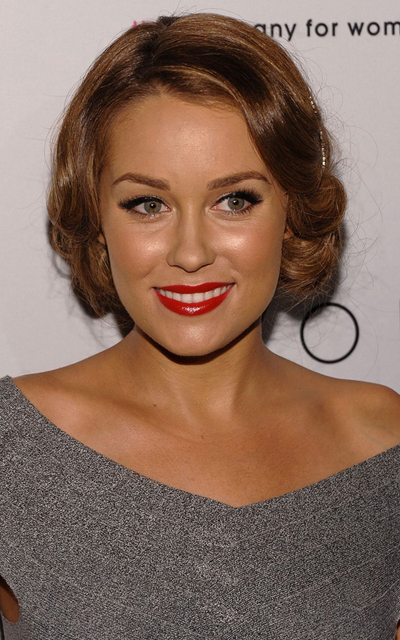 How to Get Lauren's Retro Look:
Face: "For a perfectly polished complexion, I evened out Lauren's skin tone with mark Powder Buff Natural Skin Foundation in Natural, for a super-velvety finish. To emphasize the delicate contours of her face, I applied mark Bronze Pro Bronzing Powder starting in the hollow of her cheeks, then directly under her cheekbones, up to her temples, across her hairline and under her jaw line. I then swirled mark Good Glowing Custom Pick Powder Blush in Star Glo on the apples of her cheeks for a subtle rosy glow."
Celebrities Reese Witherspoon, Lauren Conrad, Courtney Cox and Fergie, and  were spotted looking beautiful last night at the Avon Foundation for Women Gala.
This is besides the point-Anyone watching ABC's "Cougar Town" staring Courtney Cox? The funniest and most entertaining show I've watched on TV since Sex And The City. Courtney does an amazing job playing her character Jules Cobb!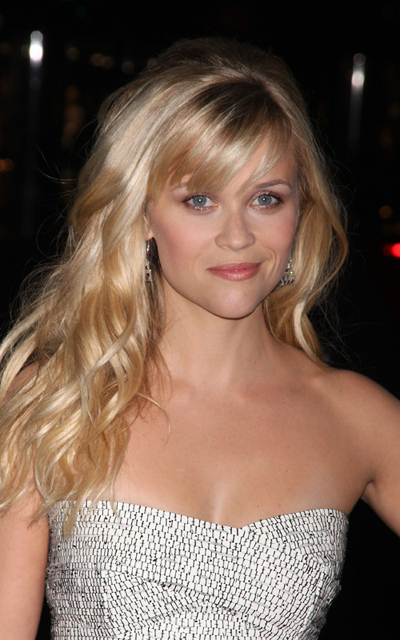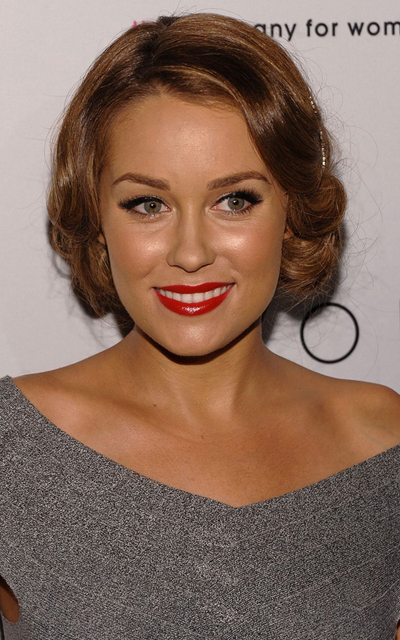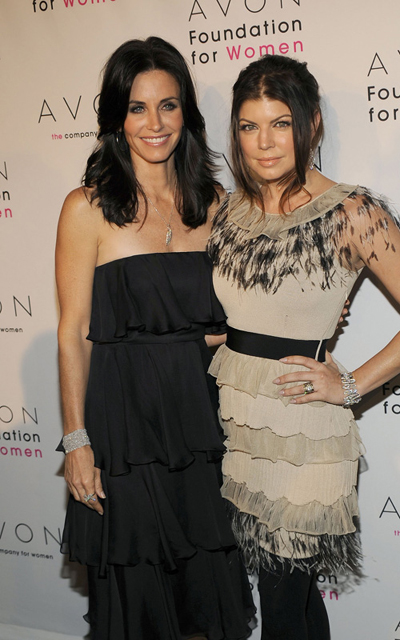 Celebrity images via celebrity-gossip.net
Here is how to get LC's aka Lauren Conrad VMA 2009 makeup look: mark Spokeswoman, Lauren Conrad made her mark last night on the red carpet of the 2009 MTV Video Music Awards (VMA's). Celebrity makeup artist Amy Nadine explains how to get Lauren's gorgeous red carpet look.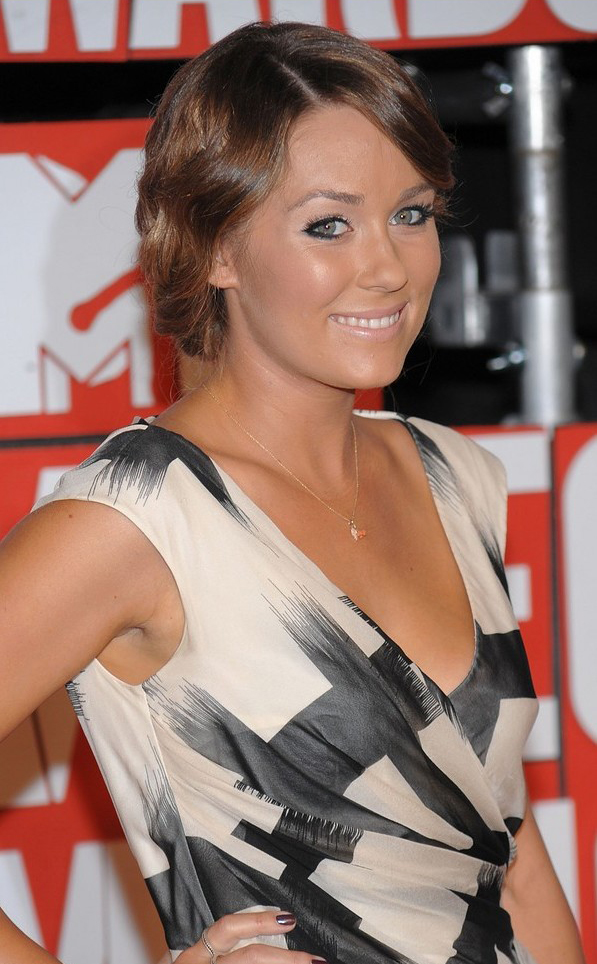 Eyes: "Lauren wore a beautiful black and cream Diane von Furstenberg dress, so we decided the inspiration for her look would be "smoldering sophistication". Lauren wanted a statement eye so we started by lining her eyes with mark Get in Line Hook Up Waterproof Eyeliner in Painted Black with a sweep of mark I-mark Custom Pick Eyeshadow in Corset on top and smudged outward with an eyeliner brush."
Amy Nadine did the makeup for Lauren Conrad for the 2009 Hollywood Style Awards using mark cosmetics. 
Inspiration: "In honor of stylist Britt Bardo, Lauren mixed rocker-chic with a girly-glam! Her floral bubble dress was paired with studded punk-inspired pumps and her braided half-up hair-do contrasted perfectly with her hot pink lips."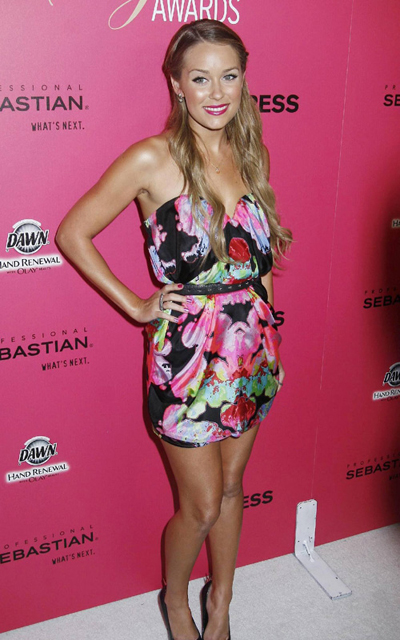 Here is how to get Lauren Conrad's makeup look according to celebrity makeup artist Amy Nadine's blog: www.amynadine.blogspot.com
"To create the look, I first filled in her entire lip with Kissink Lip Tintmarker in Berry Bitten, a lip stain favorite of ours that lasts all night yet isn't dry or flaky. Then I added a coat of Lip Exotics Lip Lacquer Hook Up in Pop for a luscious wet look with a huge color impact. For her cheeks, I applied Just Pinched Instant Blush Tint in Cheeky, a perfect true pink cream blush, on the apples of her cheeks then dusted above her cheekbones in Twinklebelle (Rose), a shimmery pearlized powder that I also used on her collar bone and shoulders. Finally, to keep all of the emphasis on her winged-out cat eyes (Get In Line Liquid Liner Hook Up in Painted Black), I left her lower lash line undefined, except for a coat of Make It Big Mascara in Raven."