mark Spokeswoman, Lauren Conrad looked both beautiful and sophisticated in a retro, 1940's look at the Avon Hope Honors Gala. Lauren attended the star-studded benefit on behalf of m.powerment by mark, the philanthropic initiative dedicated to breaking the cycle of dating abuse and partner violence. Celebrity Makeup Artist Amy Nadine gave her secrets for creating the glammed up look, reminiscent of Lana Turner and Rita Hayworth.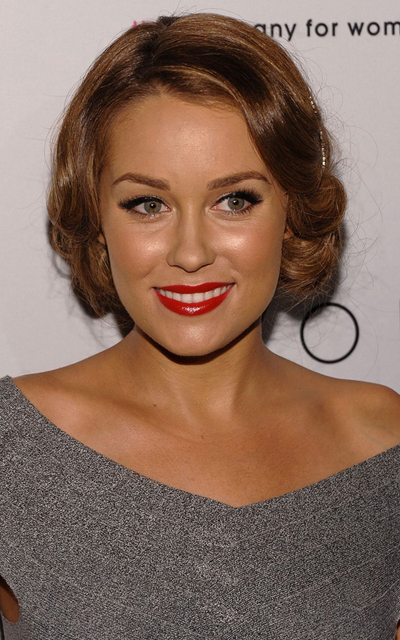 How to Get Lauren's Retro Look:
Face: "For a perfectly polished complexion, I evened out Lauren's skin tone with mark Powder Buff Natural Skin Foundation in Natural, for a super-velvety finish. To emphasize the delicate contours of her face, I applied mark Bronze Pro Bronzing Powder starting in the hollow of her cheeks, then directly under her cheekbones, up to her temples, across her hairline and under her jaw line. I then swirled mark Good Glowing Custom Pick Powder Blush in Star Glo on the apples of her cheeks for a subtle rosy glow."
Eyes: "Lauren loves her signature winged out liquid liner look which I amped up tonight by drawing mark Get In Line Hook Up Liquid Waterproof Eyeliner in Painted Black a little thicker in the outer corners of her eyes. I then coated her lashes in mark Make It Big Lash Plumping Mascara in Raven for thickness and length and added individual lashes to complete the look."
Lips: "I gave Lauren a classic old-Hollywood red pout with mark Dew Drenched Moisturlicious Lip Color in Wave, a true Hollywood red that is warm enough to look gorgeous on everyone. To properly set the color to last all evening, I dipped a cotton swab in mark Matte-nificent Oil-Absorbing Powder in Natural Buff and carefully traced the outer rims of the lips. For that final touch of extra impact and depth, I added a dab of mark Belle of the Ball Lip Balm in Sheer Red in the center of the lips with my finger."
m.powerment by mark: Not only is October Breast Cancer Awareness Month, but it's also a time dedicated to raising awareness for a shockingly prevalent issue facing women of all ages: domestic violence. Unfortunately, statistics show that the highest rates of partner violence are experienced by women between the ages of 16 and 24. That's a fact we can't ignore.
The m.powerment by mark campaign is providing young women with the opportunity to change this statistic. mark teamed up with Lauren Conrad, honorary co-chair of this philanthropic initiative, and her favorite Celebrity Makeup Artist, Amy Nadine, to launch two new shades of mark Glow Baby Glow Hook Up Lip Gloss in support of the initiative. 100% of the net proceeds from purchasing either Glow Baby Glow Hook Up Lip Gloss m.powerment Peach or m.powerment Gold will be donated to m.powerment by mark. The glosses retail for $5.50 and are available on www.meetmark.com  or through a mark rep.