All Posts Tagged With: "Nicole Miller"
At Nicole Miller Fall 2012, CND's Wanda Ruiz helped showcase parallel times to prove that "the past plays out in the present." CND's "Time Machine" manicures at Nicole Miller were trippy and hypnotic in colorful swirls of CND Colours in Plumville, Electric Orange, Bicycle Yellow and Anchor Blue. Master this look at home with a toothpick (or a detailing brush) and some patience.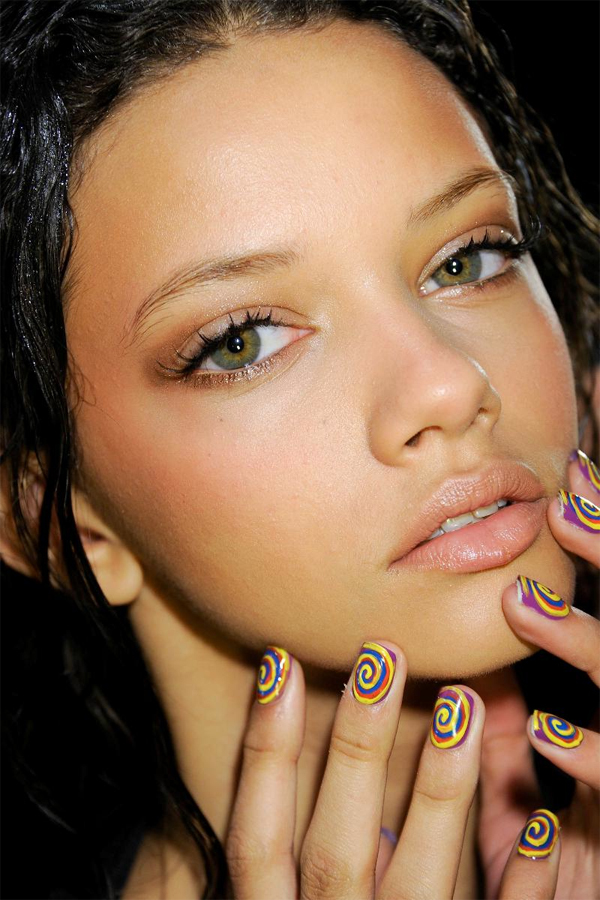 Time Machine Manis at Nicole Miller Fall 2012
CND nails
Nicole Miller is proud to introduce her intimate and sleepwear collection for The Carole Hochman Design Group. Over the past 30 years, Carole Hochman has established herself as a pioneer of designing intimate apparel. Now, Nicole Miller will join the exceptional lingerie and sleepwear collections that are a part of the Carole Hochman Design Group including Oscar de la Renta, Ralph Lauren, Jockey and Betsey Johnson.
Crazy, Stupid, Love. actress Analeigh Tipton attended the Emmy Rossum and Nicole Miller-hosted Flaunt dinner looking tres chic in Alice Yim. 
Analeigh Tipton in Alice Yim at the Emmy Rossum and Nicole Miller-Hosted Flaunt Dinner, Beverly Hills, CA – 1.18.12
About Alice Yim
Tipton chatted and posed with Shameless star Emmy Rossum in the marine Alice Yim 'Willow Romper'. Other celebrity guests in attendance at the Thompson Hotel fete included…
Grammy award winning R&B singer Estelle performed in Nicole Miller at last night's, January 7th, 2012, 20th Annual Trumpet Awards. The singer took to the stage in a vibrant coral and black color blocked Nicole Miller dress. Do you love?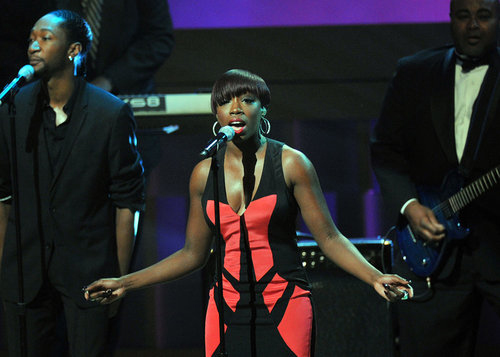 Estelle Wears Nicole Miller
(New York, NY) – Actress Tatyana Ali is fun and flirty in Nicole Miller during her appearance on 'Good Day NY'. Ali dished about her new show 'Love That Girl' while sporting a blue and orange striped Nicole Miller top with draping grey chiffon. Do you love?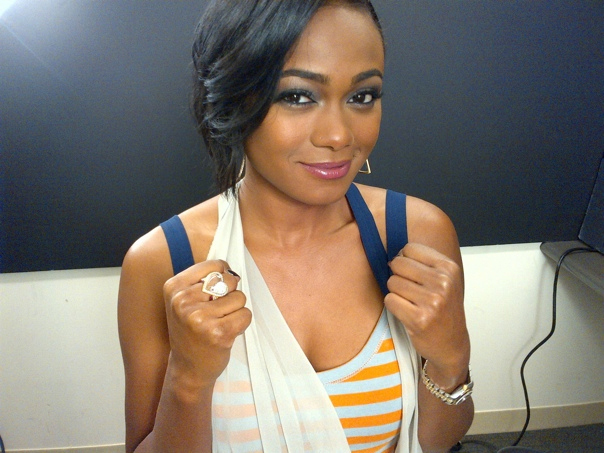 TATYANA ALI IS FUN AND FLIRTY IN NICOLE MILLER ON 'GOOD DAY NY'
(Los Angeles, CA – 9.21.11) – American Idol alum judge and new X Factor judge Paula Abdul strutted the streets with new costars L.A. Reid, Nicole Scherzinger and Simon Cowell wearing a silver sequin off-the shoulder Nicole Miller cocktail dress. American Idol Season 1 winner Kelly Clarkson wore the black version of the identical Nicole Miller frock while performing on The Tonight Show with Jay Leno. Which American Idol alum wore Nicole Miller best?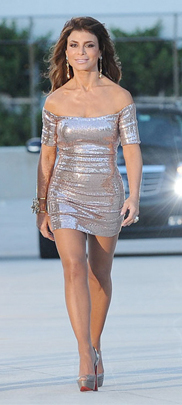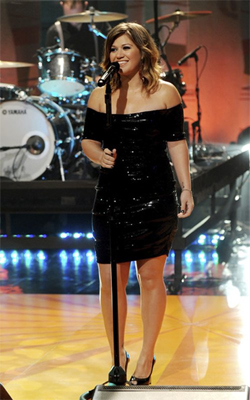 L to R: Paula Abdul and Kelly Clarkson both in Nicole Miller  sequin off-the shoulder cocktail dress
(Miami, FL – September 11th, 2011) – Fergie took on the Miami heat in Nicole Miller performing at the Miami Dolphins vs. the New England Patriots game this past Sunday. After the game, Fergie posed with fellow football fans Marc Anthony and Will Smith clad in her curve-hugging green leopard chiffon and sequin strapless Nicole Miller cocktail dress.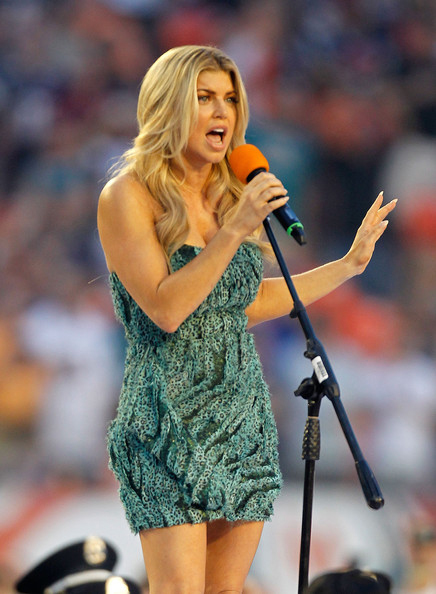 See more Fergie pics…
(New York, NY – September 9, 2011) – Celebrities and tastemakers Alexis Bledel, Ashley Tisdale, Porcelain Black, Bam Margera, Rachel Griffiths, Angela Simmons, Louise Roe, Tika Sumpter, Sabi and Harley Viera Newton gathered at Lincoln Center to view celebrated runway designer Nicole Miller's Spring 2012 show. VIP guests revisited the 80s in Nicole Miller's front row and were privy to the vibrant colors and bold patchwork prints.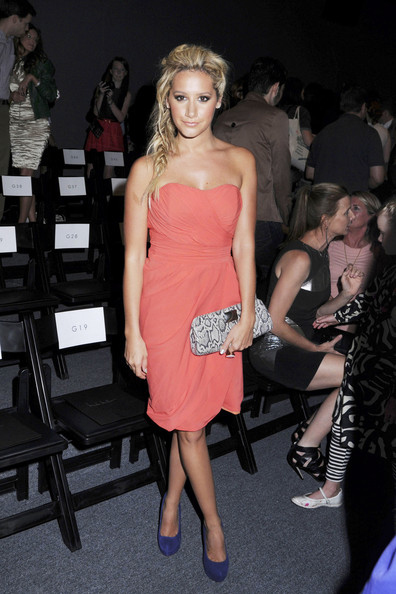 Ashley Tisdale attends the Nicole Miller Spring 2012 Fashion Show
See who else…
Mad Men Actress and soon-to-be mom January Jones struts the street in a striped Nicole Miller maxi dress. Jones ran errands in Los Feliz this Saturday looking casually chic shopping with a friend at Trader Joe's and eating at Italian restaurant Little Dom's.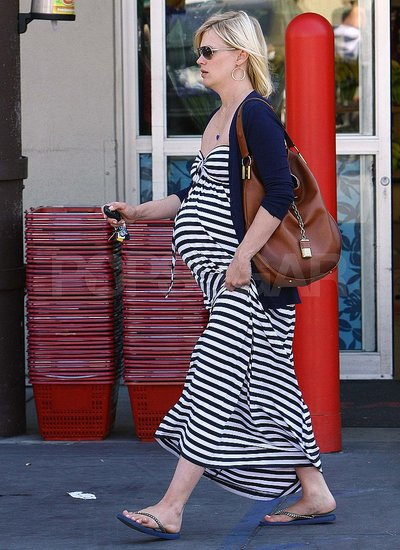 (New York, NY – August 18th, 2011) – Singer and 'X-Factor' judge Nicole Scherzinger hit the streets of New York in a figure-flattering Nicole Miller dress. Scherzinger was spotted leaving the studios of 'Live With Regis and Kelly' in a grey and red digital print strapless Nicole Miller frock from the designer's Fall collection.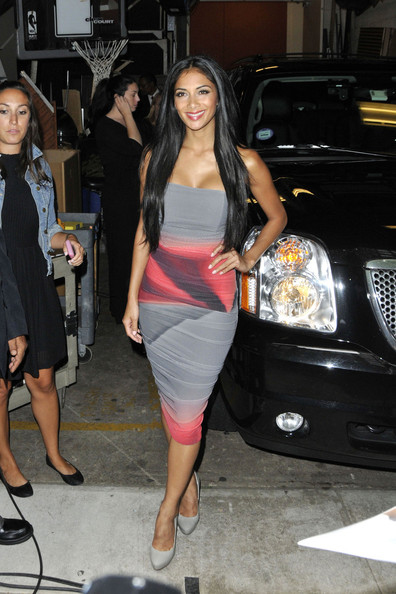 Nicole Scherzinger In Nicole Miller. Do you love?