All Posts Tagged With: "Fergie"
In partnership with Matrix, Fergie celebrated the Matrix Destination Event on Sunday, January 28th in Orlando, Florida as the new MATRIX SOCOLOR CULT ICON.
· Fergie: "I love Matrix because they're not afraid to push the boundaries and have a little fun with it all….They like to let you have your style and feel free to make new choices and be individual and show your individual style and personality," said Fergie as she joined fellow artists and Celebrity stylists like Tabatha Coffey, George Papanikolas and Nick Stenson, to celebrate self-expression, creative innovation, and all things Matrix.
(Miami, FL – September 11th, 2011) – Fergie took on the Miami heat in Nicole Miller performing at the Miami Dolphins vs. the New England Patriots game this past Sunday. After the game, Fergie posed with fellow football fans Marc Anthony and Will Smith clad in her curve-hugging green leopard chiffon and sequin strapless Nicole Miller cocktail dress.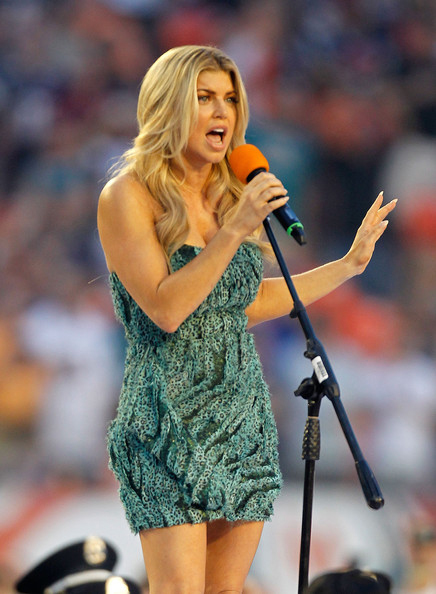 See more Fergie pics…
Hello loves:) Did you know that last week I was given a chance to interview superstar Fergie thanks to AVON. With Ourspoken by Fergie perfume being one of Avon's most successful perfume launches it's no surprise Fergie and Avon collaborated for a 2nd go. Meet the NEW Outspoken Intense by Fergie which is scheduled to launch this Summer.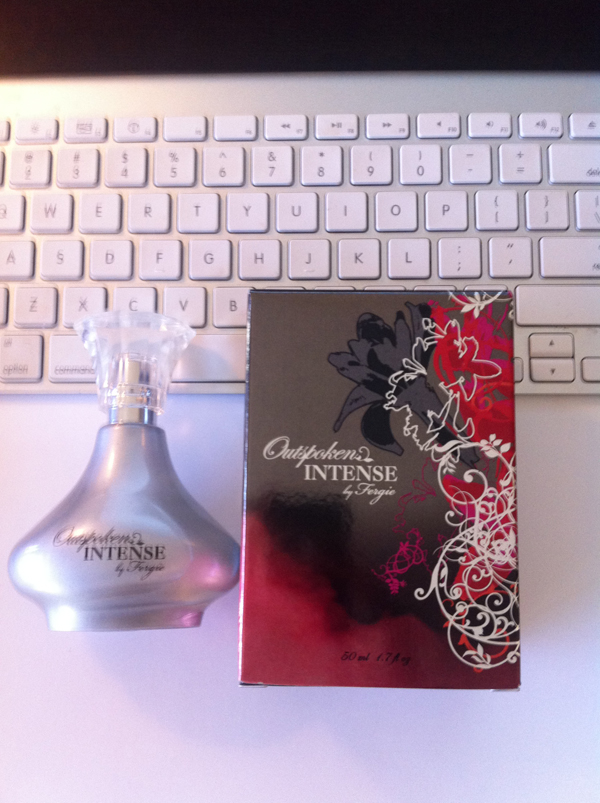 Outspoken Intense by Fegie a new fabulous perfume by superstar Fergie for AVON
(Las Vegas, NV – May 20th, 2011) – Fergie is "fergalicious" fierce in Zac Posen, performing live in Las Vegas this past weekend with The Black Eyed Peas. The pop sensation took to the stage at Haze Nightclub in a Zac Posen black double face wool metamorphosis dress from the designer's Fall/Winter 2011 Collection.

Fergie In Zac Posen Performing Live In Haze Nightclub, Las Vegas
(Las Vegas, NV – May 22nd, 2011) – Singer Fergie is futuristic at the 2011 Billboard Awards, accessorizing her avant-garde look with Stephen Webster jewelry. Fergie wore a Stephen Webster Fly By Night Ring in 18ct yellow gold with smoky quartz and black sapphires and Cascade earrings in 18ct yellow gold with black sapphires to the event where the Black Eyed Peas took home the award for top duo/group. Dress my Alexander McQueen. Shoes by Christian Louboutin.
Marta Walsh says" "Fergie looks fabulous from head to toe and blonde hair is her best friend". BTW stay tuned for my interview with Fergie thanks to AVON this week. xxx
Fergie makes a special appearance to celebrate the Spring 2011 shoe collection of Fergie Footwear at Macy's Herald Square on April 21, 2011 in New York City. The red shoes Fergie is wearing in the photo is also from her own collection. Available at www.FergieShoes.com. Do you love?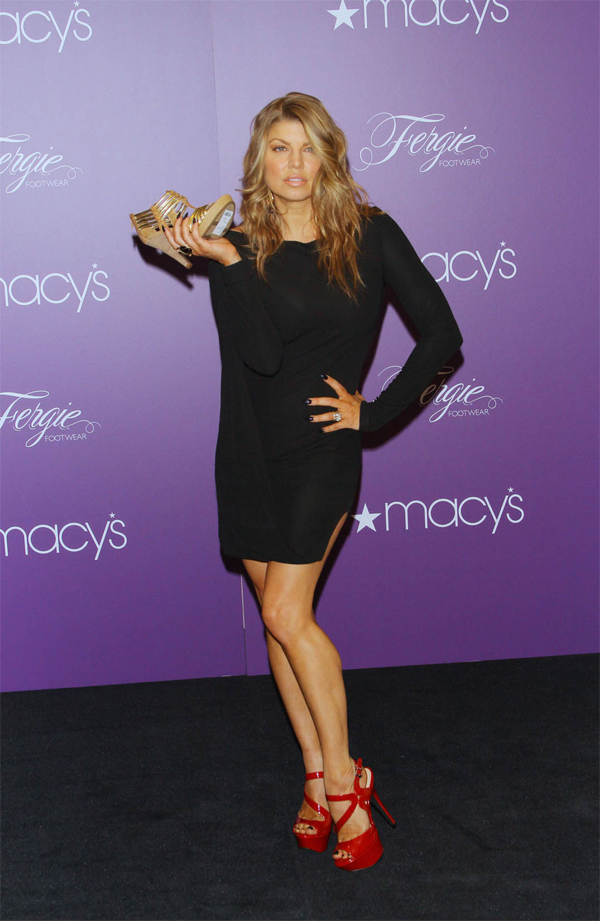 (Las Vegas, Nevada– March 25th, 2011) – Singer Fergie celebrated her 36th birthday this weekend in Las Vegas, completing her birthday look with a Stephen Webster Chrysoprase Pear Shaped Ring in 18k white gold with diamonds. Fergie's birthday celebration was held at The Bank at the Bellagio Las Vegas where she was seen feeding birthday cake to guest, Dan Caten.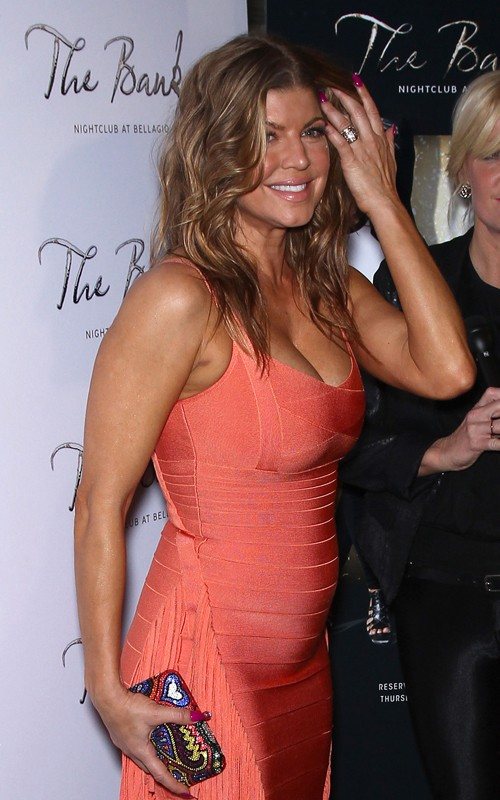 And BTW Fergie looks so much better blonde, and the dress works, I actually like it.
Fergie's Haircolor Earns A Touchdown At Last Night's Super Bowl Halftime Show. What goes well with $2 million dollars worth of diamonds that Fergie sported last night? Shimmering haircolor to match! Tracey Cunningham, Redken Creative Consultant for Color and Hollywood colorist, gave Fergie glam color for her halftime performance during last night's Super Bowl. If you want Fergie's fab color, ask your colorist to use the following…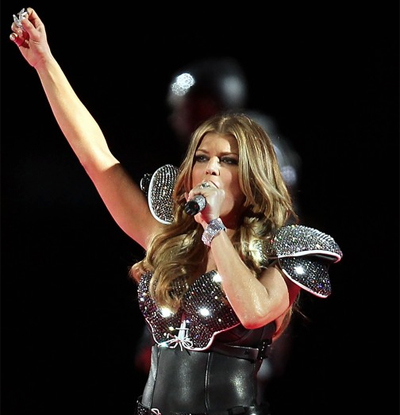 1. Redken Color Fusion (5NN) on the base: Color Fusion Advanced Performance Color Cream delivers healthy-looking, multi-dimensional haircolor and features Redken's exclusive Colorbond Technology to provide optimum durability, condition and shine.
Hot Hair Styling Tools: Hairdryer. The Black Eyed Peas' tour has been a smash worldwide and Fergie's beautiful costumes and on-stage hair looks have been getting rave reviews. Jason Medina is her longtime stylist and masterfully creates the fast-paced hairstyle changes required between sets, during concerts and throughout the tour. Among the styling essentials which have been spotted in his tool kit is the Velecta Paramount Paris x:Q Onyx hairdryer, which has now become a fast favorite among top red carpet and editorial stylists.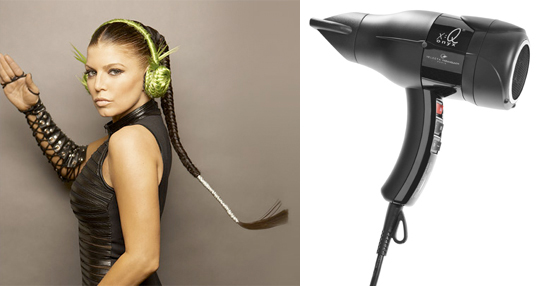 L to R: Fergie image via fergie.blackeyedpeas.com and Velecta Paramount Paris x:Q Onyx hairdryer the secret to Fergie's hair on tour
Asked for his comments, Medina says, "I love this dryer! I even ordered EU versions for our European tour since I didn't want to be without it. Speed is really important to me backstage because there's so little time to get Fergie ready after a quick costume change between sections of the show. The Velecta Paramount Paris dryer works faster than anything else I've used, and believe me I've tried everything. It's not only powerful and lightweight, it's ergonomic and compact, which is great when we travel. I also like the fact that it's low EMF."
Get Fergie's Style: Fergie and the Black Eyed Peas performed live on Good Morning America (GMA) Friday July 30th, 2010, in New York City. The Grammy Award winning singer is seen here wearing the "Jigsawed" style shoes from her Fall 2010 Fergie shoe collection which retails for $79.00 and is available in black leather, chestnut and turquoise on FergieShoes.com.