All Posts Tagged With: "perfumes"
To me the Tom Ford fragrance collection is like the Christian Louboutin shoes of the perfume world, super chic, elegant, sophisticated, sexy, classic & timeless, a must-have. My latest favorite is Tom Ford Violet Blonde. It's exactly the type of smell I love, woody, tough to describe, and exotic. It's also like wearing a nice suite, it makes me feel strong and beautiful in an instant. Ha! If you want to stand out and not have this what I call a 'generic perfume' you'll might want to give this perfume masterpiece a go.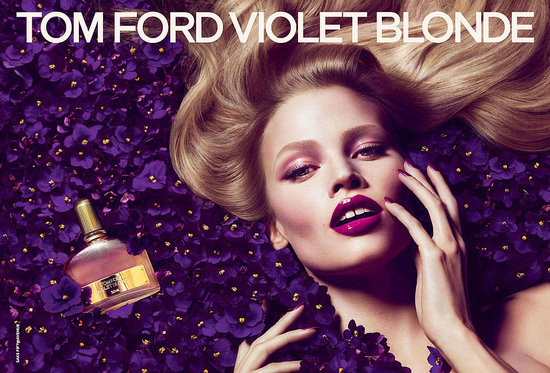 Tom Ford says, "Violet Blonde has the spirit of a classical, European fragrance. It is formal, polished, and yet draws you in closer and closer, like a beautifully dressed woman whose refined presence charms, then fascinates, and ultimately seduces you."
Since 1995, Issey Miyake fragrances have pioneered the reinvention of their summer limited editions. For Summer 2011 (this one launched May 2011),  L'Eau D'Issey for her was inspired by the waters warmed and brightened by the sun. Created by Jacques Cavallier. Fragrance notes include: rose, pear water, peony, carnation, osmanthus, and precious woods. Like all Issey Miyake perfumes they are fresh but complex fresh, never ordinary, and unusually good.
Coty Prestige Fall 2011 Fragrance Launches. These are no ordinary perfumes, they smell good, the bottles & packaging are a work of art, they will go down in history as very classic. Today I'm wearing Calvin Klein Forbidden Euphoria, I love the original, these become one of my all times most favorite perfumes.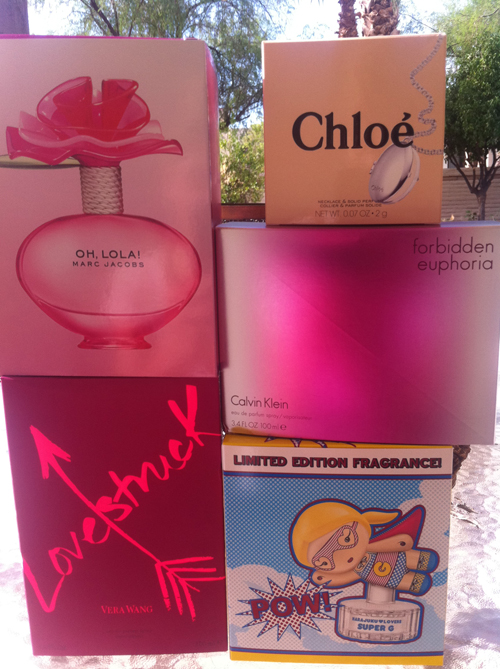 T to B: OH! Lola! Marc Jacobs, Chloe, Calvin Klen Forbidden Euphoria, Vera Wang Lovestruck, Gwen Stefani Super G
Marc Jacobs Oh, Lola!
Oh, Lola, the re-energized twist on the iconic fragrance. This sparkling and fruity scent is refreshing and light, personifying Lola's flirtatious free spirit. The bottle is girly and vibrant pink with the new campaign featuring Dakota Fanning.
Top: Fraise Des Bois, Pear, Effervescent Raspberry Cocktail
Loving the new Narciso Rodriguez In Color For Her and Essence limited edition Perfumes for fall 2011. The bottles are beautiful. In Color is a bit more woody and warm than Essence. Just in case you're wondering. Although Essence smells more floral and powdery than In Color it's a more complex floral, woody floral if you will. I would say I'm more In Color For Her than Essence because I tend to wear warmer perfumes & not into florals.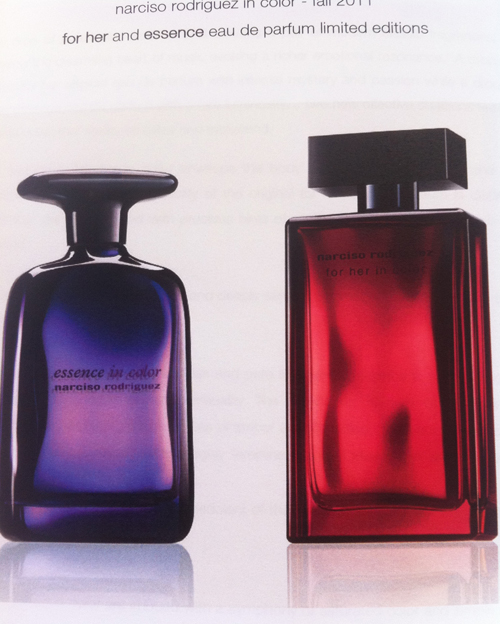 L to R: Narciso Rodriguez In Color For Her and Essence Perfumes available September 15th, 2011 at Saks Fifth Avenue.
"I love color when it's pre; it can be subtle or it can be very strong, bit most of all I love it when it's very pure. Pure color elicits profound emotions and memories and that's what fragrance should be about."-Narciso Rodriguez.
These NEW perfumes just made my day: Jean Paul Gaultier CLASSIQUE Silver My Skin Collector's Edition, Elie Saab Le Parfum, Narciso Rodriguez for her in color eau de parfum limited edition (which I'm wearing today), and Narciso Rodriguez essence in color eau de parfum limited edition . They smell GOOD, look out for them! A more detailed review coming soon.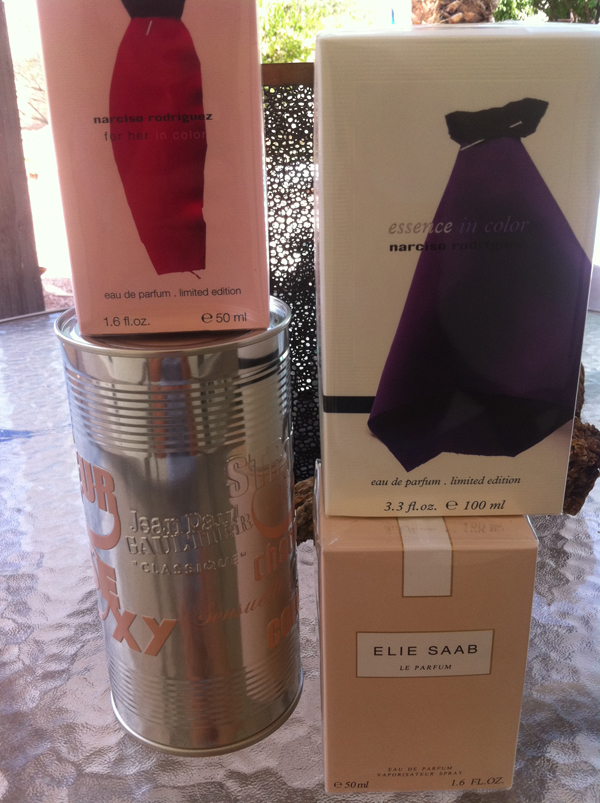 Jean Paul Gaultier, Elie Saab, Narciso Rodriguez New Perfumes photo by Marta Walsh
TM has a sneak peek to some of the NEW perfume launches. This one is by Fendi, a new perfume named Fan di FENDI.

The NEW Fan di FENDI is available exclusively at Saks Fifth Avenue August 1st and in September 2011 it will be available in specialty and department stores
All the aesthetic codes, all the values and the elegance of the House of FENDI are crystallized in the fragrance, Fan di FENDI: The Forever buckle on the Baguette bag, the absolute "it-bag" since 1997 , the nobleness of the shapes and materials, the boundless creativity, the sun yellow and handcrafted leather. Fan di FENDI is a modern and irresistible fragrance: fresh luminous, sensual and addictive.
Summer Perfumes. Estée Lauder LIMITED EDITION Bronze Goddess Eau Fraîche Skinscent. Fragrance Type: Solar Floral. Top Notes: Sicilian Bergamot, Mandarin. Middle Notes: Tiare Milk-Tahitian Gardenia Petals, Coconut Oil, Orange Flower Buds, Jasmine, Magnolia Petals, Myrrh. Base Notes: Amber, Sandalwood, Vetiver, Caramel, Coconut Cream.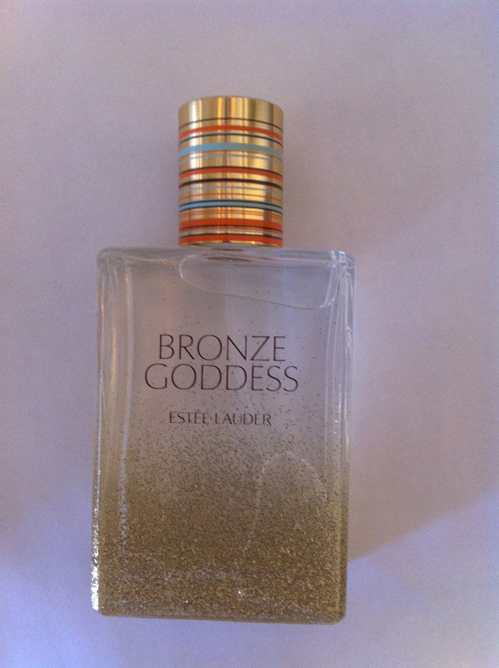 Although Estée Lauder LIMITED EDITION Bronze Goddess Eau Fraîche Skinscent is described as a warm type of perfume in Estée Lauder's website my verdict is it's not so warm and more of a sharp citrus. If you're into that kind of scent it's perfect for you. However, for my own taste I would come up with yet another Bronze Goddess Limited Edition perfume with an added sweetness and woods to it.  I would make it the ultimate warm sweet/woods summer classic perfume.
Hello loves:) Did you know that last week I was given a chance to interview superstar Fergie thanks to AVON. With Ourspoken by Fergie perfume being one of Avon's most successful perfume launches it's no surprise Fergie and Avon collaborated for a 2nd go. Meet the NEW Outspoken Intense by Fergie which is scheduled to launch this Summer.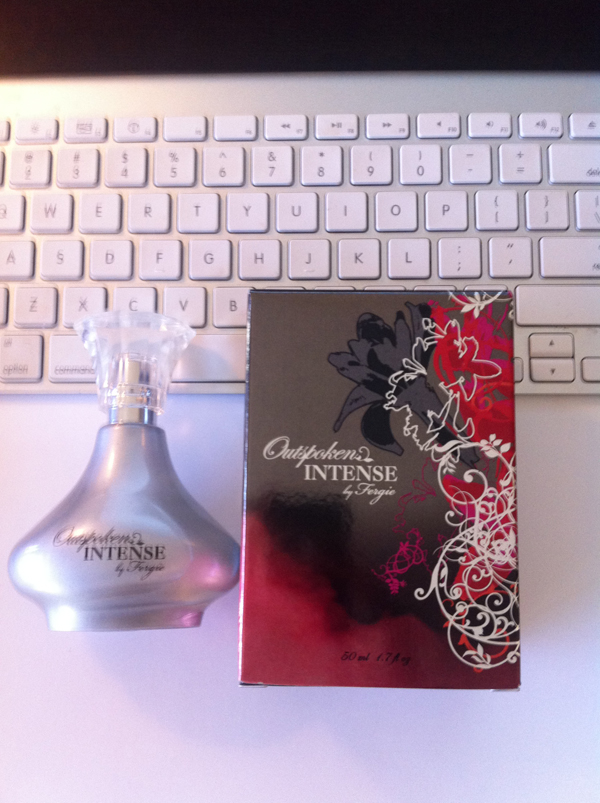 Outspoken Intense by Fegie a new fabulous perfume by superstar Fergie for AVON
On Saturday, April 30, 2011 singer-songwriter, Katy Perry, teamed with Gigantic Parfums to launch Purr by Katy Perry in Melbourne, Australia. Katy arrived at Myer and headed over to Mural Hall for a press conference where invited media learned about Katy's inspiration and her involvement with the fragrance. Following the press conference, the Pop-Princess greeted her fans, signed autographs, and introduced Australia to Purr by Katy Perry.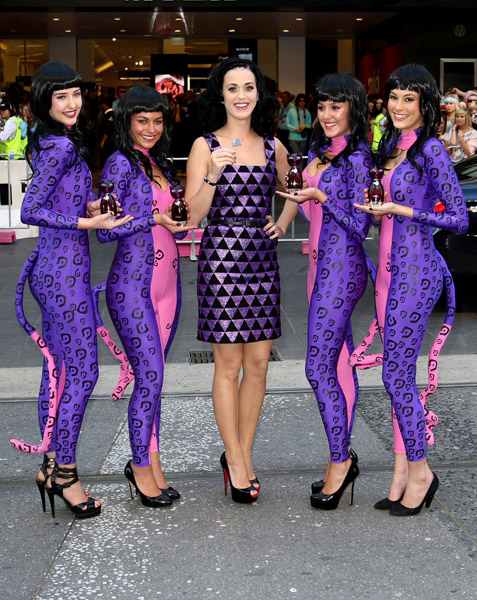 New Perfumes Spring/summer 2011 by Coty Prestige:
MJ Splash Cocktail Collection
Inspired by the first sip of a refreshing cocktail on a sunny summer day, Marc Jacobs introduces three limited edition splashes in Cranberry, Ginger, and Curacao. Vibrant in color and crisp to the senses, each scent indulges in the simple pleasures of summer.

Cranberry
Top: cranberry, tangerine
Mid: honeysuckle, red currant
Base: icy musks, exotic woods