Coty Prestige Fall 2011 Fragrance Launches. These are no ordinary perfumes, they smell good, the bottles & packaging are a work of art, they will go down in history as very classic. Today I'm wearing Calvin Klein Forbidden Euphoria, I love the original, these become one of my all times most favorite perfumes.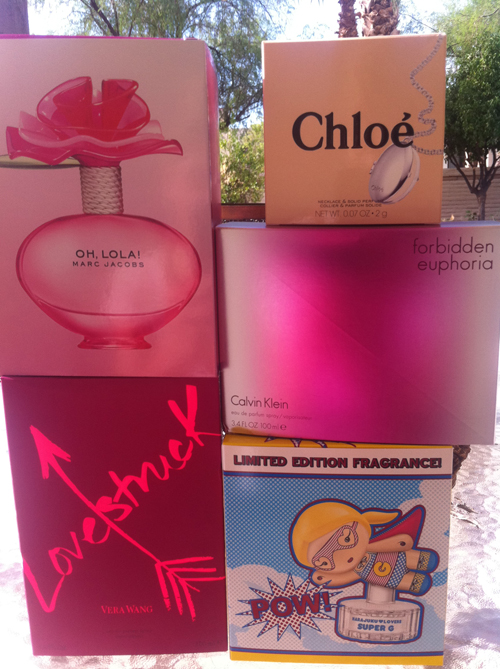 T to B: OH! Lola! Marc Jacobs, Chloe, Calvin Klen Forbidden Euphoria, Vera Wang Lovestruck, Gwen Stefani Super G
Marc Jacobs Oh, Lola!
Oh, Lola, the re-energized twist on the iconic fragrance. This sparkling and fruity scent is refreshing and light, personifying Lola's flirtatious free spirit. The bottle is girly and vibrant pink with the new campaign featuring Dakota Fanning.
Top: Fraise Des Bois, Pear, Effervescent Raspberry Cocktail
Mid: Peony, Magnolia, cyclamen
Base: Sandalwood, Tonka Bean, Vanilla Absolute, Sylkolide
Available exclusively at Bloomingdales starting in July and at specialty retailers nationwide this August
edt 75 ml $70.00
Vera Wang Lovestruck
Inspired by a modern day twist on Romeo & Juliet, Vera Wang Lovestruck is a sparkling addictive floral you are sure to fall in love with. A modern day love story set in downtown New York City, the Lovestruck ad campaign features Leighton Meester, star of Gossip Girl.
Top: luscious pink guava, heavenly angelica flower, mandarin
Mid: delicate tuberose, lotus blossom
Base: precious woods, white musks
Available exclusively at specialty stores this August
edt 100 ml $78.00
Gwen Stefani Super G
Introducing Super G, The crime fighting Harajuku girl bringing you Kawaii (Happiness) at all times. Channel your inner super hereo with Super G.
Top: Sparkling notes of yellow pineapple, tangerine
Mid : Yellow freesia, banana nectar
Base: Warm musk notes, vanilla, raspberry
Available August 2011 at Sephora stores nationwide or www.sephora.com<http://www.sephora.com>
edt 30 ml $45.00
Calvin Klein Forbidden euphoria
The younger interpretation of the iconic euphoria fragrance, Forbidden euphoria evokes a modern, fresh sexiness with a mysterious twist. This fruity floriental's bottle has been exposed to reveal its outer layers and seductive curves.
Top: mandarin, passion fruit and touches of iced raspberry
Mid: hypnotic bouquet of tiger orchid and jasmine
Base: addictive patchouli with a sophisticated blend of musks and cashmere woods
Available September 2011 at specialty stores nationwide
edt 100 ml $78.00
Chloé Signature Solid Perfume Necklace
This delicately engraved locket is a luxurious case holding the Chloé signature solid perfume. featuring the original, distinctive notes of rose, the necklace presents a new way to wear perfume, a new ritual. a smart and timeless gesture.
Top: rose, peony
Mid: lily of the valley, magnolia
Base: amber, cedarwood
Available at a selection of authorized Chloé retailers starting September 2011
$60.00
I also like..
ck one shock
ck one shock invokes the desire to leave a personal mark of self-expression, defacing the iconic ck one signature bottle to send the ultimate message of rebellion. The new bottle represents Fabien Baron's evolution of the 1994 ck one classic. The men's bottle is a high gloss lacquered black with the green shock logo spray-painted over the white ck one logo. The women's bottle is a high gloss lacquered white with the shock logo scrawled in pink lipstick over the black ck one logo.
Available August 2011 at specialty stores nationwide.
For Her: sensual floriental
Top: passion flower, pink peony, jeweled poppy flower
Mid: liquid chocolate accord, blackberry, narcisse, hypnotic jasmine
Base: magnetic ambers, vanillin, patchouli, second skin musk
3.4oz/100ml EDT spray $50
For Him: bold oriental
Top: sparkling clementine, purple lavender, cucumber
Mid: osmanthus, black pepper, cardamom, black basil
Base: tobacco, ambreine, cashmeran musk, patchouli
3.4oz/100ml EDT spray $50
J Lo Love & Light
Love & Light, A sparkling floral woody fragrance that reflects the softer, more sensual side of Jennifer Lopez. The bottle is a sculptural beauty, inspired by the curves of a radiant woman. A pearlescent finish, with pale mint and gold accents, showcases its luminosity.
Top: Mandarin, Pomegranate, Red Currant
Mid: Rose Crystal Absolute, Velvety Apricot, Jasmine Petals
Base: Patchouli, Sensual Musk, Praline
Available exclusively on HSN and hsn.com July 2011, and in fine department stores nationwide September 2011.
2.5 oz/75ml EDP $58.00